Ever Wondered How Much Private Cam Shows Cost?
Many users get to onto sex cam sites, but are confused as to the costs or how to actually purchase credits or tokens. Regardless of if it's LiveJasmin or CamSoda, all sites share common features. The prices might change from site to site and from room to room, but we'll give a quick break down of what you should be expecting.
The following table was taken out of our article about the best sites for cam2cam, it shows you the general prices of private shows on cam sites, calculated per minute. If you have a hankering for something out of the ordinary, you might have to tip a little extra. You can click the links on the left to see our reviews of each site or on the links on the right to go straight to the site itself.
Further down the page, you can find a full break down of the steps needed to make a purchase.
How Much Private Cam Shows Cost
While the table shows the cheapest price of cam shows and the average price of cam shows, it does not show the most expensive. The most expensive price of cam shows can go for over $16.00 a minute on sites like Flirt4Free. On the other hand, the highest listed price on ImLive is $9.00, but none of the models lists themselves at over $6.00.
For the best combination between price and quality, we recommend LiveJasmin. Every chat room on LiveJasmin is HD. You don't have to waste time looking for a babe who has both a good camera and good looks. The price is slightly higher, but the shows are unbeatable.
How to Pay for Sex Cam Shows
All of the sex cam sites we have reviewed accept Visa and MasterCard. Other than that, there are many other possible payment methods. You can choose from among the less popular credits cards like JCB and American Express, or choose to pay with PayPal, Bitcoin, or even gift cards.
What is universal for each cam site, is that you will always have to register before you are able to buy anything.
To register you will need a username, a password, and usually an email address.
Once you have registered and logged in, this is how you can buy credits/tokens on each site.
LiveJasmin.com
In terms of quality, quantity, and customer support, LiveJasmin is the unmatched leader in adult sex cams. They have a huge selection of webcam models, all of which operate with HD cameras. The new models on LiveJasmin charge the lowest rates, with more experienced models charging more. As you would expect, the hotter girls tend to charge higher prices. You can filter the rooms by prices.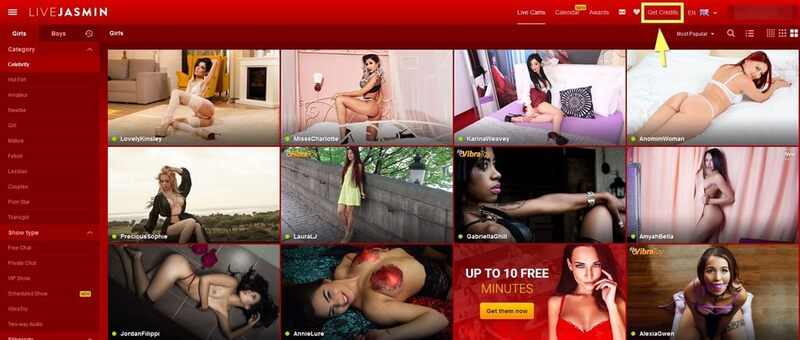 Steps to buying credits on LiveJasmin -
Click Get Credits
Choose a package and click Buy Credits
Complete your payment information and receive your credits
Find a babe and go into a private show
---
CamSoda.com
CamSoda is a freemium sex chat site filled with a ton of nude babes. As your browse through the front page, you will notice that most of the girls are already scantily clad, if not already buck naked. The coolest thing about CamSoda is that you can leave your mouse on a thumbnail and all of the rooms will come to life. Camera quality, whether cam2cam is enabled, and prices all very greatly from room to room.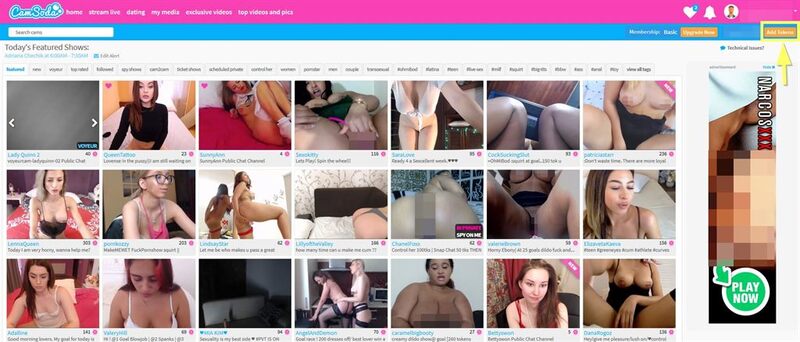 Steps to buying tokens on CamSoda -
Click on Add Tokens
Choose a Payment Type and package size then click PURCHASE TOKENS NOW
Enter your payment details and click to Place your order
Get your tokens and start chatting and tipping the babes
---
LivePrivates.com
A glamorous adult chat site, LivePrivates has some of the most beautiful webcam models the internet has to offer. As you scroll through the ample selection, you will encounter babe after babe. The vast majority of the webcam models have fantastic quality HD cams. The only girls working with low quality cameras are the girls who are new and haven't had time to go out and buy a better camera yet.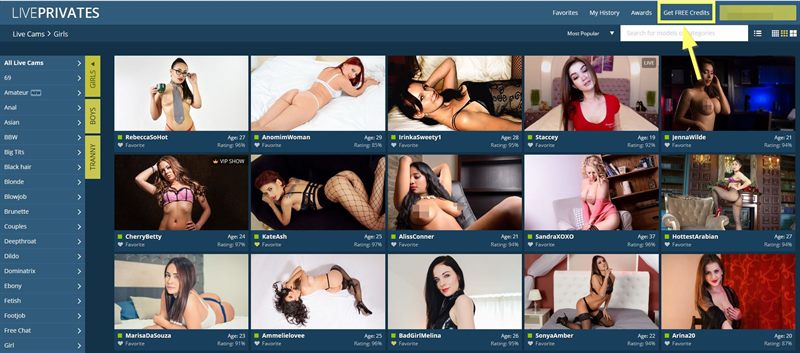 Steps to buying credits on LivePrivates -
Click on Get FREE Credits
Choose a payment method
Select a package and click on Buy Credits
Complete the payment and receive your credits
Start taking the models into private shows
---
Flirt4Free.com
Flirt4Free is a great sex cam site with a ton of options. They have hundreds of models online at any given time, broadcasting at a huge range of prices. While some girls charge as low as $0.50 a minute, others charge well over $10.00. You will need to pay attention to whether you are entering a private chat or a group chat. You can only turn on cam2cam and 2way audio if you are the first member to join a group chat.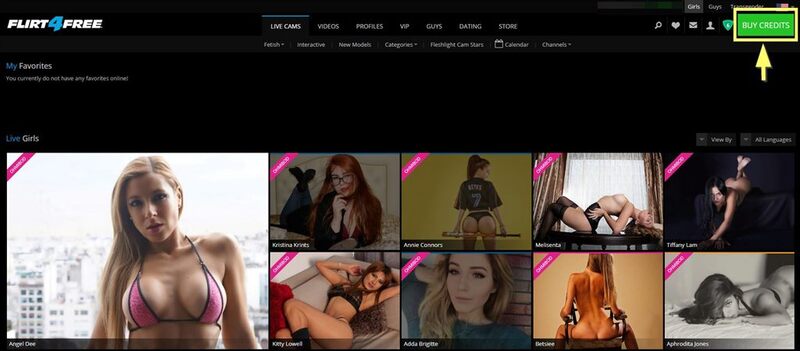 Steps to buying credits on Flirt4Free -
Click BUY CREDITS
Choose a package and enter your payment information
Agree to the T&C's and process your transaction
You're now ready for private and group shows
---
ImLive.com
The leader in affordable sex cams, ImLive is a site that rewards users heavily. As you buy and spend credits on ImLive, you are given status rewards points. Once you collect enough points, you are upgraded in level. Each level give you more free bonus credits on each purchase, in addition to a whole range of other discounts. But, there is a catch, the video quality is often not the greatest.
Steps to buying credits on ImLive -
Click Get more
Choose a package and click BUY CREDITS
Complete your payment
You can now use the full features ImLive offer
---
MyFreeCams.com
Once the leader in free sex cams, MyFreeCams might no longer be the best site around, but that doesn't mean they are bad. MyFreeCams actually has one of the biggest selections of webcam models out of any site. The problem with MyFreeCams is that they have an outdated user interface which is messy and difficult to navigate. That being said, they do have some seriously stunning exclusive models that don't appear anywhere else.

Steps to buying tokens on MyFreeCams -
Click on Purchase tokens
Choose a token package and payment processor then click continue
Enter your payment information and click to COMPLETE PURCHASE
Get your tokens and start enjoying MyFreeCams to its fullest
---
Sexier.com
A fantastic low cost adult cam site, Sexier has plenty of babes to offer its users. Currently, Sexier does not have HD cams, but that doesn't mean that all of the rooms have bad quality cameras. Many of the babes on Sexier use HQ webcam feeds. What Sexier offers is cheap webcam rooms and a wide selection. You won't be disappointed by what's on offer. The more you use Sexier, the cheaper it gets.

Steps to buying credits on Sexier -
Click on your account balance
Choose a package and click to BUY NOW!
Submit your payment information
Receive your credits and start chatting
---
Cams.com
If you like knowing where the babe you are talking to is from, Cams.com is the site for you. Each babe has a little country flag there, to tell you exactly where she is from. Cams.com has great quality webcams and some seriously hot babes, but the prices are on the high end. Cams.com tries to milk you for every dollar they can, you even have to pay extra for cam2cam. That being said, they are the only site to offer the Connexion interactive sex toy feature.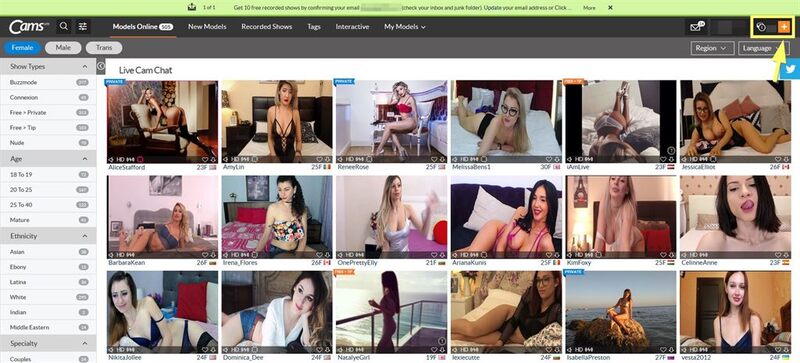 Steps to buying tokens on Cams.com -
New users are usually immediately met with a payment age upon registration. If it doesn't appear, this is how you can buy credits on Cams.com
Click the orange + icon
Choose a package and enter your payment information
Place your order and receive your tokens
Start enjoying the nude shows on Cams.com
---
xLoveCam.com
xLoveCam is a European cam site filled with European cam girls. If you are looking for a European hottie with cheap private shows, xLoveCam is there for you. Many of the webcam models speak a whole range of languages, we've even seen babes that speak five or more languages. Overall, xLoveCam has great quality HD webcams, but they can be very slow to load. The grainy images generally improve after a few minutes.

Steps to buying credits on xLoveCam -
Click on Add Credits
Choose a payment method
Choose a package size
Submit your payment and receive your credits
You are now ready to tip and take models into private sessions
---
BongaCams.com
BongaCams is a fantastic adult webcam site, if you can get past the pop ups. They have a ton of models, great quality webcams, and a clean user interface. The downside is that BongaCams will spam you with reminders to make a purchase until you actually buy something. The pop ups mostly stop once you have tokens in your account, but you will still get the occasional pop up notification.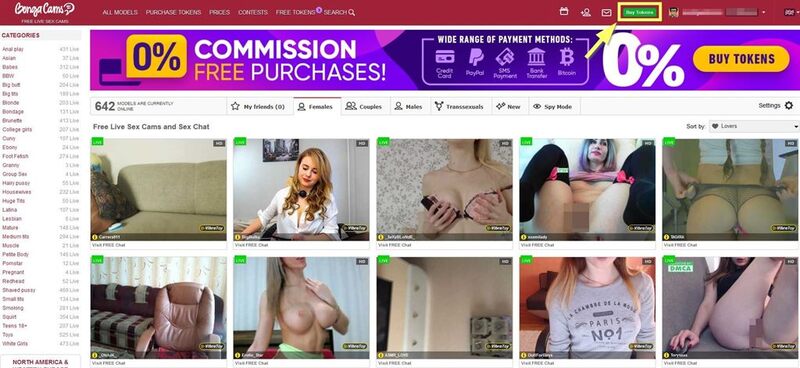 Steps to buying tokens on BongaCams -
Click on Buy Tokens
Choose a payment method, token package, and payment processor
Click Buy Tokens
Complete the purchase
Receive your tokens and start chatting
---
Conclusion
How much private cam shows cost varies from site to site. The table at the top of the page shows the lowest and average prices are on each of the best webcam sites. Overall, if we are to recommend just one site, it would be LiveJasmin. They have the hottest babes, unmatched customer support, and the hottest webcam shows. Buying credits on LiveJasmin is easy. All you need to do is look for the Get Credits button.
LiveJasmin has a sweet customer loyalty program. You get up to 9.99 free credits on your first purchase and on every 5th purchase after that.
Back to all articles about sex cams
---