Frequently Asked Questions About CamSoda
Last Updated
September 13, 2022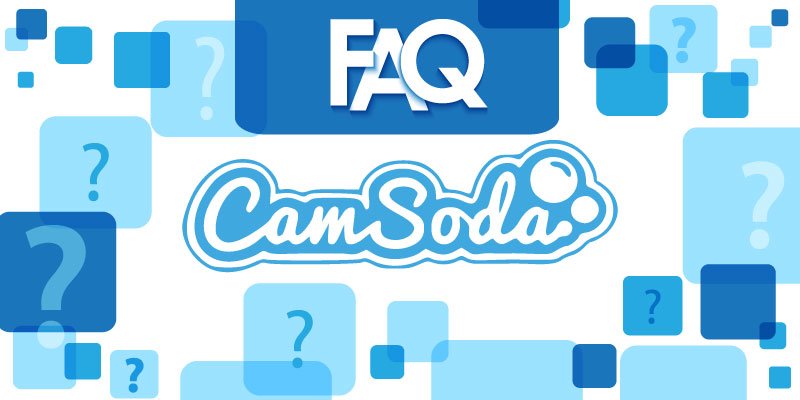 How to Sign Up on CamSoda and Are There Special Promos?
The registration process on CamSoda is simple and quick. Simply choose JOIN NOW FREE and then enter your desired username, password, a valid email address, and you're all set. Once you have completed this process, and logged in, your profile will appear in the upper-right hand of the homepage. Selecting your username, then Settings allows you to ensure that your gender and email are listed correctly.
As you enjoy the site, keep in mind that the nicest user of the week, as voted by the models themselves, gets 1,000 free tokens.
---
How Does CamSoda Work?
CamSoda is a freemium cam site which gives you the opportunity to enjoy live porn from a huge collection of cam models from around the world. Many of these babes are amateurs, but there are also celebrity porn stars and a wide variety of girls in between. One of the greatest joys of CamSoda, and cam sites like CamSoda, is that people of all budget levels can delight in the live cam entertainment offered. Most of the action takes place in a performer's free open cam room where audience tips fuel the hot action. The models get wild, and as more viewers continue to tip, the show continues and the performance heats up even more. 
In addition, most of the models stream in excellent HD quality and also offer low-cost private cam shows where you pay by the minute and are the only person in the room. The best feature of these private sessions is that you get to direct the action, and even have the site record the model's performance at no extra cost. CamSoda also offers a fully optimized mobile platform which delivers free cam shows and even gives you the option to share a cam2cam connection from wherever you happen to be.
---
How to Buy Tokens on CamSoda?
After registering, select the orange ADD TOKENS button that appears in the top right side of the page, directly beneath your username. This will open a page displaying a variety of tokens packages available for purchase. You can choose your desired payment method and the token package you would like to purchase.

Payment by credit card is displayed as the default option, as this is the most popular way users purchase tokens. CamSoda accepts the following payment methods:
Credit Card: Visa, Mastercard, Discover, Diners Club, JCB, Maestro
PayPal
Cryptocurrencies: Bitcoin, Bitcoin Lighting, Litecoin, Bitcoin Cash, Ethereum, Tron, Monero, Zcash
Wire Transfer
Mail in check or money order
If you are located outside of the USA, there may be different payment methods available to you. After you have decided upon your payment method, simply select the token package that best suits your needs and pay.
---
How Much Are CamSoda Tokens?
These are the available packages for those paying with credit cards from the USA:
| | | | |
| --- | --- | --- | --- |
| Tokens | Cost | Tokens per dollar | Bonus |
| 50 | $5.99 | 8.35 | none |
| 100 | $10.99 | 9.10 | none |
| 300 | $10.99 | 27.30 | package includes 200 bonus tokens |
| 400 | $39.99 | 10.00 | none |
| 550 | $49.99 | 11.00 | none |
As is demonstrated in the above chart, generally, the larger the token package you select, the better value you receive. CamSoda's current promotion gifts you 200 free tokens when you select the $10.99 package, an excellent deal for first time buyers. There are other packages available for those paying with any of the other accepted payment methods.
---
What Is the CamSoda Token Price?
Prices for private shows on CamSoda average $1.80 a minute, though there are cam models available for private chat starting at just $0.48 a minute. What makes these prices even better? Nearly all of these one-on-one sessions include cam2cam as well as free recordings of your cam model as she performs live for you. These videos are then stored on the site, where you can view them as much as you like for free. If you want to enjoy your live private porn session while on your mobile or tablet, you can do so at no extra charge.
To find the models with the lowest private chat rate, check out the left-hand side of the homepage. Immediately under Gender, where you can choose to display Female, Male, Couple, and Trans models, you will see Private Show Price. The cam models with the lowest prices for these erotic private sessions start at just 6 tokens a minute and selecting that box will automatically update your homepage to display relevant cam rooms. Check out our article on how to save money on CamSoda for more helpful tips.
---
How Much Are CamSoda Tokens Worth?
For enjoying any of the beautiful and naughty models of CamSoda in a private chat session, the minimum you will need is 6 tokens a minute. The most exclusive and popular webcam performers here ask for 120 tokens a minute. The vast majority of cam models have rates that are somewhere in between these two rates.
A CamSoda token is worth about $0.10 each. The CamSoda models will get between 5 and 5.5 cents per token, around 55% of what users spend on the site. In addition, CamSoda is the only cam site that helps their cam models pay for health insurance. Want to find out more? Our article on CamSoda's token value has even more helpful information.
---
Is CamSoda Safe and Secure?
Yes! CamSoda utilizes HTTPS to keep your connection private, and 384-bit SSL encryption to keep all of your information encoded. Payments on CamSoda are processed through one of the following payment processors: Epoch, SegPay, Rocketgate and CCBill. All of these are well-respected companies who utilize the best in internet technology to keep your payments secure.
In addition, your transaction receipts and other sensitive information will only be sent to your registered email address.
---
How to cam2cam on CamSoda?
You can find models who offer cam2cam by selecting it from among the many hashtags, or by selecting it in the list of available filters on the left-hand side of the homepage. Once you have located a model that you would like to share an interactive session with, select the pink Go Private button located immediately beneath the model's video stream. 
A confirmation window appears, detailing how much the model charges, her average private show rating, whether you will get a free recording of her performance, as well as listing cam2cam availability. Models who have tagged themselves with cam2cam should have it included. Select Start Private Show, and you'll be in her private show. Whenever you would like, simply select the pink Share Webcam button and your livestream to her will begin.
A variety of relevant screenshots and more info can be found in our article on how to cam2cam on CamSoda.
---
What Are the CamSoda Member Benefits?
Joining CamSoda as a basic user gives you the ability to watch all of the steamy live cam shows, chat with the cam models in HD, and delight in the site's collection of professional porn videos. But to really get the full benefits of the site, you will need to purchase some site currency. These CamSoda tokens open up the entire site, as they let you tip the models and join them in a rowdy private chat session.
---
What Are the Benefits of Premium Membership on CamSoda?
Signing up for premium membership on CamSoda is easy to do and costs $19.95 a month. Premium status unlocks some very cool features here. You can surf the site in an ad-free interface, change the tip volume, send private messages to the cam models, and cruise the site in stealth mode. The site also has a promotion where you can get 200 free tokens simply for joining. If you do not cancel the site will continue to renew by charging your account the $19.95 monthly membership fee.
---
How to Record Your CamSoda Model's Private Show Performance?
When you enter in a private chat session with a cam model on CamSoda, the site will indicate if the private session is recordable. Many of the models allow the site access, and you do not have to do anything special to begin the recording. Once the show has ended, the recording of your cam model's performance will be placed in your digital vault on the site. To watch any of these recorded sessions, simply select My Media. The site organizes all of the videos by date.
---
Does CamSoda Offer any Voyeur Cams?
CamSoda offers a large variety of voyeur and spy cams in high-definition, and they are available 24 hours a day, 7 days a week. Simply select Voyeur from among the many available hashtags, and the homepage will refresh with relevant live cams coming from a number of bedrooms, bathrooms, and other locations.
There are also a number of cam rooms where you can enjoy Spy Shows. These allow you to enjoy a cam model's private show performance at a far lower cost than if you joined her for your own private chat session.
---
Are There Videos Available on CamSoda?
CamSoda has a number of professionally produced porn videos for your viewing pleasure. It's free to watch these HD videos as much as you like, some of which are even available in 4K UHD. Simply select Premium Vids from along the category options at the top of the page, and the site's selection of porn videos will appear.
---
Does CamSoda Have Any OnlyFans Models?
Beyond hosting a number of amateur babes, horny housewives, and exhibitionist co-eds, CamSoda is also home to some of the hottest OnlyFans models. Many of these stunning women have uploaded a variety of content to the site and it is available for purchase right from their profile page. In addition, many of these beauties include links to their social media accounts as well as Amazon wish lists and more.
---
What is CamSoda bb?
Fans of OnlyFans, ManyVids, and Frisk.Chat will certainly enjoy CamSoda bb. This is a fun feature of the site that allows the cam models to upload explicit content like videos and photos in a social media format. Doing so helps these babes attract fans who may not have seen them among the several hundred hotties who are live streaming round the clock. The most recent media posts will appear along the top of the page. The more content these performers post, the more exposure they get to potential fans.
The bb site also allows users to interact directly with the models via messages and also by uploading their own vids and pics, though most simply choose to enjoy the excellent content on display.
---
How to Sign Up as a Performer on CamSoda?
Along the bottom of CamSoda's homepage is a link to the page where you can Signup to be a model. Selecting this opens a new page with additional info about benefits offered to the site's models.

When you select to sign up, you will be given a few options. You can sign up as a single performer, or you can sign up as a couple, or a studio account if you manage several models. The process is very simple, and CamSoda provides detailed information and instructions.
---
What Is the Best Internet Browser for CamSoda?
CamSoda recommends using Google Chrome as your desktop browser. When you are on a mobile device it may be necessary to use Safari to enable certain features like cam2cam.
---
Does CamSoda Offer a Mobile Platform and Does It Have cam2cam?
Yes, CamSoda has an excellent mobile platform that has been optimized beautifully. It is fully functional, has an easy-to-use interface, streams excellent HD quality video, and lets you enjoy cam2cam sessions wherever you may be located. To fully enjoy the mobile version, including cam2cam, it is necessary to use Safari as your browser.
---
How to Contact CamSoda?
There is live chat support available for any billing questions. For all other support questions, CamSoda has a helpful FAQ section, or you can send the customer support team an email.
Back to full list of sex cam blog posts
---