Sexier.com Review - Low-Cost Adult Video Chat Site
Sexier.com is an upmarket adult web cam site specialized in the art of live webcam chat. The site is geared towards the ever so popular adult entertainment industry, run by amateur cam models and their live bedroom webcams.
The site provides users, both free (guest) or fully signed up members, access to the entire database of over 70,000 web cam models, and for a price, the clothes will come off and the really saucy adult entertainment can begin.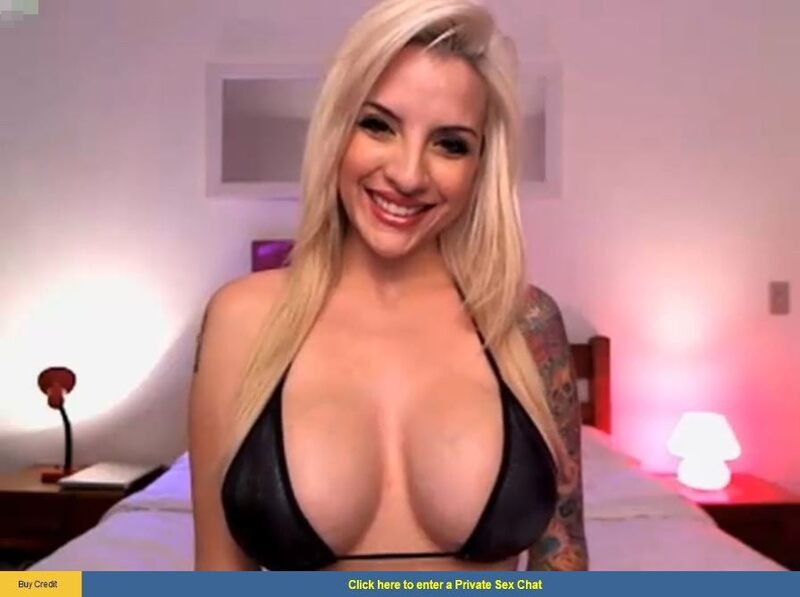 Free Video Chat
Simple Navigation and Easy to Use Advanced Search
Once you have loaded the site, and confirmed your age as being over the legal limit you are greeted by the wonderous homepage. Setup like so many other sites, Sexier.com uses the main stay of its existence, the live webcam chat feeds to serve as the main eye-catching feature of the site. Thumbnails of some of the active models currently online are shown along with confirmation of the type of adult web cam show that they are currently starring in - free video chat, happy hour show, or private adult chat.
At the top right hand side of the screen you can choose one of 7 additional languages, except for English, which is the default:
German
Italian
Russian
French
Portuguese
Hindi
Spanish

A simple search and categorization of the available webcam models are also available at the top of the screen, along with access to an advanced search feature, which allows you to filter the live webcam models according to your own preferences of appearance, language, age group, and so on.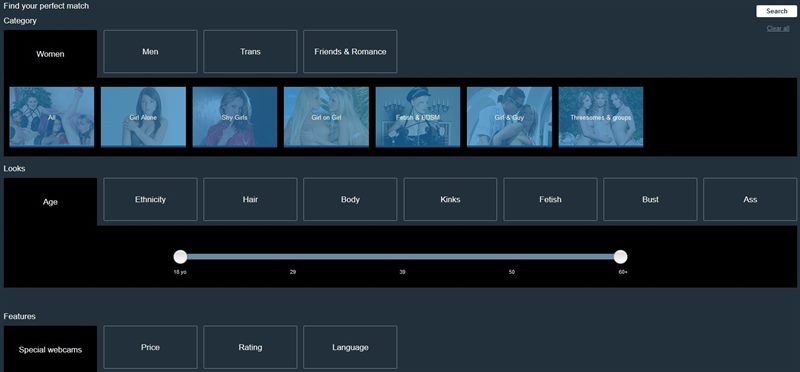 Advanced Search Feature
Free Video Chat Live on Webcam
You don't have to sign up to enjoy some of the features this adult chat site has to offer, you can browse the site for free, you can participate in live webcam chat sessions, and even communicate with the models, but you cannot see any real adult webcams action until you hit the paid shows.
However, there are plenty of things to keep guests busy and enjoying the live webcam chat, while they decide what they want to do.
Full Screen Mode
Reposition the camera and zoom in on the model at any time.
Video chat for free with the adult web cam stars
Read Bios and view thumbail images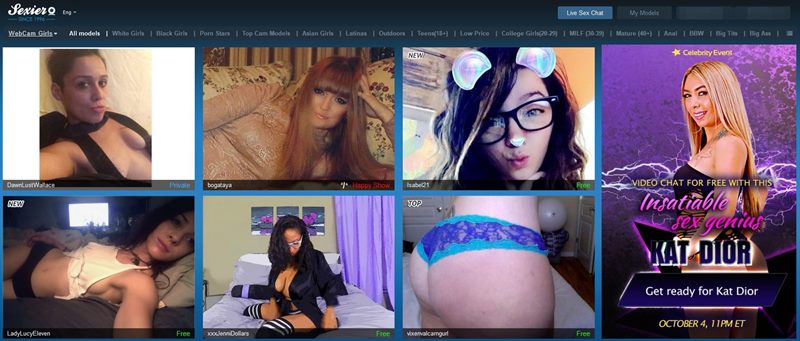 Sexier.com Homepage
Registration and Premium Webcams Membership
Signing up to Sexier.com live adult web cams site gets you access to live private shows and interactive free chat – models are unlikely to chat too much with a guest user. Private videos can be watched and images can be seen in larger screen views.
Private shows – One on one adult video chat ranging in price from $0.98 - $5.99 a minute
Happy Hour Shows – Reduced Price Special live adult web cam shows that run for short 'happy hour' periods.
Videos – Members can upload their own videos or recordings of their private shows. These can be watched by members in exchange for a reduced token rate. Usually around $3 a minute.
Images – Model pictures can be viewed in a larger screen than guest users can see.
Tips – Send a monetary tip to a live webcam chat model as a way of saying, thanks for a great show.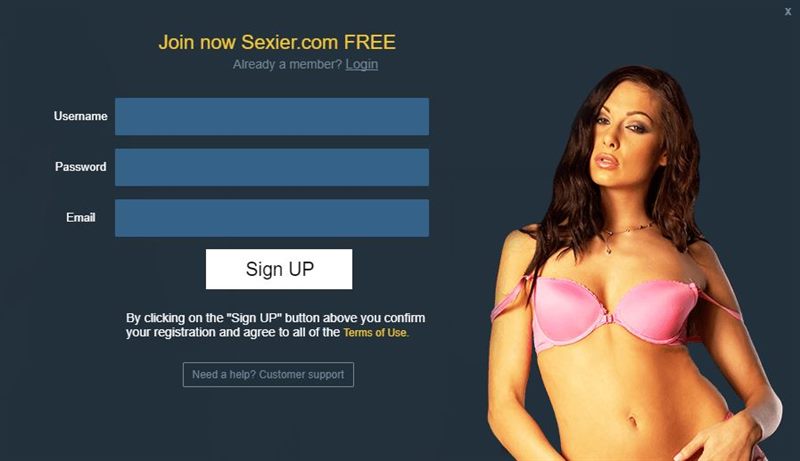 Free User Registration
Credits must be added when an account is created. On Sexier.com live adult webcams you are either a free 'guest' user, or a fully paid up member of the site. Credits can be bought online via credit/debit card transactions
Mastercard
Visa
JCB
Discover
Sexier.com is one of the best webcams site that also allows to purchase credits via Paypal. This is done through the Epoch billing solution.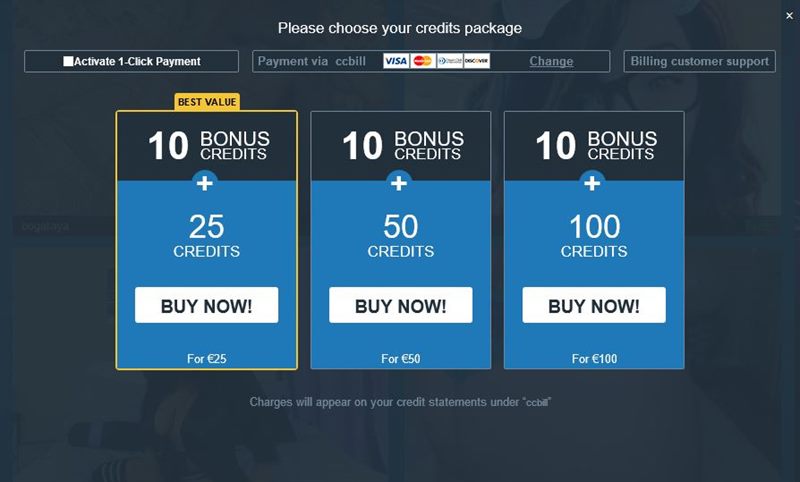 Purchasing Credits
Huge Selection of Online Webcam Models
With the Internet being a 24/7 environment, the concept of high peak and low peak times is slowly disappearing You know what they say, 'it is always 5 o'clock somewhere.' Live adult webcams are also a high demand product, so yes, there will always be plenty of models to entertain yourself with - at least 1,000 online cam models at any given time.
Sexier.com has over 70,000 registered female cam stars, and an additional 20,000 male cam models, over 5,000 webcam couples, and 3,000 transgender models. Sexier.com really does appear to offer something to everybody.
That being said, it would appear that the site is certainly geared towards paid membership, and the ratio of free chat / paid chat shows live can at times be rather poor. Still, with that many models there is always bound to be one online that meets the intimate desires of even the most picky of customers.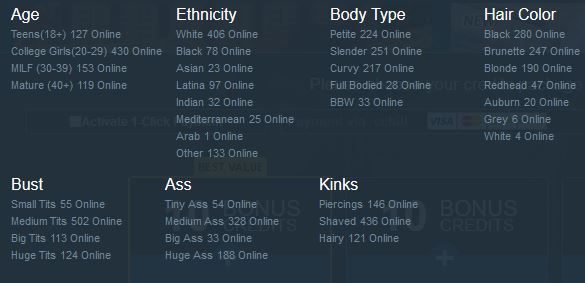 Webcam Model Categories
The live webcam chat feeds offer thumbnail images of the models, but, if you hover the mouse over said image, providing it is a free chat, you can see a small version of the show in progress. On top of this, you can read the models personal biographies. This is and always will be the best way to get to know the real person behind the live webcam chat persona.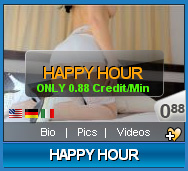 Profiles tell you what the model likes and dislikes, what she is willing to do in the various chat shows, what languages she speaks and her basic personal information. You can also find personal pictures and videos. For those interested in research they can find out a lot about a model you have your eye on, and even watch a few recorded shows to get an idea for how they act in private. Videos are of course watched at a charge, albeit a very low rate.

Amateur Webcam Model Bio Page
Cool Chat Shows
Sexier tries to do more than just the usual standard cam shows. To keep things interesting, there are vibrator shows, outdoor cams, and celebrity events. During vibrator shows, users get to take control over a cam models interactive vibrator. You get to control the power, speed, and intensity, to get her to cum just the way you like.
Outdoor cams are just what they sound like. If you are into the voyeuristic experience, outdoor cams lets you watch hot cam girls in the wild, performing sexual acts in the open, where the risk is high and the excitement is even higher.
Celebrity events are pornstar shows. That's right, Sexier invites real life pornstars to perform on their site. These aren't C list pornstars. As you might have noticed earlier, Kat Dior will the next porn star performing. The shows are regular, and available for free to all paying members.
Customer Support and Straightforward FAQ Section
That is true, and like all live webcam chat sites, sexier.com has a dedicated customer support department that are on hand to answer your questions and solve any problems that may arise during your membership. There are two ways to contact the Customer Support department at Sexier.com, and both are as user friendly as the live adult chat cams themselves, and they're both accessible from the bottom of the screen.
The first is in the form of a dynamic FAQ section. All of the standard questions are asked and answered. This second is rather simple in appearance but check full of useful resources when browsed. The majority of issues can be both raised and resolved here.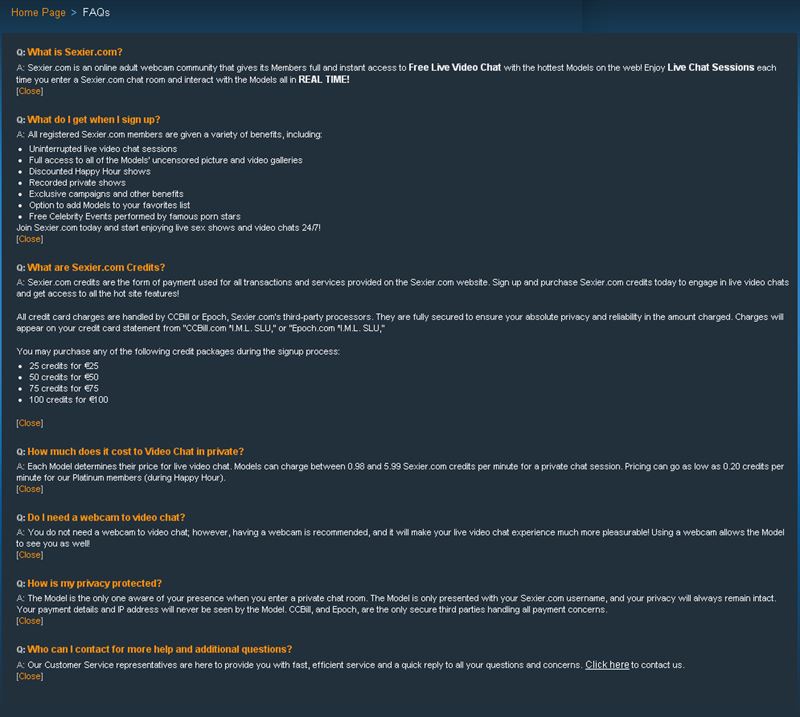 FAQ Section (Click to Expand)
Should further contact be required, there is an email address that connects you with the members of the customer service team themselves. This is for the more technical questions. Response times are encouragingly swift meaning you have more time to enjoy the pleasures on display.

Benefits and Drawbacks of Sexier.com
Benefits
Large selection of cam models
Guest users can video chat for free
Dynamic camera control
Full screen
High definition live cams
Clear sound quality
Drawbacks
Models not overly communicative with guest users.
Lack of real 'free adult show' experience for guest users. No real skin is shown.
Requirement to register a credit card and purchase tokens when signing up.
Low number of free chat sessions compared to number of active online models.
The Bottom Line
To sum up, Sexier.com is a wonderful premium adult webcams site. Even though the free features are limited, there's no pretense of being free either, they're straightforward in what they offer, and for that they deserve a chance for sure. Go to Sexier.com today, check out what they have to offer, and who knows, you might find your perfect match.
Back to the full list of Best Webcam Sites
---
539 models are online now
€0,98-€6,00 per minute in private