How to Cam2Cam on Chaturbate
Last Updated
September 18, 2022
Since its new cam-to-cam feature was launched, it has become fairly easy to c2c on Chaturbate. You'll no longer have to open your own broadcast to let other models watch you, and you'll also no longer have to just trust them to do so.
To start cam2cam, click the Cam To Cam link below the stream you're watching. It matters not if you're currently in the open chat or in a private chat with the model, it will work either way. It will not work, however, if you're on the mobile version of the site.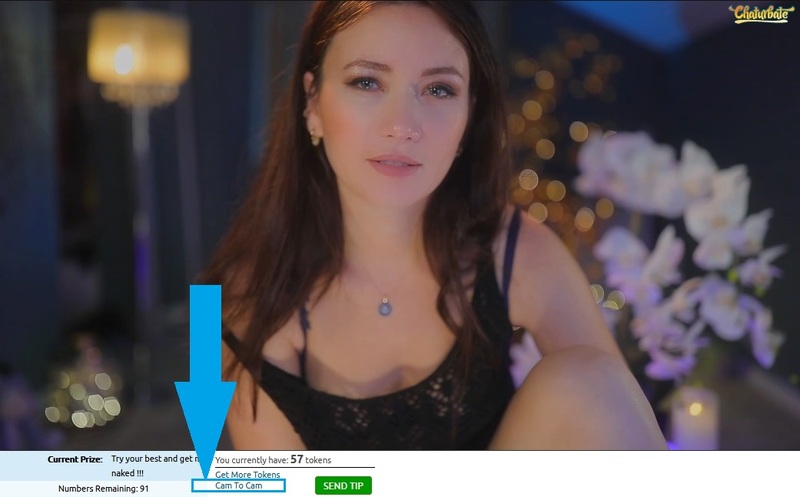 If this is your first time starting cam-to-cam on Chaturbate, a user agreement window will pop up, warning against any criminal use of the feature (like showing someone who's underage in your broadcast). Click I Agree to continue.

A window will then open and you'll be able to see a preview of your stream. Chose your webcam and the resolution you want to stream in. You can stream to the model in up to 1080p HD should your webcam allow it.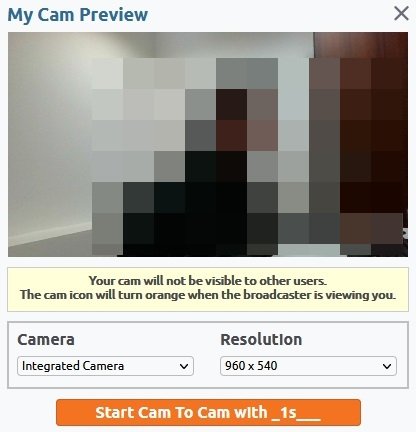 Once you're done, click Start Cam To Cam. You'll start streaming to the model, and only to her - no one else will be able to watch you, even if you stream in the free chat. You may be prompted to give Chaturbate permanent permission to use your webcam and microphone, as some browsers only give the site temporary permission. You won't be able to broadcast if you don't do so.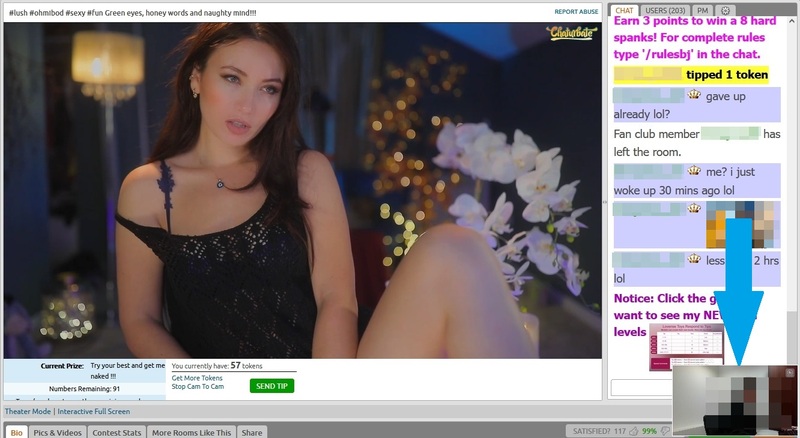 Once you start streaming, a small window will open, showing your broadcast. You can freely move this window around, and it even has a button you can click to mute or unmute yourself.
The model will get a chat notification that you've initiated cam2cam, but she has to agree to watch it. To that end, you will most likely have to agree on some sort of price for her to do so, most likely in the form of a tip or a private show with a minimum duration. You'll also need to have some amount of tokens in your account to even use the feature at all, even if the model is generous enough not to put a price on it.
When the model is not watching your broadcast the webcam icon on your stream preview is grey (as highlighted in the picture above). Once she starts watching you, the color of the webcam icon will turn to orange. This way you know when she's watching you, as she has to actively do so for the icon to stay orange. You'll also get a message in chat, which only you can see, that says that the model is now watching your webcam.
While cam2cam on premium chat sites may be more streamlined than on Chaturbate's freemium platform, most of them allow you to broadcast in the open chat, and some even charge you additional payment per minute for the feature regardless of the model's desire.
Chaturbate's c2c allows you the most flexibility and freedom while keeping things simple and straightforward. We may have had to wait quite a bit of time for the site to implement this ubiquitous feature, but it the end result was worth the wait.
---
Important Things to Know About Chaturbate
How is Chaturbate's Mobile App?
Compared to many other freemium sites, it's actually decent, though nothing stellar, unfortunately. When you go to the site you'll have some tags/tabs on the top menu, which is helpful, and the Options button to narrow down world regions and HD cams, which is useful. When you select a room, you'll be able to send a message in the text box, but that's it. There's no cam2cam feature on mobile. You can, however, select the bottom right icon to make the picture inhabit the entire screen, which is a nice touch.
How to Sign In to Chaturbate?
When you've entered the site, select the member icon on the top right of the main page, which has next to it Log in, Sign Up or Send Feedback options. After the first time you use your login credentials, the site will remember them and will have them ready for your next visit to the site (If you log in from the same computer/mobile/IP address).
How to Join the Free Chat?
Just pick a room and either click or tap the picture to get into the room! You'll see the main stream on the left, and the user's chat where you can send messages on the right.
How to Join a Private Show?
Once you have chosen a room and entered it, notice that below the live stream are three links in blue — Get More Tokens, Cam to Cam and Start Private Show. Select the bottom and third link and a pop up will show you how much per minute the model requires, if she has a minimum of minutes (Also called Block Sessions), and you'll see a message saying she allows free show recordings, as well. If this all sounds good to you, select OK and start your private show.
How to Open My Cam During a Private Show?
Great question, as not many sites offer this option. From the three options mentioned above, choose Cam to Cam, and then select from the pop up your camera and resolution. Also, Allow Chaturbate to use your cam and mic, which is another pop-up. That's it. Your cam will turn on, and only the model will be able to see you.
---
Chaturbate FAQ
How does Chaturbate work?
Chaturbate is a freemium live cam site. Models stream live from around the world and you can go into any cam room and watch the action completely for free. The only paid services are tipping, which is possible during free and private chats, and the private chats themselves. There are also Spy Shows, which are other private chats that you can spy on for a fraction of the price of a real private chat. You purchase token packages if you so choose, and then pay for said services.
How to use Chaturbate?
Depends on how you like to spend your time on live cams. If you enjoy moving from free room to room, just select which rooms you want to enter and enjoy. If you prefer to have 1on1 sessions then you need to register and purchase a tokens package to use this paid service. It's up to you.
How to c2c on Chaturbate?
First of all, check out our full report on c2c chatting on Chaturbate. But in short, as described above, you need to select the Start Private Show or Cam to Cam links from beneath the live stream inside a room. This will lead to pop ups and allowing the site to use your cam/mic features, and you can start cam2caming.
How to record private shows on Chaturbate?
All your private shows record automatically when you have them. Every time you choose a model to take to private, the pop up comes up and tell you the session is recorded. This is free. You can enter your member's account right after, or anytime you wish, and rewatch as many times as you can handle.
What is Chaturbate?
Chaturbate is a freemium live cam site, where you can watch sex and nudity streaming live, or purchase tokens and have private chats with model/s you select.
How much do Chaturbate tokens cost?
The three major packages are: 100 tokens for $10.99, 200 tokens for $20.99, and 500 tokens for $44.99. Chaturbate tokens are worth to you as the user between $0.09 and $0.11. Private sessions will cost you between 6 and 90 tokens a minute ($0.50 and $8.00). But just to reiterate, you can spend countless hours watching plenty of XXX action in the free rooms at no cost.

To read more about tokens and how to purchase, and use them on Chaturbate, visit our Chaturbate's token value page.

For more information about Chaturbate, visit our main FAQ page.
Back to full list of sex cam blog posts
---