Best Webcam Sites Featuring Gay Daddies & Grandpa Cams
Last Updated
September 09, 2022
If you're looking for a guy who's got a few years of experience under his belt, the older men at the following live cam sites can show the younger upcomers what live sex chat is all about. The silver-hair foxes, gay daddies and kinky grandpas have the know-how and skills that only comes with age. Many of these guys have been there, done that, and are looking for partners to not only share their sexual knowledge with, but also cam partners who'll take them on a sex journey to places they have yet to visit.
Read on to discover the short cuts to the cam rooms featuring the hottest gay grandpas and deviant daddies at each of these live cam platforms, as well as how much some private fun will cost.
LiveJasmin.com
When it comes to the top mature men streaming live sex cam shows, LiveJasmin features the kinkiest kings of live porn. While not all the men stream in HD, the majority do and all of them offer cam2cam private shows where it's just the two of you pleasuring each other in all sorts of ways. Prices aren't the lowest, but on the other hand, these silver foxes and sexually skilled DILFS are some of the most experienced cam models online.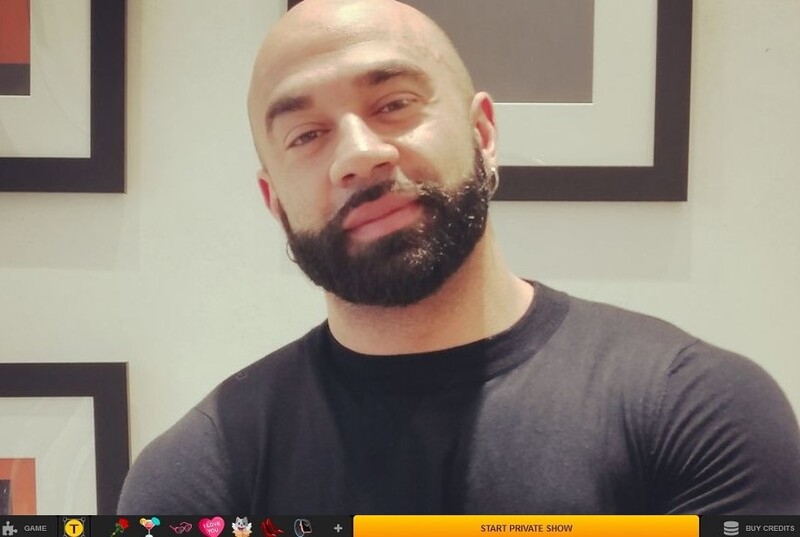 Once the homepage loads, make sure you click on Boys in order to see all of LiveJasmin's rooms hosted by male performers. On the left menu bar you simply scroll down to the Age category and select 40+ from the options. However, you'll find that this group is limited and sometimes there are very few men in this age bracket streaming online. The best time to take a quick perv at the lads at LiveJasmin who aren't in the first flush of youth, is to visit the site in the evening hours of Europe and/or the USA.
If there's an orange circle on the guy's photo, this means he isn't streaming live, but you can video call him via your phone. You might be lucky and he'll pick up, though most of the times, the guys only want some sexy C2C time if they're at home or broadcasting from their studio via their webcam. In this case, you can send them a message via the platform and find out when they'll next be online.
LiveJasmin is a premium cam site through and through. The male models are top performers and they'll only strip off fully and get the privates out to play with behind a pay-for-play wall. Exclusive sessions start off at just $1.20 a minute, though most of the guys charge higher, around the $2.40 a minute mark. Unfortunately cam2cam and 2-way audio each incur an extra cost of between $1-2 a minute.
---
C2CPorn.com
When it comes to the largest selection of cam shows hosted by older gay men looking for a partner for some private or even free X-rated play time, C2CPorn is worth checking out. It's slightly different to the other webcam sites listed here as it doesn't host live cam sessions itself, rather helps you narrow down your options to the perfect gay grandpa or 45+ dude, and then redirects you into his private cam chat room at whichever site he's broadcasting from. C2CPorn is more like a cam concierge service helping you find exactly what you want at no cost whatsoever. This site is totally free to use.
Just click on Boys and then click on Grandpa and/or Mature from the top links in the search menu on the homepage and the site refreshes showing only the older men getting kinky in from of a cam feed. If the photo has a Live Stream sticker on it, this mean when you hover the image, or click on it, a real-time video of the guy's personal chat room appears so you can see exactly what he's up to, without having to enter his room and make your presence known.
C2CPorn collates all the relevant rooms related to your search from several of the largest cam platforms and brings them to one page. In order to help you find your dream dude, you can then add on as many parameters as you want such as his body type, ethnicity, dick size and even kinks such as fisting or a fetish-feet gay cam show. Once you find a guy who ticks every box in your wish list, clicking on his photo brings up more info about the performer.
You can see which site he broadcasts from, how highly other users have rated a private show with him, as well as a short  bio including the fetishes he's into. You can even see which days and hours he's normally performing live so you can time a future visit, accordingly. Once you're ready to chat to the guy in his free cam chat room or take him on a private date, click on the large Join Him! button and you'll be transported directly into his private cam chat room at whichever site he's streaming from.
---
Chaturbate.com
Chaturbate is a freemium cam site with probably the biggest library of  XXX shows streaming direct from the platform. You can find all types of performers from around the world including a huge number of older dudes who get their kicks off by having an audience watch them as they masturbate, insert toys and cum on demand. Streaming quality varies and while Chaturbate is one of a very few live cam sites offering 4K UHD feeds, most of the guys stream in HD (720p), with many still using SD broadcasts.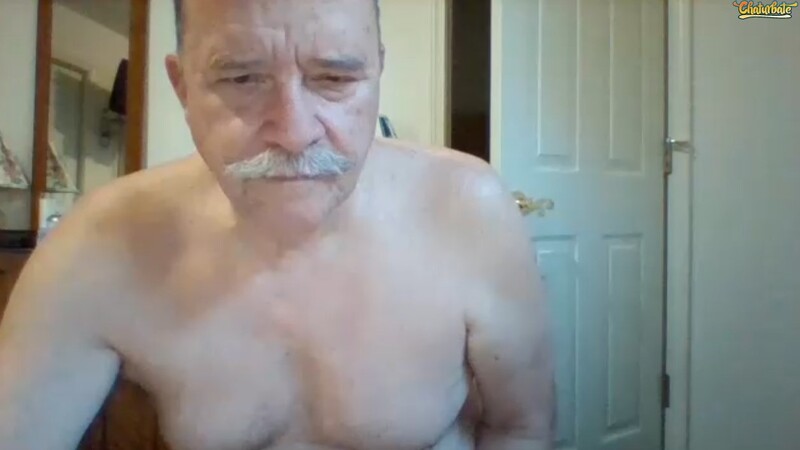 Once you select Men from the top buttons above the gallery of photos, you'll see hundreds of dudes naked and naughty and all looking for an audience as they perform some of the kinkiest free cock and ball shows. If #daddy or #mature doesn't come up as a search tag on the top options, simply click on all tags and on the first page of results scroll down until you reach either category. #Daddy brings up far more options than #mature, though guys looking for a daddy figure also use this as a tag to describe themselves which means you will get a number of non-relevant results.
One thing to bear in mind at Chaturbate is that many of the mature men and 50+ dudes streaming live aren't necessarily gay. They're simply exhibitionists who want an audience as they play with themselves. This means you get a huge variety of free XXX cam shows, though many of them won't take requests or interact with other guys.  You simply get to sit back silently and watch as a grey-hair kinkster squirts his load. On the upside, those who take requests ask for a small tip and many won't even require you to tip them.
If though you want to be the sole focus of their attention and direct the show you'll need enter a paid-for 1on1 cam show and this is where the problems start. Many of the men won't go into a cheap private gay cam session and if they do, some won't let you turn on your webcam for a c2c session. Those who are private show friendly ask on average $3.00 a minute. And, if you're lucky you'll be with one of the horny hommies who'll let you record their private performance at no extra cost and store a copy of it in your online Chaturbate account for unlimited future viewing.
---
Stripchat.com
Stripchat is a freemium cam site with a couple of extra features you won't find at many other live video chat platforms. It's one of thew sites to offer virtual reality (VR) cams, though very few of the older men have VR feeds. It's also one of the few sites that lets you record a free cam show, but again this feature isn't often enabled in the older guys rooms. What is on offer is a lot of free X-rated action featuring men from around the world who open a cam feed and perform some extremely kinky acts with or without tips in their open public cam chat rooms.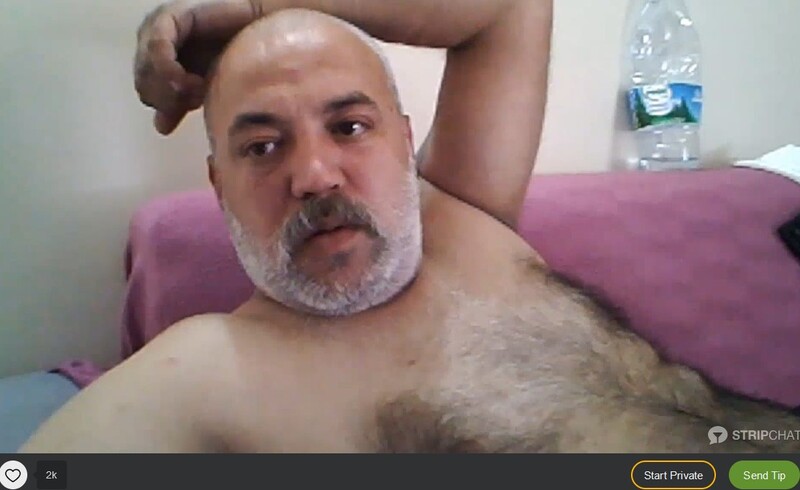 All you have to do in order to see a page of snapshots featuring naked older men is click on the top tab for Guys and then choose from Daddy, Mature or Grandpa from menu's Age group. The majority of the grandpas and mature guys at Stripchat are amateur exhibitionists who stream from their homes. They don't actually put on a show, rather open a cam feed as they play with themselves. The action is free but the audience is there more for the performer's fetish of being watched.
Most of the guys at Stripchat identify themselves as straight or bisexual, with only a handful identifying as guy. However, regardless of the viewer's sexual leaning, they'll happily carry out their favorite fetishes in a private chat, though some won't let you turn on your webcam for a C2C gay cam session. If you want your new older play-pal to see you too, check before starting a private session if this is something he'll allow.
When it comes to prices for some personal NSFW live video chat with a sexy senor at Stripchat, on average, rates come in at $2.40 a minute. While many of the more professional models offer a free recording of their exclusive performance, the men, who are mainly amateur X-rated cam hosts, rarely offer this. If it's something you want, ask the host before starting any paid-for session if this is an extra he includes in his rates.
---
LivePrivates.com
LivePrivates is a premium cam site with a little free twist. At this platform some of the professional older cam guys strip off and get their package out for some mutual playtime in their free open cam rooms. And, unlike the freemium cam sites, the overwhelming majority of the dudes here consider themselves out and proud, with the remaining men happy to play XXX cam games with any type of sexuality looking for some fun.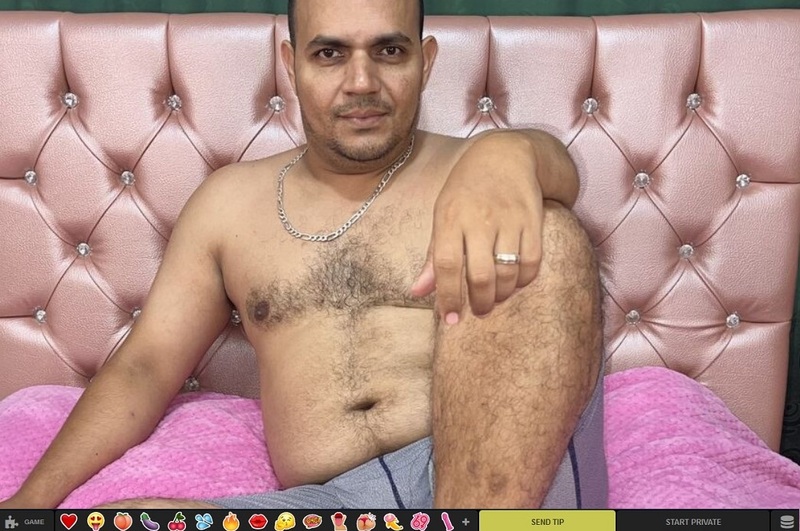 To get to the mature men at LivePrivates, once you've select Boys from the options on the homepage's menu, you'll then have to click on the small advanced search icon located to the right of the search bar and then choose Mature or Senior from the Age category. You can also add on other filters such as which languages you'd like him to speak, his penis size, ethnicity and kink preferences such as a JOI gay cam model who'll use his years of experience and hands-on knowledge to show you exactly the best way to juice one out.
Another benefit that the older dudes at LivePrivates have over comparable performers at the freemium platforms is that all will go into an exclusive show mode and almost all will let you open your webcam feed for some face-to-face cam adventures. And, if you're looking for a muscular man with silver hair and wrinkles but while they're aged like a daddy, they're toned and ripped like a twenty-year old, LivePrivates is the place to find one.
Prices for a private session with whichever type of senior cam star takes your fancy, generally cost around $2.40 a minute. However LivePrivates is another platform where cam2cam costs extra per minute and so does 2-way audio. So, if you want your new mature mentor to watch you and let you chat to him via your microphone in instead of messaging via the keyboard, you'll have to pay an additional $1-2 a minute for each feature.
---
Streamate.com
The selection of guys at Streamate runs the gauntlet of ages, ethnicities and body types. In fact there's only one thing in common most of them have, and that's a love for the kinkier side of sex. At this site you can find guys who practice every major fetish, and some lesser known-kinks. However, the biggest draw at Streamate isn't the range of fetishes you can find taking place in live cam shows, but something far more mundane — a unique payment method on offer. At Streamate you don't need to pre-purchase credits or tokens, you simply link your profile to a payment method and you ready to rock n'roll with an older gay hommie.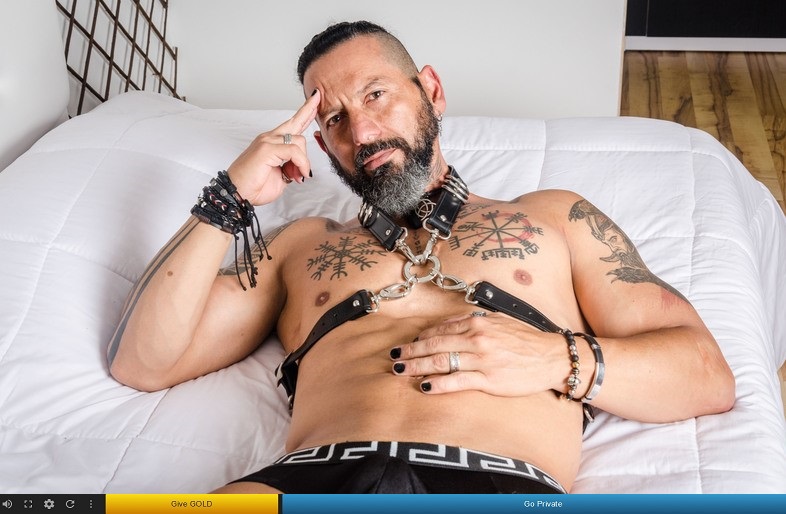 Once you've made sure you're looking only at the men at Streamate, select the top tag for Age and choose from the 40s (40-49) or Mature 50+ group, or both. The Streamate men aren't shy in expressing their sexual turn-ons in their free open cam rooms and most use HD as their video stream quality. However, unless you're visiting the site during peak evening hours in the US or Europe, expect a very limited choice of live shows to choose from.
Unlike the other sites listed above, Streamate doesn't make you purchase credits or tokens before tipping a guy or entering a private cam show. Here you have to link your online profile to a payment method such as a major credit or a PayPal account and then are charged for the time you've spent in a 1on1 session with the deviant dude, or for the amount you've tipped him in his open XXX cam show. This can save a lot of frustration and time and stops you worrying about running out of credits/tokens halfway through a private session.
A 1on1 date with a older gay cam guy at Streamate generally hits the $2.70 a minute mark. When it comes to cam2cam, some models include it in their rates, others won't allow it all. Check before starting any show what the guy's policy is on letting your open your cam feed. And, if you're worried about running up a huge bill by not paying attention to how much time you're spending in a paid-for show, don't be. Streamate implements a daily spending cap of $50.00. Once you've reached the limit, the show is shut off and you won't be able to start another session until the next 24 hour period kicks in. If you need a higher limit, you can always contact the site to up your daily limit.
---
Conclusion
If you're looking for a grandpa cam host who likes to play with himself as strangers from around the world silently look on, the freemium cam platforms are the best option. These sites feature a huge range of horny 50+ webcam guys who get their kicks out of performing a wide range of kinky acts for an audience. At these sites though, you're more a silent voyeur. Some will take tips in order to fulfill a request or go into a private show where they'll let you open you cam feed, but just as many prefer to keep things anonymous and won't go 1on1 or go into a cam2cam mode.
At the premium sites, things are different. The guys here are looking for an active partner to join them on a virtual X-rated cam adventure. These guys are experienced cam chat hosts and make sure their partner's needs come first in a private cam2cam HD show. Without a doubt, if you're looking for an experienced older gay cam model for some live cam fun, LiveJasmin has the hottest oldest men you'll have the privilege to party with.
Back to full list of sex cam blog posts
---