How to Build a Profitable Webcam Modeling Career on Stripchat
Last Updated
September 06, 2022
Stripchat is one of the biggest and most popular cam sites operating on the web these days. At any given time, it hosts no less than 2,500 models of all genders, shapes, sizes and ethnicities. During peak hours, their number can easily reach more than 5,000 online models.
You may ask yourself, what's the point in joining a site inflated with so many performers? The answer is simple. Side by side with tons of models, there are megatons of users vying to chat with those models. In the U.S. alone, Stripchat attracts more than one million visitors a month. You don't have to be a financial genius to understand the earning potential such a site has.
Moreover, Stripchat has a variety of chat modes and great features that can help you generate more money from your shows. Last but not least, it's a freemium site with public live nude shows. That can work great for you if you know how to work your body for the crowd.
Becoming a Model
The first thing you'll need to do to become a webcam performer on Stripchat is equip yourself with a good HD webcam and a fast internet connection. Next you'll have to sign up not as a user but as a model. Beneath the left search bar, you'll see a Become a Model link. By pressing on it, you'll be directed to a registration page where you'll be asked to provide a valid email and a user name before you tap on I want to Earn Money and move on to the next stages.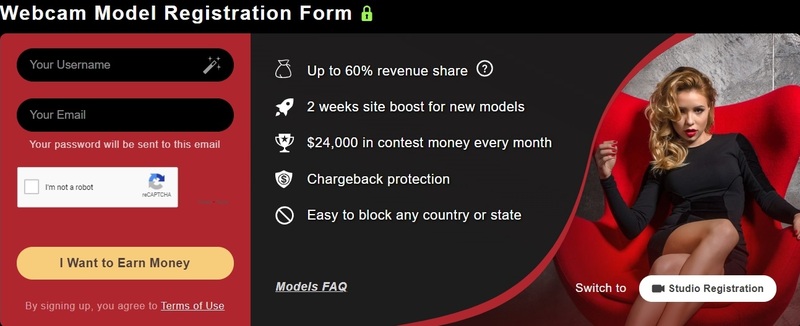 The site will send you an email requiring you to verify your account. You'll also be given a unique password, which you'll need to change after you log in for the first time.
Once you verify your account, you'll have to set up your profile. That includes filling out personal details related to your birth date, ethnicity, hobbies and bodily attributes. You can also write a few 'about me' sentences.
You'll be asked to upload a profile pic that will be visible to all users and a cover image which will be presented on your profile page when you're offline. The file can be jpg, png or gif. It's, of course, highly recommended that you send your best pics so as to attract the largest number of customers.
No less important, setting your profile includes pricing. You'll need to adjust your chat rates for each show type that is offered by Stripchat.
The last stage revolves around identification. This is where you'll have to authenticate your identity as required by law. The site will ask you to give your home address and to send a clear scanned photo of a governmental identification document.
After completing all the aforementioned stages, you'll have to wait for Stripchat's approval of your model account before you can start broadcasting.
Show Types on Stripchat
Stripchat has a variety of live show types you can give your viewers.
Public Chat
This chat takes place in your open room. Anyone can watch you, even guest users. However, only registered users who have verified their email, can take active part in the chat. Stripchat enables you to prohibit users without tokens in their account from typing messages.
As a freemium site, much of the action on Stripchat occurs in open rooms, so you'd better treat public chatting seriously as it can generate lots of tips. Try to be creative with your shows. You can watch other more veteran performers and learn from them. Do not be afraid to utilize your body and express your sexuality. That's what users are expecting from you, and they'll reward you handsomely if you do that well.
You may choose to stream either from a static room or dynamically via your smartphone. If you choose the latter option, there are some special applications you'll need to download and use.
Private Chat 
This is a 1-on-1 show you'll give a user willing to pay your per minute price. If you avoid full nudity in your public room, here you'll need to shed your clothes and do what the user is asking you within the bounds of reason. If you're lucky enough, you'll perform in front of a generous user who'll spoil you with tips in addition the per minute fee paid for your private time.
Many models on Stripchat have minimum chat duration of up to 10 minutes. There is no reason why you shouldn't follow suit.
Exclusive Private Chat
This is a private chat which offers users two extra features comprised of the ability to open their cam and chat exclusively with you without other users spying on the show. Exclusive Private chats are more expensive, allowing you to earn more money per minute (see pricing below), but be prepared to watch your chat partner in the buff.
Spy Chat
Spy Chat allows other users to access your private shows and watch you. They can neither chat with you nor see your initial private chat partner. Spy Chats are a wonderful means of passive income as you're required to do nothing apart from being watched by another pair of eyes.
Group Show
This is a paid per minute private chat an unlimited number of users can access on condition that they pay the rate you've set. Everybody wins. These shows are cheaper, so users pay less for a hot performance and you earn more thanks to multiple participants who came to watch you. You have the right to end the show any time you want.
Ticket Show
Ticket Shows are quite rare on Stripchat. They resemble Group Shows in a sense that more than one user can attend them. But unlike Group Shows in which users pay per minute, Ticket Shows have a fixed price you determine in advance. You'll need to announce the show five minutes before it starts.
Pricing and Earning Prospects
In the course of setting up your model account, you'll be ask to determine your prices for each of the live shows you can give on Stripchat. You'll be able to modify these prices later on based on changing circumstances. Here are the minimum, maximum and average rates in tokens per minute charged by the site's models. Take into account that each token costs a user around $0.10.
| | | | |
| --- | --- | --- | --- |
| Show Type | Minimum Rate Per/Min | Maximum Rate Per/Min | Average Rate Per/Min |
| Private | 8 | 200 | 24 ($2.40) |
| Exclusive Private | 8 | 250 | 31 ($3.10) |
| Spy Chat | 4 | 60 | 16 ($1.60) |
| Group Show | 4 | 60 | 16 ($1.60) |
| Ticket Show | 8 | 200 | 60 ($6.00) |
You have the prerogative to decide not to give one of these show types. Most of the models charge around 30% extra for an Exclusive Private chat which includes c2c.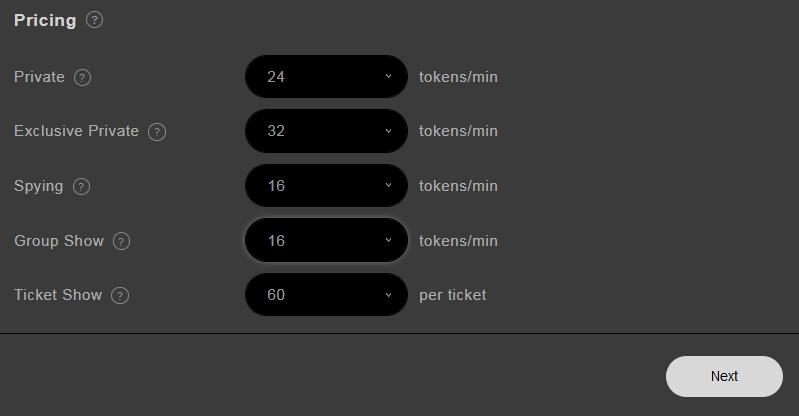 As to your share, you'll get $0.05 per token spent on tipping you or watching your shows. Taking into account the fact that Stripchat pays for all transaction and VAT costs and doesn't charge its models in cases of chargebacks and refunds, the percentage paid to you varies between 48-63 percent of your tokens collection.
Special Features for Increasing Your Revenues
Apart from users' tips and paid live shows, there are other ways you can make money as a model on Stripchat.
Offline Tips — If you're really good and users fall in love with you, you can expect to receive tips even when you are not connected to the site.
Goal Tips — You can set a tip threshold and a user who crosses it, becomes a King in your room (they get a crown icon next to their username). You can also set a collective tip goal. Once it's met, you'll have to perform a specific act for all users watching you, e.g. squirting, spanking yourself, fingering your butt or simply declaring that you've become happy.
Tip Menu — A tip menu consists of customized activities you'll be willing to include in your live shows for a specific number of tokens per activity. Tip menus on Stripchat are interactive in the sense that a user can choose a special activity and pay for it simultaneously.
Show Recordings — You may join around half of the site's model who allow their public shows to be recorded for extra payment. The average rate for show recording stands at 60 tokens a minute. In addition, you can record your private performances and publish them as a paid video.
Selling Your Content — The sites lets you create video collections and photo albums and give access to these files in exchange for tokens.
Fan Club — Any female performer who has more than 1,000 followers and a trans or gay model with more than 500 followers can establish a Fan Club. Each user can join this club as a Soldier, Lord or Prince. Higher status demands a higher monthly membership fee, so it's an opportunity for your fans to show how much they love you.
A Fan Club means passive income, which depends on a user's membership status:
Soldier membership - 100 tokens a month per subscriber
Lord membership - 200 tokens a month per subscriber
Prince membership - 500 tokens a month per subscriber
Club members get, regardless of their particular status, a special badge in your room, access to your premium photos and videos (if you have any) and private messaging with you. You may also decide to give subscribers free spying on your private shows.
Refferal Program — If you bring new users to Stripchat, you'll get additional 20% added to any token they will spend on you.
Monthly Contests — You can win cash prizes if you enter the monthly list of the 100 models with the highest token earnings. First place entitles you to $1,000. Second, third and fourth places receive 900, 800 and 750 dollars respectively.
VR Live Chats — Stripchat is one of the only cam sites which offers its users virtual reality chat rooms. Most hours of the day, there are 20+ online models giving stereoscopic live shows. Joining them, you won't get an extra fee but you'll definitely attract users interested in experiencing this novel type of live porn.
The wizard on your broadcasting page will instruct you step by step how to add all the features that you want to your chat room and live shows. There is also a models FAQ with technical explanation and a message center with 1-day reply time.
How To increase Your Popularity Among Users
StripScore plays an essential role in advancing your position on the site vis-à-vis other models, which will naturally result in more traffic directed to your room. In fact, it's estimated that 50-80 percent of your income is affected by your StripScore. Here are the main factors in determining your score according to their order of importance:
Your revenue per hour
An extensive tip menu with no less than 4 activities to make chatting in your room more interesting
A background photo or video so your users can know what to expect from you
At least 5 public pictures and 1 video to help users become familiar with you
A profile with no less than 4 panels to give the users a sense that they're interacting with a real person and not an abstract model
A private show rate which maintains a fine balance between high revenue per hour and an attractive price for users. Attaining such balance is a matter of trial and error
Goal tips in your room to give users an incentive to shed their tokens
Additional Tips to Help You Optimize Your Cam Shows
On the first 15 days after you sign up, Stripchat will promote you, so it's imperative that you work hard during this period of time to build your reputation
Use good equipment comprised of a hi-def webcam, fast internet connection and proper lighting to optimize your users' viewing experience
Set a fixed broadcasting schedule so your users know exactly when to reach you online. To assist them in that, you should specify your work hours on your profile page
Every shift should consist of at least 6 hours to make sure you have enough broadcasting time to maximize your earning potential. As mentioned above, your revenue per hour is a crucial factor in determining your StripScore
Be visually stimulating to keep regular and casual users in your room as much as possible. Don't be idle. Move around, dance erotically, touch yourself and use all sorts of devices from dildos to fuck machines
Don't be afraid to use the microphone. It's much more fun than chatting via keyboard
Try to be responsive to users in your public chat rooms. We know it's not easy to divide your attention among so may people who tend to think they're the center of your universe. Yet listening to their whims is probably what's going to keep them watching your show
Know your users — Do your best to become acquainted with your users. That includes remembering their names and other personal details if they'd revealed them. You can take notes to help you remember. Moreover, talk to your users using a language they can connect to. For example, if you have a user who loves a particular sport, either talk or ask them to tell you about it. In the long run, being attuned to your users' preferences and lifestyles will help you generate fans
Conclusion
Stripchat is ideal for pursuing a successful career as a webcam model. The site has all what it takes to help you make lots of money. We are referring to a wide user base of horny people looking for high quality adult entertainment, and tons of feature you can use to motivate your viewers to spend money on you. Equally important, as a full-fledged model, you'll enjoy a high payout percentage, which makes your broadcasting activity on the site worthwhile.
If you thought about giving a try to webcamming, Stripchat is a great place start.
Back to full list of sex cam blog posts
---