Top 10 Cam Sites That Accept Discover Credit Cards
Last Updated
September 19, 2022
Discover is the fourth largest credit card in the United States. Since partnering with Union Pay in 2015, Discover has become the most widely accepted card in the world. Discover credit cards are accepted on most of the cam sites chosen as the best for 2022. These are the top five adult chat sites where you can pay with your Discover card. They have the hottest models, the best prices, and features completely unique to each and every site.
CamSoda.com
If you've clicked on the link above, you'll see that CamSoda is our top dog for 2022, which is no surprise since it also held that title in 2021, and will likely continue to be a figure of excellence and user-satisfaction for years to come. CamSoda is probably so beloved, in part, because of just how much free content it serves up. From the CamSoda-produced Exclusive Vids (Free full-length movies), to Reallifecam and Nude in Public (Located bottom of main page) to the free recorded shows, you can spend hours, days, and longer just going through it all, without even a registration.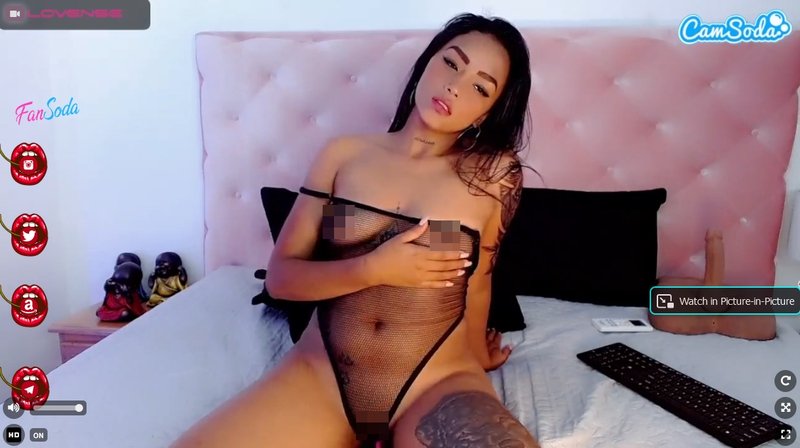 CamSoda excels on so many levels, but let's start with the basics. Hundreds of amateur cam girls starting at just 6 tokens a minute await you, mostly naked or wearing a sexy outfit. Also, they stream in awesome HD of up to 1080p HD. These rooms also include fun connections to the model's social media account, as well as their Amazon wishlists or OnlyFans accounts. They also have Lovense menus, which allows you for just a few tips to get the model to squirm with pleasure as her toy activates. And if you like, CamSoda is one of few sites that allows you to turn on your camera during open chat, for free.
A 1-on-1 chat, which costs $1.80 a minute, on average. The minimum rate is $0.50 a minute. This super, ridiculously low price comes on top of the amazing amount of sex and nudity you get in the free chats. Also, on top of the free cam2cam feature on desktop and mobile. And also on top of the free show recording you get when you have a private chat, which you can rewatch anytime. And if you want to get even more tokens, head on over to the bb page for users who post sexy/funny posts like on social media. Why? Other than entertainment and community, each week the most upvoted post can win 2500 tokens, worth $250.
Using Discover on CamSoda:
Find the Add Tokens button on the top right of the any page
Select your token package, as the default payment is credit card
Complete your payment on the Epoch page and get your tokens
---
LiveJasmin.com
The world's best premium cam site is without a doubt LiveJasmin. Even if you're new to live cams, you may have heard references to it on social media, popular songs and even TV/movies. The reason for the success is not just that all the models are actual full-time performers with a vast arsenal of skills and talents, but also due to the sleek site experience, great filtering system, the 720p HD rooms, the 24/7 live customer service, the mobile platform with c2c, and also the site showcasing the more glamorous side of live cams, with the models keeping their clothes on during their open chats with users.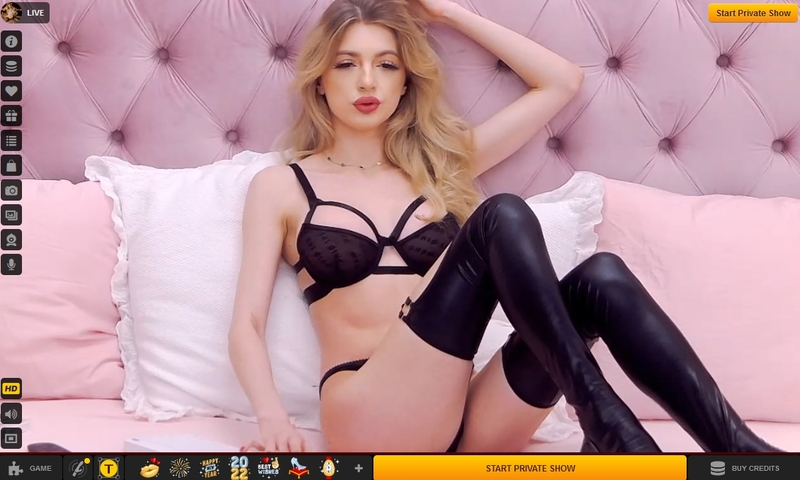 The filters mentioned above are unique, because they are the only ones on this list that allow you to make multiple choices, not just one at a time. To get to that particular filter, which is in addition to the main one on the left, just hit the 3 dotted icon next to the search bar on the top right. This will give you all the same options, but your won't have to think what your priorities are. You can select the look of the girl, her world region, her kinks, her age, and the price range.
On average, prices hover around the $2.40 a minute mark. The cheapest models on the site take $1.20 a minute. But beware, the prices are so low only for regular privates. If you want to open up your camera, that's another $1-$2 to add on. If you want to turn on your mic, that's another $1-$2 as well. Same prices on mobile. But there's good news too. First, receive 9.99 free credits when you verify your card, worth $10. Also, Spin the Wheel prior to every purchase you make to win up to double your purchase amount. Lastly, go into a multi-user chat for super cheap, in a VIP Show.
Using Discover on LiveJasmin:
Click on the Get Credits link at the top right of the homepage
Choose a credit package (All credits card are the default method)
Enter your card details and you're done
---
Flirt4Free.com
Flirt4Free is one of our favorite premium sites, for the sheer audacity of giving it's members not only plenty of skin in the open rooms, but an entire mini-site within it, dedicated solely to fetish. This is the glorious Fetish Community, and it includes over 50 categories, from Feet to Cross Dressing to JOI and others, with some of the best fetish models around. It also includes an Education Center to help you out, as well as Forums for members to share tips, favorite performers, and anything else. It's a dungeon to behold.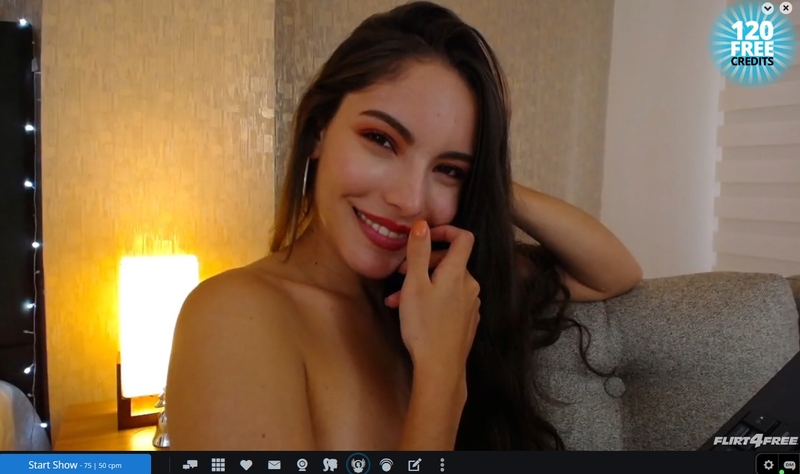 As a new users, you'll be given a welcome bonus of 120 credits (Worth $12.00). If you decide you love the site, and have a few coins to spare, you should consider paying $39.95 a month and becoming a VIP member, which is the best on live cams currently, offering (This is only a partial list): 200 free videos a day, 1 hour-long Feature Shows, free access to recordings of your private chats, 5% off on all video purchases, 150 monthly recurring credits (Worth $15.00), access to the model's Forums, and much more.
Flirt4Free's models take $3.00 a minute on average for a private chat. Private chats on the site start at just $0.50, but this is reserved for chats with other members such as Group and Party Chats, as well as being a fly on the wall during a Voyeur chat, all three found under the Room Type filter on the top. The average amount for private chats is $3.00. All prices include cam2cam on mobile and desktop. You'll be interested to learn that the site employs more than one way to pay. You can purchase a credit package, but you can also Play & Pay, charging your card automatically every 24 hours, instead of using credits. You can even set a daily spending limit.
Using Discover on Flirt4Free:
Select the large green Credits button located on the top right of the homepage
Choose the number of credits you want to purchase (All credits cards are the default method)
Complete the transaction as detailed on the payment page
---
ImLive.com
ImLive is a stunning premium site that has won so many award, and has managed to get millions of fans and countless members, it's no surprise it's been around for over 2 decades. It represents what can happen when an "old" site keeps up (And then some) with the "new", and that combination is impressive, and reflects on the satisfaction of the users on the site. It also boasts multiple unique features, pornstar guests, a wide variety of performers, 24/7 live customer help, and an amazing mobile platform, with webcam to webcam capabilities.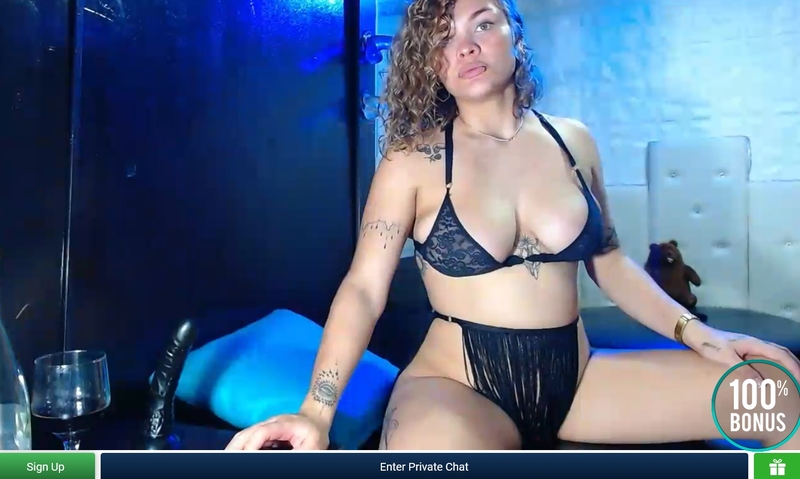 There are so many things to write about this great site, but we'll focus on two features you can only find here. The first is the Multi-Viewer, that allows you to watch 6 free rooms for free. But if you pay $3.00 a minute, you can watch 6 private shows at the same time, with the models alone knowing you're there. The second feature you can find in your Member's Area and is called Fulfill Your Fantasy. Just enter your desires, and watch the models contact you and bid to make it happen, and you can also negotiate prices with them, as well.
A private chat on ImLive costs $2.50 a minute on average.The cheapest models ask for $1.00 a minute (Prices include cam2cam). You can enjoy these private chats on mobile too. Also, check out our article on how to save money on ImLive, to learn how to make your credits last longer. One of these tips will remark that with using out link to the site, you'll get 50 free credits, worth $50, on your first purchase.
Using Discover on ImLive:
Click the yellow Get Credits link on the top right
Below the credit amounts you'll see credit card (Default), Paypal, and another button with three dots, select this one
Change the payment processor to either SegPay, CCBill or Epoch
Select the package you'd like to purchse
Fill out your info in the payment page and complete it
---
xLoveCam.com
xLoveCam is considered a premium site, with premium amenities such as 24/7 live customer service, high quality streaming, a mix of both amateur and pro models, and a great filtering system. Yet, the performers aren't restricted in any way, and go completely all out in their open free rooms, usually in French, German, or Russian, as this is a mainly European site, and it translates to over 20 languages. The site also holds a lovely event famously known as Topless Mondays, which is rather self explanatory.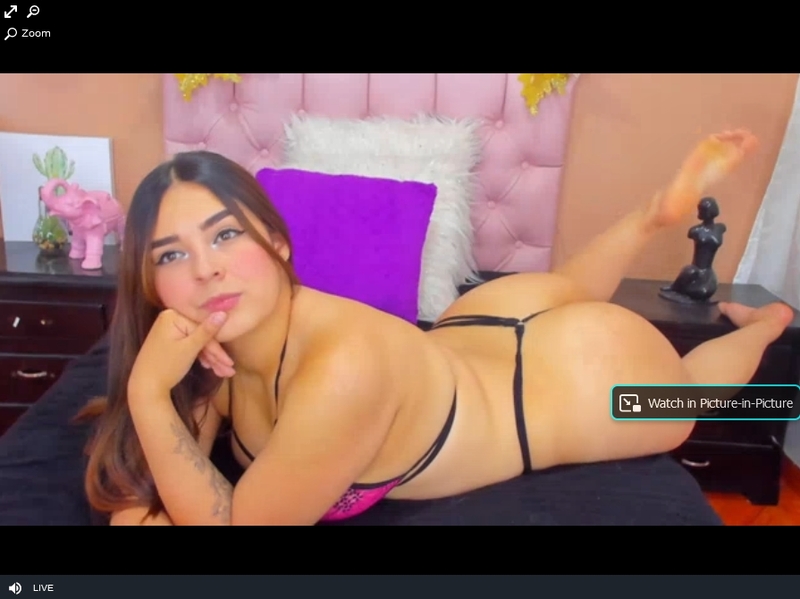 The site offers many delights, but one we must mention is the filtering choices it gives you to find just the right live cam lover. On the left there's a general filter, with some unusual and delightful options. Under Sorting, you'll find options such as Highest Rating, The Most Fans, Most Loves, and Most Votes. This is a great way to get to the best models. Another is to go below and select Categories, and choose your thrill for that day. Couples? Lesbians? Threesomes? Foursomes? Transexual Couples? All are welcome on xLoveCam.
A 1-on-1 private webcam show on the site costs $1.80 a minute on average. The cheapest models take $1.20 a minute. These are extremely affordable chat prices considering this is a premium site and c2c is included on both desktop and mobile, too. If there's a particular model you like, it may be worth your while to join her fan club, as many of the most popular and successful models have vast collections of both pictures and videos, and when you become their fan, you could have access to hours of free content.
Using Discover on xLoveCam:
Select the Add Credits link on the top right of the homepage
Choose the Credit Card option, the second one with the CCBill payment processor
Select one of three amounts, in the Euro currency
Enter your card information and complete the purchase
---
Stripchat.com
Stripchat is the site of plenty, and the site of fetish. This premium site offers up to 6000 models, a staggering amount and the most on this list, with over 2,000 rooms streaming in HD and HD+ quality of up to 1080p. In addition, it offers hundreds of fetish categories that can appeal to any and al users, and also offer couples of all sexes, as well as a virtual reality live cam section that has grown to include around 40 live cam rooms. Don't know what virtual reality is? Not to worry. Just hit the VR Cams category and get a fun instructional video.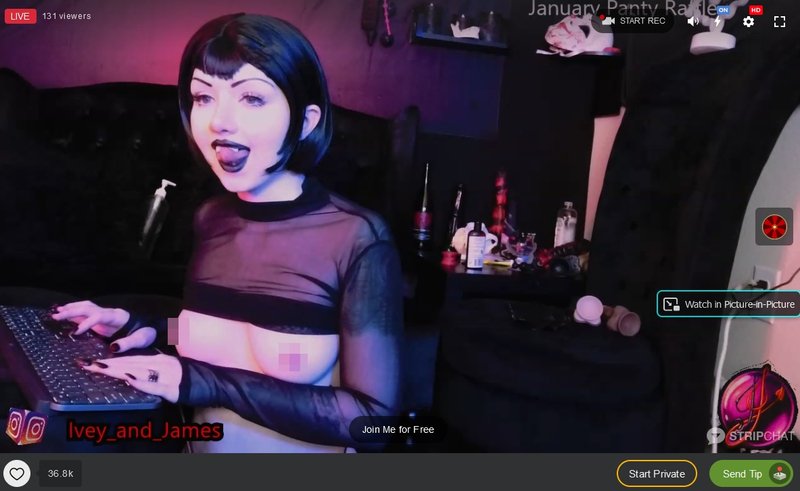 To visit one of Stripchat's claim to fame, the fetish categories, scroll down the screen and look to your left, until you reach the end of the main filter and see All Categories. Hit that link, and you'll see all the beautiful options, some more perverse than others, some definitely more hardcore than others, organized in alphabetical order for you. If you prefer more general fetishes then return to the main page and select Fetishes on the top left where the filter starts, or the Recordable category, showing you all the models that allow you to record your private shows for free.
The average price of a 1-on-1 show on Stripcahrt is $2.40 a minute. The lowest price is $0.80 a minute. But to get a chat no one can spy on your session, you'll have to go for an Exclusive Private show, which is more expensive than a regular private show. As the site values it's gorgeous models, it allows them to customize all aspects of their pricing, so some will demand more for c2c, some will ask for a minimum of minutes to ensure a profitable chat, and others will do the opposite and give out special coupons and discounts to encourage you to "come again" and even join their fan clubs.
Using Discover on Stripchat:
Click the green + (plus) icon next to your current token amount
Choose the first option, credit card, and your token package (Note there are discounts the more tokens you get)
Continue to the payment page and start enjoying the site
---
SexLikeReal.com
SexLikeReal is unlike the other sites on this list because technically, the live cam girls are only a small part of what it offers, which is a virtual reality experience mainly in the video section, the largest part of the site with scenes of up to 6K quality. Yet, it still offers around 20 ladies (Only ladies), also working with VR tech, which is directed mostly to users that already have the gadgets with them, including the headgear. The models are mostly 18+ teens and early 20's, very beautiful, and match this premium site well.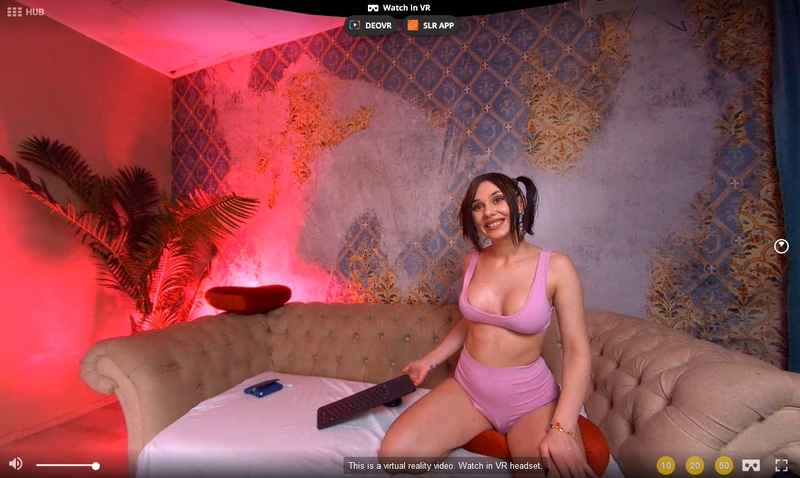 If you want to take part in the site's video section, which is truly impressive especially for those who love VR, consider purchasing a Premium membership and getting free access to all videos. This will cost you $29.99 a month, or up to 33% less if you get a lengthier subscription. If you prefer purchasing videos one by one, these cost $6.99 to $9.99 to purchase. There's no time limit either, you buy them, they're yours.
But back to the reason we're here, the live cam girls, whose private chats range from just $0.70 a minute, up to an average of $3.40 a minute. This may or may not include cam2cam, depending on the model. The price does include using the VR tech, if you choose to. To get a look at categories and options in the models room, hit the HUB button on the top left of her stream. This works best with VR as the site is mostly designed for things to appear with the headgear, interactive and "touchable". Without the tech things can look a little strange.
Using Discover on SexLikeReal:
Select Get Tokens on the top right and get redirected to a new page
Choose a token amount and the Discover, it has it's own payment option
Get redirected to the Epoch payment page and finish paying
---
SecretFriends.com
This is another completely unique site that seems almost like a game, with all the colors and animations, it's hard to believe it's a live cam site, which is very much adult, from the main page. But then you notice the profile pictures and get the idea. All the pictures are clothed ones, but there's plenty of ladies showing skin when you enter their rooms. Note that you need to verify your email address to get unlimited access to the free rooms. To narrow down the ladies select Filter from the blue categories up top, where you'll also find banners of special events the site loves to hold.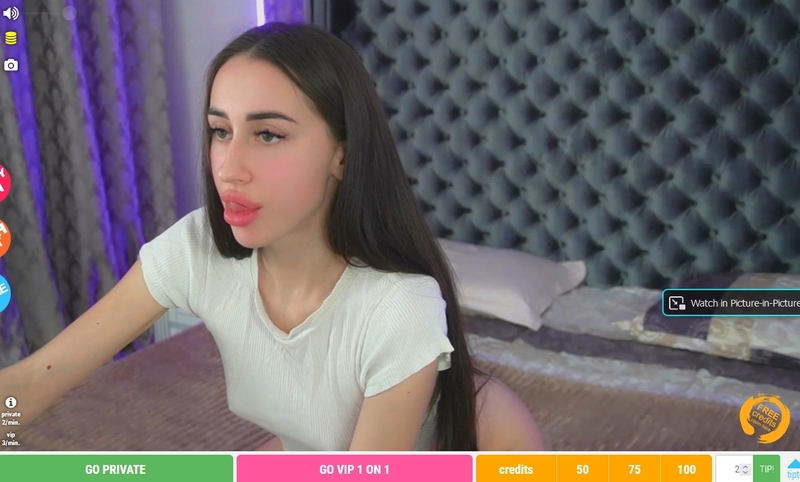 If you love pre-recorded options on top of your live cams, SecretFriends is perfect for you, as it houses the largest collection of both regular videos, as well as vintage ones from decades ago. When you select Recordings, you'll find around 4,000 modern/new videos, that vary from as little as one minute to over an hour. If you choose Portal, you get new videos too, but also a huge variety of videos from as early as the 70's, and most are full-length.
Prices on SecretFriends are fixed, with regular Private chats all costing $2.00 a minute, and VIP chats where no one else can peep into your show cost $3.00 a minute. The good news, on top of the fact that the prices are extremely affordable, is that the site has multiple payment methods, such as PayPal and iDeal (Dutch banks). Also, this is the only site on which you can actually gamble for site credits, with plenty of fun casino-style games to entertain those who like to live dangerously and take some chances.
Using Discover on SecretFriends:
Hit the coin icon on the top right next to the search bar (Or, hit the Get Credits green button on the top-middle of the site)
Select your credit package and then Alternative
Get redirected to Epoch and complete your transaction
---
MyFreeCams.com
MyFreeCams has long been the champion of live cams, as it was the original site to make this fantasy we now take for granted, a reality. Three decades later, and the site still looks as it did, green and complicated, yet once you get a chance to explore and discover it's magic, the models and their very unique style of performance make it all worth it. Also, this site has the largest collection of American cam girls, if that's your thing. And, the HD rooms stream in up to 1080p HD quality.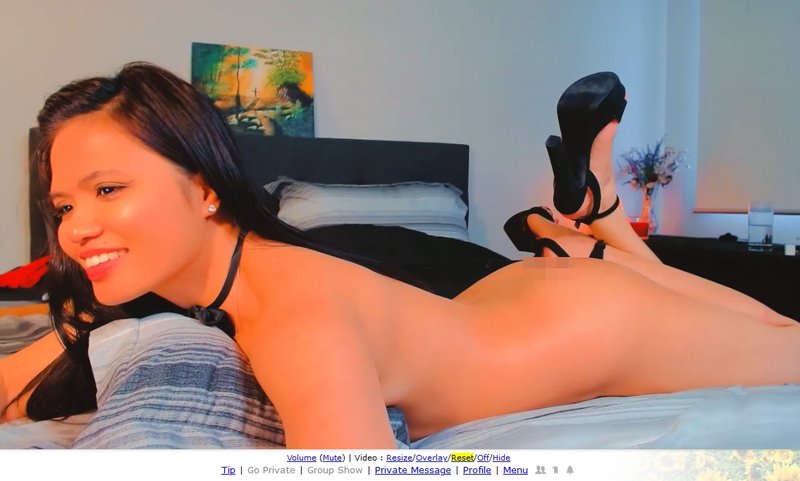 MyFreeCams is a special site because it is the only one on this list that allows you to fully customize your member account. From uploading whole picture galleries, to choosing which models to see/not see, to privacy and more, it's a site that is model-centric, but also user-centric, as the two make the rules in their own worlds.
The models here all charge $6.00 a minute for private chat, for a show that could have spies come in, or $2 more for an exclusive chat that's spy-proof. It is strange that the prices are so high, considering there's nothing "special" about going private compared to the free rooms, bursting with sex and nudity. Other sites are more geared towards users with unique fetishes and require private chats, like Flirt4Free or Stripchat, but on MyFreeCams, enjoy browsing the ladies. That said, we always encourage tipping these lovely specimens of womanhood.
Using Discover on MyFreeCams:
Find the Purchase Tokens link at the top right of the page
A pop-up window opens. Choose a token package and the payment processor, they all accept Discover
By default, it's set to credit card, enter your details, and complete your purchase
---
BongaCams.com
Our final site is BongaCams, so low on the list for two main reasons, the chat prices, but also the non-stop pop-up ads you get everywhere you browse. Thankfully, never in the actual chat rooms, because these models are some of the most stunning, as well as diverse and worldly. Here you'll find your graceful Russian goddess, your dark skinned African queen, your mysterious French seductress, or your dominating German mistress. Also, this is a great site for groups, with some as large as 5 or 6 people, engaged in a lot of XXX adult activity.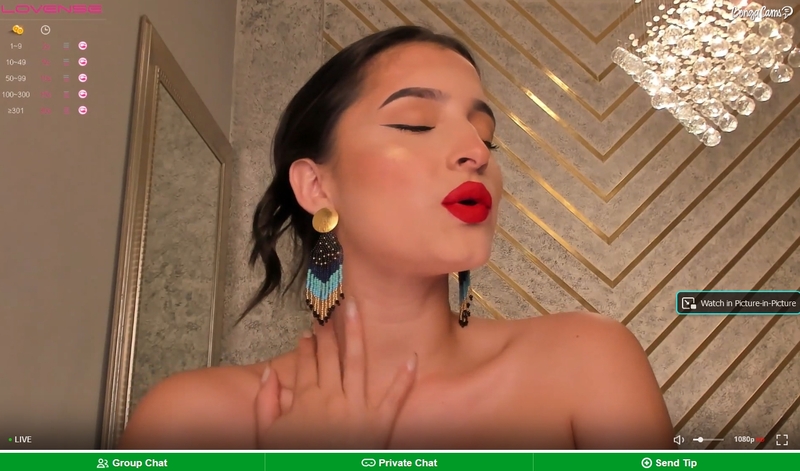 To find said performers, use the Quick Search filter on the top left, which houses all the categories, as well as appearance selections, locations, and even a pornstar category that will show you big names when they drop in for special shows. Also, use the tags to see only the #HD+ rooms (Up to 4K HD quality, though most are 1080p, still great), or to select fetishes that are not listed in the relatively few categories in the search, such as #3way, #cumshot, #dildoing, #tugging, or #games.
All of BongaCams' models charge the same for a private chat — $3.30 a minute. You have 2 additional options. You may opt for a Full Private Chat and ban other users from spying on your show, which will cost you around $2 more. However, it's one of the few sites allowing you to use an amazing webcam mobile platform, in which you can use the same features, including cam2cam. To get some free tokens, hit the Promotions tab up top, and learn about ways to do so, such as getting 100 free tokens when purchasing on your mobile, or referring a friend to the site and getting 50% of their first purchase amount.
Using Discover on BongaCams:
Click on the Buy Tokens button from the top of any page on the site
A pop-up window appears. Choose Credit Card Payment and your token package, then your payment processor
Select if you'd like the site to automatically refill your tokens when they get too low
Hit the Buy Tokens green button
---
Conclusion
Discover has impressive card options, such as cards for students, for those who fly a lot and collect miles, cashback cards, and even one for covering pet supplies and insurance. Many places don't allow the use of Discover because in most cases, Discover issues its line of credit directly to consumers, while Visa and MasterCard are issued through banks and other entities that promote the cards and manage the billing. This is of great comfort to those looking to save the 3rd party costs.
Just like Discover, these sites all offer something unique and great for different users. Freemium sites offer more free sex and nudity, and amateur models, as the premium ones mostly provide pro models and amenities, but also higher rates. If premium is more your speed, go for LiveJasmin, as without a doubt it is the most luxurious and exclusive of all site experiences, offering performers you won't find elsewhere. If you like going more down the middle, our choice is for Flirt4Free, as it hosts many fetish-oriented models and highlights it for those looking for private kinky sessions.
For freemium (And geared towards almost any user), there's no site like CamSoda. Not only does it accept Discover, it provides so much free content, hundreds of brilliant performers, super cheap privates, great HD quality, a mobile platform with c2c, and so much more to make it the best.
Back to full list of sex cam blog posts
---