The Best XXX Versions of Twitch.tv
Last Updated
September 17, 2022
Twitch is a really fun site where you get to watch video games being played, and there are quite a few girls. However, none of them strip. That's because, it's against their terms of service. These are adult cam sites that work exactly like Twitch, but the models actually get naked, and then some. Obviously, if what you're looking for isn't sexual, then Twitch is your kind of site, but if you want funky chicks that look like Twitch girls, but also use sex toys and give you private shows, then these seven cam sites are it.
CamSoda.com
Unlike Twitch, the main focus of CamSoda is nude cam girls. You don't get women that are just dressed slutty and looking for tips, these girls are here to help you achieve genuine release. That's evident when you get to see the main preview page, displaying all the open rooms in live stream, with up to 1080p HD quality, too. It's also one of few sites that offer an excellent mobile platform with cam2cam.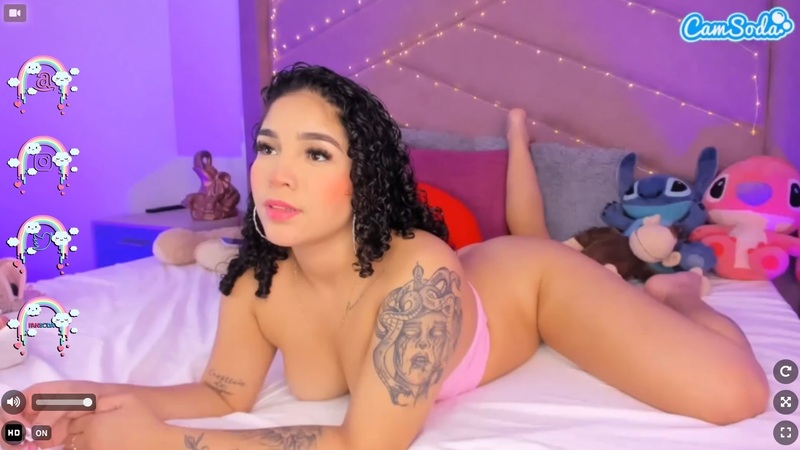 On average, CamSoda has roughly 400 to 600 models online. You can tip any of the girls in their free chat rooms, to make requests or to achieve a goal. If you want things to get more intimate, you can invite the model to a private show between just the two of you. But another cool feature on the site is that you can open up your cam during the open shows, for free, and maybe even get a little extra attention.
In private shows, most of the cam girls on CamSoda offer free cam2cam and show recordings. You will be able to turn on your webcam to interact, and will receive a copy of the show to rewatch for free at your leisure, which you'll find in your personal member's portal. Private shows have an average cost of $3.00 a minute for a private chat, but the price can drop down to $0.60 a minute depending on the model you choose, and the same pricing goes for mobile, too.
Just like the actual Twitch.tv, the customer support on CamSoda isn't the greatest. You will be limited to the FAQ and emails for most inquires. You can talk to a live chat representative, but only for billing issues.
---
Stripchat.com
Similar to the site above, Stripchat is bursting with nudity and sex, but this site has ten times the amount of models, close to 6000 on most ours of the day. Also, it boasts a fantastic filter on the left, as well as alphabetized fetishes. On top of all that, models stream in up to 1080p HD, offer free show recordings when you select the Recordable category, and you can even get the holy grail, virtual reality live cams.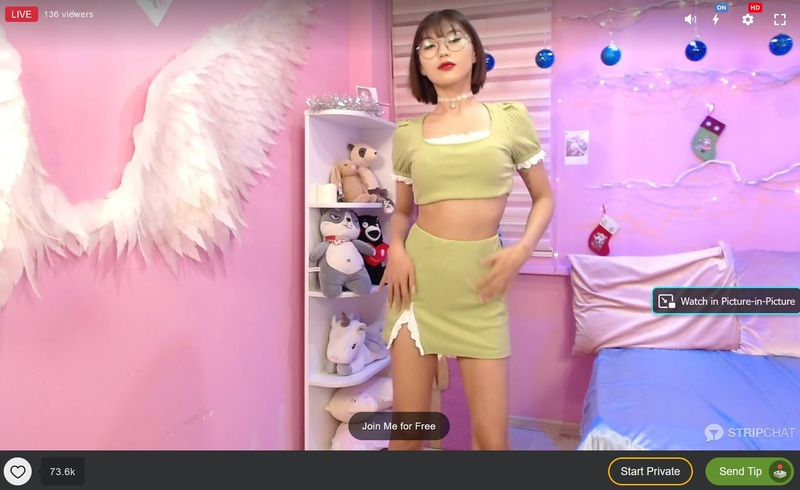 When you scroll all the way down to the All Categories link at the bottom of the filter, you'll find all the fetishes organized neatly, and so if you want some gamer gals, you can choose categories like ASMR, Roleplay, Cosplay, and many others. The most popular categories are on the left filter right at the top, boasting VR Cams, New Models, and Recordable.
On average, a private show will set you back around $2.40 a minute, and the lowest chat around $0.80 a minute. Some charge for c2c, and others offer super cost saving options like cam girl block sessions (Between 15-60 minutes). Others, especially those who like you or you've joined their fan clubs, will offer you special discount codes.
Stripchat also suffers from what most freemium sites do, not so great customer care. Their's mixes model and user FAQs, and only allow direct contact for billing issues.
---
Chaturbate.com
While Chaturbate has a small amount of non-nude cam girls, the vast majority of them strip, masturbate, and fuck on cam. In terms of popularity, the site is ranked within the top 100 sites on the internet with around 4000 models of all types you can imagine, including super freaky and unusual ones, too. These ladies love to get dressed up as their favorite characters, do roleplay, use wigs and make up and accessories, and just love a good time.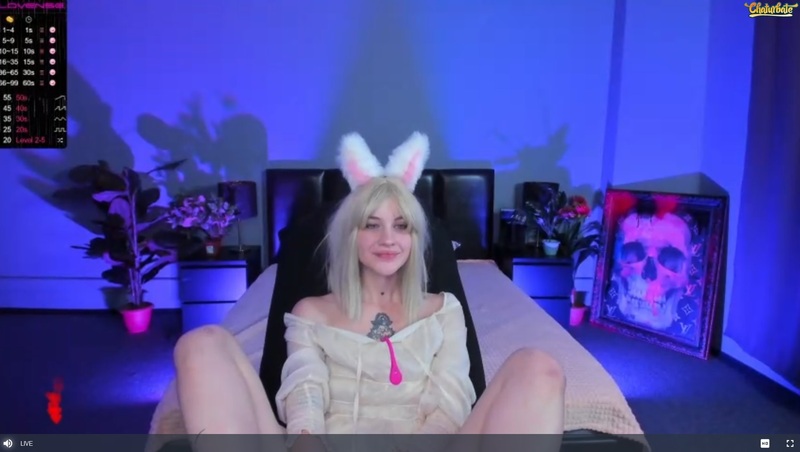 Chaturbate has thousands of models online. To try and quantify how many webcam chat rooms are online is a momentous task, as new models are constantly logging on and off. There is no live preview, but you can open as many rooms at once as you want, many of which will stream in up to 4K HD quality. Any room that isn't in a private show is free to watch. The girls accept tips for requests and for goals.
Private chats on Chaturbate start for as low as $0.60 a minute, but most of the women charge higher. You will find that the average is closer to $3.00. You do get your recorded show for free, but each models decides if to charge extra for c2c. If you want to score some free tokens, hit the Earn Free Tokens link up top, and discover simple ways, like 200 tokens for raising your daily spending limit, or 500 tokens for referring a performer to the site.
Customer support isn't exactly Chaturbate's strong suite either. In fact, they use the exact same support system as Twitch. You will find a very familiar FAQ page with a button for email support.
---
Flirt4Free.com
Flirt4Free sits half way between a premium cam site and a freemium cam site. While the cam girls strip and get dirty in private shows, most of the babes don't get overly graphic in the free shows. That being said, the features that Flirt4Free provides make it a definite winner. Out of the webcam sites similar to Twitch, it has by far the best customer support, available to all 24/7, live.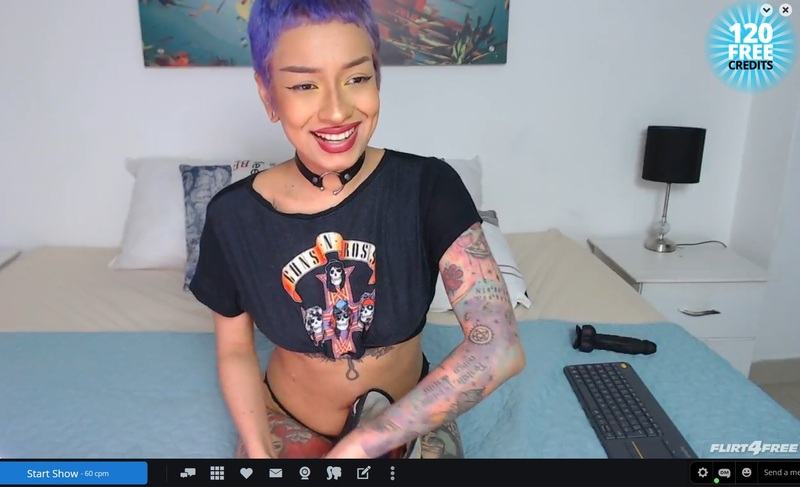 Flirt4Free doesn't have the most models, with an average of 400 models online and 600 during peak periods. While you can flirt with any of the babes for free, you will find that there aren't any set goals. Some of the women strip in the Party/Group Chats, but generally speaking, nudity is mostly reserved for when you choose to Start Your Show.
Private shows on Flirt4Free are a little bit tricky. You have Multi-user shows which may include cam2cam for as low as $0.50 a minute, but only if you were the original user that initiated the show. If you don't want to risk being the first, then you'll need to stick with Private Shows, most of which range between $3.00 and $6.00 a minute. Find these rooms under Room Type (Filter on the top) and select either Lowest Price or Premiere Rooms.
As a registered member, you can choose from live chat, email, and phone assistance. Flirt4Free provides a truly superior customer service experience, which can be improved even further by upgrading to VIP.
---
BongaCams.com
The resident European site on this list, BongaCams loves a good accent, and loves models from around the world. Here is where you'll find the mostly non-American girls, such as Russians, French, German, and even Asian and Australian. The site also has 4K HD rooms, but most stream at a very respectable 1080p HD level. The site offers a rare combination not only of solo/couples, but also quite a few groups.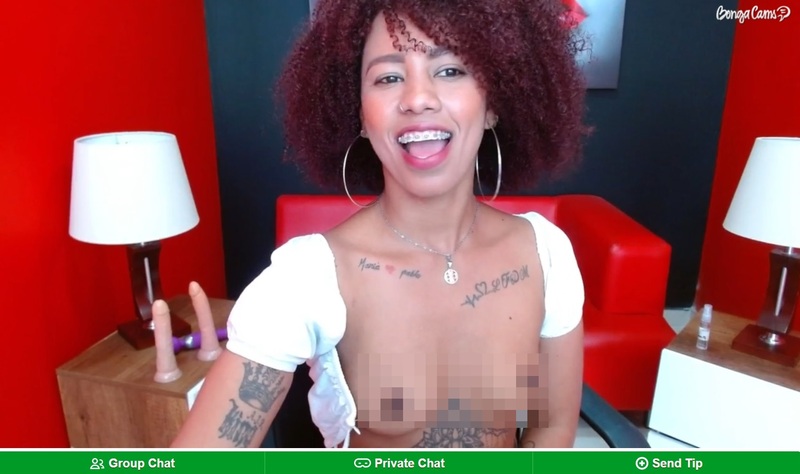 To find models to your liking, we recommend heading over to the Quick Search on the top right, selecting More Options, and choosing between world locations, languages, fetishes, and even a pornstar category that's very popular.
Unlike most sites, BongaCams offers one singular price for all chats, which includes cam to cam, $3.30 a minute. However, this isn't private. For an exclusive private chat, you'll need to add another $2 to the price per minute, both include c2c. The site also offers a mobile platform with c2c. BongaCams loves giving away free tokens, too. Select the All Promotions buttons from the top left of the main page to see what the site has to offer, which is pretty impressive.
BongaCams is one of the few freemium sites that offers superlative customer care, with 24/7 live help to anyone who is on the site. you can also contact by email, phone (Billing), and there's an FAQ page as well.
---
MyFreeCams.com
MyFreeCams was the cam site that started the whole freemium cam site trend that Twitch is based off. The girls on the site entertain the users, and users throw tips at them as a sign of appreciation. While private shows on the site are relatively expensive, you will find that the babes on MyFreeCams make the site a clear winner and a definite site to visit, especially if you're into American girls.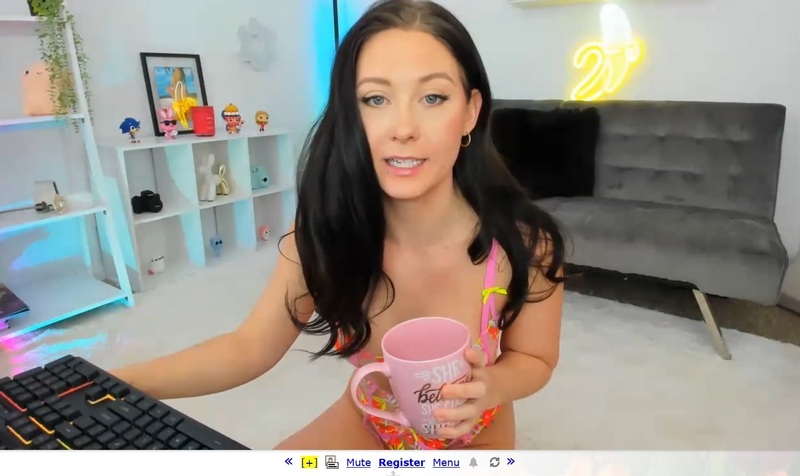 MyFreeCams generally has over a thousand models online. Unlike the other sites on this list, they are a cam girls only site. That means that when you see a thousand women online, they are all women. On other sites, it's mostly split 50/50. Most of the girls have goals set, and you can tip for requests. To talk, you will need to have made at least one purchase on the site. However, the site allows you to turn on your camera during open chat, which is a nice perk.
While the other sites that are like Twitch let the women decide their worth for private shows, on MyFreeCams, they have to abide by a set price. On the site, all private shows have a set price of $6.00 a minute for Privates, or $8.00 for True Privates. The difference between the two, is whether or not other users will be able to spy on the show the model is giving you. Cam2cam is usually an additional tip, but you can do it in the free chat too.
The customer support on MyFreeCams is pretty much FAQ based (A Wiki page, very extensive). You will find that you can email them, but if you answer was already answered in the FAQ, they likely won't respond.
---
Cam4.com
While other cam sites try and convince you to sign up as a model, few sites try as hard as Cam4. Cam4 is a site that is constantly trying to recruit its loyal members as new talents. You will find that the platform has a vastly bigger community feel than other sites. Everything is set around connectivity and the ability to make friends with other users.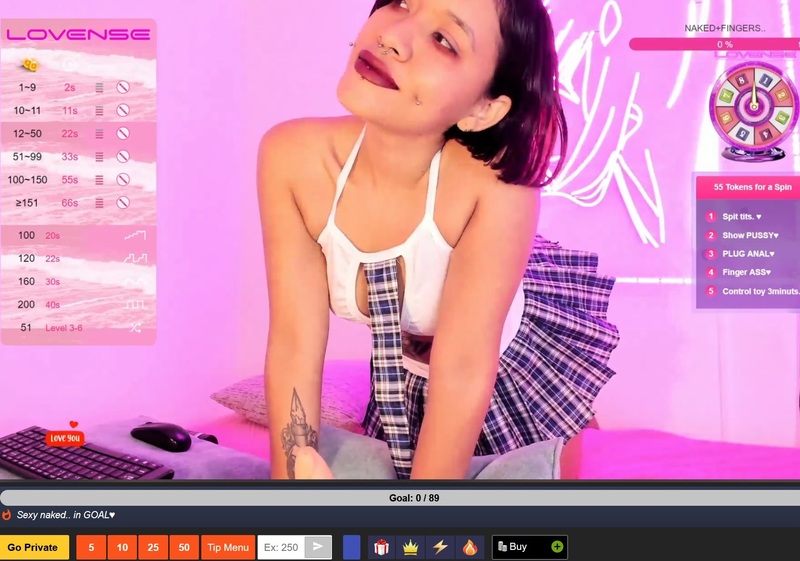 There are hundreds of models online, and you can easily find models from specific countries. The performers often have goals set, but you will find that the goals are not usually reached. You can get a lot of attention on Cam4 with just a few tips, and you'll have very little competition from other users.
You can choose to send tips in set amounts, or you can choose to set a custom amount of any size you please. By Requesting a private show, you can get all of the models attention for yourself. Since March of 2021, Cam4 removed their cam2cam capability.
Cam4 follows the exact same customer support routine as Twitch and Chaturbate. The sites aren't related, but they clearly use the same support software. You will be limited to FAQ and email, but you can also tweet them on Twitter.
---
Conclusion
The 7 sites above are the cam sites most like Twitch. They all have free chat rooms, and you can talk to the models and tip them to show your appreciation. Most of the sites have set goals, and you can make requests of the models you are watching. They are all similar to Twitch in terms of a community feel, and the crowdfunding involved. Unlike Twitch, these sites are all bona fide adult content sites, filled with nudity and sex.
Between the sites, you are bound to find women comparable, if not hotter than any of the women on Twitch. The babes you will find will make Amouranth, Pink_Sparkles, and DeerNadia all look like thots. We ranked the sites in the order we recommend. If you've finished reading this blog, and have yet to make a decision, we recommend starting at the top with the spectacular CamSoda, and working your way down.
Back to full list of sex cam blog posts
---