How to Go Cam 2 Cam on Flirt4free
Last Updated
September 09, 2022
Flirt4Free is a wonderful combo of a sleek and beautiful premium site with everything that goes along with that title, but still holds a freemium edge, both in pricing and in a community feeling, thanks to the Forums, and the dedicated Fetish Community that provides an Education Center to anyone wanting to expand their horizons, or get better at the sexy craft of camming. Rooms stream mostly in 720p HD quality, you get 24/7 live customer care, there are plenty of show types for those on a budget and those looking for more premiere rooms, and a great feature called 2-Way Interactive, wherein both you and your model can control each others' toys, on mobile too.
On Mobile Devices
Part of the user-friendly attitude Flirt4Free has is a super easy to use mobile version of the site, that once you start using and select a girl, splits the screen in half, dedicating the top section to the picture portion, and the bottom section to the chat going on in the room. To get a show going you need to have credits in your account. Once that's done, hit the Start Show button, and then select if you'd like to turn on your camera for a cam2cam show, by selecting the little cam icon on the bottom right as explained below.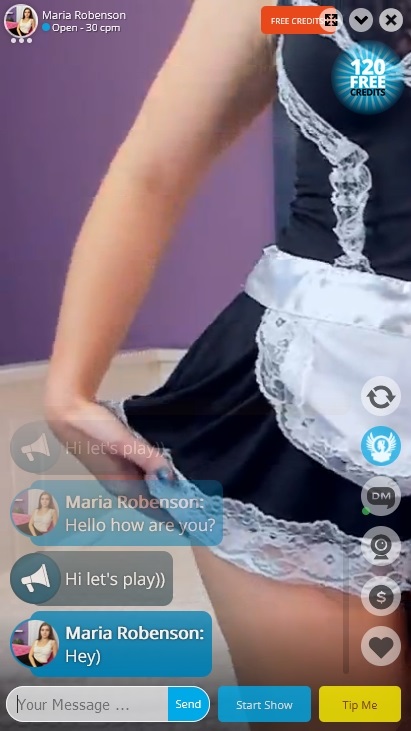 Both on desktop and mobile devices, cam2cam is completely free. Your show is even recorded for free and saved in your account, but to view it will cost you, unless you've a VIP member. To activate it on mobile, tap the webcam button to the right of the chat feed. From that control panel, you can test your device from the Test tab, or start your session from the Start tab. When you tap Start Test or Start Your Webcam, your mobile browser will ask permission to access your camera and mic. Grant it, and your feed will begin, providing your device and browser are compatible. Android users can use Chrome, FireFox, or Opera. iOS users must use Safari.
On Computers
It's the exact same experience on the desktop site, as you need credits to get the show going, and once you've chosen your lucky lady, you select Start Show. You have a toggle available during your chat to decide whether you'd like to use just your mic, or your camera as well.
Most browsers support cam to cam. For optimal results, we recommend conducting your session through Safari, Chrome or Firefox, as these browsers use WebRTC (Real Time Communication) and require only your permission to access your camera and mic, without downloaded plugins.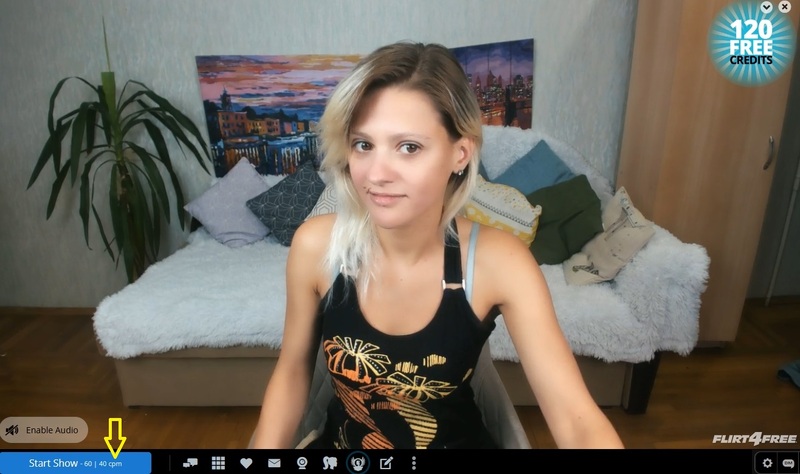 Regarding your two options when you decide if you enter a privates session: A private show is a one-on-one session with a model an a Multi-User Show functions the same, except that the per-minute rate is lower, and other users may enter and participate at the same lower rate. If other users enter a multi-user chat, they can interact with the model in the same way you can. This is great for those on a budget who still want the feel of a private.

VIP members can turn on their webcam2webcam during all room statuses and show types, except voyeur shows. Once you login to the show, you will have the option to start broadcasting your webcam. Once you start streaming, a window will appear on the performer's interface with your live stream. Only the model will be able to see your video stream.
Flirt4Free's c2c Compared to Other Sites
Flirt4Free is always on the top of the lists all over the web, and we consider it one of the best live cam sites around. The combination of pro and amateur models, the community, the fun features and excellent filtering systems allow for both models and users to have a wonderful time on the site. Flirt4Free's mobile cam2cam site is no doubt an excellent edition to it's stellar reputation, but we are less thrilled about the view being cut in the middle, and the picture and chat being separated.
The main and only downside of the site is the huge difference of prices, and some models being completely unavailable, unless you have some deep pockets. That being said, there are so many show types and budget-friendly options, that the site makes up for those demanding high rates.
Prices start at just $0.50 a minute (Mainly new models and group chats), and average around $3.00, and this includes cam2cam, mobile use, and free show recordings, as mentioned above. Obviously, we always encourage tipping, in free chat, group chats, and private as well. It's always best to get on the model's good side when she has the power to hand out awesome discount codes.
Note that Flirt4Free is one of the only sites around that offers you a choice between purchasing a credit package, or their very cool Play & Pay feature. You enter your payment information upfront and are charged per activity, every 24 hours, which makes sure you'll never get kicked out of a session due to running out of credits. Also, you can set your own daily spending limit, and use a prepaid card for extra levels of security and anonymity.
A couple more things to mention regarding what the site has to offer. The first is the VIP membership, that for returning members is practically a must. For $39.95/month you'll get (Very partial list): 200 free videos a day, 5% discount on all purchase, free PMs with models, free access to the models forums, free access to your recorded private chats, and free access to feature shows (New models).
Another great feature to mention is the vast Videos section, housing thousands of videos, varying in length and cost. There is great filtering and sorting so you can find the cheapest ones, or, your favorite models' videos. There's great categorization in general, and this section of the site is another example of Flirt4Free's smart and simple design.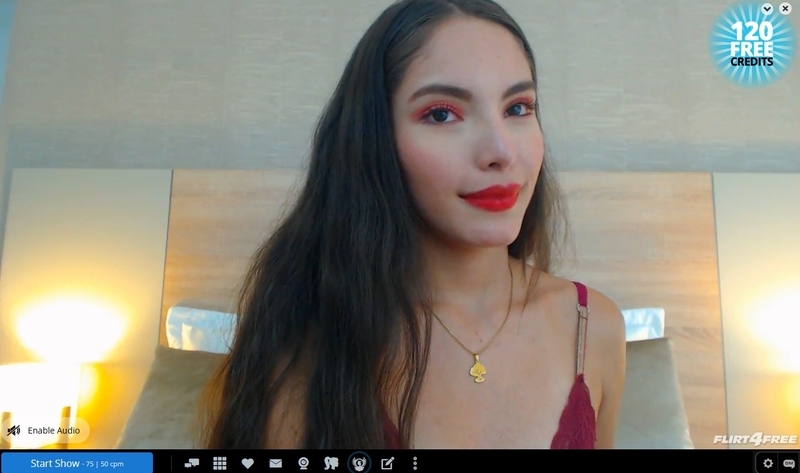 Conclusion
On Flirt4Free, though the mobile version is excellent, we recommend using it when it really is matter of convenience, such as in bed, in a naughty public place, etc. The reason being: the desktop version is simply more enjoyable due to the webcam frame being separate from the text chat space, and being able to see your cam girl in all her glory. However, both options offer everything you might want, including tipping, controlling the model's toys, beautiful HD quality, and the option to browse the site easily. Flirt4Free is a great site for all sides of the spectrum regarding budget/cost, and also for those who love lighter and more hardcore fetish chats.
Back to full list of sex cam blog posts
---