Cams.com Review – Discover the Original Sex Cam Site
An oldie but a goodie, Cams.com was one of the first pioneering sites to offer audio and flash compatibility to match their live webcam feeds. Being such a front running in what could now be described as an over populated niche market sector means that they are always under scrutiny. Can they keep up with the trends? Can they keep breaking new ground and maintain their leadership status? By the end of this review we hope to have enlightened you to a point that you can see what the site is, what it has to offer and where it ranks among its cam shows peers.
The first thing you notice about the site is that it is very clean and crisp. A white background with a pale blue color for headers and text which mean you get a very vibrant and fresh feeling from the moment you load the page. With adult cams a calm feeling is always good to generate, especially given the powerful emotions that will be displayed during the cam shows.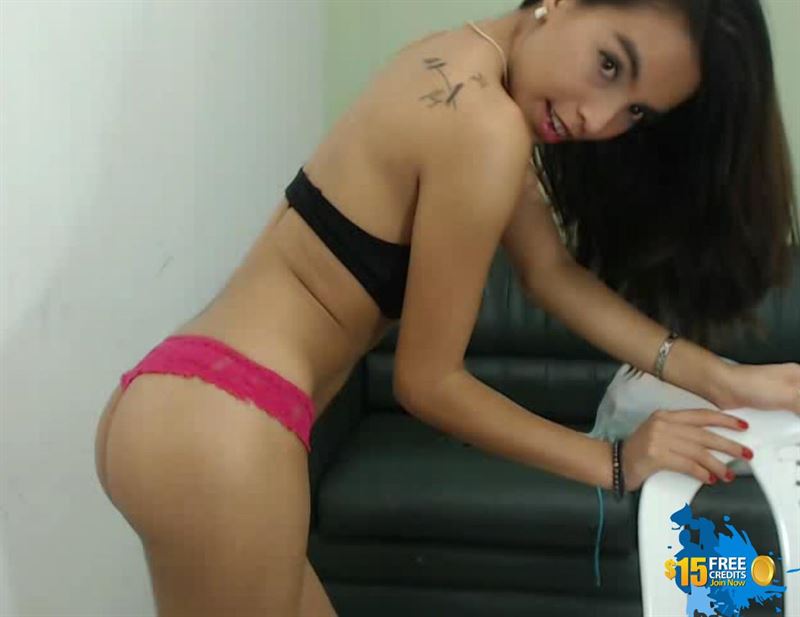 Free Video Chat Screen
The models are all shown center stage, with actual screen captures used to further entice visitors into their boudoirs. The site uses a simple an uncluttered setup. An upper horizontal menu that acts as a basic form of site map, allowing users the change to view all of the features the site has to offer:
Online Adult Cams
New Model – a link to the live webcam feeds of the newest models to the site
Join Now – a link to the membership application form.
Member Login
Search
Help
Simple Filtering by Advanced Criteria
The top bar allows you to filter models by 4 simple categories (3 when you are not a registered user):
Free
New
Clothes off
Favorites (reserved for users)
And in addition to that, you can also filter by the cam model's geographic region, and her spoken language.


General Categories
Furthermore, on the left hand menu there's a series of live webcam filters that allow users – members and guests alike – to filter the web cam viewing options based on individual personal preferences. By making your selection the cams displayed on the main central area of the screen are automatically updated.
Age
Specialty
Body Type
Ethnicity
Hair Color
Special Attributes
Orientation
Gender (the site offers a split between Male, Female and Transgender live web cameras)
They also advise beside each selection how many live cams are broadcasting at that moment in time. Of course within each menu there are sub-menus that allow specific filtering.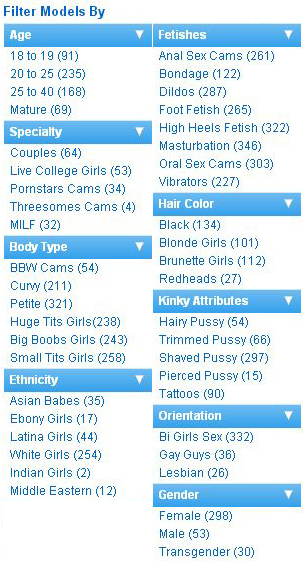 Cam Model Filtering Options
Signing up for Cams.com is Free and Quick
To view shows, just click on the cam link that takes your fancy and start watching. No membership is required to watch shows. However, unless you are a registered member, you cannot engage in text chat with the models. Registration however is easy. There are plenty of links and pop-ups that will direct you to the sign-up page should you try to access a members only aspect of the site.
All that is needed to join the site is a username and email address. The password is emailed to the address provided, and access is thereafter instant. Membership gives instant and free access to 14,000 cam models and with approximately 600 models live at any one point in time, there is plenty of room for choice.


Cams.com Signup Form
User Multiple Credit Cards for Live Webcam Discounts
After signing up for free on Cams.com, you will receive a 100 free tokens special offer. This offer states that you will get 100 free tokens regardless of your purchase, once per credit card. If we understand that correctly, it means that if you own more than one credit card, you can capitalize on tons of freebies. Instead of buying the $50.00 pack and getting 500 tokens plus 100 free tokens, you can buy the $12.00 pack four times and get 400 free tokens.
How many tokens is that?
For $48.00 you would be getting 400 bought tokens and 400 free tokens, a total of 800 tokens. This is compared to the 600 tokens you would be getting if you flat out paid $50.00 with one card. That being said, you've gotta remember that this only works if you have multiple cards.
Live Adult Webcam Membership The Ideal Online Purchase
There are three different membership options to consider when signing up to Cams.com
Basic – simple free membership, no token purchase is required, and you can enjoy the full free adult cams experience, including group chat with the models during their no cost shows. Basic members can buy add funds to their accounts and enjoy private shows without buying premiere membership.
Premiere – restricted to $300.00 a day in spending, premiere members can view video and picture galleries and receive alerts when their favorite models come online
VIP – no restrictions or spending limits, VIP can spend all, day browsing the site, lavishing money and praise on the models as they see fit, but you have to be a registered user for at least 2 months to receive this upgrade free of charge.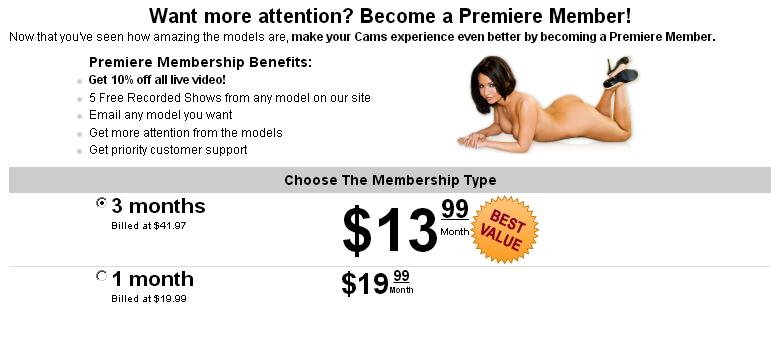 Premiere Membership Signup Form


VIP Membership Benefits
Topping up your Adult Cams Account has Never been Simpler
There are several ways that users can top up their accounts:
Debit / Credit Cards
Mobile Payments
UKash
Mail/Fax Payments
Direct Bank Deductions
You can add funds in batches ranging from $10 - $100 and are all processed through a secure agent. There are no tokens or credits or any of that nonsense, video chat charges are measured in USD, so it makes it very easy to know how much you want to spend for what you're trying to get in return.

Add Funds Screen
Very important to note, that both premier memberships and fan club memberships come with a recurring monthly fee which is auto-renewed, unless you request to cancel it yourself in your account settings, or contact customer support to do so.


Recurring Payment Fine Print
Let's Get to the Steamy Video Chat
With an account fully loaded with funds, choosing a model is easy. Find one that takes your fancy and open her free chat session. A brief bio at the bottom of the page will tell you everything you need to know. Basic personal information along with turn ons and offs, and the types of 'services' provided and offered during chat shows.
The cost of live webcam shows ranges from $0.99/min and up to $5.99/min, depending on what the model wishes to charge.
Once you have credits in your account you can chat with models – many models restrict chat to eliminate unnecessary chatter and demands to only those members with tokens in their accounts – and join their fan clubs. Fan clubs are a great way to further enhance the value of money on the site. Cam Models all have their own clubs and you can use them to get everything from free recorded shows to discounts of live adult web cams chat shows.
Watch recorded shows for free – non fan club members must pay $1 per minute rate.
Receive private cam shows discounts of anywhere up to 70%
Exclusive fan club content – videos, online diaries, photos, etc.
Fan Club members are also identifiable in chat and get preferential treatment and responses from the models.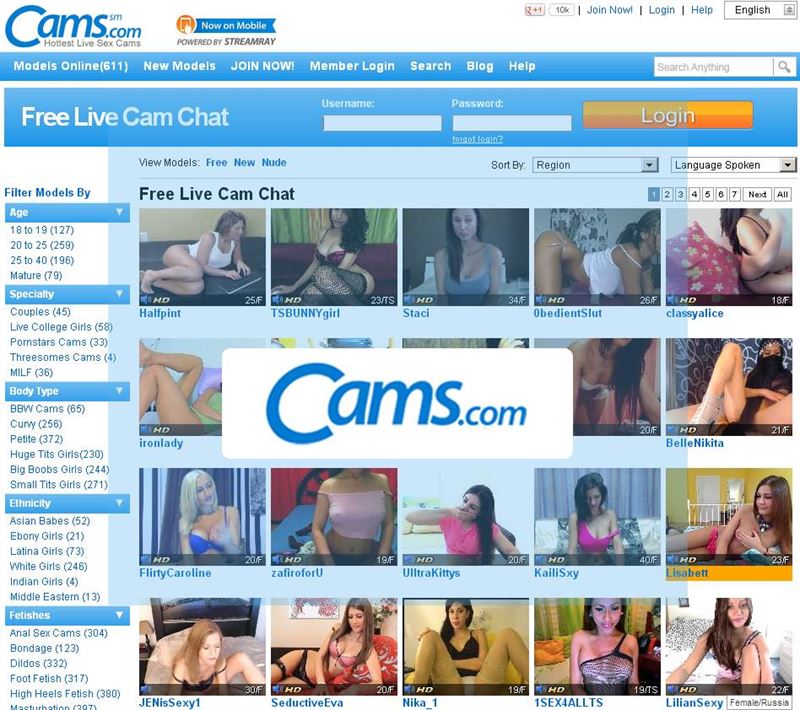 Cams.com Homepage
Customer Support
The help functionality on the site is basic, but offers enough to answer the standard questions that users may encounter. Simple level troubleshooting, payment queries, account type queries and the like. There are also email and phone contact links that users can make use of for the more detailed live webcam queries.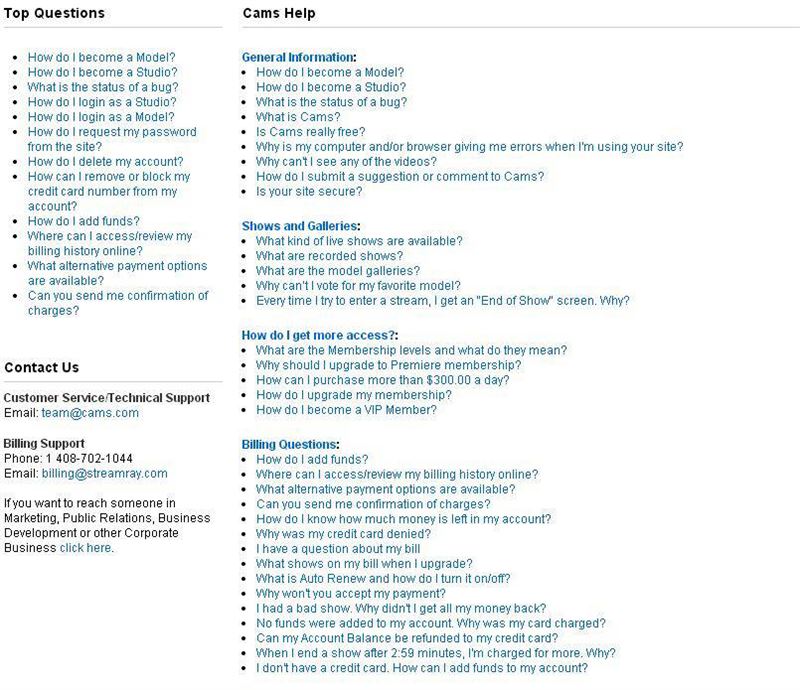 Contact Details & FAQ
Benefits and Drawbacks of Cams.com
Benefits
Great quality of cam feeds
Easy payment options
Quick to join
Great customer service
Lots of perks for paid members
Detailed biographies
A multitude of categories
Drawbacks
Some shows are not live
Models can be unresponsive
No free chat option for guests
Limited language options compared to other sites
Recurring charges of premier membership are hidden in the fine print
The Bottom Line
All in all, Cams.com was and always will remain a populate place for those looking to find companionship online without the stresses of a physical relationship. It was ahead of its time, and while the rest of the world as caught up, it still offers more than enough to keep its members happy and entice new users every day.
This is a great adult cams site that has a lot of offer.
Back to the full list of Best Webcam Sites
---
586 models are online now
$2.50-$5.00 per minute in private