5 Best Cam Sites Featuring the Most New Models
Last Updated
September 10, 2022
Everyday new webcam performers come online at any one of the top video chat platforms. Whether they are new to performing for a virtual audience, or are a seasoned professionals, these cam girls make a splash in the "New" category on a webcam site. It's here where you can quickly source and find the newest webcam models, and if you get lucky, you may be the very first to take a hot newbie into a private room for a one-on-one session. These are the best adult cam sites for easily finding new cam girls.
Chaturbate.com
One of the biggest and best freemium sites in all of live cams, Chaturbate is a force to be reckoned with, with thousands of performers from all corners of the globe, up to 4K streaming quality, every kink you can imagine, and a wild vibe that sweeps through the site. Here is were you come to really let your hair down, as models sport their anime costumes, cosplay, french maids, dominatrixes, unicorn outfits and elf ears, glitter and gold, anything goes.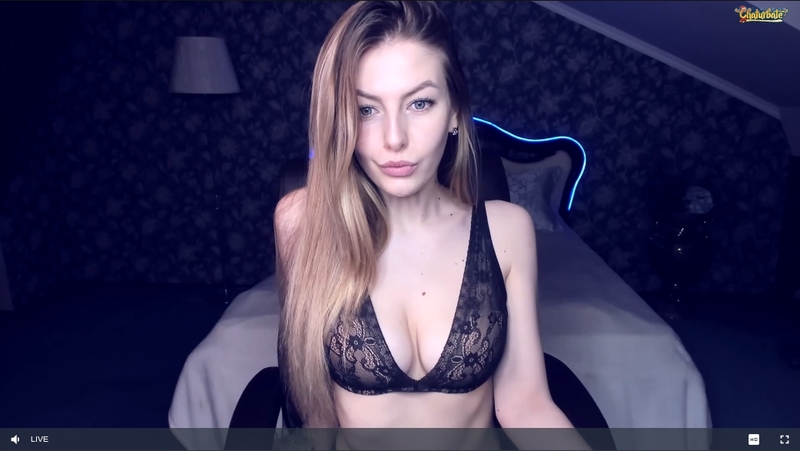 Finding your up and coming live cam starlets is easy, just select the #new tag from the top of the main page. Chaturbate offers the largest amount of new models bar none, around 800 which include all sexes, and couples/lesbians, even groups. If you like, you can use the filter at the very bottom of the page, but these will show you all the cams associated with those categories, not necessarily new models — By price, by HD quality, world region, age, and more.
Chaturbate chat prices start low, at $0.60 a minute and average at $3.00 a minute. Usually, this will also include cam2cam but you won't know until you hit the Start Private Chat below the stream if there's an extra charge. However, all your chats are recorded for free, an automatically placed into your account, so you rewatch when you like, for free. You can even turn on your own cam in the free and open chat, for free, by hitting the Cam to Cam button. Only the model will see you, of course. It's a great way to stand out among the crowd, especially when there are hundreds of users in one room.
And you can also make some extra tokens on the side by hitting the Earn Free Credits on the top left, where you'll discover several ways to do so. You can raise your daily spending limit and get 200 tokens, refer a model and get 500 tokens ($50) when she first broadcasts, and you can also join the premium membership for $19.99/month and get a welcome gift of 200 tokens, as well. 
---
Stripchat.com
Though the site above is the king of kink Stripchat is the Sultan of Sex fetishes. With a selection of hundreds of fetishes, all categorized alphabetically for your convenience, you'll find everything on both sides of the deviance spectrum. From a cool Yoga Granny to a naughty Athletic Colombian all the way to JOI, CEI, BDSM, and other acronyms for those in the mood for some serious dungeon business. And if you have some change to spare, there are even virtual reality live cam rooms.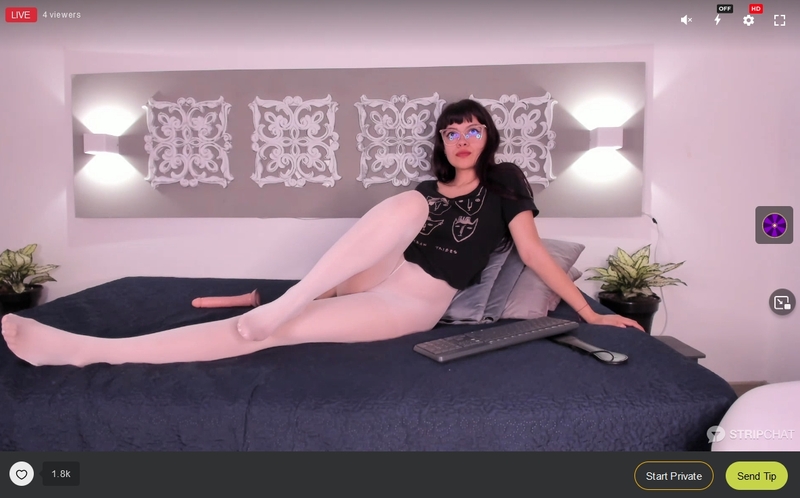 To find aspiring new live cam stars, just select the New Models category located on the left hand filter, on the top. There are usually around 300 of these lovelies, and they also include all sexes and couplings. This is the Specials section that is also a great place to find some of the most important categories on the site, Fetishes, VR Cams and Recordables, which are models that allow free show recordings. And yes, Stripchat is one of the only sites in live cams that offers 20-40 live cams with VR tech, that you can use if you have the right gear, for a 360 degree experience.
A private show on Stripchat costs $2.40 a minute on average, while the minimum stands at $0.80 a minute. Stripchat loves its models and gives them total control of what they charge, and what they give. So, some models will ask for extra to use cam 2 cam, some won't offer free recorded shows, and some will offer Fan Clubs, with different perks such as discount codes, block sessions that give you major reductions, and even the title of Knight, which gives you the power to moderate her room and kick other members out.
The site gives away free tokens every hour, even to non-registered users. All you need to do is hit the button Participate in Giveaway in a model's room under her chat. Your email will enter you into the hourly draw where 10 lucky people will win 500 tokens (Worth 50$!). Also, it pays off to be nice to models on Stripchat and tip. Those that like you and value you, will offer gift coupons and promo codes that can lower costs significantly, or offer special features you would usually get only if you joined their fan club.
---
LiveJasmin.com
The best premium cam site is LiveJasmin. There's no need to be coy about it, it's a fact. The site offers exclusive models only on LiveJasmin, live customer support to all users 24/7, 720p HD streams, models whose profession it is to perform live (Usually, even the new models have experience from less impressive platforms), multiple filters for ease of use even for those who aren't tech friendly, plenty of unique features, and an overall beautiful site design and experience.
The only premium site on this list knows how to give its new models their due, and not only does it offer a New Models category on the top left of the main site, on the basic filter, it also offers them on the advanced filter, located on the top right next to the search bar, and even gives them a fun white sticker that indicates their status, as new LiveJasmin models all start at the minimum price on the site, and are the cheapest. Keep in mind that while using the advanced filter, you can make multiple choices, so you can select new models and also their appearance, location, age, and other categories.
The average price of a private show at LiveJasmin stands at $2.40 a minute, while the cheapest rooms  come in at $1.20 a minute. For a basic private that's a great price, but if you want to be seen and heard by your gorgeous up and comer, things get pricey, as you add between $1-$2 for audio and video, separately. However, the same prices include usage of the site's stellar mobile platform, which also has cam2cam capabilities. If you don't mind others in your room, consider a VIP Show, which sometimes will offer new models, at a fraction of a private show's cost.
To enjoy much needed free credits, there are two things you can, and should do. The first is register and validate your credit card (You're not charged) to get 9.99 free credits, worth $10. Also, prior to your first purchase, Spin the Wheel to win up to double your credit purchase amount. To get a peek at all the promos offered on the site, hit the Promotions button on the top right of the main page.
---
CamSoda.com
A site that's on the top of many our lists, CamSoda is probably the most "friendly" out of all the sites here, as it gives so much for free (More on this below), and most on the site doesn't even require you to register, like the main page itself that showcases the open free rooms, streaming live, at the same time. There's no need to hover over a picture, you see everything like tiny little live films that offer sex and nudity, completely free of charge.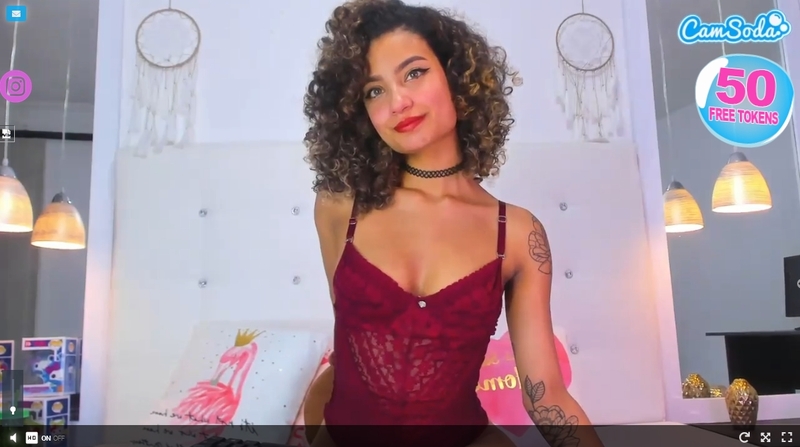 CamSoda works the same as the others on this list, offering a new tab on the top of the main page. There are usually around 50 online newbies at any one time. The site site offers an extraordinary amount of free content. You get free show recordings, free Exclusive Vids that CamSoda produces itself, which are full length free videos, you get free voyeur and pre-recorded shows, located at the bottom of the main page — Reallifecams and Nude in Public, and you even get up to 200 free tokens (Worth $20) when you sign up and verify your credit card.
An average private will cost you $1.80 a minute and starts at only $0.50 a minute, including cam2cam on desktop and mobile. Though there's so much on offer that you don't need to pay for, there are a few other options to the private shows. Take a look at the tabs on the top of the site, where you'll find Voyeur and Spy On Shows. The first allows you to be a fly on the wall, almost literally, as these cams are situated as a birds-eye view of the models. This is completely free but you can tip. The spy shows are super cheap and let you enter a private show of another member, while only the model knows you're there. Sneaky.
To claim some tokens, verify your credit card (No charge) and depending on the day, you will get between 25 to 200 free tokens (Worth $20). You can also upgrade to a VIP membership for $19.95/month and get a one time 200 free tokens gift, and you can then cancel your membership if you so choose (And keep the tokens). Lastly, it pays to be good to the performers on CamSoda, as the models give users "likes" too, and the one with the most likes that week receives a gift of 1000 free tokens (Worth $100).
---
BongaCams.com
BongaCams is a fantastic and freaky European site, the best on the list to finding models that are truly global. From Australia to Germany, from Japan to South America, there's no location too far or remote for BongaCams models to stream from. The site also hosts an impressive array of groups, engaging in full on sex parties and orgies, so if "the more the merrier" is your motto, this is definitely the live cam site for you.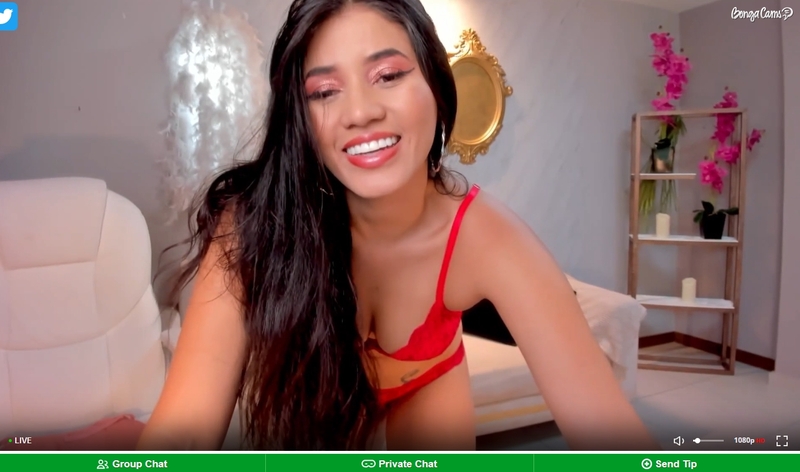 Finding new models on BongaCams is super easy. Just hit the New button on the top middle of the site, where the rest of the main site sections are. Most hours there around 200 new models, all sexes and sex combinations together in this one category. But even if you don't use this search, new models have a yellow New sticker on their profile pic (Which turns into a live stream when you hover over it), so you'll always be able to spot them. We recommend starting you search with the HD+ tag, just below, as this site offers impressive HD streams of up to 4K.
Unlike most sites, BongaCams offers one singular price for all chats, which includes cam to cam, $3.30 a minute. However, this isn't private. For an exclusive private chat, you'll need to add another $2 to the price per minute, both include c2c. The site also offers a beautiful mobile platform that includes webcam to webcam capabilities, and we highly recommend it. The same rates apply. But despite the high cost, BongaCams loves giving away free tokens, too. Select the All Promotions buttons from the top left of the main page to see what the site has to offer, which is pretty impressive.
You get 100 tokens ($10) just for purchasing some using your mobile device, you get 50% of your friend's first purchase who you've referred to the site, and you even get up to 200 free tokens ($20) in a giveaway the site holds every single day among members who have purchased anything on the site. Just remember that all the rooms are completely free, and all contain plenty of nudity and sex, so you can easily spend hours on the site and get plenty of action without spending a dime.
---
Conclusion
The best sites for the sheer amount of new models, is no doubt Chaturbate. It's also one of the best sites for new models that come prepared and with experience from previous sites under their belts, and bring along with them an arsenal of outfits, costumes, and accessories. It streams in up to 4K quality, is super cheap, and gives away all the action in the open rooms, for free. Chaturbate is a wonderful place to come and be your kinky self, and feel right at home.
Back to full list of sex cam blog posts
---