These Are Your Three Options for Mobile Cam to Cam Chat
After having completed an entire article on the best adult webcam sites for the mobile phone, we realized that there are only three live porn site where you can currently use cam2cam during private sessions while on your phone. Each of the sites uses a completely unique mobile platform to enable c2c.
If you want a private two-way video chat while on your phone, LiveJasmin, CamSoda, and xLoveCam are currently your only options.
CamSoda.com
While CamSoda is a new adult chat site that opened just a few years ago, they have already managed to attract a large number of attractive webcam hosts. CamSoda has hundreds of webcam models, including a few which are exclusive to the site. CamSoda was the first cam site to introduce the cam2cam on mobile phones as a feature.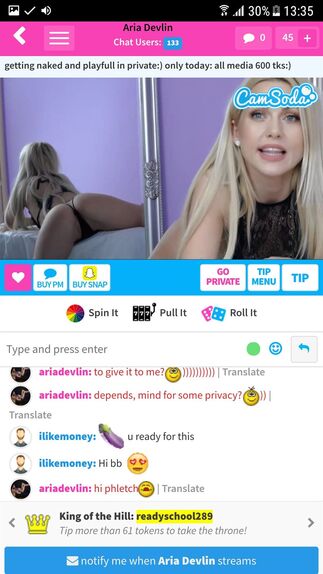 Cam2cam is included for free during most private shows on CamSoda, even while on mobile.
You can only tell which models offer cam2cam by clicking on the Go Private button. It will open up a confirmation window for you which will tell you whether cam2cam and whether you will get a free copy of the show added to your collection at the end of the show.
When you enter a private show, you will see a new green camera icon open up. Clicking it will turn on the front facing camera on your phone.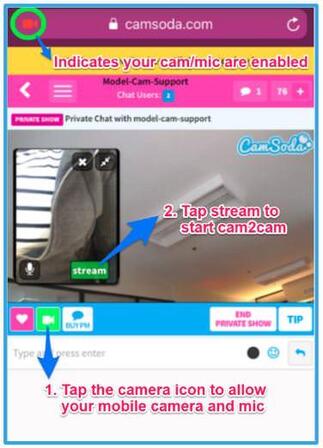 Overall, we were very impressed by the quality and ease of use of the cam2cam mobile chat feature on CamSoda. The rooms load quickly and with goodvideo quality. Cam2cam is easy to set up and typing on the keyboard is non-obstructive to the chat so you can talk with ease even if the model isn't set up with speakers.
While you can't filter by price, you will find that there are many cheap options available. You can find mobile cam2cam chat rooms for as little as $0.60 a minute.
Full guide to cam2cam on CamSoda
---
LiveJasmin.com
LiveJasmin is the best webcam site in the world. The site has well over a thousand webcam models online on average. They are all beautiful, and stream in the highest video quality. HD isn't a suggestion for the models on this site, it's a requirement. LiveJasmin was the second site to introduce cam2cam on mobile phones.
Cam2cam is available during all private shows, with all of the models on the site. To activate your webcam, you will need to pay 1-2 credits more per minute. Activating your microphone will also cost more.
Cam2cam is available in all private shows on LiveJasmin. To activate your camera while on your phone, you will need to click on the 3 dots icon. It's the top most icon which can be found beside the chat window. Clicking this option will open up more icons, including an icon of a webcam. Clicking on this icon is what activates your phone's camera for face to face time.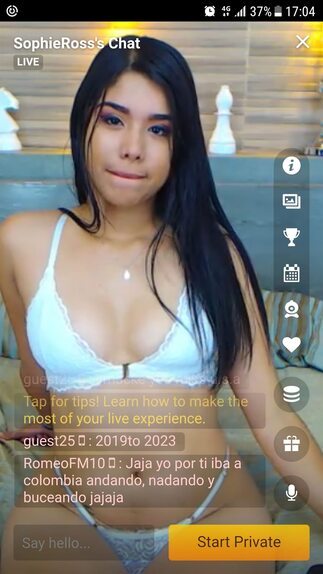 You might notice that the screen is incredibly zoomed in. You can choose to zoom out, by double clicking on your screen. If you don't want to zoom out, but want to pan left or right, hold down on your screen and adjust your phone accordingly.
We like the zoomed in effect during private shows, as it creates a much more intimate experience. It maximizes the screen, to emphasize the woman you are watching, rather than the chat window. While LiveJasmin charges extra for audio, it is the only site that guarantees it will work.
---
xLoveCam.com
xLoveCam is the third cam site to have developed mobile cam2cam capabilities. The site works amazingly well on the phone, loading faster and with better video quality than on the desktop site. xLoveCam's selection might not be very big or very varied, but the prices are quite low.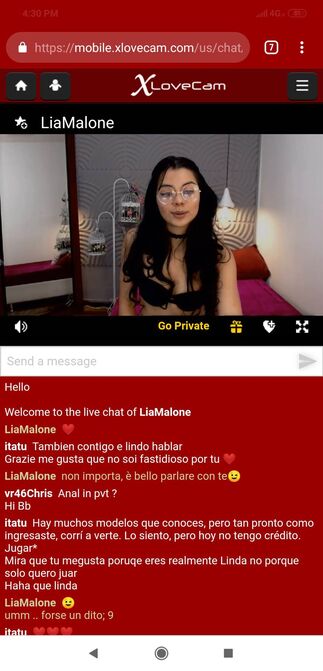 Cam2cam and two way audio are included for free during every private show on xLoveCam. However, Privates can have up to four users watching. It's only the user that initiated the chat which gets the option to c2c. To guarantee that you have cam2cam and that you are alone with the model, you will have splurge a little and pay extra or an Xclusive show.
After entering a private show, a new icon to activate your webcam will appear. Clicking it will enable your phone's microphone and camera.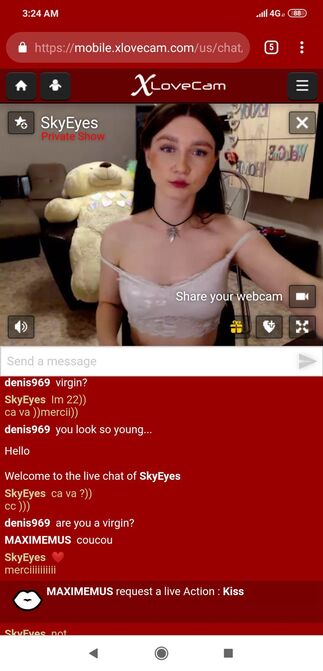 xLoveCam's user interface on mobile devices is very clean and easy to operate. The button to start cam2cam couldn't be more obvious. The keyboard and chat are very well designed, allowing you to type without disrupting your viewing experience.
Private shows on the site can be found for under €1.60 a minute, but the hotter and more professional girls charge a bit more. An Xclusive show is more expensive, though the difference in price depends on the model.
Full guide to cam2cam on xLoveCam
---
Conclusion
To get mobile cam2cam chat to work on all three sites, it is recommended that you upgrade to the latest software.
For LiveJasmin and CamSoda - on Android you will need to enable Flash and on iPhones you will need to upgrade to at least OS 11.
For xLoveCam - on Android you will have to use Chrome browser and on iPhones you will need to upgrade to at least OS 12.
It is arguable that the cam2cam experience on LiveJasmin is better, but with the price difference, it is hard to argue that it is worth it. On desktops, the price of a private show on the three sites is similar in cost, but on mobile, it's a different story.
Since you need to pay 2-3 credits a minute extra to turn on both your camera and your microphone on LiveJasmin, the two other sites are much cheaper.
The site you end up choosing may very well end up depending on the selection of cam girls available.
Between the cam girls on CamSoda and xLoveCam, which are similar in price, we prefer the selection CamSoda. We recommend starting out your journey there.
Back to full list of sex cam blog posts
---