Chaturbate Token Prices for Users And How Much Are They Worth for Models?
Last Updated
September 19, 2022
The Chaturbate token value is different for users and broadcasters.
As a user, the Chaturbate token price will vary according to the amount you purchase. You will be paying between 9 and 11 cents depending on how many tokens you purchase. It might not sound like a big difference, if you are looking at the 60 tokens a minute private shows, that can make the difference between paying $6.59 a minute or $5.40 a minute.
As a broadcaster, you get a flat rate of 5 cents per token, translating to $5.00 per 100 tokens received. This is actually more than what most other cam sites offer. You can cash out once every other week with a minimum of $50.00 (1000 tokens).
How Much Do Chaturbate Tokens Cost to Users?
The more tokens you buy, the cheaper the Chaturbate token cost will be. However, there isn't much of a difference in value between the cheapest package and the 2nd package. It's only the more expensive packages that really start to pay off in terms of a discount off the individual price of a token. If you're wondering exactly how much is a token worth on Chaturbate, the following shows their cost depending on the package you purchase.
100 tokens for $10.99 (10.9 cents per token)
200 tokens for $20.99 (10.4 cents per token)
500 tokens for $44.99 (8.9 cents per token)
750 tokens for $62.99 (8.4 cents per token)
1000 tokens for $79.99 (8 cents per token)
1255 tokens for $99.99 (7.96 cents per token)
2025 tokens for $159.99 (7.9 cents per token)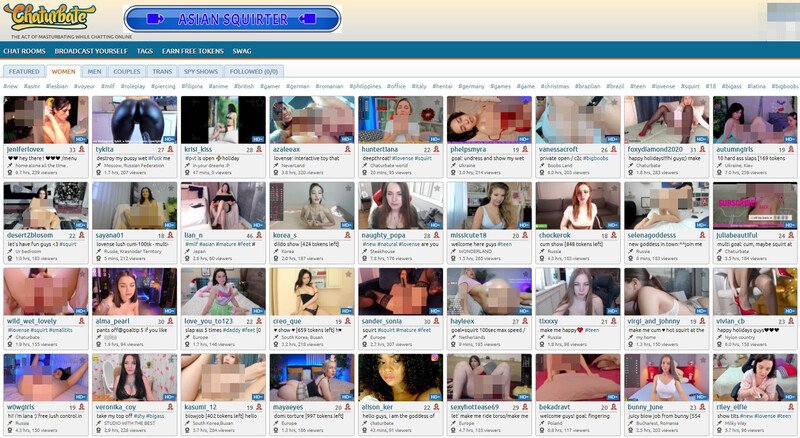 What Will Chaturbate Tokens Buy You?
The true value of a Chaturbate token changes from room to room. Some cam girls think more highly of themselves than others, and charge accordingly. For example, if you are looking at the tip menus, you could be paying anywhere from 20 to 2000 tokens for a titflash. Everything has a cost, and each cam girl gets to decide her value.
The differences in price don't end with just the tip menus, you could be paying anywhere between 6 to 90 tokens a minute for a private show.
Chaturbate usually has over 4,000 webcam models online. With just a little searching, you can always find a model who fits within your budget. You can always scroll to the very bottom of the page to sort the rooms by price. The minimum Chaturbate token cost for a private show is 6 tokens a minute, which works out to 53.4 cents a minute if you buy the 500 tokens package.
How to Get Chaturbate Free Tokens and Token Discounts?
The more tokens you purchase the bigger the discount off the Chaturbate token price you'll get. There are several sites purporting to giveaway free tokens with no strings attached. Many of these links are click and bait features and are not legitimate free token offers. We'd recommend you're extremely cautious when faced with such deals.
There are several ways to get your hands on free Chaturbate tokens. One channel to the freebies is to refer a friend. You get 10 free tokens for every new registered user who signs up to Chaturbate using a link you provide (the site has links you can email to friends).
If you refer a broadcaster you get 500 free tokens after that broadcaster has earned $20.00 in tokens on the site.
If you sign up to Chaturbate's VIP Premium Membership program you get a basket of perks including the ability to send private messages to broadcasters, an ad-free interface, as well as a one-time gift of 200 tokens. Membership costs $19.95 a month which is cheaper than buying 200 tokens as a stand-alone package. Membership automatically renews and you won't get 200 free tokens the next month so you may want to cancel your subscription before the end of the first month.
You can also get 200 free tokens by filling out the Spending Limit Increase Form which once approved. lets you purchase more than 2,200 tokens a day which is the basic daily maximum.
How Much are Chaturbate Tokens Worth to a Model?
Chaturbate takes between 40-50% of the amount of money a broadcaster earns on the site. For example, if you get tipped 100 tokens, or earn 100 tokens in a private show, you won't get $10.99 which is the price of purchasing 100 tokens for the viewer.
The broadcaster instead receives $5.00, with Chaturbate taking around 50% of the value as its commission.
Below is a short breakdown of the Chaturbate token value in US dollars is for broadcasters.
Chaturbate Token Calculator
20 tokens for $1.00 
100 tokens for $5.00
500 tokens for $25.00 
1000 tokens for $50.00
10000 tokens for $500.00
It's important to note that you'll only get paid once you've accumulated $50.00 worth of tokens in a payment period. A payment period is approximately two weeks. They start from the 1st of the month to the 15th and again from the 16th-31st (or 30th).
If you haven't earned $50.00 in a payment period, the amount rolls over to the next pay period until you hit the $50.00 mark.
Broadcasters can choose from a variety of payment methods: Paxum, CosmoPayment, ePayService, Skrill, Bitcoin, Check by mail, Wire Transfer, or if you're based in the US you can also request a Direct Deposit. The broadcaster is responsible for the service charges incurred by their chosen payment method.
Payment for tokens earned in the 1st pay period (1st-15th of the month) is sent within 7 days of the 1st pay period of the following month. The same applies for monies earned in the 2nd period. For example, if you earned more than $50 between January 1st-15th, it will be sent to you by the 7th February. 
Back to full list of sex cam blog posts
---