CamSoda Private Cam Show by Molly-rouse: BestWebcamSites Review
Last Updated
September 02, 2022
I remember coming back from work the other day getting ready for an ordinary evening that wouldn't involve cam sex. Yet, my dick had other plans for me as a wave of unanticipated horniness was washing over me. Before I knew it, I was roaming CamSoda's main page looking for a hot chick with whom I can put my excess libidinal energy to good use.
I wasn't into anyone specific, but then I noticed Molly-rouse with her golden locks, hazel eyes, sexy red clothing, which was a combination of a bra and a leotard, and semi-transparent lace panties. The way she looked at the camera with eyes full of lust left no room for doubt - this lady was into wild stuff. I pressed on the Go Private button hoping she'd accept my invitation for a 1-on-1 chat. After a couple of seconds we were alone in her private room.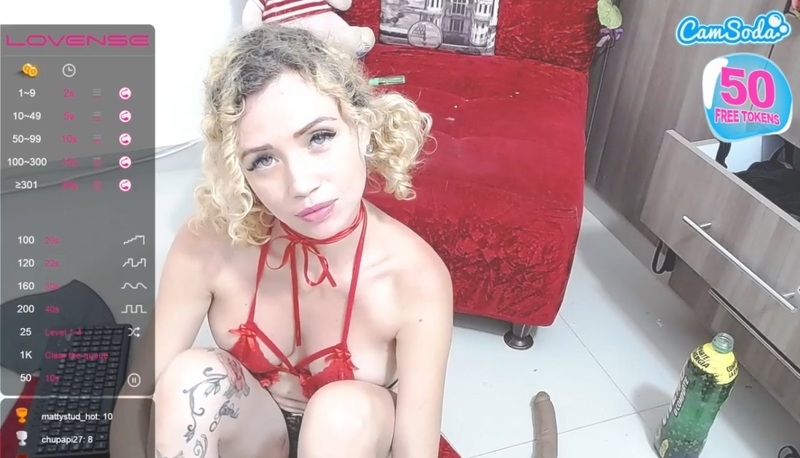 | | |
| --- | --- |
| Price per minute | 12 tokens |
| Cam2Cam | Yes |
| Free show recording | Yes |
| Toys | Lovense, Vibrator, Dildo |
| Dirty talk | Yes |
| Time | 18:00 |
| Overall score | 9.5/10 |
She welcomed me by sitting in a kneeling position on her chair. Her legs were spread apart and her labia majora was protruding from her tight panties demarcating the intimate area between her legs. This cartographic experience made me tenfold hornier even though the show had barely begun. I knew I had to find a way to control my desire, otherwise I might cum prematurely.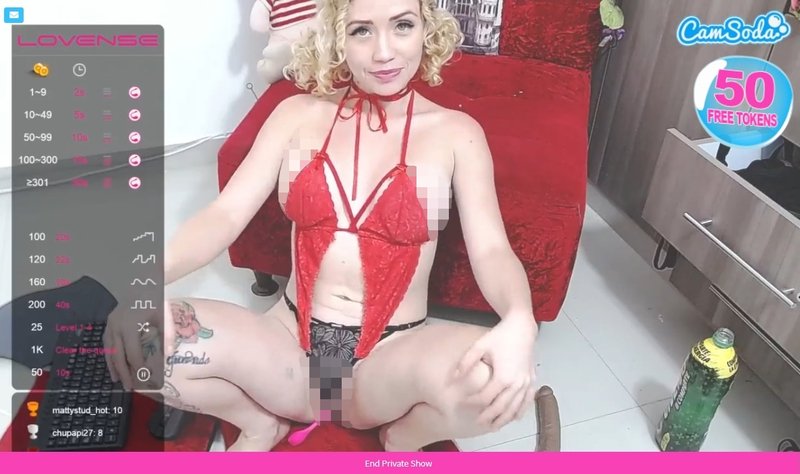 Nothing prepared me for what was about to happen next. Molly-rouse began touching herself, turning the Lovense inside her pussy into a dildo, shoving it in and out. Maybe it was nothing more than my wild imagination but I could clearly see her panties getting wet.
It was time to get down to business. I gave her a nice tip for her kneeling position and the innovative use of her Lovense and expressed my will to get a glimpse of her pussy. She didn't take off her underwear, but just moved it aside and kept on playing with her Lovense. At that point, my dick was fully erect (actually it'd been erect right from the start) and ripe for masturbation. So I began playing with myself always making sure not to push myself over the edge as there were more things I wanted Molly-rouse to do for me.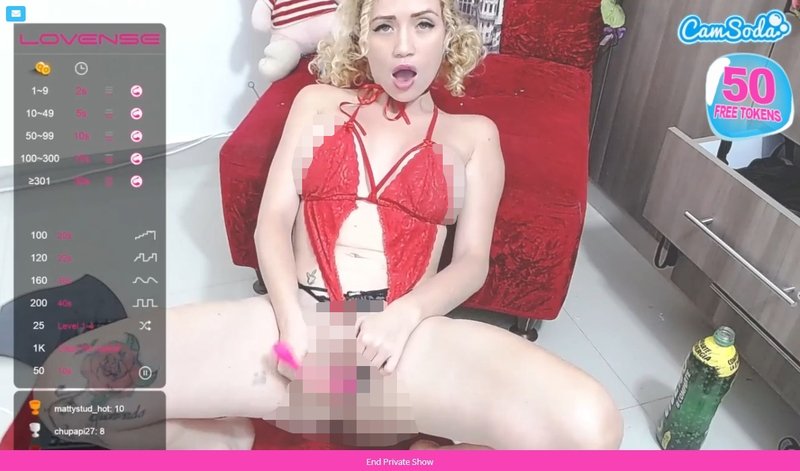 One of them was, of course, watching her perform with her boobs out in the open. I told her there was a part of her I hadn't seen yet. She thought I was referring to her butt so she got up, turned around and put it in the center of the frame. What was amazing, apart from getting a full rear view of her lady parts, were her tattoos. Each of her ass buns had a butterfly wing on it. At that moment, if you'd told me that she could fly with these ass wings, no doubt I'd have believed you.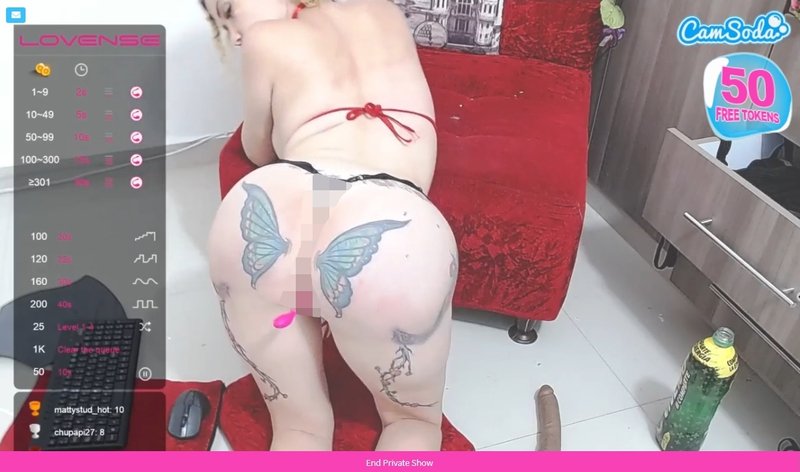 I gave her another nice tip and politely asked her to go topless. She did more than that. She faced the camera, removed her upper clothing and out of nowhere fetched a dildo, which quickly found its way to her mouth while she was fondling her beautiful tits and tickling her nipples. All that time, she was keeping her legs open with the pink tail of her Lovense sticking out of her vagina. That was a spectacle which brought me closer and closer to the boiling point.
I was distracted for a couple of seconds due the complex logistics involved in simultaneously flogging my bishop and operating the computer, so I didn't notice she got herself a vibrator. For a couple of seconds, she held her dildo in her mouth while one hand was caressing her tits and the other was using the vibrator to stimulate her clit. Displaying such highly developed motor skills entitled her to a nice tip from my part.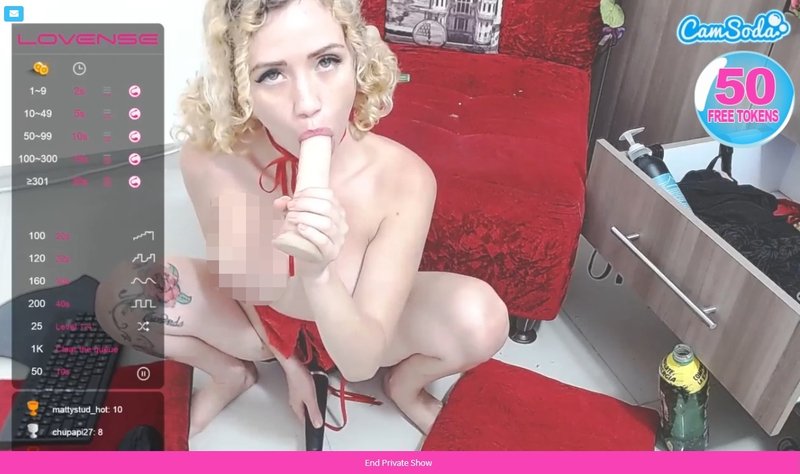 She continued to ambidextrously suck her dildo and vibrate her pussy. I let her do that for some time getting ready to cum. But she apparently had one more surprise up her sleeve. She got rid of her dildo and vibrator and got herself another smaller dildo. "Why smaller?", I asked myself. The answer came soon enough as she turned around, spat in her hand and used the saliva as a lubricant for her a-hole. When she felt ready, she took the smaller dildo and slowly shoved it into her anus till it disappeared completely. She moaned so hard, making me grip my dick much more strongly, jerking off frantically.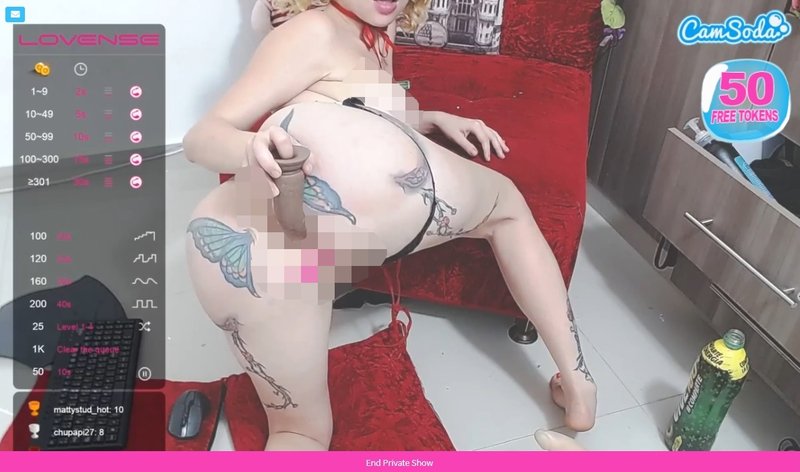 There was no way I could hold myself anymore. With the little strength left in me, I begged her to talk dirty, which she willingly did. She uttered all sorts of words in Spanish (I forgot to mention that she's from Colombia), which - although I couldn't understand - I knew they were extremely profane. With her foul language, I finally reached climax and sprayed warm jizm all over the room.
Notifying her of the event, she immediately put her face in close proximity to the camera, took her tongue out of her mouth and swallowed all of my cum, cleaning everything while enriching her body with essential protein vital for boosting her health and increasing her life expectancy. I gave her a generous tip for the massive clean-up operation, bade her farewell and ended the show.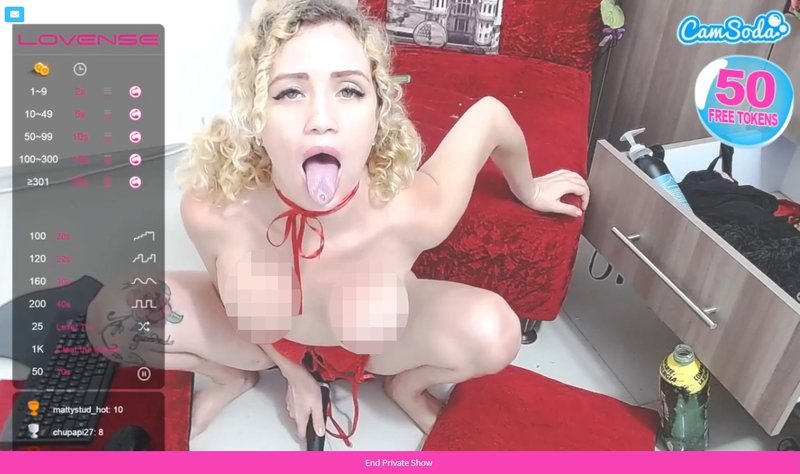 To conclude, I spent 18 unforgettable minutes with lovely Molly-rouse. It was a live session full of surprises and excitement. It cost me (not including tips) 216 tokens which amount to a little less than $24.00 - a highly affordable sum. CamSoda has tons of hot chicks who will entertain you at prices that won't make you go broke. And, most of them will allow a recording of a private show. These recording are stored on your My Media page, which you can access freely. I'm about to go and watch Molly-rouse's recorded show the moment I finish writing these lines.
Back to full list of sex cam blog posts
---