Best Mobile Sites For Transgender Cam Chat
Last Updated
September 19, 2022
The following six cam sites feature not only stunning t-girl models and HD streaming options, but they're the best of the best when it comes to chatting with a trans model on the go. While most adult cam platforms have mobile versions, they're not always user-friendly, and when it comes to the transgender selection, very few merge both great layouts with great trans-girls. The following sites all do that, and the first four platforms listed below also provide the option to enjoy a cam-to-cam show on your mobile device.
MyTrannyCams.com
MyTrannyCams not only heads the list of the top webcam transgender platforms for mobile chat, but it's also the only trans-centric site to make it onto this round-up. There's generally around 100 t-girls streaming 24/7 and each and everyone of them is stunning. These are no amateur cam babes. They're all at the top of their cross-gender game with the assets above and below the waist to back up their A-lister standing.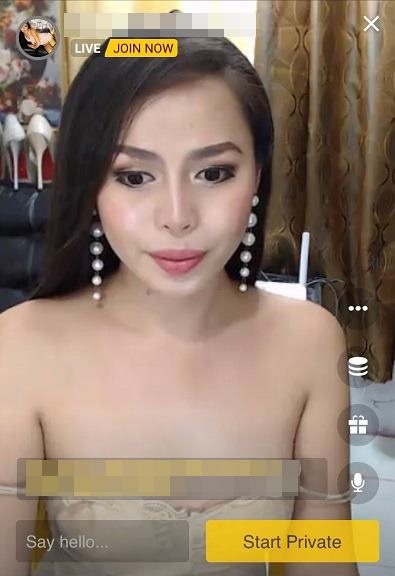 MyTrannyCams is a premium platform so don't be expecting any free fun in the t-girls open chat rooms. There's a strict pay for play policy at this site. As you'd expect from the best of the best, HD streaming is the norm (though there are a few rooms that still stream in high quality SD). Most of the models you'll find here are from either Latin America or Asia with only a few European babes with bonuses using the platform.
The above image shows how a room appears when viewed in a vertical mode. If you prefer a wider shot, simply flip the phone and the image automatically appears in a horizontal mode as illustrated by the below image of yet another stunning t-goddess.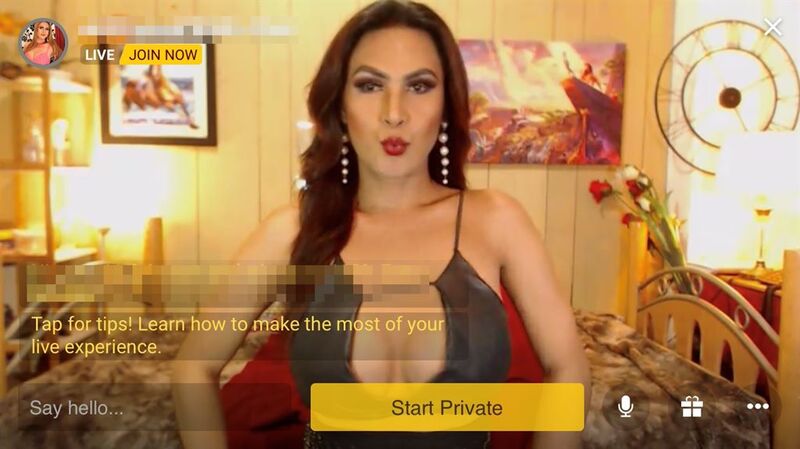 The site is extremely easy to navigate, just one tap on the gallery of snapshots will take you into the open room. If you want to message the girl, a transparent box appears that does disrupt around 1/3 of the view. Cam2cam shows on a mobile device (and a laptop for that matter) incur a surcharge of $1-2.00 a minute more. The same applies if you want the date to be a 2-way audio one, which is pretty much a must if you're on the mobile, otherwise you'll miss one third of the action while messaging your request to the model.
---
xLoveCam.com
xLoveCam is another premium site, with a somewhat more limited selection of semi-pro and pro transgender cam models. At any one time you'll find between 20-30 of them online. If English isn't your mother-tongue, there's a good chance the site is available in your mother tongue, with site versions accessible in 27 languages. And, if you're into Euro t-girls, then this just maybe your new fave cam destination as the majority of the trans that perform at XLoveCam are from Eastern and Western Europe.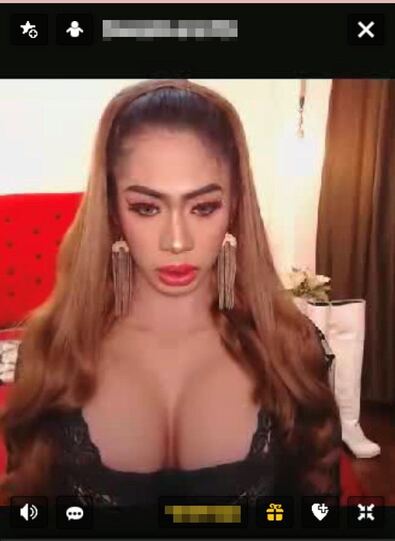 Like MyTrannyCams, xLoveCam is another premium site, with nudity and full-on frontals reserved for the paying guests (most of the time). The girls mainly keep their bodies (and their feet) covered in their open chat rooms and only show what's hidden if you pay for a private 1on1 chat. However, many tend to break this rule very quickly and will flash if asked politely or it'll get them invited into a private cam date.
Unlike MyTrannyCams, HD broadcasting isn't site-wide here, but on the other hand, private cam rates are extremely low. If you're in a room and decide it's time to move on, all you have to do is swipe and the next live feed comes through. If the message box is too intrusive (which it is) it's worth selecting the small layout icon on the bottom left of the image which will then enlarge the video to the maximum screen layout.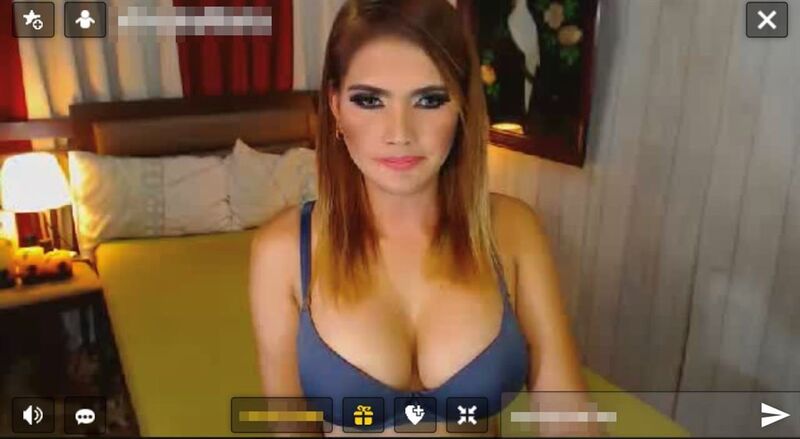 While xLoveCam does offer mobile cam2cam sessions at an all-inclusive rate, if you prefer to just chat with the girl, messages appear as transparent overlay on the full screen live video feed. However, when you type in a message at least half, if not more of the image is obscured by the keyboard leaving just a thumbnail of the action that's viewable.
---
LiveJasmin.com
LiveJasmin is one of the most HD friendly adult cam platforms around. Almost all rooms are streaming not just in HD, but HD plus and the few that don't, use high-quality SD. The transgender babes here are all professional cam models and invest heavily not only in their appearance, but also in their hangouts. Every room is professionally lit and styled making sure whether you're accessing the site from a mobile or laptop, not one second of the action occurs off-cam.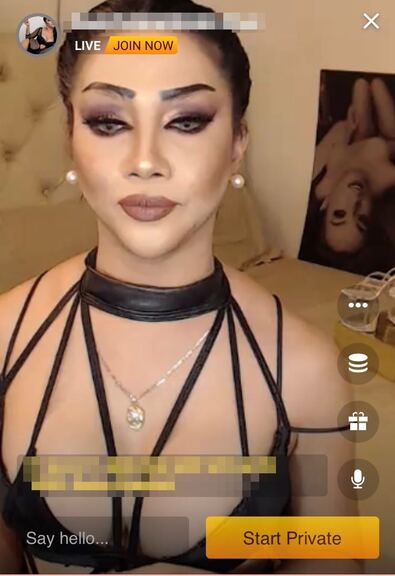 Once you've closed the virtual curtain and started a private cam date with your chosen t-girl the babe wastes no time in showing you her wand and wants, but until then - there's no free tasters here. At any one time, you'll find around 100 trans models broadcasting, the majority of whom are Asian, with a strong showing of Latinas.
Once you tap through into a room to see what's happening in real time, you can then swipe right and view the rooms as live feeds one by one without having to return to the gallery of snapshots. It does take a few seconds however for the video to come through, so while this is a fun way to see real-time happenings, it isn't the most time-efficient way to search for a cam partner.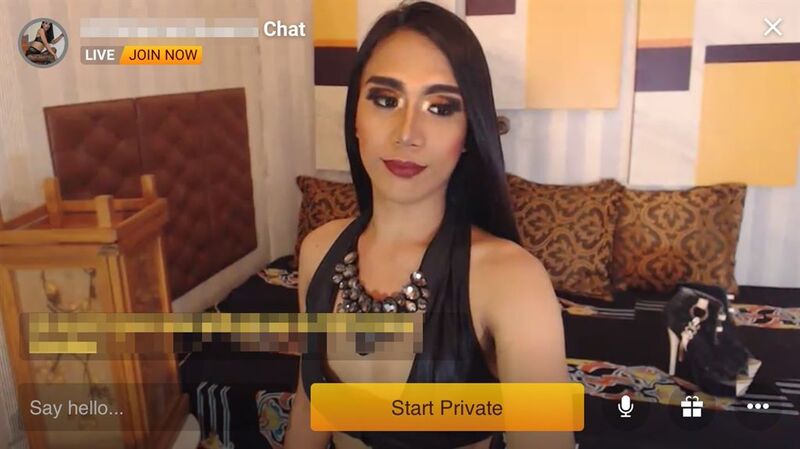 Once you're in a girl's chat room selecting the icon that features three small dots brings up a selection of actions including an info button where you can tap to see what the t-babe likes to do in a private chat. If you're looking for a certain kink to do with her such as JOI, SPH, or CEI, it's worth taking a look and making sure your fave fetish is listed. If it's a cam2cam encounter that you're interested in, remember that on top of her advertised rate, you'll need to add another $1-2.00 a minute for it (same again for dual audio).
---
CamSoda.com
In all fairness, CamSoda only just sneaks onto this list due to one fact. It's just one of several cam platforms out there that offer cam2cam on the go. It doesn't have a huge selection of trans models online at any one time, normally just a handful. But, saying that, if out of the limited selection one catches your eye, you're going to have one of the lowest cost, mobile trans cam2cam chat dates around.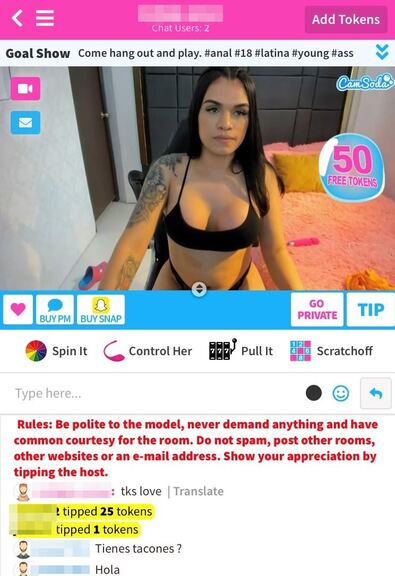 CamSoda is a freemium site which means you don't have to go private to see the goodies the models usually reserve for paid parties. These tgirls are total exhibitionists getting off on the thrill of being watched and pushing boundaries as far as they can. To get to the trans rooms at CamSoda you'll have to go to the top menu bar of search tags and select the Shemales. This will change the gallery of photos to just the online ladies with extra benefits.
Streaming on a mobile device is fast and smooth, though the majority of trans-hosted rooms are still using SD. The best way to view your new pal is in the horizontal mode, however messaging takes up almost all the screen, so if you want to see and chat to her - there is a big pay off and that's the loss of around 90% of the image.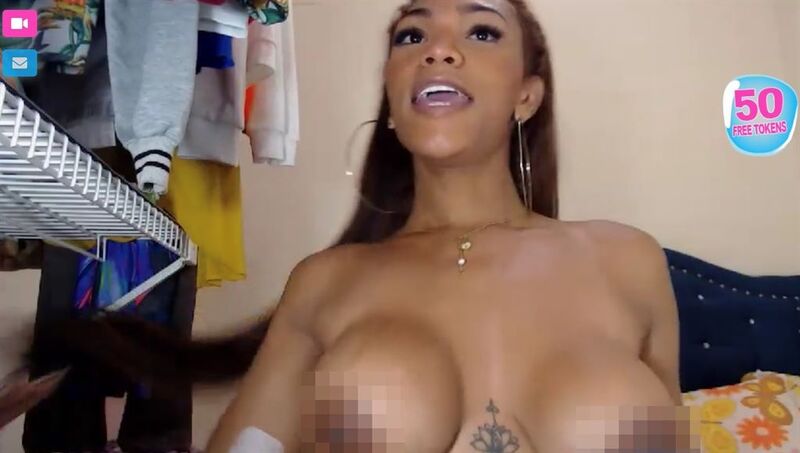 Unfortunately you can't swipe between rooms, instead you'll have to return to the main gallery of photos to find the next potential playmate. At the end of the day though, with so much free action and low-cost chat shows, CamSoda is always worth a quick check out if you're in the mood for a mobile cam2cam show with a trans-girl that is usually ready to kick off any kinky game you want.
---
Stripchat.com
Stripchat doesn't offer cam2cam chat on your mobile, however it does have a great selection of transgenders streaming 24/7, all of whom you can see and chat with via your smartphone or mobile device. The models here range from amateur girls just starting out on their gender journey, to professional adult models specializing in extreme fetish shows.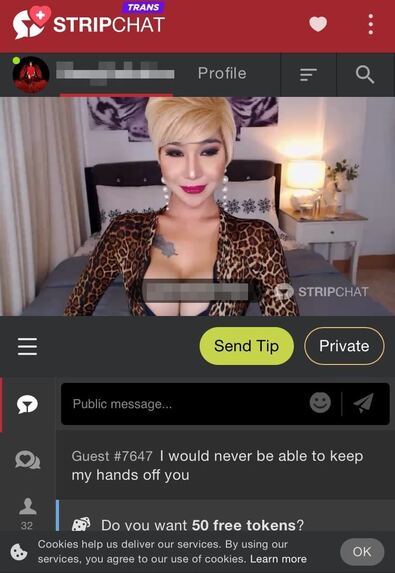 On average, there's around 150 trans models from every corner of the globe. In addition to the popular Asian and Latina category, Stripchat also has models from across Europe and the U.S. looking to meet new cam pals. Like CamSoda, Stripchat is a freemium site which means you don't need to go private to see the babes privates.
In the open chat rooms, many of the models strip off and play for their pleasure with visitors tipping the girls to get wild and wet, or perform a specific sex act. The mobile version can be somewhat frustrating for one main reason, once you tap into a room, most of the video view is obstructed by both the message box and incoming messages from other viewers. If you select the full screen view mode, the image automatically switches to a horizontal view without you moving your phone or device.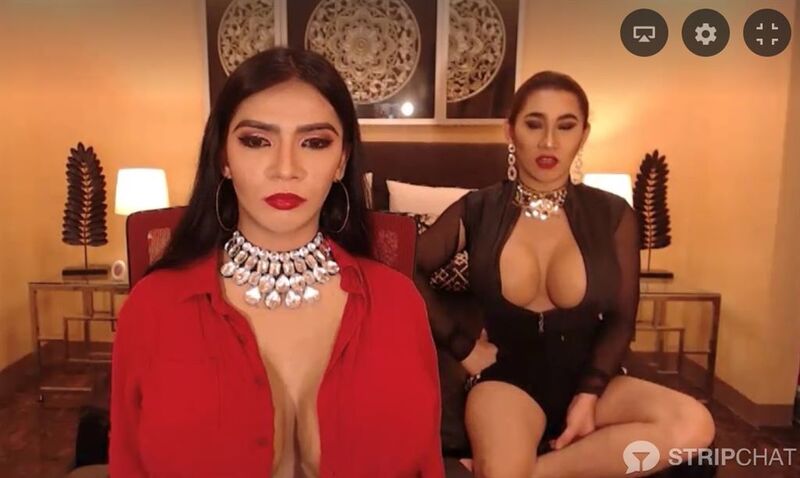 If you're more a voyeur type and prefer to watch quietly some hot and horny action with one, two or even three transgenders together, Stripchat is a great option. With such a huge selection of trans models, HD streaming, and a full-screen mode with no distractions whatsoever, it's pretty much like watching a free X-rated live video.
---
ImLive.com
Like Stripchat, ImLive doesn't offer mobile cam2cam shows but it does have a significant selection of stunning trangender cam hosts, all of whom are either semi-pro adult models or professional performers with even the occasional celebrity cam t-girl appearing in a ball-breaking bonanza. Prices for private cam dates are low and often so is the streaming quality, but on the upside, at least you won't be eating into your data plan too badly.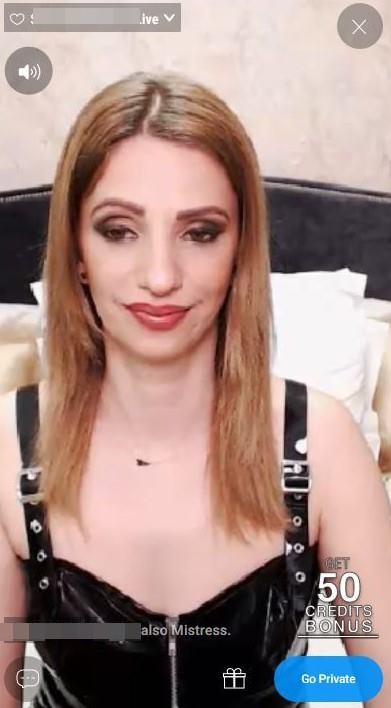 ImLive generally hosts around 50-80 cross-gender cam cuties at any one time. If you're looking for a girl with a particular perv, as opposed to a particular look, then ImLive has the best kink t-queens around as well as some gorgeous well-hung ebony queens. While there's no naughty naked games in the open chat rooms, in private sessions the ImLive femmes with features tend to take things to the next level if they can. 
When it comes to sending a message to a girl, make sure your phone is in the vertical position. This way, half the screen features the live video stream, and the other half is taken up by the messaging box. In the horizontal mode, while you get to enjoy an unobstructed view of the room, if you want to chat to the girl, most of the image will be obscured the messaging box.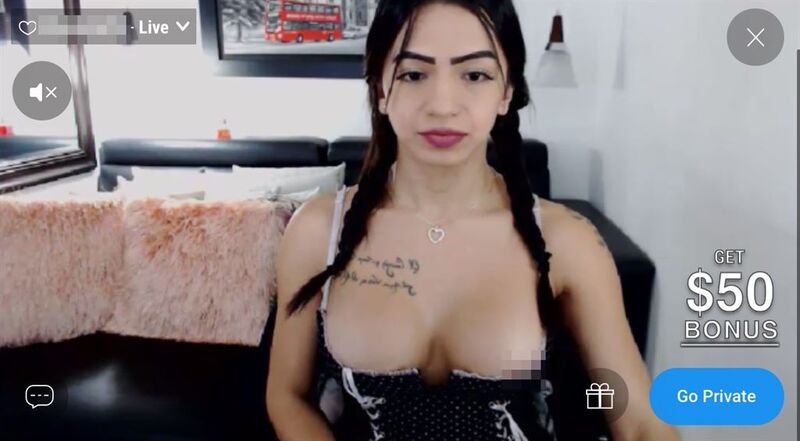 The mobile site doesn't have all the features you'll find if you access the platform from a desktop device, and if you haven't logged in as a registered user (sign-up is free and fast) after around 10 minutes or so on your mobile, you'll find most rooms won't allow you to access them until you've signed in.
---
Conclusion
When it comes to finding the perfect cam site to access over your phone or table device that features the best trans babes, great HD streaming quality and a full array of features, without a doubt MyTrannyCams is the place to be.
However, if you're looking more for a few bytes of free fun and don't necessarily need cam2cam capabilities, then Stripchat would be our top choice.
The best way to find the right match for your mobile device is to check out for yourself a few of the sites listed here and see which is more your type. Whether you're into the amateur exhibitionists at CamSoda, the professional performers who reign supreme at LiveJasmin or the kinky queens at ImLive, there's a play pal for every preference in the above list of the top 6 mobile transgender cam sites.
Back to all articles about sex cams
---