2022's Top 10 Cam Sites Where You'll Enjoy the Hottest Live Shows
Last Updated
September 14, 2022
Which cam sites will run the show in 2022? There are dozens of sites operating on the web at present and many of them are good. Yet, we aren't going to settle for good; we seek nothing less than the best and for this reason we've come up with the following list of the 10 leading sites you should visit in 2022 if you're looking for top-quality live porn that will leave its mark on you and give you a taste for more.
CamSoda.com
CamSoda is a highly popular freemium site and has definitely earned its right to occupy the first place on our list of best cam sites for 2022. Any hour of the day, it hosts around 1000 promiscuous models who enjoy posing nude in their public rooms. These hotties will do all in their power to entertain you at prices you can definitely afford.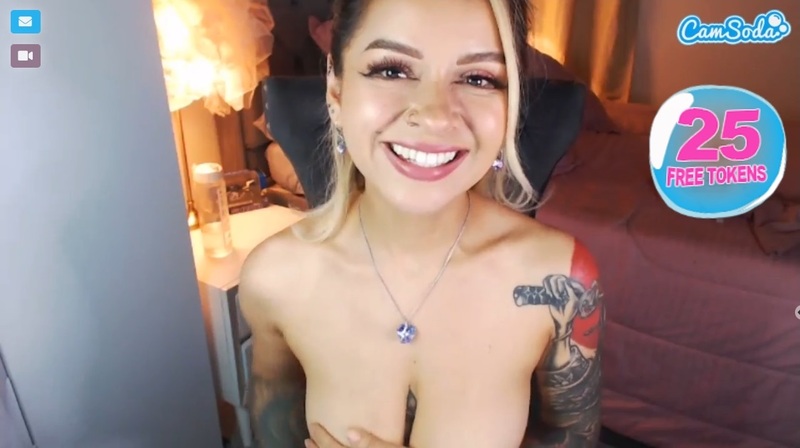 As a guest user, you'll have no problem accessing the site's chat rooms and watching the nude live shows. Each model can be watched up to 10 minutes. The moment you open a free account, this time limitation disappears and you'll also be able to chat with some of the models. Others will let you chat with them only if you buy tokens.
Buying tokens will also enable you to take your favorite cam model to a 1-on-1 chat, which costs $1.80 a minute, on average. The minimum rate is $0.50 a minute. These are great prices, especially when considering that going cam to cam doesn't require an extra fee.
CamSoda lets you open your camera on your PC and on your mobile phone, and not only in private shows, but also while you're in a model's public room, and as long as you access the site via a Chrome browser. However, unlike private c2c, you'll be charged extra for this service. Every model has her own per minute rate.
Most of CamSoda's models allow their private shows given to you to be recorded. These recordings are automatically uploaded to your My Media page, and you can watch them for free, re-experiencing the thrill of your intimate cam chats over and over again.
If you upgrade your membership to Premium, you'll get a 1-time bonus of 200 tokens (worth $20.00) and enjoy additional perks like navigating an ad-free interface, changing tip volume, ending models private messages, tipping anonymously and chatting invisibly.
Customer support - email
---
LiveJasmin.com
LiveJasmin is the ultimate premium cam site. Whenever you pay it a visit, you'll run into more than 1,000 online models whose beauty will mesmerize you. All of them, with hardly any exception, are professional cam performers who broadcast at supreme hi-def quality taking your live porn shows to the next level.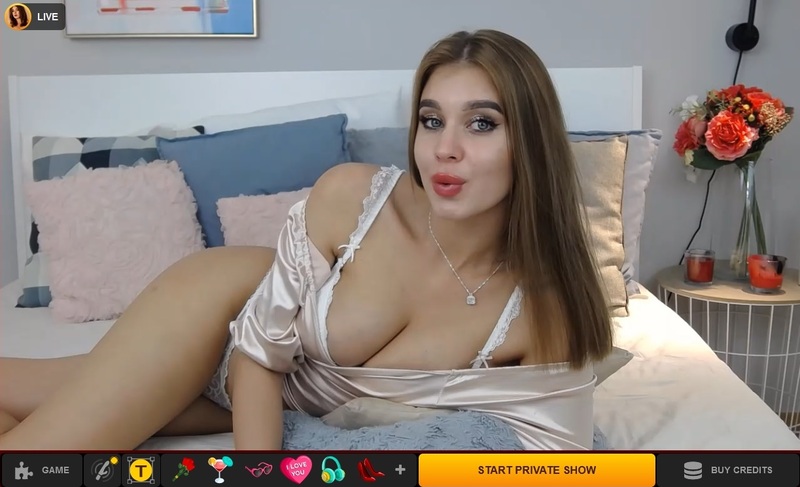 LiveJasmin will let you watch its models' public live shows for a couple of minutes before asking you to sign up. Once you open a free account, you can spend as much time as you want watching each and every model on the site. You can also chat in the open rooms.
By purchasing credits, you'll be able to invite your favorite performers to intimate 1-on-1 chats. On average, they'll charge you a sum of $2.40 for a minute of their private time. The cheapest models on the site take $1.20 a minute.
A cam2cam chat requires an additional fee of 1-2 dollars a minute. The same goes for 2-way audio. That may sound a bit expensive, but you have to remember that you're paying for top-quality streaming . What is more, LiveJasmin's c2c apparatus is responsive to mobile devices so you can enjoy interactive video chats without being dependent on a cumbersome setting of a computer.
While you're taking a break from active chatting, you can send any model you want a private message which may include not only text but also photo, audio and video files for a price of only $1.50.
As a new users, you'll get a bonus of 9.99 credits (worth $6.00) upon validating your credit card. You can also win up to 99% discount on your first purchase. If you're a repeat user, you may win a variety of perks like free peeks at others' private shows or sending messages to models at no cost.
Customer support - live chat, email, phone
---
Flirt4Free.com
Flirt4Free is another top-notch premium site with 600+ stunning models available for you 24/7. It puts at your disposal multiple live show modes streamed in HD, exciting fetish chat rooms, tons of xxx videos you can purchase, extensive reward and VIP programs yielding great benefits and fat bonuses, and, most of all, the ability to pay for your private sessions as you go.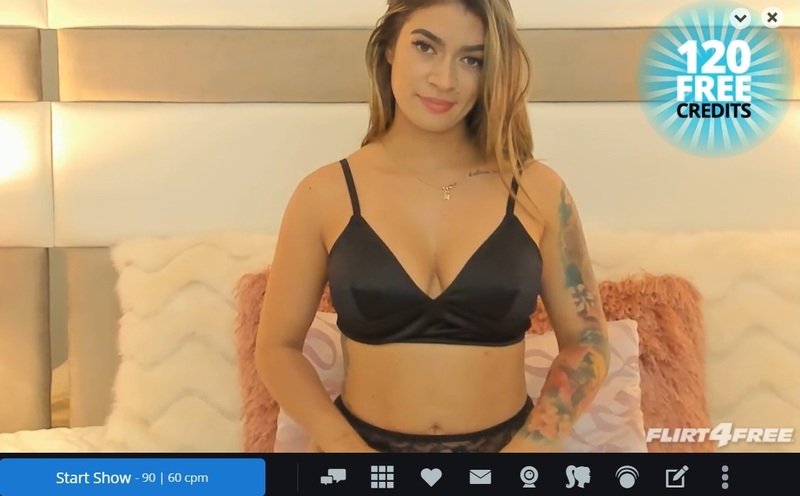 You won't need to open an account to watch the public performance given by Flirt4Free's models. Once you register for the site, you'll be allowed to chat with the models in their open rooms. Having said that, from time to time, you may run into a broadcaster who will demand that you possess credits before letting you express yourself in her room.
Flirt4Free's models take $3.00 a minute on average for a private chat. Minimum rate on the site is $0.50. Cam2cam is offered for free and, like CamSoda and LiveJasmin, it'll work well on your smartphone.
If you want to save money, you can opt for a Multi-User Show. You won't be alone with the performer, but you'll get to see her naked and pay 33% less than a private chat. Entering a Party Chat will cost you nothing. In these chats, the users' tips set the pace. If everyone is generous, the model will get rid of her clothes faster than you can notice.
Flirt4Free is a favorite destination for users who are into kinky live porn. It has a whole section dedicated to hardcore cam shows called the Fetish Community. It contains more than 50 chat categories and dozens of dominatrices and submissive models who will realize your most eccentric fantasies.
As a new users, you'll be given a welcome bonus of 120 credits (worth $12.00). As a repeat users, you'll highly appreciate the site's reward and VIP programs. The former gives you points for almost any action you'll do on it (even signing in regularly). These points can be converted into all sorts perks, among which are access to premium features and bonuses on every new purchase.
By paying $39.95 a month, you'll become a VIP member and unlock unique features comprised of sending models private messages, 200 free videos a day, 1 hour-long Feature Shows, free access to recordings of your private chats, 5% off on all video purchases and 150 monthly recurring credits (worth $15.00).
Flirt4Free's most unique feature is its Play & Pay as it enables you to pay for your private chats as you go directly from your credit card instead of using the credits you've purchased. Play & Pay has a daily spending limit which increases gradually letting you get used to this novel payment mechanism.
Customer Support - live chat, email, phone
---
ImLive.com
With 600-800 flirtatious online models whose main goal in life is to give you good time in front of the cam, unique features you won't find anywhere else and a Loyalty Program with tons of benefits, ImLive should definitely be included in your cam sites portfolio.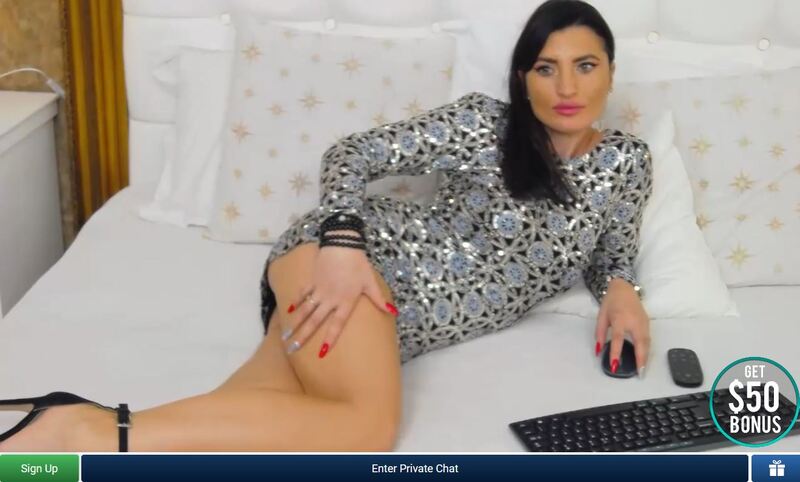 ImLive lets you watch its models in their public rooms as much as you want without any limitation even if you're an unregistered user. However, to chat with these models, you'll be required to open a free account. To engage in private chats and watch the models get naked, you'll have to buy and pay credits.
A private chat on ImLive costs $2.50 a minute on average.The cheapest models will take you $1.00 a minute. Some models give their favorite users a coupon code which provides significant discounts. In addition, you won't have to pay extra for cam2cam, which you can open on your PC or on your smartphone.
As mentioned above, ImLive has great features. For example, its Multi-Viewer lets you watch 6 public live shows simultaneously. The paid Multi-viewer lets you watch the same number of private shows with full nudity at a price of $3.00 a minute.
The GroupCams enables you to invite another model to your private chat and watch a double show. The second model comes with a discount of $0.70 a minute.
Being a new user, you can buy a really cheap pack of 35 credits for $25.00 (only $0.70 per single credit). Once you make your first purchase, you become a Bronze member and get 20 free seconds free on all private shows, access to premium videos and a variety of chat discounts.
Through ImLive's Loyalty Program, the more credits you buy, the higher your membership status becomes. Higher status entails more benefits and better discounts.
Customer Support - email, phone and live chat for VIP users within the site's Loyalty Program
---
Chaturbate.com
Chaturbate is the biggest cam site in the live porn industry. Any hour of the day, it puts roof over the heads of thousands on models of all genders, types, shapes, sizes and ethnicities. A large number of these models perform in the buff in their open rooms enabling you to enjoy countless free live nude shows.
Anyone can watch Chaturbate's models performing naked in their public rooms. However, to interact with them, you need an active account and, in the majority of the cases, some tokens in that account. 
Most of the action on Chaturbate occurs in the open rooms. The abundant nudity keeps users in these rooms. They often use their tips to make the models do special things for them. However, that doesn't mean you can't invite a model who has turned you on to a private show.
Such a show will cost you $3.00 a minute on average. The lowest rate on the site is $0.60 a minute. Cam to cam may or may not be included in these rates, depending on each performer. Furthermore, like CamSoda, you can open your cam in a model's public room for her (and only her) to watch you. This feature may also demand an extra payment.
Chaturbate's major plus is its supreme broadcasting quality. Many of its thousands of online performers stream in HD and HD+. Some even use 4K cameras providing you with a spectacular viewing experience.
As a new or a veteran user, you can get a 1-time bonus of 200 tokens (worth $20.99) provided that you upgrade your membership status to Supporter. This upgrade will cost you $19.95 a month and in return you'll unlock nice features comprised of sending models private messages, using special fonts, color options and animate images in chat, tipping anonymously and navigation an ad-free interface.
Customer Support - email
---
Stripchat.com
At any given time, Stripchat operates more than 3,000 online chat rooms. During peak hours, this number can reach more than 5,000. Most of the performers in these rooms give free nude shows. These shows revolve around a large variety niches based on the hundreds of chat categories the site puts at your disposal. To make a long story short, Stripchat has almost everything you may need to engage in high-quality sex chats.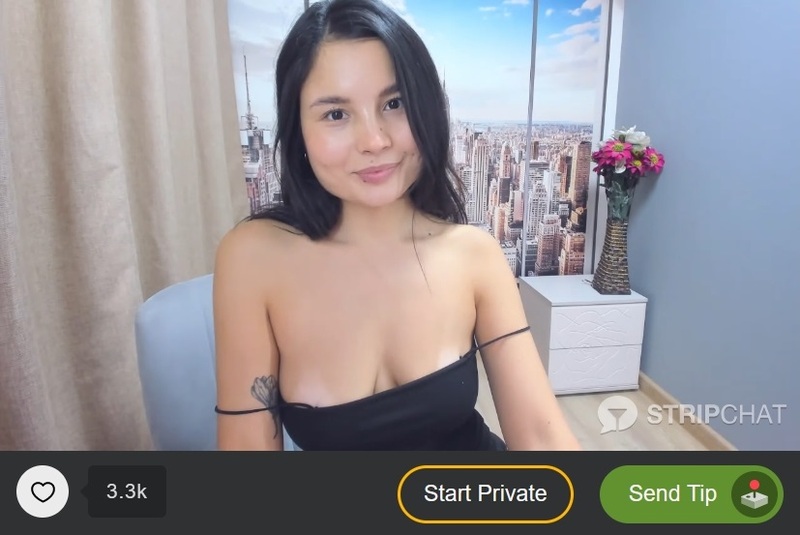 The site's models mute unregistered users. Practically speaking, it means that you can watch them in their public rooms as a gust user, but to chat with them, you'll be required to sign up. Take into account, that some models may also demand that you possess tokens to be able to write messages in their rooms.
The average price of a 1-on-1 show on Stripcahrt is $2.40 a minute. The lowest price is $0.80 a minute. Most performers have minimum chat duration of up to 10 minutes. To open your cam, you'll have to opt for an Exclusive Private show, which is usually 33%-50% more expensive than a regular private show. As its name suggests, an Exclusive Private show prevents other users from spying on your model while she's performing for you.
Around half of Stripchat's models allow their private and public shows to be recorded. Each one of theses models has her own per minute rate for live show recordings. The site, in contrast, won't charge you extra for watching what you've recorded.
Stripchat's greatest feature is its VR chat rooms. Almost any time you visit it, you'll meet 20+ performers who can entertain you in a virtual reality environment. You'll need to download a special application and buy a headset to enjoy these stereoscopic live shows.
As a new user, you'll get up to 30% bonus upon purchasing tokens for the first time. Once you're a registered user, you can participate in a giveaway the site holds every hour. Each giveaway consists of 500 tokens divided equally among 10 lucky winners.
Finally, you may choose to upgrade your membership to Ultimate for $19.99 a month and unlock features consisting of sending models private messages, chatting invisibly, tipping anonymously, using Emoji in chat and even gaining moderation powers in rooms of models who have turned you into their Knight. Ultimate members get a special badge indicating their high status.
Customer Support - live chat, email
---
BongaCams.com
The good things Chaturbate and Stripchat put at your disposal, like a large model selection and ample free nudity, can also be found on BongaCams. The latter has 2,500+ models available for cam chats 24/7. Quite a lot of them give public live shows wearing nothing but their birthday suits. What distinguishes BongaCams from most of its peers is its array of promotions which benefit new and veteran users alike.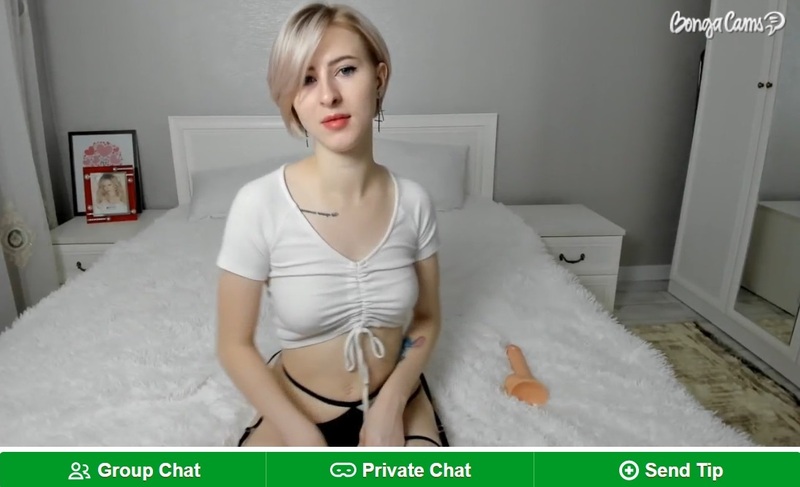 Guest users can roam through the site and watch the public shows. However to take part in live chats, you'll have to open an account and buy credits at least once so as to become a Bronze user.
All of BongaCams' models charge the same for a private chat — $3.30 a minute. You have 2 additional options. You may opt for a Full Private Chat and ban other users from spying on your show. This live show mode demands paying 50% extra for every minute you chat. Alternatively, you may join a Group Chat and pay 50% less than a regular private chat.
BongaCams has an advanced c2c apparatus. You can open your camera on mobile and on your PC, and you can do that in a private chat as well as in public rooms. Worry not, in the latter case, only the performer will be able to watch you. As a rule of thumb, c2c doesn't come with an extra fee, although you may run into models who may ask you to tip them for the privilege of exposing yourself in front of the cam.
The site spoils new users with great promotions. First, the moment you purchase tokens, you become a Bronze member for life. If that purchase is carried out on your mobile device, you'll get back up to 100 tokens (worth $7.00) you've spent on chatting with models .
There are also promotion which are tailored for repeat users. For example, if you refer a new person to the site, you'll get 50% of their first purchase as a bonus. The Cashback Offer gives 25-200 tokens (worth $1.75 to $14.00) to the five biggest spenders every 24 hours.
Customer Support - live chat, email, phone
---
xLoveCam.com
If you're looking for models from Europe, xLoveCam is where you should spend your live porn leisure time. The site hosts models from all over the world, including Latin, Asian and even Arab webcam performers, but a large percentage of its broadcasters are beautiful European cam girls who will amicably welcome you in their video chat rooms. Once you take one of them to a one-on-one private show, you'll be surprised by the xLoveCams' affordable chat prices.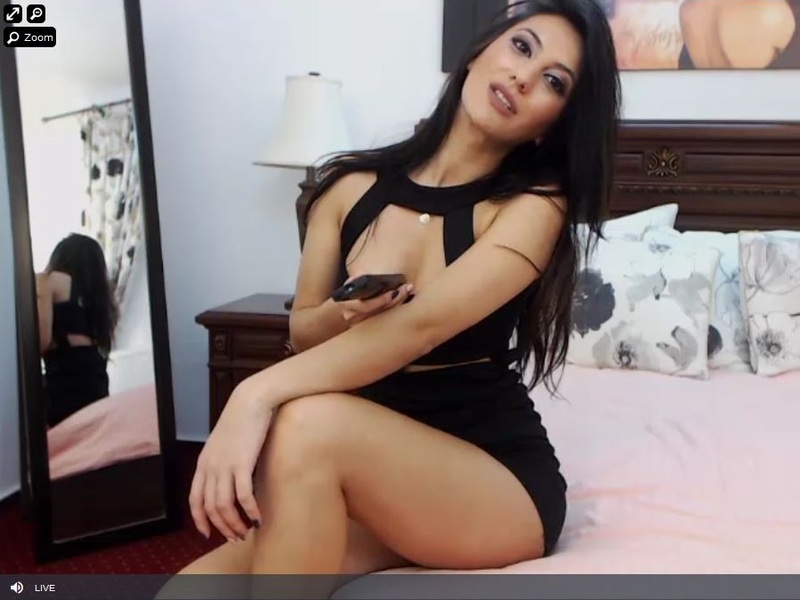 xLoveCams will allow you to chat with its models with no need to sign up but only for a couple of minutes before you'll be asked to open an account. The moment you become a registered member, you can chat with any model as much as you want. To use the site's premium services, you'll need to obtain credits.
A 1-on-1 cam show on the site costs $1.80 a minute on average. The cheapest models take $1.20 a minute. These are great prices that will enable you to enjoy longs live sessions without stretching your budget to the limit.
It's important to note that any user can access your private show either as a full participant by paying the model's chat rate or as a spy for a reduced rate. To banish unwanted intruders, you'll have to invite your performer to an Xclusice Show, which is usually 25%-50% more expensive. On the bright side, you won't be charged extra for c2c chats which you can run both on your PC and on your cellular device.
The best time of the week to visit the site is on Mondays, on which the girls (and the trans girls) perform topless in their public rooms. Some of the performers exploit this libertine atmosphere and go for the full monty.
xLoveCam's models who have explicit videos will let you watch these videos on condition that you become their VIP member. Membership fee varies from $3.00 to $15.00 a month. Naturally, models with higher ranking and more extensive video libraries tend to be more expensive.
Customer Support - live chat, email
---
Streamate.com
Streamate is a unique cam sites. All the live shows given by its approximately 1,500 constantly online models are paid-for as you go instead of using credits or token packs bought in advance. To avoid a situation in which you may get carried away, there is a daily spending limit you can raise only by contacting the site's Support.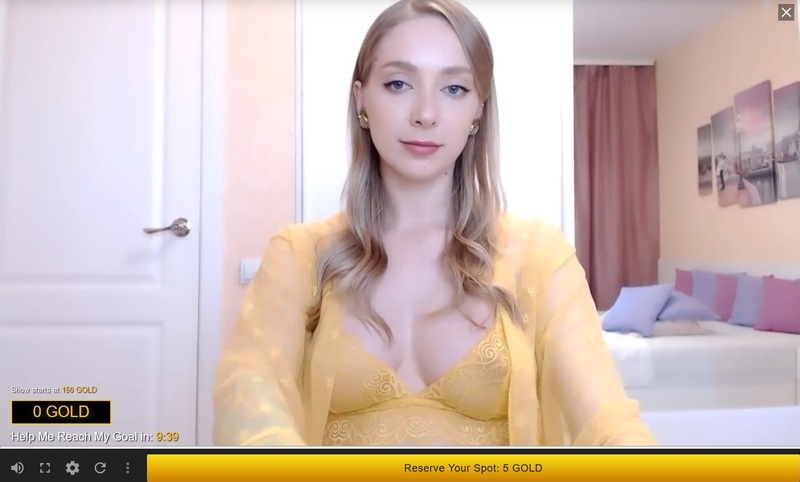 You'll have no problem watching Streamate's performers as a guest user, but to start chatting with them, you'll have to open an account. In the course of the registration process, you'll be asked to provide payment means from which money will be subtracted when you tip or enter a paid show. You can choose between a credit card and PayPal.
The average and minimum prices of private shows are $2.70 and $1.00 a minute respectively. To avoid being spied upon by other users, you may choose to opt for a an Exclusive Chat, for which you will be charged 25%-50% extra in most cases. Cam2cam is included in the site's chat rates.
Streamate's Gold Shows are highly popular among its users, and for a reason. These are, in fact, group shows for which you have to pay in advance to promise yourself a seat. The performer has a predetermined tip goal which must be met in a fixed time frame for the show to start.
The major advantage of these shows is that they're much cheaper than private shows and they include full nudity even before they actually begin. The model may get rid of her clothes to lure users into paying for her show.
Streamate has a reward program which gives you back some of the money you've spent on chatting with its models based on your rank. The more paid chats you've engaged in, the higher your rank becomes and the bigger the refund you're entitled to. If you reach top rank, you'll receive 10% of your expenses.
---
FetishGalaxy.com
There are many users who like to spice their chats with all sorts of kinks. So for their sake, we've chosen to close our list of 2022's best cam sites with FetishGalaxy. As its name suggests, this site is 100% dedicated to fetish cam sessions. It has only 100-120 active models at any given time, but each and everyone of them is an expert dom or sub who will give you a thrilling hardcore live show.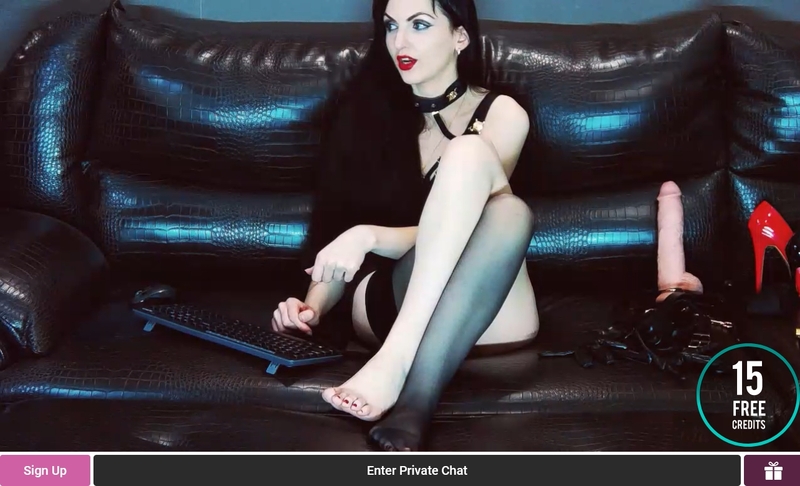 You don't have to be a registered user to watch FetishGalaxy's cam girls posing in their public rooms. To chat with them, you must open an account on the site. To tip them so they'll do all sort of bizarre things in front of the cam or to take them to a private chat, you'll, of course, need to purchase credits.
For an intimate private chat, the site's models take $2.50 a minute on average. The cheapest ones will charge you $1.00 a minute. Cam2cam is responsive to mobile devices and it doesn't require any additional payment making bi-directional video chatting highly affordable.
The very fact that FetishGalaxy is a small site is an advantage. The rooms are not over-cramped with users, so you'll find it quite easy to win the models' attention.
What we also like about FetishGalaxy is its versatile 26 kinky chat categories, as you can expect from a site that focuses on hardcore live porn. These categories encompass the main fetish niches you're probably familiar with plus some unique ones like Disabilities, Elctrosex, Face Riding, Medical, Tit/Nipple Torture and Watersports.
The moment you sign up and perform your first purchase, you get a bonus of 15 credits ( worth $15.00). As a repeat user, you'll benefit from a reward program which enables you to increase your membership level based on your purchase volume. Higher level grants you access to more paid features and heftier bonuses every time you buy credits.
Customer Support - email and live chat for VIP users within the site's Loyalty Program
---
Conclusion
There are many live porn platforms operating on the web nowadays. If we lived in an ideal world, we'd tell you to pay a visit to all of them till you find the ones you like most and stick to them. However, we have to be practical. Very few of us have unlimited time and financial resources to spend all day long checking out every cam site online.
You have no choice but to limit yourself to the sites that are really worth your time and money. We've done the hard work for you by composing a list of the 10 best cam sites for 2022. We were guided by considerations of model selection, chat rates, live show types, cam2cam options and special features and promotions, like reward and VIP programs.
If we had to choose one site that surpasses the other nine on the list, we would opt for CamSoda. The combination of hot models, free nudity, affordable chat rates and features such as free live show recordings, mobile c2c, and the ability to open your camera in public chat rooms have it rise above its contenders.
---