Best Adult Webcam Sites to Watch Twinks
Last Updated
September 01, 2022
Men come in many different shapes and sizes. We adore them in any shape or form, whether muscular, fat, or thin. But there are times when you just wish your special guy was boyish-looking, youthful, and carefree. A twink, in other words.
For those of you who don't know what a twink is, he's a guy in his late teens (18+) or early twenties with a slim build and no body or facial hair. Check out these 6 fantastic cam sites, all of which provide a fine selection of twink cam sex, streaming in great HD video quality, with cam2cam functionality, and affordable private cam show rates.
Flirt4Free.com
Flirt4Free, which is more than just a cam site and provides a sort of community gathering place for live porn and fetish enthusiasts, doesn't discriminate between sexes. Guys, girls, and trans cam performers are all welcome here, and they certainly know how to put on a show. Fetishes are extremely popular here, and there's a strong emphasis on feet fetish cams for all genders, including twink cam guys. Flirt4Free has a great combination of a premium site with a freemium vibe, and the prices are reasonable. Twink webcam models will be found easily throughout the site, and they stream in excellent HD quality rooms.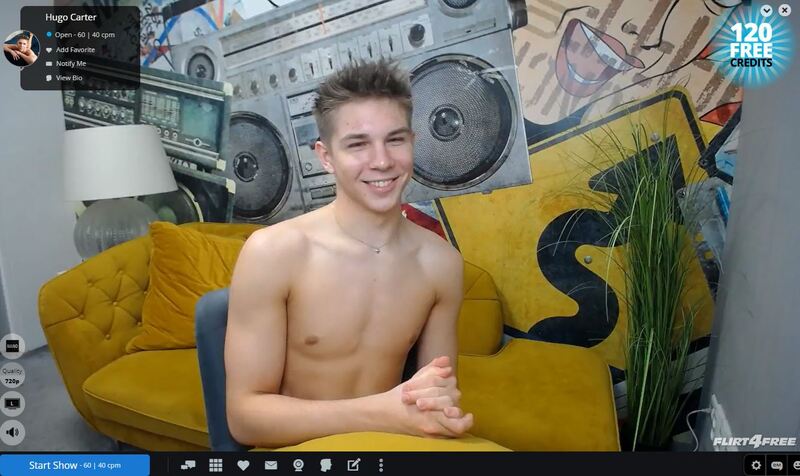 You'll have no problem finding twink cam guys on Flirt4Free. All you have to do is to simply hit the Categories button, which can be found in the upper left corner of the homepage, select Twinks, and start exploring the cam rooms. Another great way to use this site properly is by choosing the Fetish category, which is found in the first section, under Live Guy Cams. This fetish community is basically a platform meant to provide safe and consensual fetish information and interaction. This is a great opportunity to broaden your tastes and explore the world of fetishes, which include obscure categories such as Corporal Punishment, Tickling, Giantism, Balloons, or Pony Play.
While Flirt4Free offers free open shows with nudity, it's also a top-rated paid video chat site. The majority of men broadcast using HD webcams. And the private shows won't break the bank, with prices ranging from $0.50 to $3.00 per minute. At these prices, you get cam2cam and 2-way sound too. Flirt4Free allows you to use many different payment methods other than credit or debit cards and it's also one among a few gay cam sites that take PayPal, which is a safe, discreet, and secure way to pay for all the twink action you want and need.
---
Stripchat.com
Stripchat is a freemium cam site with hundreds of attractive gay, bi, and straight cam guys from all over the world. Have you ever wondered if twinks from other countries resemble those from your own country? Look for the small flag icon and begin exploring. Stripchat has a big selection of gorgeous-looking men, and using the many categories offered is a great way to be as specific as you please. These guys will do almost anything, and the best part is that nudity is permitted in their public chat rooms, many of which are broadcast in fantastic HD video quality.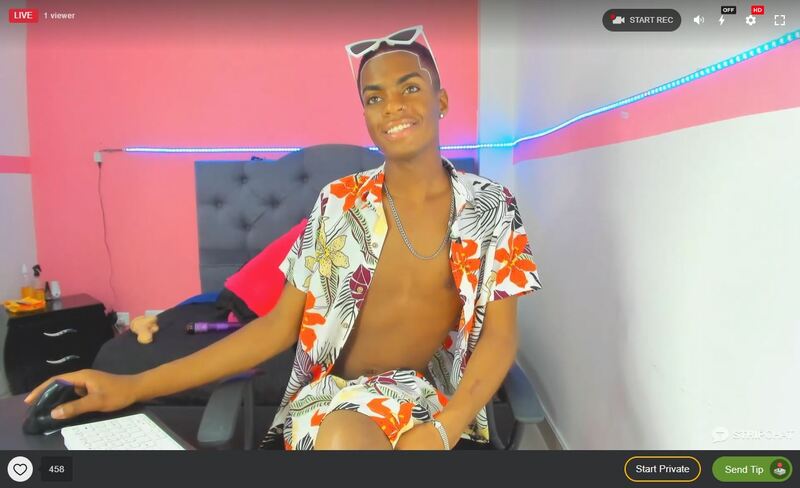 Stripchat is famous for offering multiple categories and choosing Twinks or Young 22+ under the Age category is the best way to check out all the tiny little twinks that the site hosts. Another way to find twink sex cams more specifically is to click the All Categories+button and search for keywords that will help you narrow down your search. Try the Skinny and Trimmed categories, and if you're more of an international type of person, choose by country. Have you found anyone you like? Enjoy the boys' company on your mobile device, for Stripchat offers one of the best gay mobile cams in the webcams industry.
Stripchat offers free video chat, but if you haven't already signed up, you'll notice that the number of chat rooms you can have running at the same time is limited. When you want to start taking the conversation to the next level, you can choose between Private Chat and Cam2Cam Chat, with the latter offering 2-way video and 2-way audio services. In terms of pricing, most guys here take an average of $2.40 per minute for an intimate 1-on-1, though you'll be able to find twink webcam models charging $0.80 per minute only.
---
CameraBoys.com
CameraBoys is one of the best gay cam sites in the industry. This boys-only premium site offers some of the most professional and trained cam guys in the live cam world, and the video quality is set to 720p HD in whatever cam room you choose. Quality truly stands out at CamerBoys, and it's visible in every corner of this fine site. Though there's no Twink category per se, you'll have no trouble locating them among the many other categories that the site offers. You can also browse the site's various categories and tags, save models you like to your favorite library, and even contact them directly via video call.
CameraBoys is loaded with sizzling hot men from every color, size, and shape, but the primary downside here is that there's no Twink category. However, finding your boy next door isn't going to take you too long, thanks to the Teen 18+ and Twenties categories that appear on the right side of the homepage. After getting to know the guy, you may want to meet your favorite twink in a real private chat. Thankfully, we've ranked CameraBoys as one of the top c2c gay sites, as we believe that it provides an unforgettable camming experience that'll simply make you want to stay here forever.
A private chat with your favorite twink cam model isn't cheap, at $2.40 per minute on average, with rates starting at $1.20 per minute. That's not bad, but if you want the best private experience possible, you'll want to add another $1-$2 to turn on your camera and another $1-$2 to turn on your microphone. But even though it might sound a bit expensive, CameraBoys offers such a great c2c experience that this price is totally worth it. And besides, private chats are the place where the real action happens.
---
Chaturbate.com
Chaturbate. Oh, Chaturbate. What else can be said about the most trafficked cam site on the internet, which hosts such a huge number of amateur exhibitionists and professional models? This live porn paradise not only has thousands of webcam performers available at all times, but also a plethora of tags, HD cam rooms, and relatively low prices. You might even come across some twinks who broadcast their deviant shows in glorious 4K video quality if you're lucky. Singles, couples, gay, bi, and straight men are all putting on a fantastic show for our enjoyment, and it's all for free. You won't want to go anywhere else after a quick visit here.
Chaturbate is a massive webcam site that always has thousands of webcams available. During peak hours, you can choose from hundreds of twink sex cams, but getting them and only them may be a bit difficult due to the site's messy tagging system. Chaturbate has no categories, and because models can tag themselves as much as they want, it's even more difficult to find what you're looking for. And, while the #twink featured category under the Men section is easily accessible, we find that simply browsing through the rooms is a much more exciting way to find your silky-smooth guys.
Chaturbate is one of the cheapest gay cam sites with private chat starting at $0.60 per minute, and the average rate being $3.00 per minute. If you don't want a private experience, you can stay in the tip-based rooms. Many users prefer to simply tip for requests, purchase media, and assist in reaching the twinks' goals. But one of the best things about Chaturbate is the fact that you can cam2cam in the free chat rooms, allowing the twink cam guy you're watching to stare back at you. That's ideal for anyone prone to their exhibitionist side.
---
Streamen.com
Streamen, another male-only live porn site, is a great choice for anyone who's into a healthy mix of both pros and amateurs. This gay cam site uses a great pay-as-you-go system, which is absolutely perfect for anyone afraid of overspending while chatting with these hot-looking twinks. Flirt4Free also allows you to set a daily spending limit on your account, which is an extremely useful, money-saving system for those who tend to spend too much money. The men here are super attractive, and almost every single cam rooms here are of high-definition quality.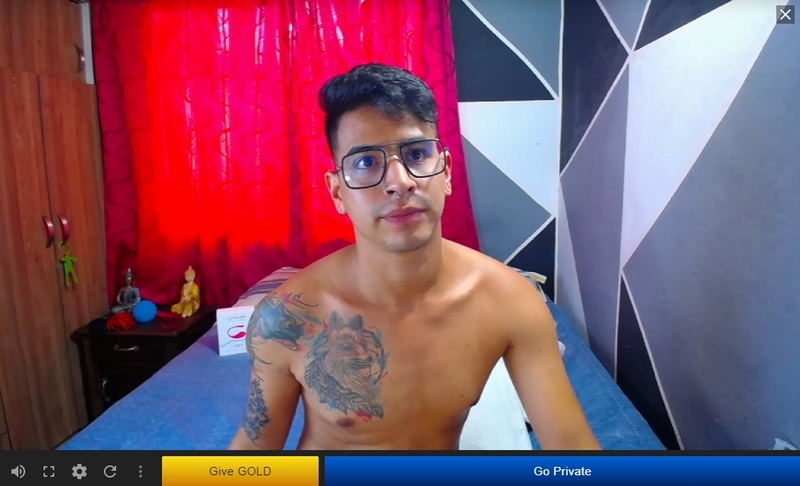 The majority of the guys on Streamen are from Latin America, but you can also sort models by Regions and Ethnicity. Finding twinks is simple; simply filter the results by the guys' Age, which starts at 18+ and goes all the way up to mature 50+, or scroll down a bit and choose Twinks on the left side of the homepage. This will show you all the cams that have been labeled as such, though we must admit that the results aren't as accurate, as the first guy on the list was more of a Cub or even a Bear, but definitely not a twink.
On Streamen, the average rate for private chat is $2.70 per minute, but there are plenty of stunningly attractive twinks available in private chat rooms for as little as $1.00 per minute. Unfortunately, there's no way to narrow the search by price, but looking for the cheapest rooms can be a fun trip. The mobile version of the site performs just as well as the desktop version, and though there are no other features, the HD quality is still excellent in most cam rooms.
---
Cam4.com
Cam4 is a well-known live porn site, featuring more than 1,500 hot models available 24/7 from all over the world. This site has everything you need, and while the tagging system can be tedious and annoying, the results appear to be fairly accurate, with the majority of the guys tagged as Twinks actually being such. The HD cam rooms reach 1080p, and the features available in the chat rooms are extremely entertaining. As these guys get wilder and wilder, it can be very rewarding to assist your favorite twink in reaching his goal by tipping him, using an interactive sex toy, or carrying out your request.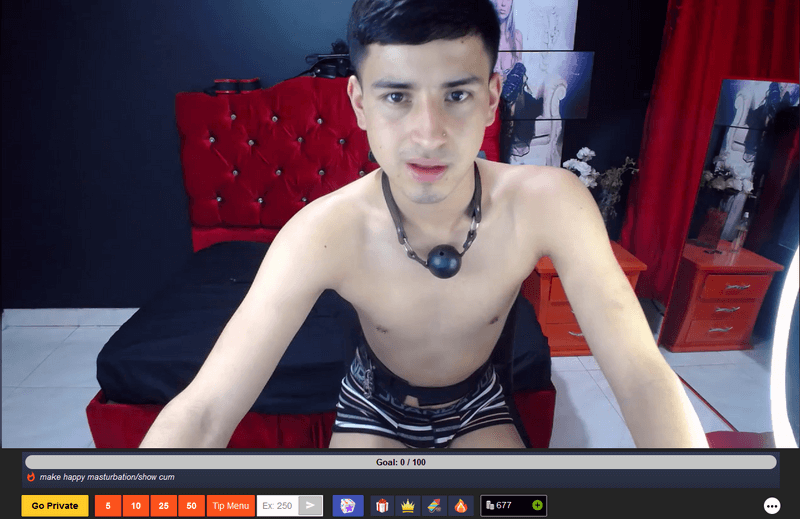 Cam4 is a fantastic cam site with thousands of models dancing, stripping, and going all wild for your pleasure. Nudity is not only permitted here, but it would seem to be almost a standard on this site, and luckily enough, the twinks are no exception. Just like Streamen, most of the guys are broadcasting from Latin America, and in great HD video quality as well. Finding gay twink cams may be difficult due to a lack of categories and an unsatisfactory search tool. However, the site's public live shows with little or no clothing, as well as its advanced search options, are all compelling reasons to join the ranks of many other webcam enthusiasts and make Cam4 a cam site worth visiting more frequently.
When it comes to pricing, there's a reason Cam4 is ranked last on this list. And despite the 50 credits that the site gives you after your first purchase, the rates are much higher, as the average stands at $5.40 per minute, and you don't even get the ability to use cam2cam when you chat. Furthermore, in order to use all of the fun chatroom features, you must pay for each one individually, which raises the prices even higher. Cam4 also lacks a rewards program and the fact it doesn't even offer cam2cam on desktop or mobile devices really hurts its potential.
---
Conclusion
Do you absolutely love your guys with soft and delicate features? Or are you curious about the tools they carry between their legs and how well they use them? The 6 cam sites mentioned above have everything, and you can now connect to one of them and begin looking for the perfect twink. There's something so simply satisfying about watching twinks that you just can't take your eyes away from them. Whether it's due to their boyish attributes, their silky-smooth body, or their angelic, soft faces, there's no doubt that they are extremely hot.
Flirt4Free is our overall favorite twink sex cam site. The site is clean and simple to use, guiding you quickly to the type of twink you want to watch and, most importantly, at the price you want to pay. Flirt4Free has a diverse selection of attractive, deliciously-looking men, including daddies, bears, hunks, and others. The site's model selection, cam room video quality, and mobile platform with cam2cam are hard to beat.
Back to full list of sex cam blog posts
---