Best Webcam Sites to Visit on Valentine's Day - Deals, Promos, & Events
Last Updated
September 09, 2022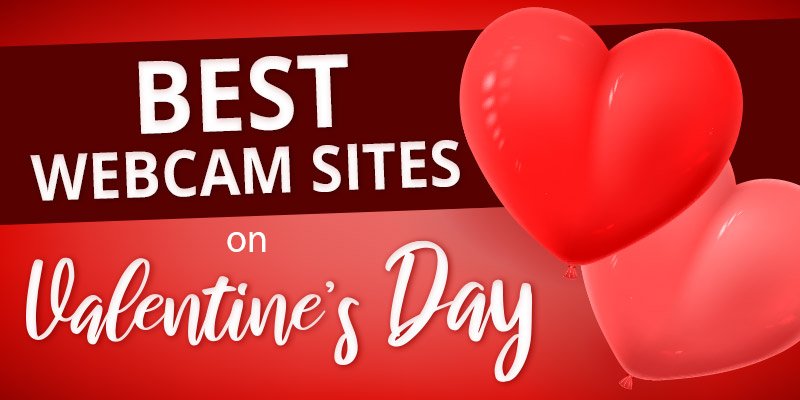 Many of the top adult webcam sites take Valentine's Day seriously with theme changes to functional features, holiday events and contests, and promotional offerings. As well, the webcam models will stage their cam rooms with hearts and flowers, and dress up to play the part of a Valentine. If you are in the mood to have a loving Valentine's Day date with a cam girl, now is the time to visit some of the best cam sites for sex and romance on Valentine's Day, that also carry deals, discounts, and promotional events during this time.
---
Cherry.tv
Valentine's Day Event: February 10th - 16th
$8,800 in cash prizes to the top 10 models / 1st place gets $3,500
7,750 cam site tokens awarded to the top 5 users / 1st place gets 3,500 tokens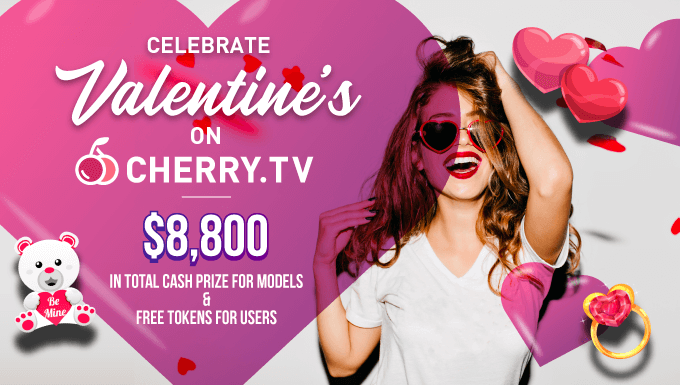 Cherry.tv is one of the newest cam sites online, and is making their presence felt with impressive promotional events for the models that broadcast on their platform, and for the users that engage.
Models that go live anytime from February 10th through the 16th will earn "hearts" for each hour of broadcasting live. During this time, all the tips and gifts that a model receives from their viewers will count for more hearts. The winning models will be the ones that get the most hearts, pick up the most fans, and broadcast themselves the most. There will be 10 winners, with the top model receiving $3,500 in cash.
Users will earn more hearts the more they spend on the models. Tipping and sending virtual Valentine's Day gifts earn the hearts. There will be 5 winners, with the top user receiving 3500 (Worth $350) Cherry.tv tokens.
---
LiveJasmin.com
Valentine's Day Gift: February 14th, 08:00 CET until February 15th, 08:00 CET
Members can get 80-90% extra credits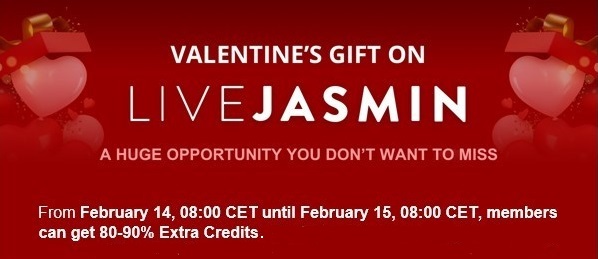 LiveJasmin has a clear vision to bring sophistication and class to the webcamming experience. This adult webcam site hosts some of the most exclusive and talented webcam models online. Those looking to spend Valentine's Day with an elegant lady of the night, will find plenty of welcoming boudoirs. If your budget is not a concern of yours, and you are looking for the best of the best, then you have found what you are looking for. That's not to say that there are not plenty of affordable options here, but even the lower-priced cam rooms will charge extra to activate 2way video and audio.
This year's Valentine's Day promotion offers members up to 80-90% extra credits, depending on the credits package chosen for purchase.
---
ImLive.com
Be My Valentine Contest: February (all month long)
Free to watch and vote for the best Valentine's Day cam girl videos

Imlive hosts monthly video contests where their webcam models record special performances for their fans. And this month is all about the holiday of love. These are free to watch prerecorded videos that the models prepare and upload to ImLive. On this premium cam site, this is your chance to see sexy performances for free. In order to see the videos for free you must have at least made one purchase of ImLive credits.
The cheapest credits package on ImLive goes for $25.00 for 25 credits. Once you get the credits, your membership status is upgraded, and you can now watch all the monthly contest videos for free.
With a membership ready to go, once you find a favorite 'Valentine' video, you can immediately link to the cam model's room if she's online. If she is not online at that moment, you can send a private message to start the process of scheduling a private Valentine's Day webcam session.
---
MyDirtyHobby.com
Be My Dirty Valentine: February 13th - 14th
Purchase during this period and get a 50% bonus. Up to 2,000 free credits

MyDirtyHobby is home to some of the most hardcore fetishists online today. If there is something in particular that you are looking for, that you cannot find on any other cam site, then you should always give it a search on MyDirtyHobby. And while the site does a thorough job of presenting its cam models and all their available picture and video content, every bit of access will cost you. There are no free pubic shows on MyDirtyHobby — Even a single picture view will cost a nominal fee.
So, if you are going to fully enjoy MyDirtyHobby, you need to buy some Dirty Cents (credits). And this Valentine's Day, with a credit card or crypto payment, you can get a 50% bonus when you purchase the regularly priced $50.00 for 4,000 Dirty Cents package. This purchase will gift you an additional 2,000 Dirty Cents.
---
SecretFriends.com
Blue Monday offer: February (all month long)
25 bonus credits for 50 credits total for $25.00 (Max 1 per member)
15 bonus credits for 90 credits total for $75.00 (Max 100 per member)
50 bonus credits for 250 credits total for $200.00 (Max 1 per member)
300 bonus credits for 300 credit total for $300.00 (Max 100 per member)
SecretFriends basically runs this deal many times throughout the year. And when a sale period like Valentine's Day comes along, they label it a "Valentine's Day" sale. If you took full advantage of this sale, then you would bank an extra 6825 (Worth $6,000) bonus credits. But you would spend a fortune to get that large a bonus.
---
XloveCam.com
Valentine's Day Special: February 14 (all day long)
Topless Valentine's Day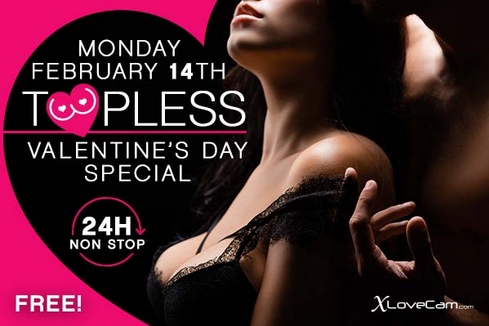 XloveCam is a feature-rich cam site with an abundance of European webcam models. Now, while this special holiday promotion is not unique to Valentine's Day – as every Monday the site hosts a Topless Monday event – they are taking the opportune fact that Valentine's Day this year lands on a Monday, to make a big deal out of this promotion.
For 24 hours, every model on the XloveCam will go topless in their open to the public webcam room. This is a true treat, as XloveCam is normally a premium cam site that keeps most of the explicit action and nudity to paid-for private cam sessions.
---
Take Advantage of Valentine's Day Deals, Promos, and Events
What started as the Feast of Saint Valentine in AD 496, has grown to become a day of love and romance throughout the world. So whether you have been camming with cam models for some time now, or you have yet to venture forth into the online love nests of talented and seductive webcam models, now is a good time to get started at any of these cam sites with Valentine's Day specials.
We recommend starting with Cherry.tv, the webcam site that this year is offering the most extravagant cam site V-Day promotional offer. This is a new cam site, and they are going big with their efforts to make things interesting. In total they are gifting $10,000 worth in cash prizes to the models and tokens to the users who are the most active on the site during the week of Valentine's Day.
Back to full list of sex cam blog posts
---