CamSoda Versus MyFreeCams - Which Is Better and Why?
Last Updated
September 13, 2022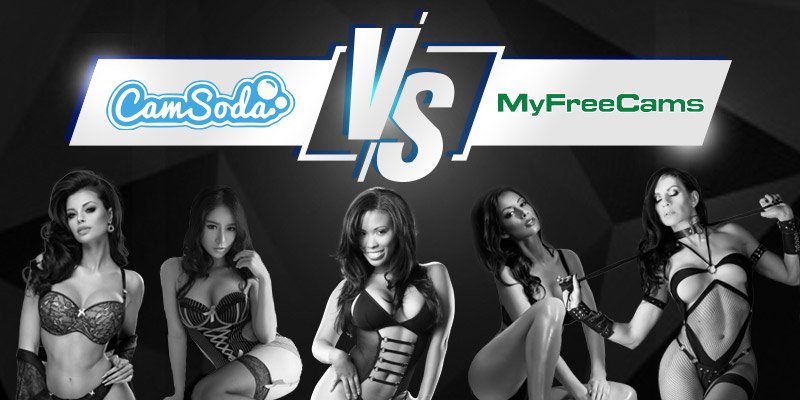 CamSoda and MyFreeCams are both freemium live video chat sites offering a huge variety of tip-fueled live NSFW cam shows that you can enter without paying, as well as private sessions that cost a per-minute rate where you're the only viewer in the room and you enjoy the model's full attention. However, they are by no means interchangeable websites. Each offers a range of benefits and options that the other site doesn't have. Read on for a side-by-side comparison of both platforms. We've analyzed both sites on a range of criteria so you can judge for yourself which is a better fit for your needs. But, at the end of the day when it comes to our rankings and scoring, in a CamSoda versus MyFreeCams faceoff — CamSoda is the undisputed champion.
---
CamSoda vs. MyFreeCams – The Comparisons
---
What is Best About CamSoda?
CamSoda is a great platform both for free to watch, tip-fueled live video chat shows, as well private sessions. There are usually over a 1,000 performers hosting live shows during most times of the day. The majority of performers are girls ranging from first-time amateurs to a number of celebrity porn-stars and glamour models. It's also home to around 70-80 live cam shows hosted by transgenders, as well as a limited number of guys streaming live.
It's not all about live cam shows though. Many of the most popular models also post adult-themed content such as photos and videos that you can access for a small fee and the site itself has a library of exclusive XXX HD and 4K UHD videos which are totally free to watch. There's also a free-to-access CamSoda blog area where members and performers are free to upload photos and insights into their daily goings-on. If you would like to know more, please read our full review of CamSoda.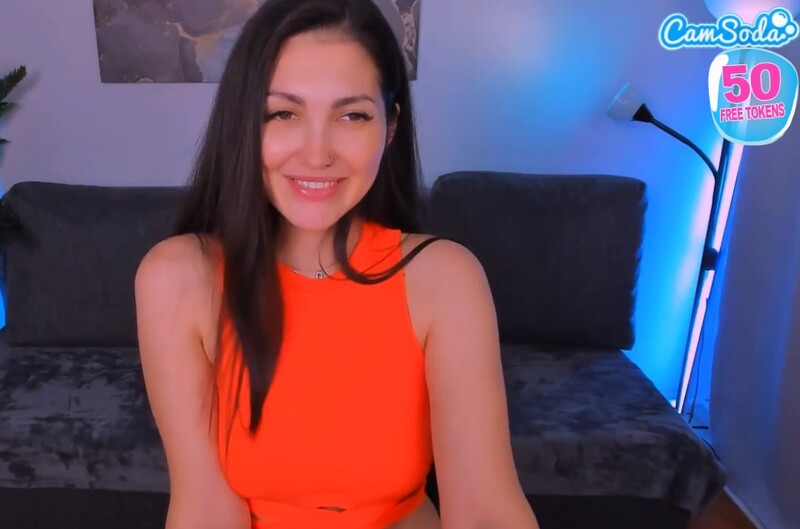 CamSoda Pros
Huge variety of hosts of all genders
Celebrity cam stars & glamour models
C2C in free chat rooms
Free 4K X-rated videos
---
What is Best About MyFreeCams?
MyFreeCams is a freemium cam site. In fact, it was the first platform to offer free tip-fueled shows. Today, the site's open cam rooms offer some of the most extreme free cam shows around and attract hundreds of viewers to each session. Usually there are just over 1,000 online rooms broadcasting kinky cam sessions, though here, it's solely about the girls. MyFreeCams only has female webcam performers on its platform.
MyFreeCams hosts a wide range of models from skilled amateurs to celebrity cam models. The majority of the newer models are starting out on a cam career and really put on a show for the audience and will perform most major fetish acts for a tip in their open shows. If you're looking for an American cam girl, MyFreeCams probably has one of the biggest and most varied selection of gorgeous girls born and bred in the US of A. If you would like to know more, please read our full review of MyFreeCams.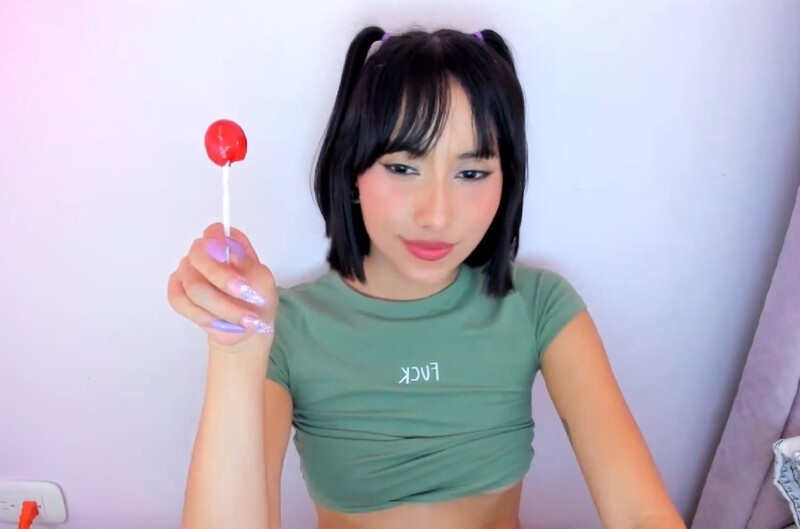 MyFreeCams Pros
Wide selection of American cam girls
Hardcore & extreme free tip-fueled shows
Huge number of HD streaming cams
Extensive info about each performer
---
CamSoda vs. MyFreeCams – Free Content & Options
Both of these free cam sites offer a wide and varied selection of free NSFW cam shows broadcasting 24/7, as well as the option to turn on your webcam for a c2c session in a free chat room. Even though you don't need to pay a per-minute rate in order to do this at either website, most models will request an upfront tip in order to let you open your cam feed. For ease-of-use, it's much simpler to open your cam at CamSoda, compared to the steps you need to take in order to open your webcam at MyFreeCams. 
Both platforms allow almost anything to take place in free open cam rooms, though at MyFreeCams, you'll tend to find a higher calibre of amateur models, compared to CamSoda. At CamSoda though, the choice of streams to watch is larger. When it comes to free content, CamSoda is the clear winner. The site hosts a range of exclusive free X-rated videos starring not only the platform's most in-demand models, but also leading adult entertainment actresses.
---
CamSoda vs. MyFreeCams – Premium Content
| | | | |
| --- | --- | --- | --- |
| Cam Site | Private Chats | Content For Sale | Private Messaging |
| CamSoda | Yes | Yes | Yes |
| MyFreeCams | Yes | Yes | Yes |
In addition to live cam shows, both sites offer premium content. Premium content is exclusive photos or videos available to view for a fee. You can also send the performers private messages which other users can't see. This is the easiest way, in most cases, to set up a date and time for a private show.
Premium cam sites are slightly different in their approach to freemium sites in regards to open cam rooms and models. At premium sites, models aren't generally allowed to strip off and perform kinky acts in their open rooms. Also at a premium site, the platform can determine who can open up a broadcast. However, at CamSoda and MyFreeCams, you'll find several of the premium cam models hosting rooms, though they may not get explicit in their free public shows. In all three aspects of Private Chat, Premium Content and Private Messaging, CamSoda and MyFreeCams ranked the same, with no significant difference in the variants of the premium aspects on offer.
---
CamSoda vs. MyFreeCams – Pricing Comparisons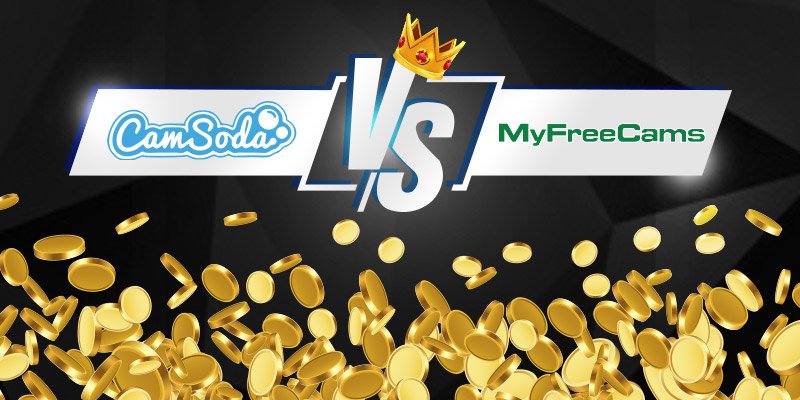 In order to start a private show, tip a model or purchase premium content, you'll need to buy tokens from the sites. The cost of a token is pretty similar at both CamSoda and MyFreeCams. Depending on which token package you purchase, the price of a token ranges from $0.08 to $0.10. The bigger the package you buy, the cheaper the price per token becomes. The table below shows the average price per token, as well as the best-value package available and if the platform gives you bonus tokens.
| | | | | |
| --- | --- | --- | --- | --- |
| Cam Site | Site Currency | Price Per 1 Currency | Best Package | Bonus |
| CamSoda | Tokens | $0.09 | $49.99 | Yes |
| MyFreeCams | Tokens | $0.08 | $74.99 | No |
In this respect, both sites are similar. CamSoda, for example, gives bonus tokens which ultimately reduce the per-unit cost, where as MyFreeCams simply lowers the per-token price when you spend more money. What gives CamSoda the edge though is its Premium Membership package.
As a Premium member of CamSoda you get bunch a extra benefits including the ability to private message a model for free, the ability to tip and chat anonymously and for the first month, 200 FREE tokens. Premium membership costs $19.95 a month which is slightly cheaper than buying 200 CamSoda tokens as a standalone package. However, the next month you won't get the free 200 tokens. We have written extensively on ways to save money on CamSoda.
---
CamSoda vs. MyFreeCams – Private Chat Show Rates
| | | | |
| --- | --- | --- | --- |
| Cam Site | Average Private Chat Rate | Cheapest Private Chat Rate | Activating Cam2Cam in Privates |
| CamSoda | $1.80 a minute | $0.50 a minute | Included in private chat rate |
| MyFreeCams | $6.00 a minute | $6.00 a minute | Some models charge extra |
When it comes to comparing the cost of a private cam chat show, CamSoda far outranks MyFreeCams in value-for-money exclusive sessions. CamSoda is one of the cheapest cam sites whereas MyFreeCams is one of the most expensive cam sites for exclusive video chat shows. MyFreeCams has a different approach to many other cam sites in as much as all private show rates are standardized across the board. Every show costs $6.00 a minute regardless of the broadcasting quality, skill of model or type of fetish performed.
CamSoda's private show prices vary from the cheapest rooms asking just $0.50 a minute to a few on the other side of the scale charging almost $10.00 a minute. However, these expensive ones are few and far between. On average, the costs stand at a much more budget-friendly $1.80 a minute. When it comes to recordable private shows, both CamSoda and MyFreeCams let you keep a copy of the model's performance and store it in your online account at the relevant website. However, you will sometimes comes across models at CamSoda who have this feature disabled.
---
CamSoda vs. MyFreeCams – Show Types
Both sites are equal when it comes to the types of shows available. They each offer:
Free tip-fueled shows
Private shows
Spy Shows – You get a voyeur's peek at a model giving a private show, but you have no ability to interact with the performer
---
CamSoda vs. MyFreeCams – Chat Room Features
In a free cam chat room, CamSoda and MyFreeCams are more or less equal in terms of available features. Both sites offers cam2cam free chat rooms, HD and HD+ feeds and free full-screen view mode. Both is these cam site are even among the few cam sites that enable users to drag to adjust the webcam player size down to the precise pixel size.
Where MyFreeCams does provide a feature that CamSoda lacks is in the ability to move to the next model from in a model's cam room. CamSoda doesn't even present a list of similar models in the cam room. On MyFreeCams, under a model's webcam player, you can choose to go to the Next or Previous model, or to even set to Auto, which will refersh every few moments to a new model.
---
CamSoda vs. MyFreeCams – Webcam Streaming Quality
MyFreeCams comes out on top in streaming quality. At CamSoda, you can choose only between SD or HD (if the room has an HD feed). At MyFreeCams you can alter the broadcasting quality up to the highest quality feed enabled by the broadcaster. For example, if the room is using an HD plus feed, you can choose from 1080p, 720p, 360p or 180p.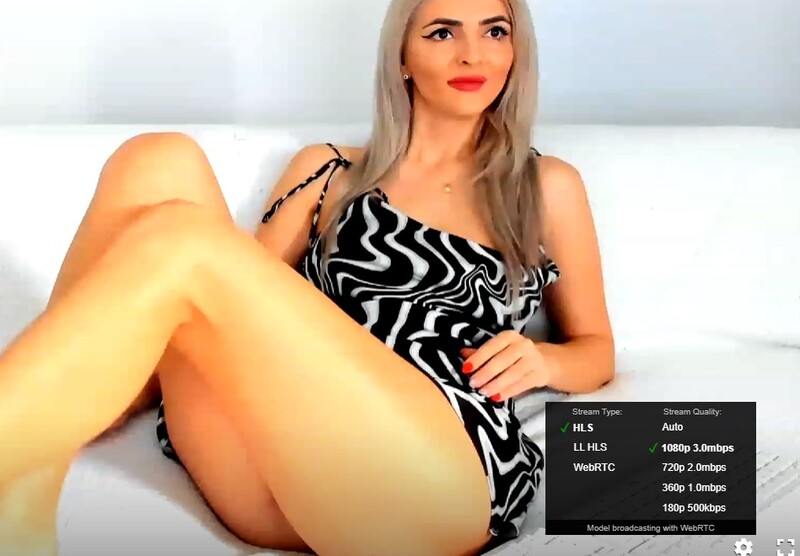 ---
CamSoda vs. MyFreeCams – The Webcam Models
When it comes to comparing CamSoda versus MyFreeCams in terms of model selection, CamSoda easily outranks MyFreeCams in terms of performance acts and the mix of genders. MyFreeCams only allows girls to host shows, which may or may not be a minus depending on your preferences. At CamSoda, you can also find a limited number of men and transgenders, but also a significant selection of couples, both girl-on-girl and girl-on-boy. There are some lesbian couples streaming at MyFreeCams, but only a few and you won't always find a selection broadcasting live.
CamSoda also scores higher in terms of variety of ages and ethnicities. You can find more mature models streaming at CamSoda, as well as bigger selection of Asian and Ebony cam performers.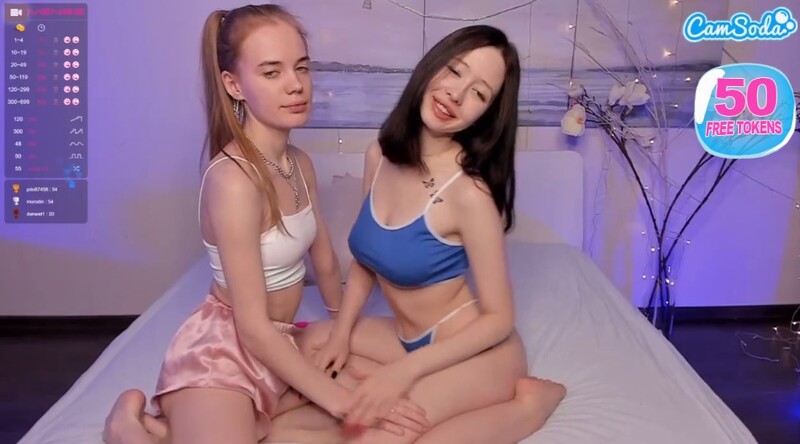 ---
CamSoda vs. MyFreeCams – User Features
When it comes to becoming a premium member, this is where MyFreeCams scores slightly higher due to the fact that premium membership at MyFreeCams is free and lasts a lifetime. At CamSoda, you have to purchase a monthly subscription at $19.95 in order to receive premium member benefits. 
CamSoda's paid-for premium membership gives you additional features such as an ad-free interface, free private messaging, and a stealth mode where you can tip and chat anonymously. MyFreeCams' free premium membership also lets you send models free private messages to both models and other users, and also lets you set up your own cam chat room and determine which models get access to your video feed.
---
CamSoda vs. MyFreeCams – Search Tools
When it comes to analyzing the search tools available at CamSoda compared to MyFreeCams, both score rather low compared to similar sites. CamSoda offers a basic search menu on the homepage with options to filter results based on private show rates, ethnicity, where a room is broadcasting from, the languages the performer speaks, popular tags such as teen/MILF/HD/Interactive Toys, and body type. There are more categories available by selecting the View All Tags button on top of the gallery of photos, but these tags aren't categorized in any particular order and you have to view page after page until you come to the genre you're looking for. You can use the search bar to write in your particular preference, but the results are limited.
At MyFreeCams, the search engine has more options but is messy and not easy to use. You can use the search bar to type in a genre or fetish and then chose from those models who have the term listed in their bio, their name or have tagged themselves with it. At the end of the day, MyFreeCams' search engine is better than CamSoda's.
---
CamSoda vs. MyFreeCams – Help & Support
In the final analysis there wasn't much difference between the two live video chat sites score when it comes to customer service and support. Both sites feature a comprehensive FAQ section and online support and chat representatives for their billing providers. If you have a question with the charges to yoru account, you can contact your chosen payment processor via a 24/7 online chat representative or phone number, but this only relates to charges.
When it comes to issues with the site itself, both CamSoda and MyFreeCams have an email address which you can address any queries to, but this doesn't guarantee an immediate response.
---
Our Final Verdict
When it comes to the final verdict of CamSoda or MyFreeCams, which is better? The answer is an easy win for CamSoda. MyFreeCams is a great cam platform if you're looking for skilled amateurs and professional XXX cam models, especially those streaming from the USA. It was the first site to offer free tip-fueled live video chat shows, and that alone is deserving of a shout-out, and worth seeing how the it all started. Unfortunately the platform itself hasn't changed much since those early days. While the models are gorgeous and extremely kink and fetish friendly, private show rates are high and not really justified considering similar sites to MyFreeCams offer the same benefits at a much lower cost. 
CamSoda, on the other hand, is constantly upgrading its features and benefits and offers an extremely user-friendly platform. It has a wider range of models, though not all are skilled performers. Like MyFreeCams, you can cam2cam in a free cam chat room, record a private webcam show and enjoy some extreme action in free tip-fueled shows. However, when it comes to some exclusive video chat time with a performer, CamSoda's private per-minute prices are significantly cheaper.
Back to full list of sex cam blog posts
---