SexLikeReal Review - Virtual Reality Cams Galore
Is SexLikeReal Good?
SexLikeReal is an incredibly impressive premium site, for multiple reasons. Having the option of over 11,000 videos, in hundreds of categories is overwhelming in the best sense. Not only that, having these clips/vids recorded in up to 8K HD quality is just as exciting, especially for those who place great importance in hi-def viewing.
But this is a live porn site, focusing on a feature on the top of the list for the tech-inclined: Virtual Reality. With around 20 live cams always online hosting stunning models offering VR, it's easy to see why this site is so popular.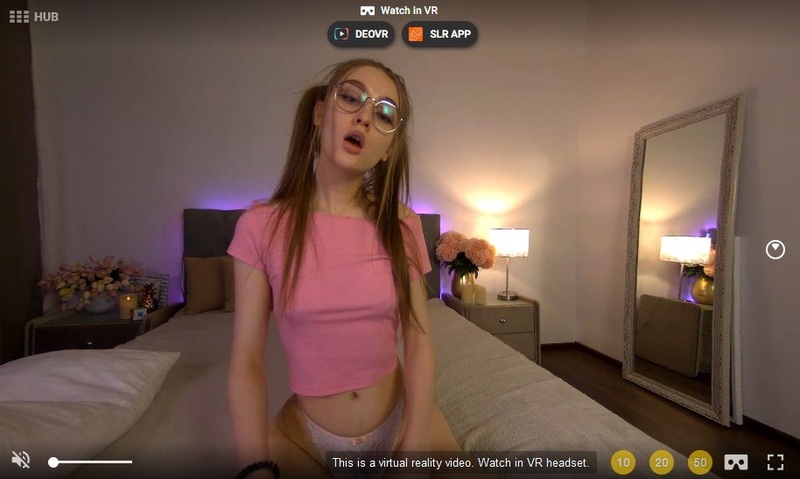 Overview
The site welcomes you with it's huge array of videos. Under each video you can get important info such as number of likes, length, and even comments from members who have seen it. The different categories follow you down the main page, and on the left you can find the main filter, offering you different levels of HD and FPS.
Though videos take the cake on the site, there is a no less an impressive section of live cams, with up to 20 open, free rooms, full of skin and sexy antics. You don't need to register, and can view any and all free rooms without paying a dime. However if you'd like to connect to your virtual reality device, which is the biggest highlight of the site, you're gonna need to purchase tokens.
As a whole, the site is easy to navigate and without frills, as it focuses on the most important asset it has, the stunning performers and the virtual reality bonanza.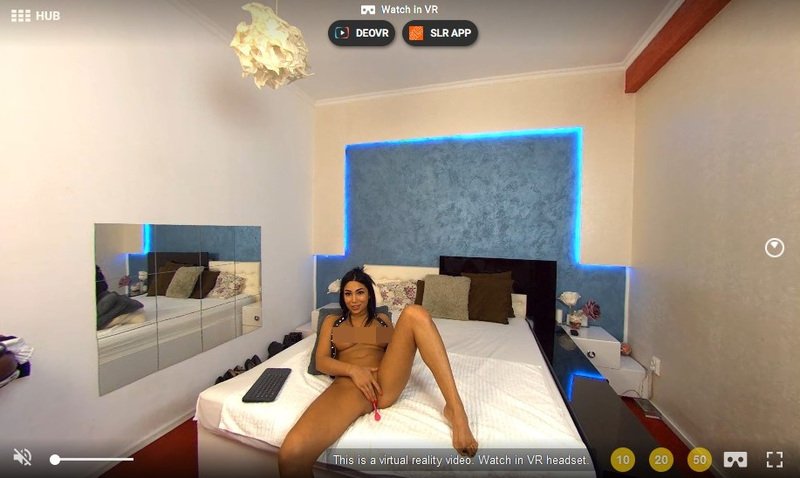 Strengths and Weaknesses
Strengths
Up to 4K streaming quality
Over 11,000 videos with up to 6K quality
Unlimited time in the free open rooms with sex and nudity
All models are virtual reality operational
Models are pros and love to perform
Weaknesses
No customer care other than writing in, no FAQ
Minimal amount of minutes for live chats
Limited number of cam rooms, no categories
The Webcam Models
The Girls
There are no categories to separate the live cams, and you won't find non-female hosts. You will catch some of the female webcam models having invited in a male partner, but the profiles are exclusively women, who are absolute pros. These are mostly women in their 20's, stunning and ready for action. So, if your preference is mature models, specific fetishes and the like, this is not the live cam site for you. However, if you love excited ladies who love to show off in open rooms full of nudity and sex, in VR, this is the place.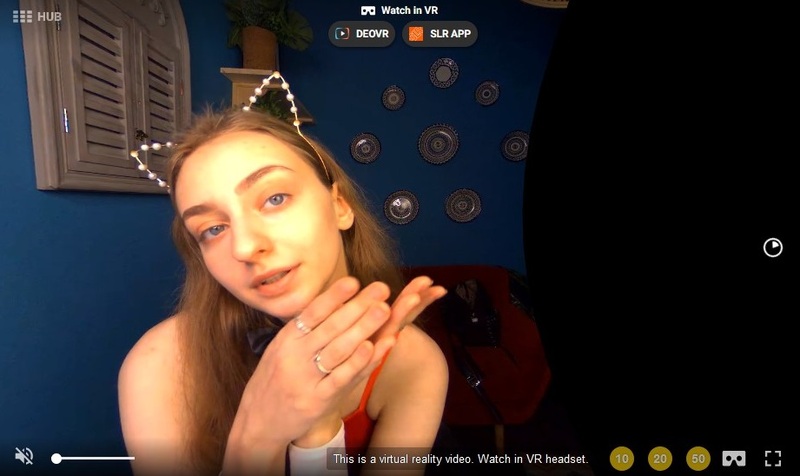 The Couples
As mentioned above, there is no couples category, but you will find a cam girl inviting in another girl or guy from time to time. But you need to get lucky and be online when they are.
Model Profiles
There are no specific profiles on the site. When you enter an open room, you'll see the model's name, her age, comments left by other members. Other than that, you have a heart icon so you can favorite her, and perhaps a line of text if the models wishes to add something. That's it.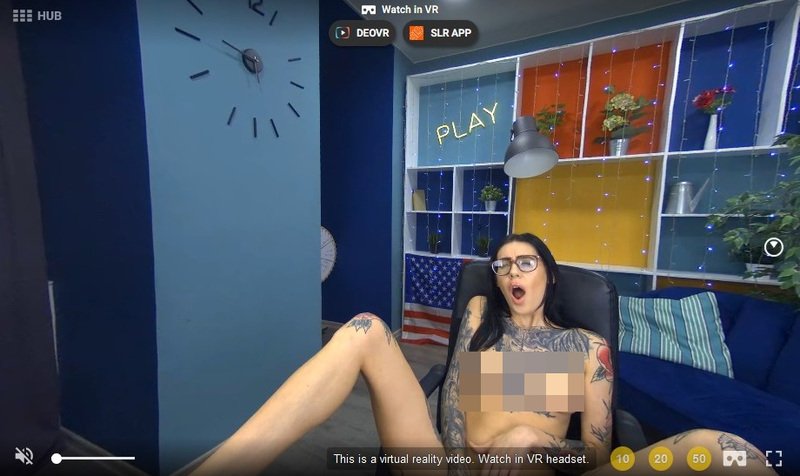 Chat Options
All VR live rooms are open, and all are nasty in the best way. You'll be hard pressed to find a room where the model is clothed, skin is the name of the game on SexLikeReal. There does not seem to be a time limit, too, which is a great freemium feature that most premium sites like this don't operate.
Like most premium sites, the hard-core action happens in private, as do special requests. Under the chat box you'll find the Start Private option, which you can select, and the price will be displayed. You then select Request Private, and wait for the model's approval. Note that there's a minimum minute amount to chat, which varies from 1-10 minutes on average. The models have the deciding power on almost everything on their page.
Chats start at an impressively low $0.70 per minute, and average at $3.40 a minute, which is extremely affordable for such VR live chats.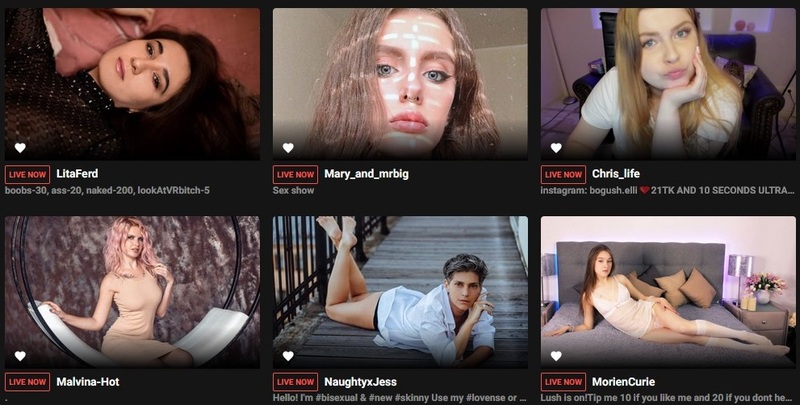 Special Features
SLR app
SexLikeReal offers a mobile platform unlike any other. First, it needs to be downloaded to get the most out of the mobile experience. Once downloaded, the immense video library can be accessed from any smartphone or device connected to your VR headset such as Oculus Quest and Quest 2, Rift, Valve Index, and others. It also connects via mobile to you sex toys, such as Fleshlight and Lovesense.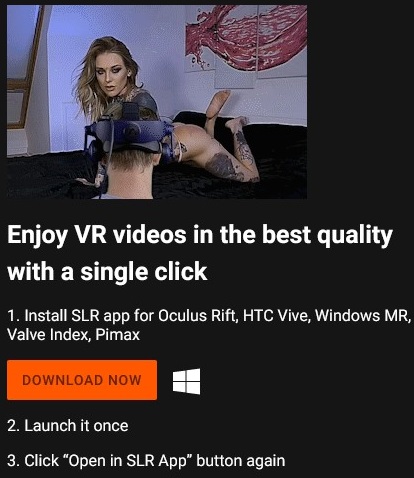 The Hub
Once inside a room, you can select the button on the top left to enter the hub, where you'll get a super neat view of what the site has to offer, as well as the only location where you can see all online models in tagged categories, such as Creampie, Pornstars, Bizzare, and many others. The hub works inside the chat box or you can enlarge to have it occupy the entire screen. This is an extremely useful tool for those who find the site too complex, as the hub narrows it down to all the essentials, such as online models, categories, sign in, get tokens, videos, and the like.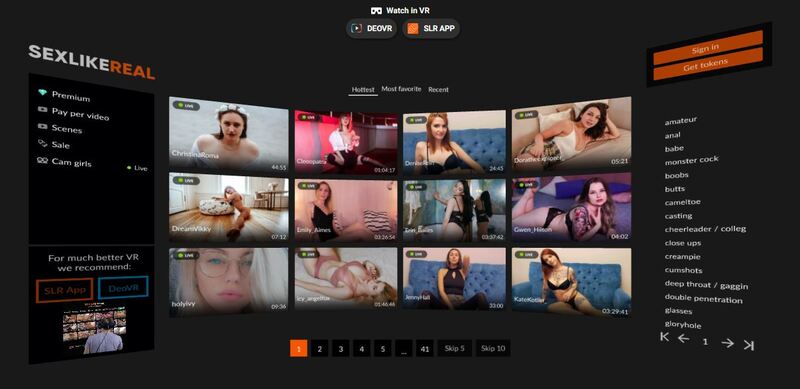 Forums
As the site only offers customer support via ticket, it's great it offers both support and contact between members and the site, as well as between the members themselves. Topics range from the actual site and how to operate it, as well as requests for the site and suggestions. This is a great tool for those as tech-savvy, and those that want to get assistance and learn more.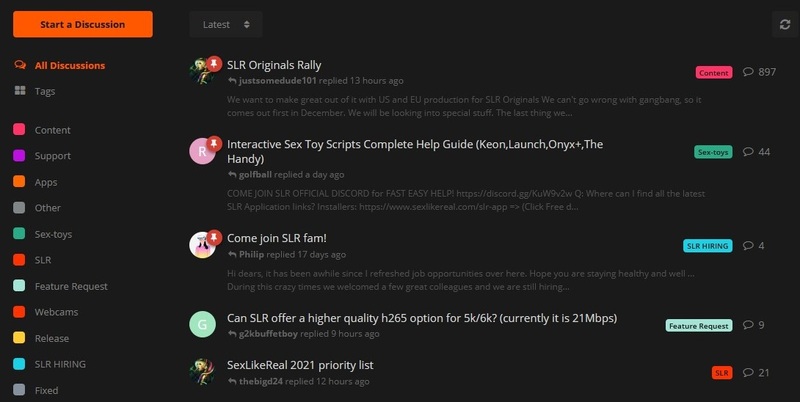 Video Quality
Video Quality on SexLikeReal is like no other in the live cam world. Truly impeccable, no SD in sight. All rooms come in HD, and though the exact number is not known, most rooms boast 4K quality, which is the highest possible on premium sites. Not only that, the rooms are all available in VR, so you can even use your finger on mobile and your mouse on desktop to look around the room.
If you decide to go over to the videos part of the site, you'll notice on the left a toggle filter including - 6K, 5K, 90fps (Frames Per Second), 120fps, and sex toys. You can select any of the section to narrow your search, with thousands of videos available in the highest video quality possible. While a high FPS is considered the best for VR, keep in mind that most people prefer 90 FPS for regular video watching.
The Mobile Site
As mentioned above, this is no regular mobile platform, though the site itself works perfectly simply opened up on a regular browser on mobile devices. To take that to the next level, you can download the SLR app, and really enjoy VR on the go, or simply from the comfort of bed. The HD quality is just as crisp, and the ease of browsing is also fantastic. This is the best mobile option we've encountered for a live cam site.
The actual app to download is made specifically for a VR headset. If you download it only on your phone without connecting to the headset, you'll get a strange view of the goggles, without an actual ability to operate the app. Once you've downloaded the app, you'll be asked to give permission for the app to access your files. If you decline, the app won't run, so that's a must. Then the app will take a couple of minutes to download updates, also unavoidable. You'll then be asked to actually download, which takes seconds, and finally open the app.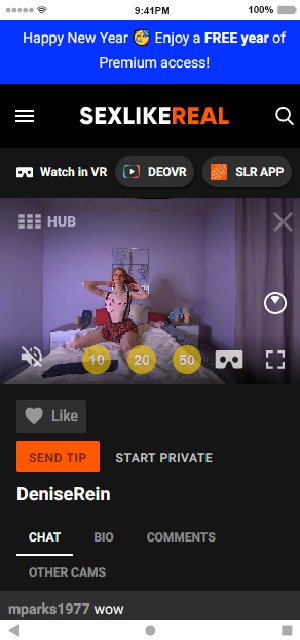 Additional Media
The site is, quite literally, all about the videos. Yes, the VR rooms are amazing, but with one of the largest video libraries mostly comprised of VR videos, it can get overwhelming with hundreds of categories. When entering a particular video, you'll be able to see three kinds of information - About, Download, and Photos. The first will give a general description of the clip, the second will provide GB info and HD levels, and photos will show preview images.
Information will also include all the tech specs regarding the different devices you could use to view, such as your Playstation or the mobile app with a VR headset. Below, just like in the model's bios, you'll see in depth comments from members, regarding personal enjoyment but also helpful tech info. Just like on social media, SLR follows these comments and even replies to comments.
All videos offer a preview, however, unless you have an account you will not be able to view it, only the preview images.
Originals
SexLikeReal also produces its own videos, located under the Originals category. These are impressive full-length videos that employ popular porn stars.
Registration
Despite the fact that the free rooms are open to one and all, no need to register, if you have any desire to tip models, or to watch the staggering videos available, you're going to need an account. To register, there are three options. One is free, and the other two are only possible with a purchase:
Free Registration
There's only one location you can register for a completely free account, and it can take hours to find on your own. On the left of the main site go all the way to the bottom, and you'll see a Free Account button. Click there, and you'll be registered. Just don't forget to verify your email to get a pretty rewarding promo code, up to 50% off your first purchase.
Registration with Tokens Purchase
To find this option, enter an open, free room from the VR Cam Girls section on the top left. You'll see the live girls having a red Live Now sticker. The open room will have to locations to register with purchasing tokens. Either the Get Tokens button on the top right, or the Create a Free Account button under the chat. Unfortunately, that's not quite accurate, as you can't register without purchasing a token package.

Registration with Membership Purchase
When you first enter the site, you'll notice on the top right a Join Now button with a diamond next to it. This will lead you to a page informing you of the premium membership, different purchase options, including registration details - Email, password and username.
Prices
The tokens packages are well prices, as the lowest prices start at only $12.00 a minute for 100 tokens. When you purchase 500 tokens or more, you'll receive 5% bonus tokens. It's important to note that these purchases are for tokens only. These tokens can be given as a tip for the models, and used for private chats too, of course. You cannot use the tokens to purchase or watch videos, for that you'll need to purchase a premium membership, or pay the dollar amount by adding to your cart and paying as if on any other e-commerce site.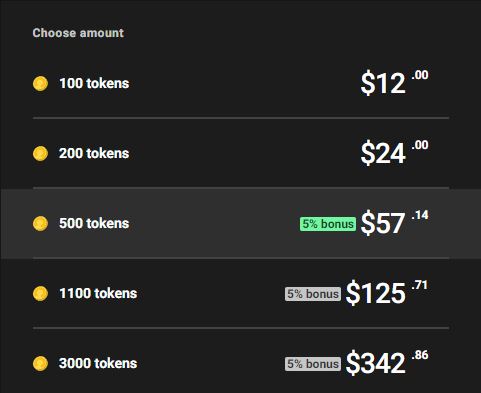 Payment Methods
SexLikeReal provides three different payment options which makes things simple, as it applies to most consumers.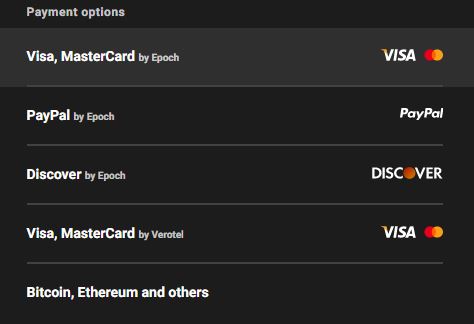 Premium Membership
The site has such a grand video library, one can get spun around, but if you purchase a premium membership, prices will become a distant concern, as all the videos become available for viewing. We're talking about thousands of viewing hours, with videos starring porn stars, and videos produced by SLR.
You have several options when purchasing the VIP Membership, either singular purchases, or monthly recurring purchases.
If you choose to purchase the membership, you'll be given the following impressive perks:
Over 11,000 videos updated daily
Exclusive SexLikeReal videos created and produced by the site
The mobile app to have the best viewing experience from the comfort of your bed, office, and any other location that appeals
HD quality of up to 8K
Premium content library access

Customer Support
Unfortunately, there is no live customer care, only a ticket option. Punching in your info and message to the SLR team. However, the Forums are an excellent place to get all your questions answered much quicker, it takes less than 24 hours to get a reply from the site about anything from billing to operating your VR headset.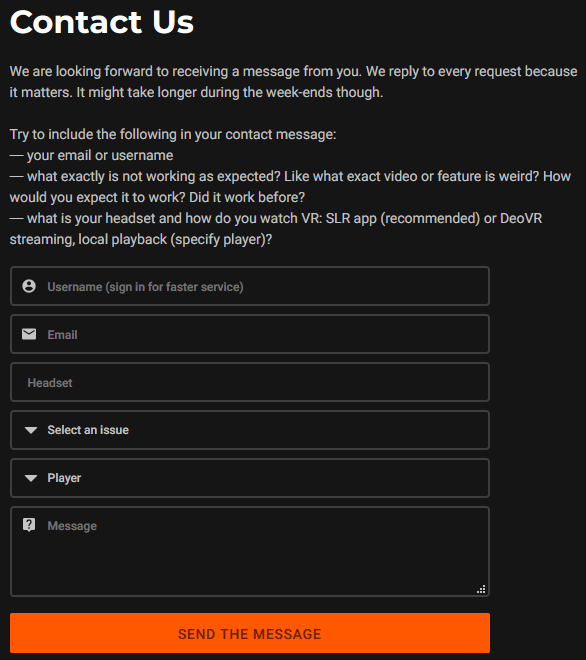 The Bottom Line
Virtual Reality is a relatively unexplored form of chatting even in the most premium of sites, and so having the option of live cams with a headset, experiencing private chats in the highest level, is a real boon to live porn lovers. Also, the live free rooms all being full of nudity is that much sweeter, considering how high the HD quality is, and how impressive the models are.
This is a site for those searching for the best quality streaming, and those who enjoy models at the top of their game. It takes a minute to orient yourself, but knowing that you can use it just as easily on mobile, and of course with VR tech, there's really no downside to this sleek, sexy, beautiful site.
Back to the full list of Best Webcam Sites
---