Kissofacobra - Our September 2018 Cam Girl of the Month
Last Updated
September 02, 2022
Kissofacobra is by far one of the hottest webcam models on MyFreeCams. She's a gorgeous platinum blonde with gorgeous assets. It's only fitting, that we make her the webcam model of the month, during the month of her birthday, September. Kissofacobra seems to be very pumped up about her birthday, that's why, if you look for her on MyFreeCams right now, you will find her as BirthdayCobra.
BirthdayCobra's real name is Irina, it was her birthday on the 25th, which was just a few days ago. From what we've seen from her Instagram and Twitter pages, it seems that she has been having a blast.
Her birthday hasn't really affected her broadcast schedule, she took took one day off, then came right back to camming.
You might wonder why she calls herself Kissofacobra, we think it probably has to do with her love of snakes. Her various internet profiles often include snakes and pictures of them. In fact, if you've ever seen her nude, you've probably noticed the giant snake tattoo which covers a significant portion of her right flank.
Kissofacobra's webcam shows usually have a goal and users tip for requests. Irina is a very talkative cam girl, so there is always interaction happening between her and the users in her room.
We took the liberty of attaching a screenshot of her full tip menu, which is displayed in her MyFreeCams profile. Her tip menu is too large to fit within the actual chat interface. She also does things that aren't listed, but you will have to ask her yourself what she would charge.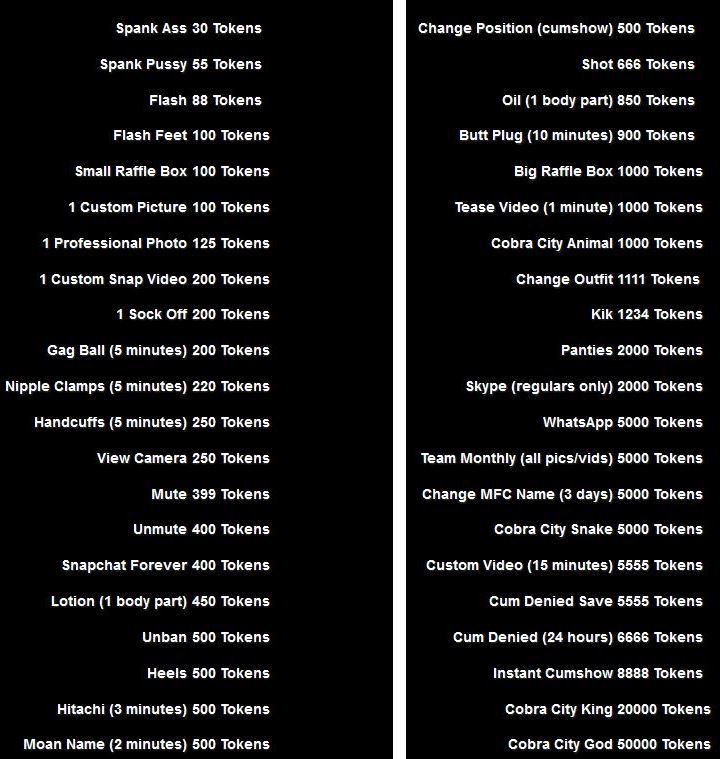 She isn't limited to just requests in the free chat, you can also buy her Snapchat, and Whatsapp contact details. We haven't seen her do private shows on MyFreeCams, but it seems that she does do private Skype shows. To get a private show with her, you will need to tip her on MyFreeCams, to join you on Skype.

She also has a ton of videos which you can purchase. To see a full list of the videos, you will need to check out her profile. She has a huge amount of videos there, with many of them being lesbian videos with fellow MyFreeCams cam girls. Depending on your internet speed, you might encounter a ton of black boxes. You will need to wait a moment, to let all of them load.
There are so many videos that she's uploaded, that it drastically lowers the page load speed of her profile. If the preview images don't load immediately, just leave the tab open and come back to it in a minute or two. Even if you end up randomly picking a black box - Kissofacobra always looks good on camera, so no matter which video you pick, you can be sure you will enjoy it.
Seriously, she always looks perfect.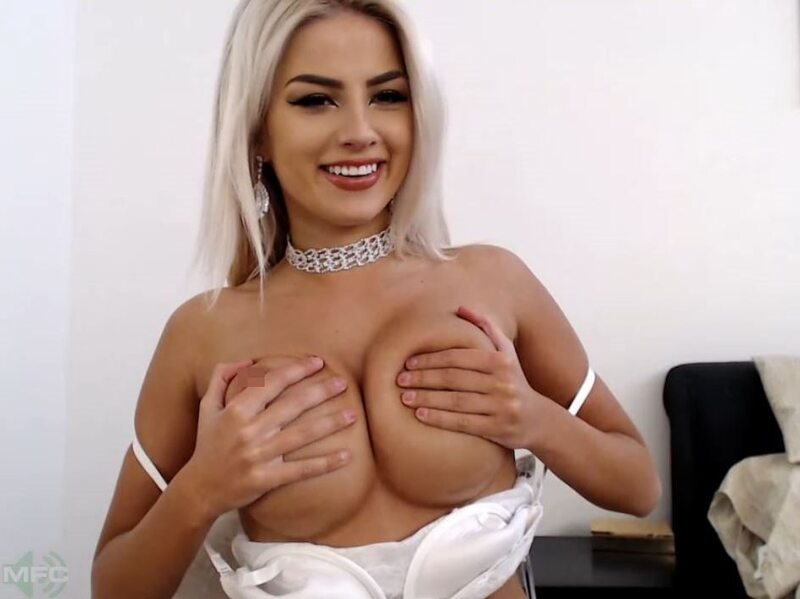 Kissofacobra's only flaw, is that she doesn't have her show schedule listed anywhere. It's hard to say when exactly she will be online. She always posts on her Twitter when she's online, but you can't really plan accordingly.
The best way to make sure that you watch every single one of her shows is to make a MyFreeCams account, and to add her to your friends list. To add her to your friends list, you will need to look under the video screen. There is an icon to add models your friends list, which is basically a favorites list.

If you haven't checked her out yet, you definitely should. She's gorgeous and fun to talk to. If she's online, your in luck.
If not, just add her your favorites list. You're sure to see her at one point or another.
Check out all Our Cam Girls of the Month
Back to full list of sex cam blog posts
---