ImLive Versus Cam4 - Which Is Better and Why?
Last Updated
September 10, 2022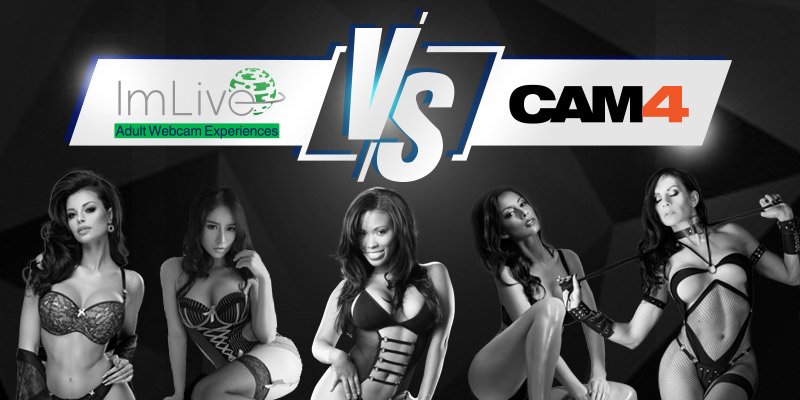 There are lots of things that can make a cam site great. Amazing models. Great HD quality. Cheap rates. Unique site features. So how can you tell sites apart, and which possess these important attributes, and to what extent might they even surpass them? In this particular battle of the live cam sites, ImLive is the clear winner, not only besting Cam4, but surpassing even its best offerings. ImLive has cam2cam on desktop and mobile, 24/7 support, ridiculously low rates, it's a premium site with pro models, and a sleek site design (Including a Member page) to rival any other premium platform.
---
ImLive vs. Cam4 – The Comparisons
---
What is Best About ImLive?
There's so much here to discuss, so let's stick to the basics. First, ImLive is crazy cheap, shockingly so for a premium platform. Second, private show rates include the use of the cam2cam feature whether you choose to use it or not. There's a great rewards program that gives you points merely for spending on the site, but still offers a premium membership if you so choose. Not to mention, it offers some unique features you won't find anywhere else, like: Fulfill Your Fantasy, Groupcams, and the Multi-Viewer. To read our full breakdown of this impressive webcam platform, please see our full ImLive review.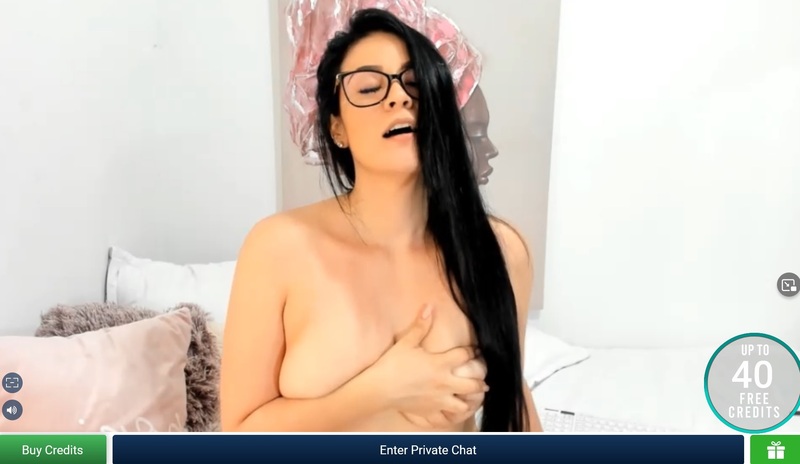 ImLive Pros
Super cheap prices for a premium site
A great rewards program
Exclusive site features only on ImLive
---
What is Best About Cam4?
Cam4 enables you to customize your searches, gives you an filter where you can select countries/languages from the alphabetical list, and also gives you the option to filter out non-HD cams. The rooms with HD quality reach 1080p, which very impressive for a freemium site. There's also plenty to do in the chat rooms themselves, and an array of around 1800 models always online to choose from. As these are mostly amateur performers, the amount of nudity and sex on Cam4 is abundant, overflowing even. You can spend hours without spending a dime. To check out everything else about this fun, party-atmosphere site, check out our full Cam4 review.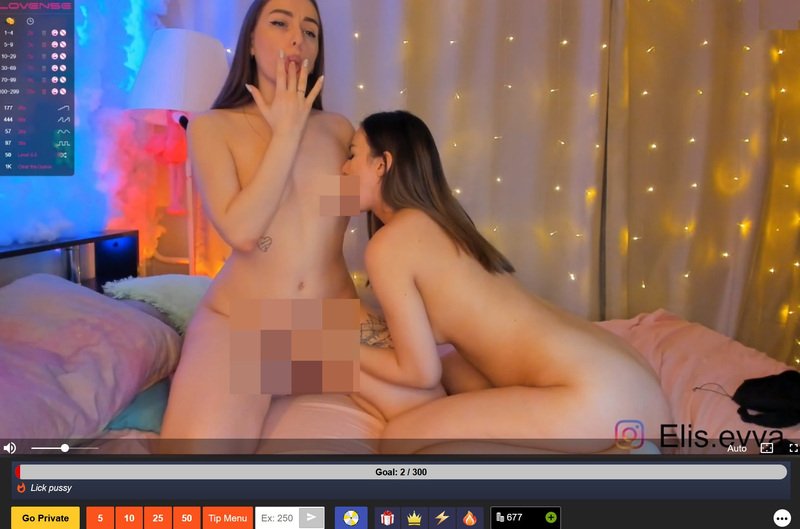 Cam4 Pros
Great HD cams and HD filter
Up to 2000 models online
Great variety of amateur performers
Excellent filter and sorting system
---
ImLive vs. Cam4 – Free Content & Options
Despite the fact the ImLive is a premium site, it includes nudity on occasion. However, unlike Cam4 and other freemium cam sites, there's no free sex and nudity on mass 24/7. Ironically, prices on ImLive are freemium-level cheap, and Cam4 has some of the highest prices in live cams despite its freemium status.
Both sites offer either Fan Clubs (Cam4) and Discount Clubs (ImLive), which you can join if there are special ladies you want to enjoy, as they update with pictures and/or videos, and you can get full access to with these memberships.
---
ImLive vs. Cam4 – Premium Content
ImLive offers a huge Videos library offering videos, some for free and some that you need to pay for. You can watch free previews for shows and even full contest videos. However, you must be a Bronze member for this privilege. All you need to become one is purchase any amount of credits on the site. For a premium cam site, there's a lot to enjoy as far as premium content on ImLive.
Cam4 doesn't really offer premium content other than what's mentioned in the previous sections, in model's clubs. There are porn games you can play on the site, but that isn't considered content, but more of a unique site feature.
---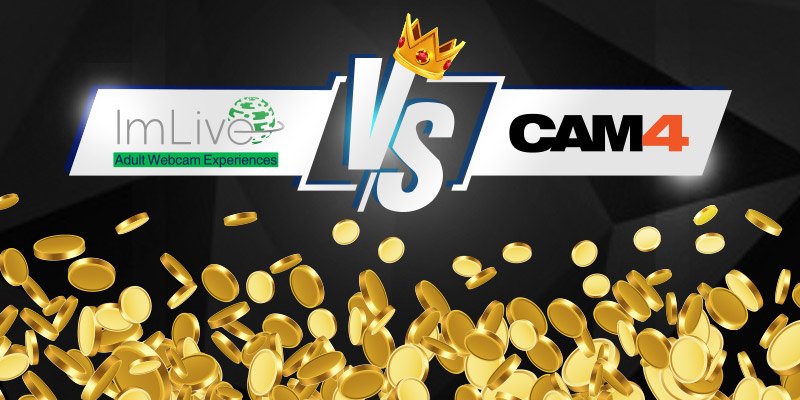 ImLive vs. Cam4 – Pricing Comparisons
| | | | | |
| --- | --- | --- | --- | --- |
| Cam Site | Site Currency | Price Per 1 Currency | Best Package | Bonus |
| ImLive | Credits | $1.15 | $114.95 | Yes |
| Cam4 | Tokens | $0.16 | $159.99 | Yes |
ImLive is on our list for cheapest cam sites, not just because of it's low prices, but for the fact that it's a premium site offering this rock-bottom rates. Also, ImLive gifts you up to 100 free credits on your first purchase.
Cam4 offers 50 credits after your first purchase, but it's rates are much, much higher, and you don't even get the ability to activate cam2cam when you chat. Also, to use all the fun chatroom features, you need to pay for every single one, which hikes the prices even further. And, Cam4 is without a rewards program.
---
ImLive vs. Cam4 – Private Chat Show Rates
| | | | |
| --- | --- | --- | --- |
| Cam Site | Average Private Chat Rate | Cheapest Private Chat Rate | Activating Cam2Cam in Privates |
| ImLive | $2.50 a minute | $1.00 a minute | Included in private chat rate |
| Cam4 | $5.40 a minute | $0.80 a minute | Not an available feature |
ImLive wins easily with it's super low prices that include webcam to webcam action. But it's up to you what you prefer: Pay much less and get so-so HD quality, or pay much more but get great HD guaranteed? This question depends on the user, for sure. Also, take note that ImLive's prices includes c2c and Cam4 doesn't even offer this feature on desktop or mobile devices.
---
ImLive vs. Cam4 – Show Types
This category goes to ImLive, as it offers c2c, on desktop as well as on mobile. Not to mention, more show types.
Show Types on ImLive — Free chats open to all, Private chats with the option of webcam to webcam at no cost (On mobile too). There's also:
Candy Shows - Multiple user shows that are much cheaper and require you to tip so the model reaches the goal before the show starts. If the goal isn't reached, the show doesn't start and you get refunded your credits.
Groupcams - ImLive has a unique feature not available on any other cam site. You can go into a private show and cam2cam with cam girls in different rooms at the same time.
Multi-Viewer - This exclusive option allows you to select 6 free rooms and watch them all at once, for free. Or, you can pay just $3.00 a minute, and become a spy on the wall for 6 private chats already in progress, with only the models knowing that you're there.
Honorable mention for an ImLive site feature that leads to a custom-made show: Fulfill Your Fantasy. This unique feature only found on ImLive allows you to submit your most intimate fantasy in all its details from your member's page, which goes directly to the models forums. From there, they have a bidding "war" to see who gets to make your dream a reality.
Show Types on Cam4 — Free chats open to all, Private chats (No cam2cam option) and Group Shows.
Group Shows - You purchase a ticket to book your place in the show, until the model has reached her goal after multiple users have paid the ticket price. If the goal isn't reached, the show doesn't start and you get refunded your credits.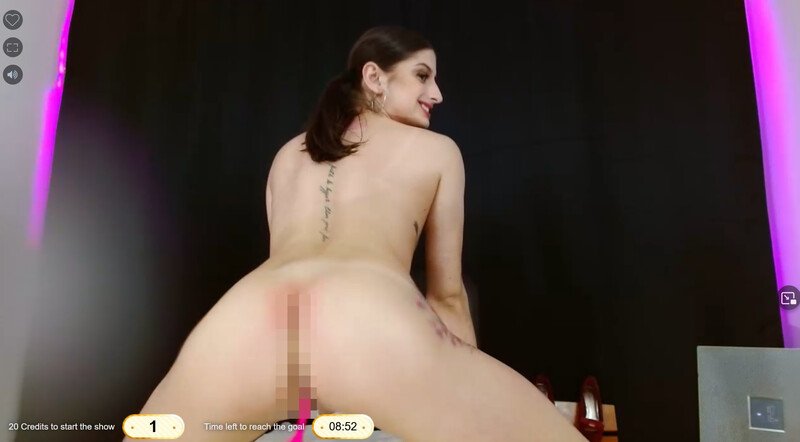 ---
ImLive vs. Cam4 – Chat Room Features
Cam4 takes this particular battle for the main reason that it has features. Yet beware, each of these, or most, will cost you extra. The room includes everything you may have already seen from other sites. A button to start your 1on1 session, different tipping amounts for the model, gift options, and in certain rooms games like spinning a wheel to get your model to perform an act. There's also a button to tip to get the sex toy going, for models with active ones (You can filter these on the main page). On the top of the stream, you'll also see a button to join the models Fan Club is she has one, private tipping, add model as a friend, a heart for liking the model, and send her a PM to a personal inbox. While all this is incredibly impressive, for sure, note almost every single feature costs you money. So be careful, as on other sites some of these are free.
ImLive offers very little in the models room, which is a shame. You can tip/gift and tip to get her interactive toy buzzing. That's about it. Of course, you have a button to enter private chat, and a volume button, and a theatre mode button to have the picture fill the screen. It would have been nice to get more fun options, such as games, emojis, something more than the extremely basic current options.
---
ImLive vs. Cam4 – Webcam Streaming Quality
Cam4 takes this one, hands down. If only for the reason that when using it's fantastic filter, you can choose the HD category and see only rooms streaming in beautiful HD quality. But even if you don't use the filter, the rooms are labeled "HD" if they're streaming, and most rooms showcase crystal clear, crisp HD up to 1080p. It would be nice to see two types of labels, HD and HD+, but now we're just nitpicking.
ImLive's singular, and main issue despite it's fabulous features, is the HD quality on the site. And also, the absence of any filter to see only those that do stream in HD. Frankly, to find a room that streams in great quality is a challenge on ImLive, and your best bet would be to go with the teen 18+/Co-ed ages on the site, they're more likely to have it. It's a shame that such a technologically advanced premium site flubs it on the HD front, which some could argue is critical.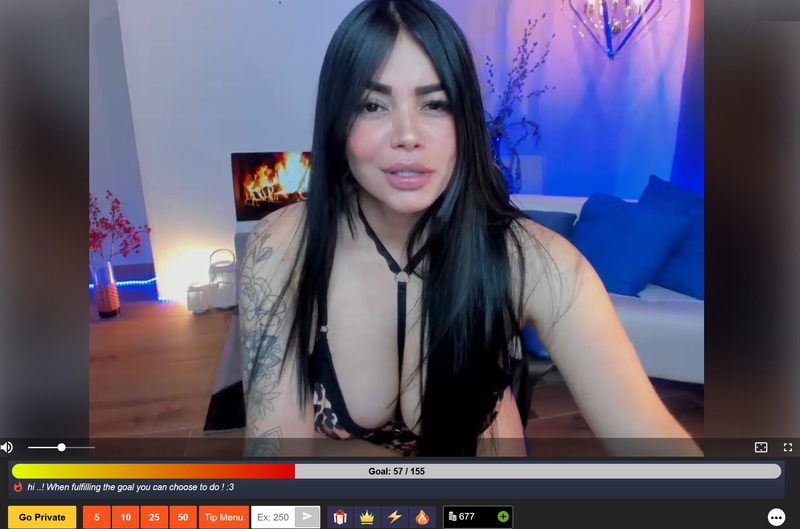 ---
ImLive vs. Cam4 – The Webcam Models
This one has to go to Cam4, for the sheer volume of models the site offers, and their locations from around the world. Most hours you can find 1800 and up to 2000 in peak hours. The variety is quite staggering, especially when you use the filter to select, for example, a certain remote country and see all the models that hail from it. The models are amateurs, but there's also semi-pro ladies, not to mention male, trans and couples too. Cam4 is a great site for gay/male models in particular, if that's your pleasure.
ImLive offers between 400-600 models online depending on the hour, and the variety is limited, especially when it comes to ethnicity, age, and body type. However, ImLive does offer something cool, a Friends & Romance section, geared towards members that are looking for more of a girlfriend experience. Though there are many pro models on ImLive, there's no real way to tell, as both amateur and pro performers choose how they want to present on the site, with some choosing to show skin, and some not. Unlike other premium sites, ImLive allows models to show skin, if they choose to.
---
ImLive vs. Cam4 – User Features
ImLive knows how to show you a good time, but it also knows how to make you feel appreciated. There's a fantastic rewards program, which raises you up in accordance with how much you spend on the site. All you need to do to get to the first stage of the program (Bronze) is make one purchase, no matter the sum, and you'll get access to all hosts galleries, free videos and free intros to all premium videos, free pornstar shows, and multiple discounts.
ImLive does offer two types of memberships you can purchase. Platinum, for $19.99/month, and Diamond for $29.99/month. These give you all kinds of perks such as 1 free discount club a month (A model's fan club and her content), free access to celebrity content, free reward points, and other perks. This is a strictly paid-for membership, but it had no connection to what you get on the site itself (There are no ads, you can use all the site's features, etc).
Cam4 has a VIP membership, which costs $19.99/month. As the site is full of ads, it eliminates them once you pay for the membership. You also get monthly gifts, the ability to PM the models, anonymous chatting, automatic chat translations, and you also get a one time bonus of 100 tokens (Worth $10).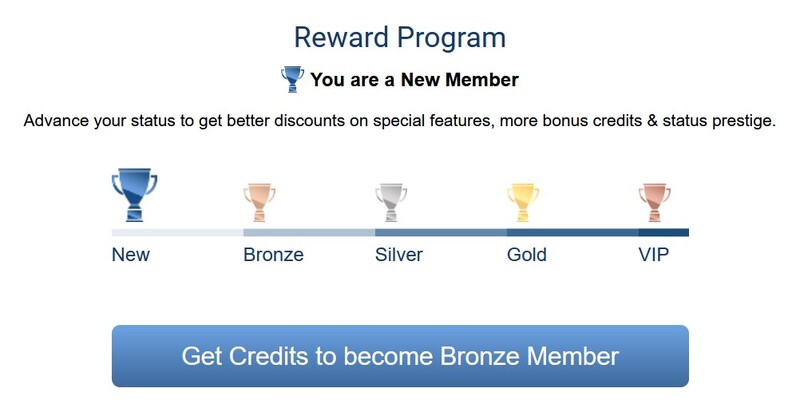 ---
ImLive vs. Cam4 – Search Tools
No doubt about it, Cam4 has a fantastic filter, catering to all kinds of searches, and even allows for multiple selections. It's also one of the sites we always recommend when looking for a models speaking a certain language and/or from a country you prefer, as the filter allows you to select, in alphabetical order, any country, and any language. This is great for those users from other countries who are looking for a girl speaking their native tongue. There's also an HD category you can select, which narrows down the rooms to only those with HD quality.
ImLive's filter is better if you're looking for a specific fetish (When you select the fetish category a new drop down menu of fetishes opens up on the top right), in general you can only select one category at a time, and they're limited. ImLive also doesn't offer one of the most important category to filter, and that's HD quality.
---
ImLive vs. Cam4 – Help & Support
ImLive easily takes this category, as it offers to one and all the support of their devoted staff, 24/7, 365 days of the year. Another part of this easy win is that it also offers a great FAQ section, as well as a member's page that no other site can rival. You get transparent access to anything going on at the site itself, like promotions and events, special features and the like, and you also get a clear view of your status and billing.
Cam4 offers the options of submitting a ticket (Reply usually comes up to 48 hours), an email address, and a pretty impressive FAQ section. There's separate billing and legal support. Cam4 doesn't offer a phone number, only in the billing department.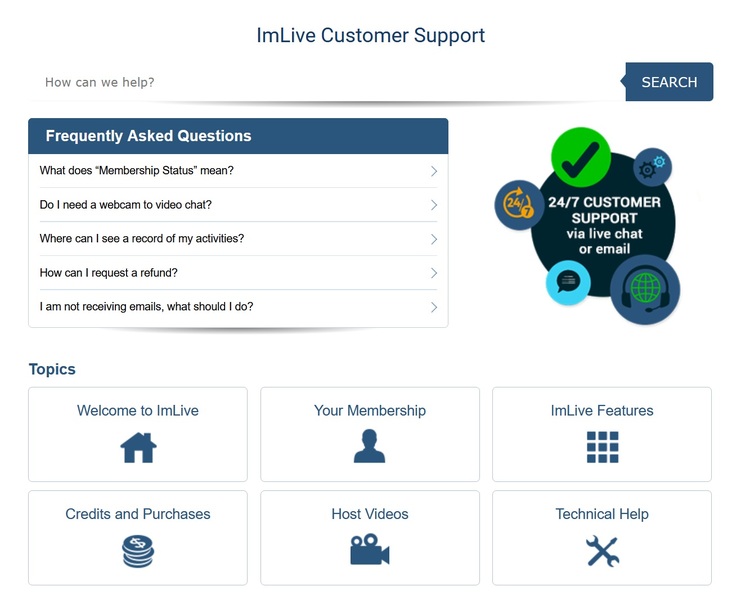 ---
Our Final Verdict
Cam4 is a great site for full on nudity and sex 24/7, with excellent HD quality cams and a wide array of amateur models that love being watched, and there are fun options inside the live cam rooms themselves. It also offers a great filtering system to rival any premium site and gives you multiple selections too. In fact, it's such a fun and popular site that we wrote an entire article about alternative sites to Cam4, if you're looking for more of the same.
All that being said, ImLive is simply better, cheaper, more feature-filled, offers a premium experience, and is a superior site. It offers customer support 24/7 and a Member's page you won't find the likes of anywhere else, an impressive selection of webcam fetishes with their own dedicated menu, up to 40 free credits after your 1st purchase, a mobile platform with cam2cam that is sleek and impressive, and webcam models for any taste, from semi-pros, to amazing pornstars.
Back to full list of sex cam blog posts
---