Best Ways to Save Money on CamSoda
Last Updated
September 04, 2022
CamSoda is a favorite cam site of ours for many reasons. It is always filled with a ton of nudity and you can use the live preview feature to watch all the cam rooms at once. As with any free cam site, getting tokens for yourself will vastly improve your experience on the site. You will be able to tip for requests, and more importantly, you will be able to invite your favorite models into private shows.
These are the best ways to save money on CamSoda, including a few ways to grab free tokens.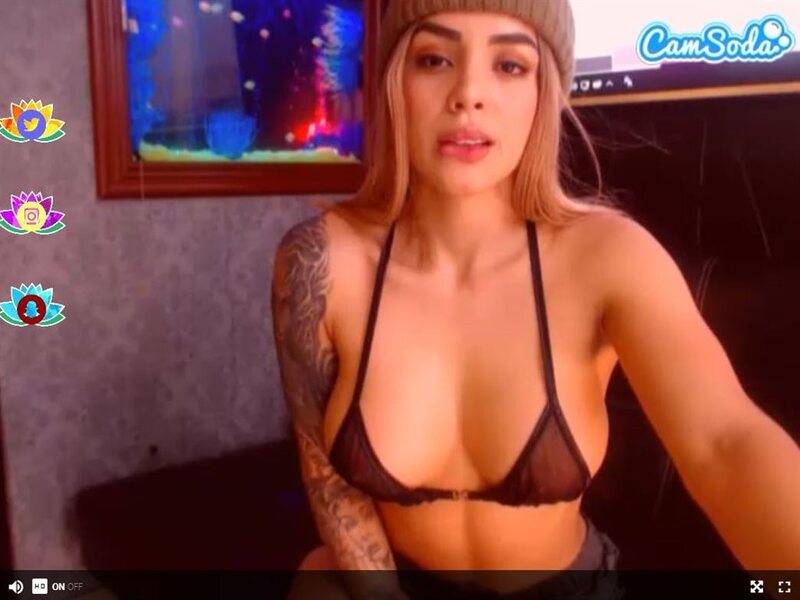 ---
Verify Yourself
Once you've made an account, you can easily claim 100 free tokens. All you need to do, is click on the payment page, then click to Verify yourself to raise your daily limit. You will need to upload a picture of your drivers license, your credit card with only the last 4 digits visible, and you will need to sign a form with your mouse. It will give you a one time bonus of 100 free tokens.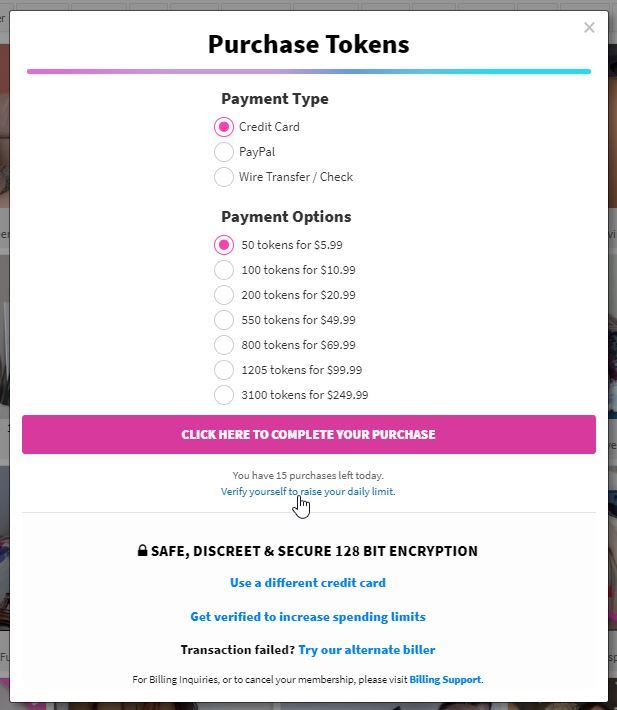 ---
Upgrade to VIP (For One Month)
Upgrading to VIP for $19.95 a month will award you with 200 free tokens for the first month of membership. You can claim this one time, then cancel the membership to save some money. 200 CamSoda tokens generally cost $20.99. Doing the upgrade for the one month will save you $2.04. It might not sound like a lot, but at this price range it's actually 10%.
---
Be Nice
This might sound silly, but users that get likes from the cam models can win tokens. The user who received the most likes each week will win 1000 free tokens. All you need to do, is be nice and polite to the cam models. Models will often give likes to users they had fun chatting with, users who tipped a lot, and users that helped the model in some way.
---
Hunt Down Cheap Cam Rooms
While CamSoda doesn't have a sort by price function, there are many cheap sex cam rooms to look through. The cheapest private shows on CamSoda start at 6 tokens a minute, with more rooms being available at 12 tokens, and 18 tokens. Basically, there are loads of rooms to look through at the $0.60, $1.20, or $1.80 a minute.
Hunt down the cheap sex cam rooms and add them to your favorites.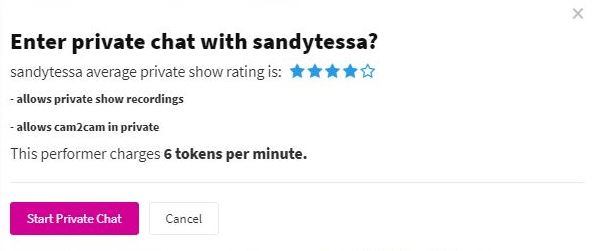 ---
Rewatch Recorded Shows
Most models on CamSoda include cam2cam and show recordings in their private shows. We suggest going with models that offer show recordings, as they provide better value for money. You can rewatch your recorded shows on CamSoda at any time you like.
You can pay for the most expensive cam girls on the site just one time, then rewatch them at your leisure hundreds of times for free.

---
Schedule Privates
Most models charge either the same rates for shows your schedule, or slightly higher, but some models actually charge less. For example, kiimcarter charges 60 tokens a minute for a private show, or 299 tokens for a 10 minute scheduled show. Basically, if you search through the scheduled private tag, you may find rooms that offer discounts for booking blocks of time.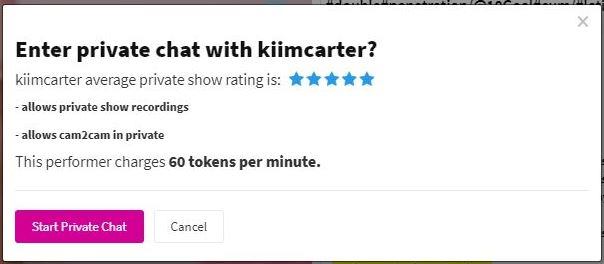 vs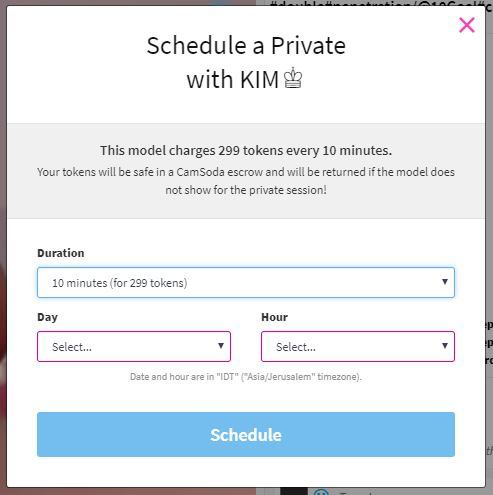 ---
Look for Discounted Rooms
When the models are bored, and business is slow, many of the more expensive models will set a discounted rate for themselves. You can get 30-50% off the cost of private shows. Models that are 90 tokens a minute will often discount themselves to 70 tokens a minute and below.
---
Conclusion
To get free tokens on CamSoda, verify your account and upgrade to VIP for one month. Don't forget to be nice to all the models, so that you might win 1000 free tokens each week.
To save money on CamSoda, hunt down the cheapest show rooms on the site, and add them to your favorites. If you are intent on the expensive girls, wait for them to put up discounts, or be sure to look for the girls that include show recordings, so you can rewatch them whenever you want.
Don't forget to check to see if the models offer a discounted show if you book blocks of time.
Back to full list of sex cam blog posts
---