CamSoda BB - A NSFW Social Media Platform
Last Updated
September 18, 2022
CamSoda's BB site is a free social networking center where models can post images and videos of them doing some very naughty acts. It's like an internal Reddit for CamSoda fans and its models. Viewers can follow their fave CamSoda cam hosts, create channels dedicated to a specific category or simply chat with other users and the webcam performers themselves.
Unlike other adult content sites where models post risque photos and videos, at CamSoda BB you don't have to pay to follow a model's posts or to create a channel yourself. At CamSoda BB, paywalls are removed and you can freely access any posting or channel.
Connect With Cam Models
CamSoda BB is first and foremost a platform for its models to get an opportunity to expose themselves (literally) to a larger audience. They can reach new fans that may not otherwise spot them among the thousand-plus models fighting for viewership on the main CamSoda site. Here they can post explicit photos and videos, with the most recent media post appearing at the top of the page. This means the more the CamSoda performer posts, the more exposure they get to potential fans.
Secondly, it's a site where users can talk directly to their favorite hosts via the comments section, as well as post their own media, though very few do this. Most users seem to prefer to browse the media uploaded by CamSoda's semi-pro adult content creators rather than add or view images posted by fellow cam aficionados.
If you're looking for a specific topic or model, you can simply use the search bar and write in the model's name. If she appears on BB, the site will bring up all her postings and photos. The same if you're looking for a particular category. Another way to more spontaneously come across content is to browse the channels. Most of the channels are created by the users or the site itself, and focus on a specific fetish or model type. From BDSM to Bikinis, Perfect10 to Public, the range is varied but currently somewhat limited in options.
Membership Optional
Once you're on the home page of CamSoda, to access CamSoda BB you simply select 'bb' from the top pink menu bar and you're then redirected to the cam site's networking forum.
If you want to create your own channel, you'll need to be signed-in as a member of the site. If you already have a CamSoda account, then it automatically logs you into CamSoda BB on the same profile. If not, you'll need to create a CamSoda BB account.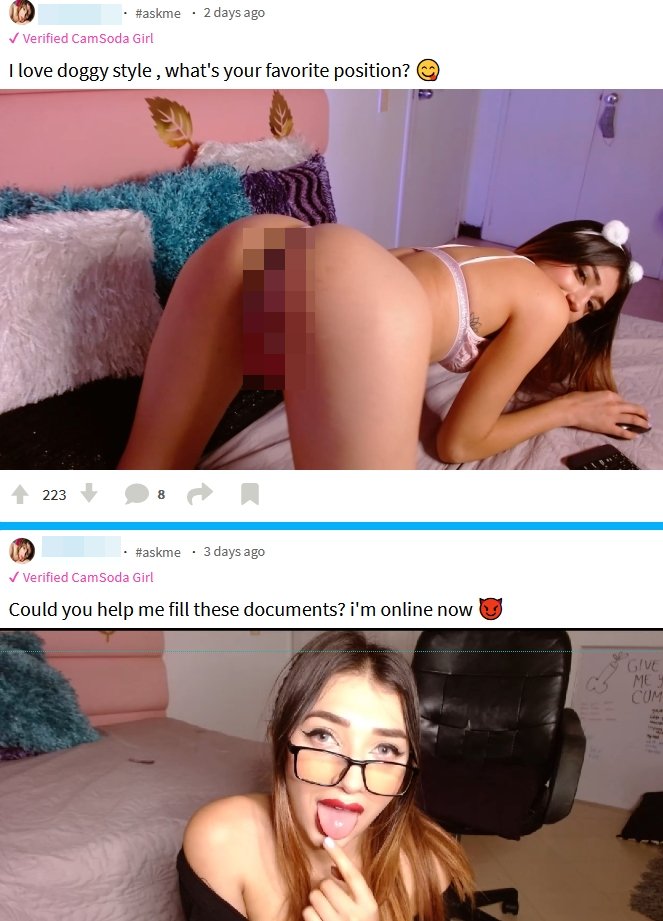 Once you're signed in as a member you're then free to post, comment, and create a channel. However, before being able to create a channel of your own, you'll need to have shown the site that you're no fly-by-night user. First, you'll have needed to have posted several times on existing channels. This means uploading images to a live channel and receiving votes from users who like your postings. Once you've received enough votes on a variety of postings, only then will CamSoda BB allow you to create your own channel.
Every week CamSoda BB rewards the most popular posts with 500 free tokens. The 5 posts that receive the most upvotes each get 500 tokens. Not surprisingly the winners tend to be posts featuring naked girls doing naughty things on cam. Some girls will post several times a day, with the majority of their photos and videos definitely NSFW.
Ultimately, if you're looking for raunchy content similar to the images models post for payment on sites like OnlyFans, ManyVids and Frisk.Chat. Or simply want a free alternative to platforms such as FanCentro and LoyalFans, CamSoda BB is worth checking out.
---