5 Cam Sites That Offer You So Much More Than Frisk.Chat
Last Updated
September 10, 2022
Frisk.chat is a social media platform on which you can interact with models by sending them direct messages. If the girls are online, you can initiate paid-for chats with them. In addition, you can purchase the models' photos and videos. Don't get us wrong, we don't think it's a bad site, but there are better ways to spend your adult leisure time. Cam sites offer you much more authentic interaction with hot girls, letting you watch and be watched by them live and, in many cases, purchase hot videos and join their fan clubs.
To prove our point, we'll show that each and every one of the 5 leading cam sites we've chosen to review here is a viable alternative to Frisk.chat.
CamSoda.com
Around 600 flirtatious cam models you can watch performing naked in their public chat rooms 24/7 without paying a dime is something you'll never find on Frisk. More than that, there are many girls you can chat with in private at really cheap prices allowing you to enjoy extended live sessions without going broke.
The action on CamSoda is arranged under tags and there are more of them than you can count encompassing virtually any niche existing in the porn industry. There is no filtering tool that will let you sort them out according to themes, so you can either browse through them manually enjoying watching myriads of nude models in the process or refer to a search bar letting you find your preferred performer based on chat parameters like gender, price, ethnicity and a few selected tags.
After you have come across a girl to your liking, taking her to a private chat will cost you $1.80 a minute on average. If that's not cheap enough for you, you'll be happy to know that there are quite a few sexy girls who charge as low as $0.60 a minute. No matter how hard you try, you won't find such cheap sex cams on Frisk, especially in light of the fact that CamSoda doesn't charge extra for cam2cam chats, which you can initiate on your computer or on your mobile device.
What we like most about CamSoda is that most of its cam models allow their live chats with you to be recorded. You can watch these recordings as much as you want (on the My Media page) free of charge. This is a great opportunity to relive the excitement of watching your live shows over and over again.
It you intend to visit CamSoda on a regular basis, you should consider upgrading your membership to Premium. For $19.95 a month, you'll navigate an ad-free interface and be able to change tip volume, send models private messages, tip anonymously and chat invisibly.
---
Flirt4Free.com
Flirt4Free is a top-notch site that can definitely replace Frisk as an online platform for live sex chats thanks to its 600+ models ready to entertain you most hours of the day, multiple cam show options including hardcore sessions, myriads of videos you can purchase and, above all, lucrative reward and VIP programs.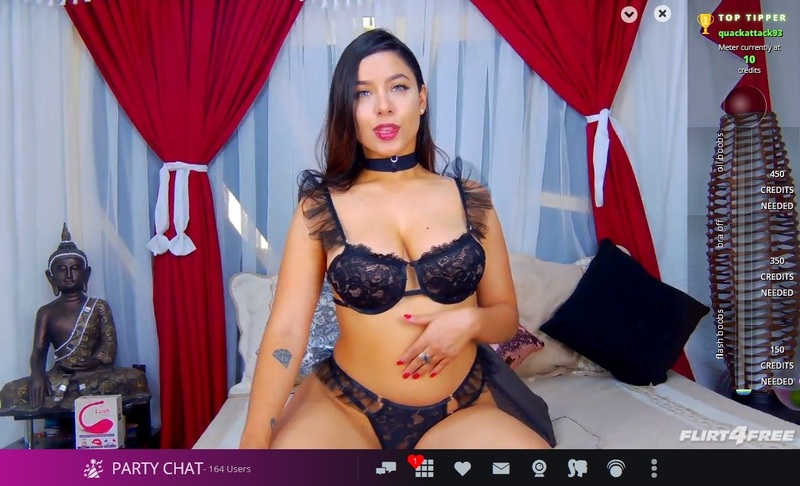 Flirt4Free enables you several ways to interact with its cam girls. You can do that along with other users in a Party Chat, in which the tips you'll give the performer will set the pace of the show. You can opt for a Group Chat and pay a fixed sum in advanced to reserve yourself a seat in a hot nude show.
If you're into a more intimate experience, you should initiate a private chat, for which you'll have to pay $3.00 a minute on average. Minimum price is $0.50 a minute. There aren't too many models charging such a low rate, but you'll easily find quite a few who take around $2.00 a minute. You can open your cam on your computer or cell phone without paying an additional fee.
The site lets you pay for your chatting activities either by buying credit packs in advance or as you go directly from your credit card by using its Play & Pay feature. The more you use Play & Pay, the more your daily spending limit will increase until it reaches a maximum of $500 a day.
Flirt4Free has plenty of kinky chat rooms, the like of which you'll never find on Frisk. Its Fetish Community is a section wholly dedicated to hardcore live action with more than 50 categories and dozens of dominatrices and submissive girls with whom you can realize your darkest fantasies in front of the cam.
Similar to Frisk, Flirt4free has thousands of videos you can purchase. These videos cover more than 40 niches including special ones like Brazillian, Pregnant, Shaving, Shower Shows and Tattoos. New videos are constantly added to the site, so you'll never feel you've had enough of what it has to offer.
Flirt4Free has one of the best reward program in the live porn industry. This program gives you points for every action you do on the site. These points can be converted into a variety of perks, among which are discount on new purchases and free access to premium videos.
The VIP program unlocks great features that comprise sending private messaging to models, 200 free videos a day, free hour-long feature shows, unlimited access to recorded shows, access to VIP promos, a 5% discount on all video purchases, and 150 monthly recurring credits. To join the program, you'll have to pay $39.95 a month.
---
Stripchat.com
Stripchat is one of the biggest cam sites in terms of its model selection. Any time you visit it, you won't find less than 2,000 active models. During peak hours, this number can easily double itself. Many of these thousands of models perform unclothed in their public rooms. So get ready for more nudity than you (and any other man) can probably handle.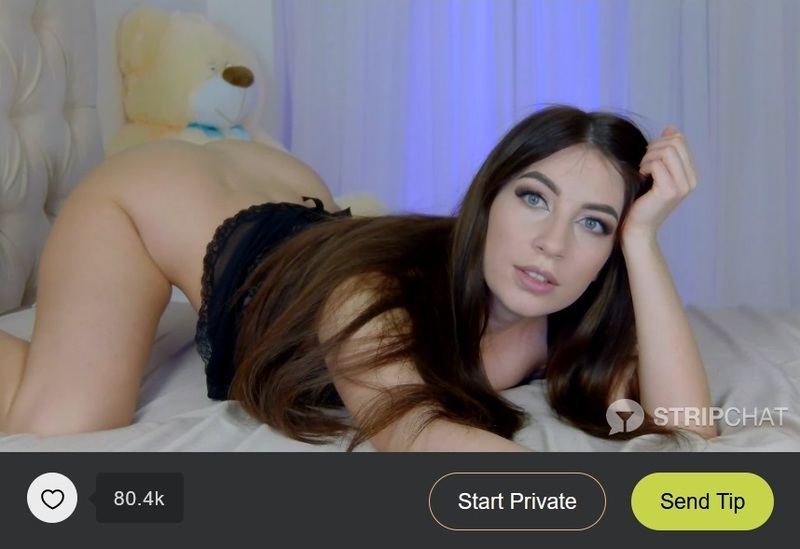 The site has also tons of chat categories that deal with all kinds of themes and models' ethnicities. You can view all these categories in alphabetical order by tapping on All Categories under the search bar.
After choosing your favorite category and model in it, a private chat will cost you $2.40 a minute on average. The cheapest models take $0.80 a minute. Most models charge extra 30-50 percent for cam2cam. Regardless of whether you'll open your cam or not, private chats usually have minimum duration that can range from 1 to 10 minutes.
On the bright side, there are models who give the site permission to record their private shows. You can watch these shows freely whenever you become horny. In addition, by opting for the more expensive c2c chat, you'll prevent other users from spying on your shows, which they can do in regular private chats.
If you fell in love with a model, you can join her Fun Club as a Soldier, Lord or Prince for $9.99, $19.99 and $49.99 a month respectively. All titles give you a special badge attached to your username so as to indicate your elevated status. You'll also gain free access to the model's exclusive photos and videos. Some models will let you spy on their private shows for free if you become a Lord or Prince.
Stripchat has a VIP program you should consider joining. For an affordable price of $19.99 a month, you will become an Ultimate member and be entitled to variety of perks comprised of sending private messages to models, chatting invisibly, tipping anonymously, using emoji in chat and becoming a model's Knight (if she chooses you to be her protector), which gives you moderation powers in her room. Moreover, similar to joining a model's Fun Club, Ultimate membership gives you a special badge to make sure you'll get the respect you deserve from performers and your fellow users..
In our opinion, what really makes Stripchat a viable alternative to Frisk for users looking for close interaction with hot girls are its thrilling virtual reality live chats. Most hours of the day, Stripchat's VR section contains approximately 20 models capable of giving you exciting stereoscopic live shows that will make you feel as if you're in the same room with them. To take part in these shows, you'll have to download a special application and obtain a headset.
---
Cams.com
500+ beautiful models waiting for you day and night, great Fan Clubs you can join and enjoy awesome benefits and, most of all, highly advanced apparatus for interactive live porn make Cams a great site that can, definitely, replace Frisk as a source of adult entertainment.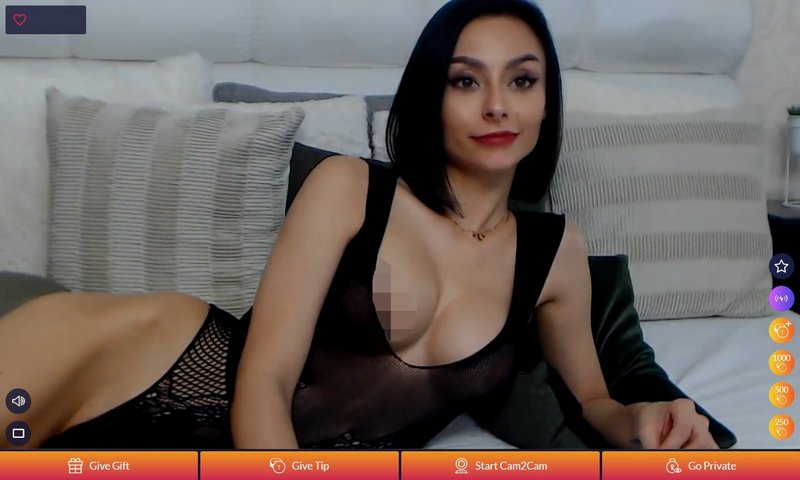 The interaction with Cams' models goes far beyond watching and chatting. Its Connexion feature enables a performer to stimulate you as much as much as you can stimulate her through both of your teledildonic devices (her Lovense Nora and your Lovense Max). Whenever you enter the site, you'll run into at least a dozen of models using Connexion.
For a private chat with one of the site's models, you'll be charged an average sum of $3.00 a minute. Minimum rate is $2.50 a minute. Adding cam to cam to your chat entails an additional fee of 10 tokens a minute, which amount to roughly $1.00. If these rates are a bit high for you, you can take part in a Party Chat side by side with other users and save around 15%.
Cams' models have a Fan Club you can join. It'll cost you $14.99 a month or $32.97 for 3 months. As a club member, you'll get up to 70% discounts on the model's live shows as well as free access to her custom-made videos.
You can also become a Premiere member on the site for a monthly payment of $19.99 (or $41.97 for 3 months). You'll get a 10% discount on all live videos, gain access to the premium content of all performers and be able to watch any model's recorded shows at zero cost. Equally important, the models will be aware of your upgraded membership and will treat you accordingly.
---
xLoveCam.com
If fair-skinned girls from Europe are your thing, you must pay xLoveCam a visit. Most of this site's cam models are breathtaking European chicks you can watch either in public or in private. Being a premium site, the girls perform with their clothes on. However, that doesn't mean you won't occasionally encounter some bolder models who will perform partially or fully naked in their open chat rooms.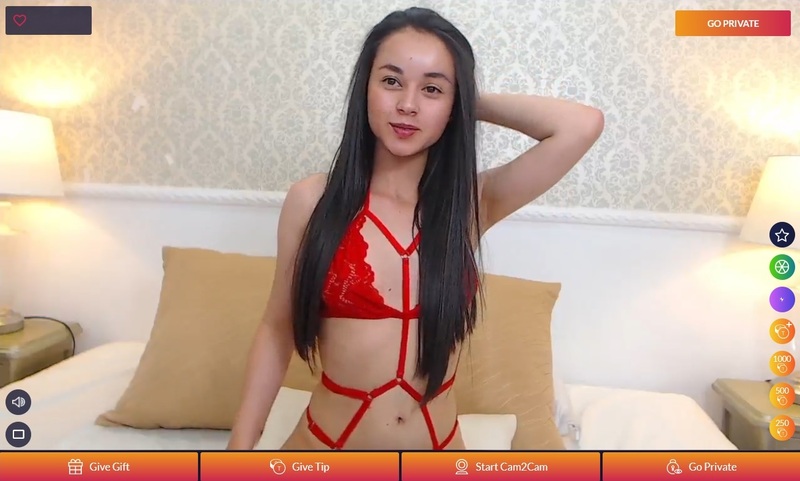 xLoveCam is set apart from other cam site not only by the emphasis it puts on European performers, but also by its affordable chat rates. A private show costs $1.80 a minute on average. The lowest price on the site is $1.20 a minute. Take into account that other users can join your shows as active participants if they pay the model's rate or as spies for a lower rate. To drive them away, you'll need to opt for an Xclusive Chat, which is 25-50 percent more expensive.
xLoveCams belongs to an elite club of cam sites enabling you to cam2cam on your phone and enjoy bidirectional video chats at the palm of your hand. You won't be asked to pay extra for these mobile c2c chats.
Much like Frisk, some of xLoveCam's models have a collection of explicit videos and photos. You can view these materials if you become their VIP member. Prices range from 3 to 15 and even 20 euros a month, usually depending on the model's rating on the site.
As mentioned above, despite being a premium site, there are some models on xLoveCam for whom clothes are unnecessary items. This is especially true on Mondays on which most of the girls on the site perform topless. Some exploit this libertine atmosphere and get fully naked.
---
Conclusion
Why ride a bicycle when you can drive a Ferrari? This metaphor describes with great precision the gap between Frisk.chat and the industry's top cam sites. The latter offer you so much more in all respects, especially the 5 sites mentioned in this review. You'll find in them hot videos you can buy and features Frisk.chat will never be able to match. We're mainly referring to multiple live show options, including c2c, fan clubs and special VIP and reward programs with abundant benefits and fat bonuses.
If we're forced to come up with one site out of the five as our number 1 recommendation, it'd be CamSoda. Promiscuous models who love to perform in the raw in public, great theme tags, low chat rates, cam2cam which is responsive to mobile devices and the ability to watch and record your live cam shows at no cost will optimize your live porn experience more than any other site.
Back to full list of sex cam blog posts
---