LiveJasmin Versus Streamate - Which Is Better and Why?
Last Updated
September 04, 2022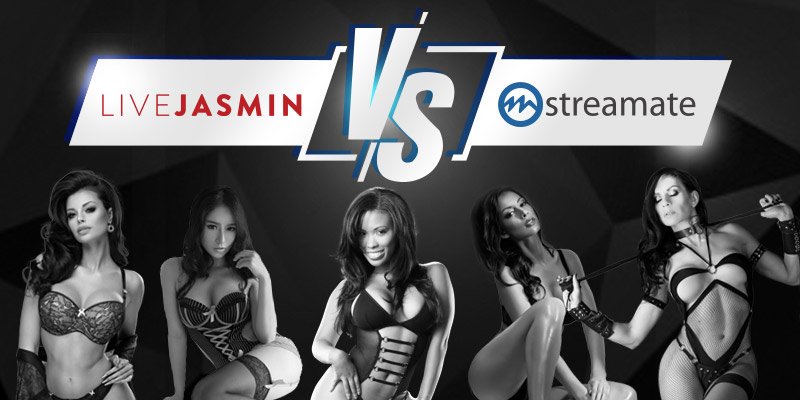 LiveJasmin or Streamate, which is the better cam site? Rather than judge them based on personal opinions, we've taken a look at the two live video chat platforms in a side-by-side comparison of features, model selection and of course value-for-money private shows. This way you can see at a glance which platform comes out on top in a variety of aspects so you can choose for yourself.
Overall, when the scoring was tallied, LiveJasmin wins this face-off. However, there's one big difference that has to be taken into consideration, at Streamate you can find free tip-fueled X-rated cam shows and at LiveJasmin all the hardcore fun and games is strictly pay-for-play. In any case, read on to see why LiveJasmin is the better choice and in which aspects Streamate beats the queen of premium cam sites.
---
LiveJasmin vs. Streamate – The Comparisons
What is Best About LiveJasmin?
It's not easy for any webcam site to go head-to-head with LiveJasmin. The platform is regarded by the live video chat industry and adult cam viewers worldwide as the leading premium cam site. It takes the crown as the undisputed queen of luxury cam sites due in no small part to its incomparable selection of A-list cam models of all genders. Whether you're looking for a stunning girl, a seductive transgender or a hot guy, LiveJasmin's performers are the best of the best in every category, genre and niche.
There are usually around 1,000 hosts streaming live at any time, most of whom use HD streams and many, especially the girls, are hosting shows from beautifully designed and professionally lit studio settings. All the models are semi-pro and professional cam hosts, and many post exclusive videos and photos which can be purchased for a small fee. The site also provides a user-friendly mobile platform where you can enjoy a 1on1 cam show on your smartphone, tablet or mobile device. For more information, check out our full LiveJasmin review.
LiveJasmin Pros
Exclusive models
Almost all rooms use HD feeds
Extremely user-friendly
Free credits & promotional deals
---
What is Best About Streamate?
Streamate is a premium cam site with around 2,000 models streaming day and night. Even though it is a premium platform, there are usually a number of performers who push the limits in their free cam chat rooms, some even stripping off a short time. However, what makes Streamate stand apart from other comparable live video chat sites is its payment method. Unlike other live video chat sites, you don't need to purchase credits or tokens prior to starting a private show or giving the performer a tip of appreciation. You simply link your profile to a payment method and then are charged as you go. This means you don't have to worry about running out of credits/tokens mid-show.
When it comes to model selection, there are performers of all genders and inclinations. The site also attracts hosts you won't find at other cam sites. For example, models with a love of piercings and extreme body modifications, body-builders, extreme dominatrices and submissives, as well as few verified international porn-stars. Many hosts feature X-rated photos and videos that can be purchased. To find out more, check out our full Streamate review.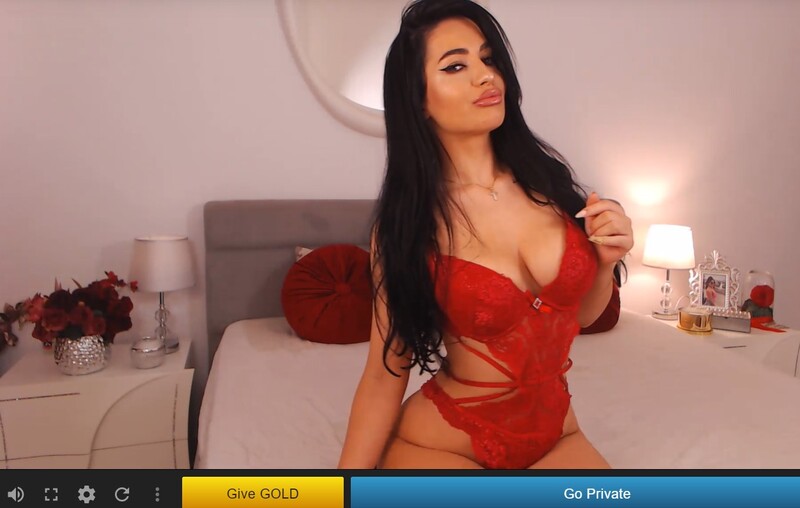 Streamate Pros
Pay-you-go system
Celebrity performers
HD & a few 4K feeds
User-friendly interface
---
LiveJasmin vs. Streamate – Free Content & Options
Both of the sites offer free chat rooms, where you don't even need to be a member in order to go into a model's room and see what she's up to. However at LiveJasmin, after 5 minutes you'll be booted out of the room. All you need to do is click on the photo again and re-enter. It's just a way of encouraging viewers to invite the performer into a paid-for session.
At Streamate on the other hand, you won't be booted out and occasionally you'll even find a host who'll flash or get kinky if you tip her. At LiveJasmin, some models do have tip menus, but these are for tame acts such as a dancing, blowing a kiss and showing off their twerking skills.
When it comes to free content, Streamate outranks LiveJasmin. With a bit of searching around you can come across a chat room at Streamate where the action is more the type of free shows you'll find at the freemium cam sites.
---
LiveJasmin vs. Streamate – Premium Content
When it comes to looking at LiveJasmin versus Streamate for premium content such as paid show, semi-private multi-viewer sessions and purchasable content, both sites score the same except when it comes to buying XXX media. The majority of models at LiveJasmin are professional glamor girls with almost all offering photos and X-rated videos you can watch for a small fee. At Streamate, the hosts tend to be semi-pros, with a few professional stars and a smaller percentage of them offer adult-themed photos and videos clips for sale.
Another bonus at LiveJasmin is that their top performers appear exclusively on the site. You won't find them hosting live video chat shows at any other premium cam site,  or even freemium one for that matter. And, in some cases, you can only purchase their naughty snapshots and videos via their chat room at LiveJasmin.
Both sites let you send models private messages as opposed to messaging them via the chat box in their open cam rooms where other viewers can see what you're writing. 
---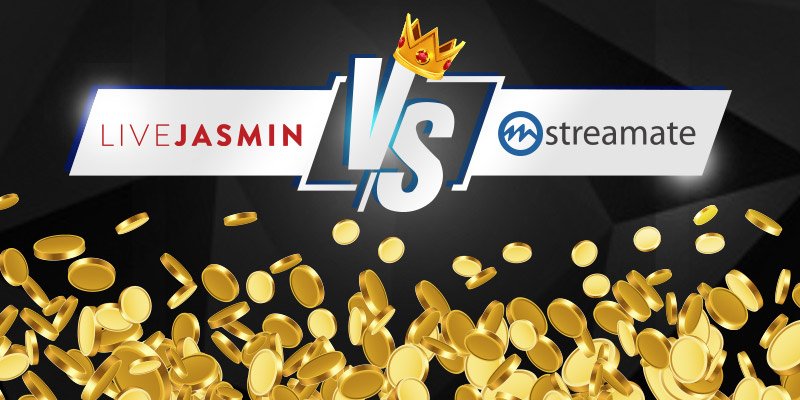 LiveJasmin vs. Streamate – Pricing Comparisons
When it comes paying and payment methods, there's a big difference between the two sites. But, to be fair, it's a bit like comparing apples to oranges. At LiveJasmin you have to purchase credits from the site. LiveJasmin's credits are their form of currency. Every paid-for action requires a number of credits.
At Streamate, when you register at the site you're required to link your profile to a payment method such as a credit card or PayPal account. Then every paid-for action, whether it's tipping the performer, paying for a private show or purchasing access to exclusive photos or videos is charged to your chosen payment method. 
The table below shows the price per credit at LiveJasmin based on purchasing the best-value package offered. In addition, it shows that you get free extra credits depending on the value of the package you purchase. The more you spend at one time at LiveJasmin on a credit package, the more free credits you'll get comped.
| | | | | |
| --- | --- | --- | --- | --- |
| Cam Site | Site Currency | Price Per 1 Currency | Best Package | Bonus |
| LiveJasmin | Credits | $1.13 | $178.99 | Yes |
| Streamate | Pay-as-you-go | — | None | No |
For ease-of-use, Streamate is certainly much simpler than LiveJasmin, but there are downsides. It's easy to loose track of how much you're spending at Streamate. And, if you have a low daily maximum spend, you can quickly reach your maximum allowed daily limit and can't do anything more on the platform until the next 24 hour period kicks in. Also, there are no bonus credit giveaways as there are no credits to buy.
While it may not appear at first glance to be one of the cheapest cam sites, if you take into consideration the free credits you get at LiveJasmin when you register a credit card as a payment method, as well as the discounts on package you can get, LiveJasmin can be one of the most cost-effective cam sites around.
---
LiveJasmin vs. Streamate – Private Chat Show Rates
| | | | |
| --- | --- | --- | --- |
| Cam Site | Average Private Chat Rate | Cheapest Private Chat Rate | Activating Cam2Cam in Privates |
| LiveJasmin | $2.40 a minute | $1.20 a minute | An additional fee is required |
| Streamate | $2.70 a minute | $1.00 a minute | Some models charge extra |
On average, LiveJasmin is slightly cheaper compared to Streamate when it comes to the price per-minute of a private show.  However, and this is a big however, it depends on what type of private cam show you prefer. All the models at LiveJasmin charge extra if you want to open your cam and make it a face-to-face cam session. At Streamate the performers can choose to include cam2cam in their rates. But, don't be fooled in thinking this is a better deal. Those who do have C2C inclusive show rates, tend to charge a higher price off the bat. Those with cheaper rates most often hike the price up if you to open your cam in a show.
There are several ways though to save money at LiveJasmin. For example, some LiveJasmin models host time-limited sales. You can always find a number of cam girls and boys at LiveJasmin who have slashed their rates to the site's minimum cost of $1.20 a minute. This can result in 50-80% discount off their regular prices. For all the ways to save money at LiveJasmin click on the link. 
The only real discounts you'll get at Streamate is if you book a block session. These are private sessions you book ahead of time for as set length. The model usually applies a discount based on the length of show you reserve and commit to. The longer the sessions, the larger the reduction off her private show rates.
---
LiveJasmin vs. Streamate – Show Types
When it comes to show types, both offer the same types of shows.
At LiveJasmin you can choose between:
Non-nude free cam chat shows
Multi-viewer semi-private shows (VIP Shows) — Book a ticket ahead of time for access to a model's time-limited XXX live cam show.
Private Shows
Sneak Peek (25 seconds voyeur's peek at a model giving a private show, but you have no ability to interact with the performer)
At Streamate the selection of shows is comparable to LiveJasmin with:
Free cam chat (some nudity in some rooms)
Multi-viewer semi-private shows (Gold Shows) — Book a ticket ahead of time for access to a model's time-limited XXX live cam show.
Private Shows
Exclusive Shows (more expensive than a private show. No other viewers can pay to look at what the model's is up to in the show).
Spy Show (cheaper per-minute rates where you have voyeur's peek at a model giving a private show, but you have no ability to interact with the performer)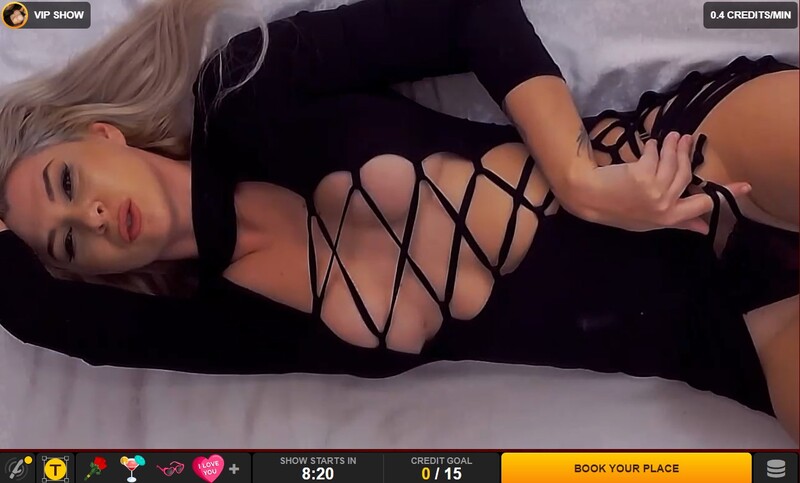 ---
LiveJasmin vs. Streamate – Chat Room Features
In a side-by-side analysis of LiveJasmin chat rooms compared to Streamate chat rooms, LiveJasmin leaves Streamate in its wake offering a huge range of additional clearly labeled and easy-to-use features. On the left of the live video screen are small icons that when selected let you open your cam on LiveJasmin, use your microphone, send a gift. turn on her vibratory and even request a specific according to the options listed on her tip menu. All these features cost extra.
Free features include the option to watch the video in a theater mode or full-screen view, adjust the volume, read her bio and lower the resolution to SD.
At Streamate for a small fee you request an act as listed in the performer's menu (but you must already have registered a payment method with the site in order just to see the menu and the costs).
For free you can also change the view to a full-screen view, adjust the broadcasting feed and chat to the model using the message box but also change the settings so only the performer sees your message and it's hidden from other viewers.
---
LiveJasmin vs. Streamate – Webcam Streaming Quality
When it comes to the differences between the two live video chat platform's streaming quality, there isn't really much of one. Both sites are HD heavy and both sites have a few SD rooms, but very few. Almost all of LiveJasmin's broadcasts are using 720P (HD). However you will still find a few SD streams and you won't find any HD plus feeds.
On the other hand, at Streamate you'll find a large number of HD+ (1080p) feed, but you'll also find a number of SD streams.
---
LiveJasmin vs. Streamate – The Webcam Models
All of LiveJasmin's are skilled and experienced cam models. It's their selection of drop-dead gorgeous girls, guys and transgenders that for many, is the reason they go to LiveJasmin and only LiveJasmin. They cover every genre and fetish though there are only a handful of 35+ performers.
At Streamate the model selection is more varied for good and bad. You can find celebrity porn-stars streaming next to amateur at-home performers. What Streamate does have that LiveJasmin doesn't are a range of hosts not often found at premium cam sites including a variety of matures and even GILFS, as well as non-typical models with unique body attributes.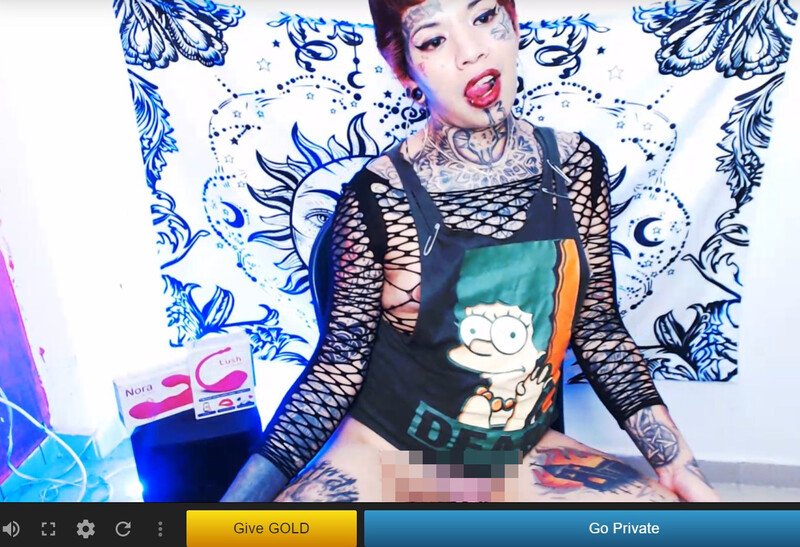 ---
LiveJasmin vs. Streamate – User Features
When it comes to offering users' incentives to spend more time on the site in the form of a customer loyalty club, neither LiveJasmin or Streamate fares particularly well. Streamate doesn't have any form of membership club, whereas LiveJasmin has their Club Elite. At LiveJasmin, the more credits you spend, the higher in the club you climb.
The cumulative rewards in the ranks are not enticing or even practical. Maybe just the fact that if the model sees you're in a high level, she knows you're a spender and will probably give you her attention the minute you enter her chat room.
---
LiveJasmin vs. Streamate – Search Tools
Both sites provide a well-developed and user-friendly search engine. On the homepage they both offer a main menu with a range of categories, as well as separate group searches defining models by the region they're broadcasting from, the languages they speak and their ethnicity. They also both have a search bar where you can type in yourself what search tag you're looking for and if it's listed in the performer's bio, the photo will appear.
However, once again LiveJasmin trumps Streamate as LiveJasmin also lets you narrow your results based on a host's private show prices. At Streamate, you won't know how much the host charges until you click on the large Go Private button in her chat rooms.
---
LiveJasmin vs. Streamate – Help & Support
LiveJasmin has 24/7 customer support with a variety of ways in which a user can contact the platform. In addition to an online live chat representative, there's also a phone number and email listed. Streamate also offers a online customer service center, in addition to a phone call center and e-mail option. When it comes to which is better for customer service — LiveJasmin or Streamate — they scored the same.
---
Our Final Verdict
When all the scores where added up based on the criteria detailed above, LiveJasmin was the clear winner in the battle of the two premium cam sites. However, if you want a pay-as-you-go system, Streamate is going to be your pick. It has a great selection of models, HD streams and a very user-friendly interface.
On the other hand, LiveJasmin's unsurpassed choice of leading cam models, free credit giveaways, promo deals, HD cam rooms and impeccable customer support make it not only a better choice, but ultimately wins our 'Premium Cam Site' of the year award.
Back to full list of sex cam blog posts
---