LiveJasmin Versus Chaturbate - Which Is Better and Why?
Last Updated
September 02, 2022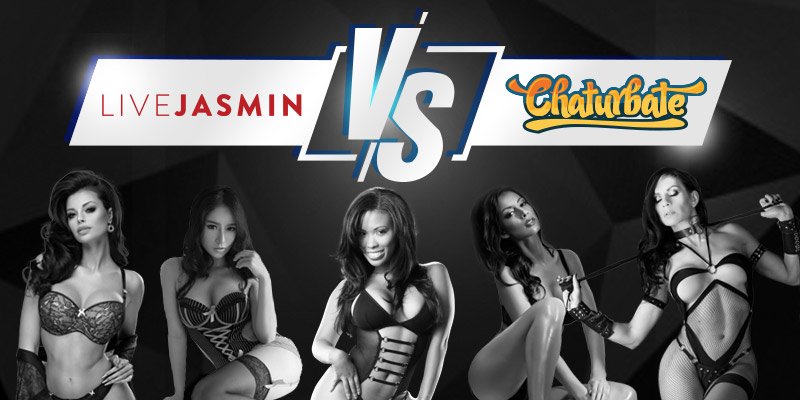 There are two main types of adult webcam sites, premium and freemium, and while they both offer a wide variety of live cam experiences with beautiful models, they take very different approaches. Premium web cam sites, including LiveJasmin, have a collection of professional models who enjoy performing privately for visitors. The models on Chaturbate, and other freemium cam sites, tend to be more on the amateur side, who enjoy giving live performances in open chat rooms for tips.
Our team compiled research on both LiveJasmin and Chaturbate, including the selection of available models, HD-quality video streams, private chat pricing, available show types, and other features offered by each webcam platform. We had no difficulty in naming LiveJasmin the better webcam site overall, though there are particular qualities that may make Chaturbate more appealing to many fans of live cams. Check out how each stacks up against the other so that you can determine which is the best cam site based on your needs and wants.
---
LiveJasmin vs. Chaturbate – The Comparisons
---
What is Best About LiveJasmin?
One visit to LiveJasmin will demonstrate the appeal of premium cam sites. All of the cam models stream in excellent HD-quality video and the chat interface is fun to use. A majority of the cam rooms are filled with frisky females playing solo, but some rooms also host couples. Those on the hunt for gorgeous gay cam models or seductive trans cams will find everything they need on LiveJasmin.
The mobile version of the site is smooth and lets you enjoy perfect high-definition live cam streams on your mobile or tablet. All of the features that you enjoy on the desktop site are also available on the mobile version. Those looking for interactive shows will appreciate how easy it is to cam2cam on LiveJasmin. More detailed information about this top-notch premium web cam site can be found on our full LiveJasmin review.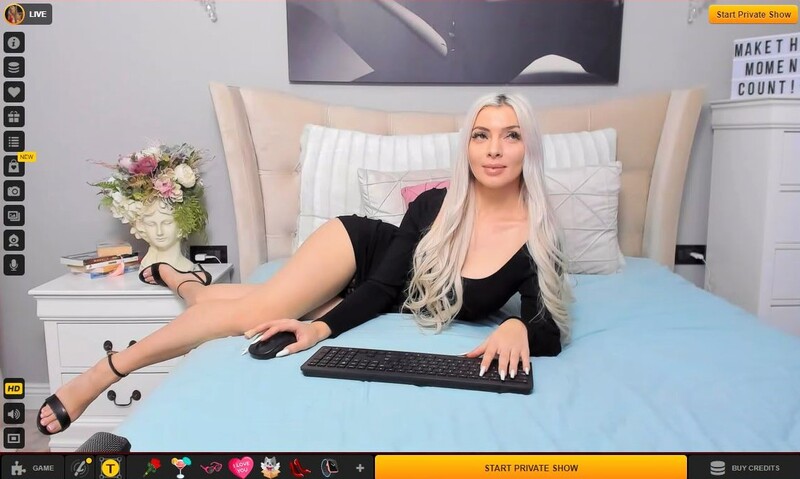 LiveJasmin Pros
Crisp HD & HQ video streams
Professional cam models
Excellent search filters
Mobile cam2cam
---
What is Best About Chaturbate?
Chaturbate offers visitors the world's largest collection of live cam chat rooms with well over 4,000 models available 24/7, with peak times sometimes doubling that. While women make up the vast majority of cam rooms here, the site hosts an abundance of male cam models, transgender performers, and a number of fun couples. Many of these cam rooms stream solid HD-quality video. With so many options available here, there is truly a cam model available for every taste and preference. If you want to share your webcam, cam2cam on Chaturbate works well from desktop devices, even in free chat rooms.
The mobile site on Chaturbate is functional and features crisp and clear images, putting everything you need to enjoy chatting or watching the free performance right from your tablet or mobile phone. This site makes it easy to chat with your cam babe using the mobile interface, though many viewers prefer to sit back and watch the free live porn shows without interacting much. To learn more of the particular benefits of this site, be sure to check out our full Chaturbate review.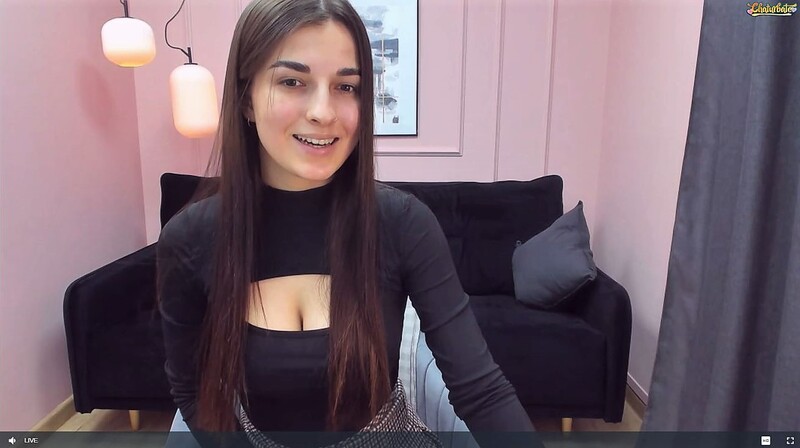 Chaturbate Pros
Always over 4,000 live cams available
Unlimited viewing of free nude shows
Many HD-quality video streams
Big variety of amateur cam models
---
LiveJasmin vs. Chaturbate – Free Content & Options
The open chat areas on LiveJasmin are fun, but a bit tame. The premium pics and vids available are of magnificent quality, in stellar HD, and tend to be racy, but not fully explicit. The free content available on Chaturbate ranges from HD to standard definition. The models' profile pages are where you can find this content, and LiveJasmin's format makes it easier to access. Chaturbate models often have goofy animations and odd font colors that make it harder to navigate.
Chaturbate offers a dazzling variety of free nude shows, while LiveJasmin does not. Freemium cam sites like Chaturbate always strive to offer lots of models performing for tips in free chat rooms. While both platforms have free chat areas, sprinkled with a fine collection of no-charge pics and vids, the massive assortment of free nude shows offered on Chaturbate makes it the clear winner in this category.
---
LiveJasmin vs. Chaturbate – Premium Content
As one of the best premium cam sites, LiveJasmin models are all available for private chat sessions in HD. If she's currently in a private session, you can also peruse her profile where you can purchase premium pics and videos that she has uploaded. It's also easy to start a conversation with any of these primo cam babes by sending them a private message.
There are many hot Chaturbate models available for private sessions, but some cam girls here simply do not offer them at all. If one of these glorious cam models catches your eye in open chat and you want to go into a private session, be prepared that you might have to wait until she has completed her live show. You can send her a private message and buy any of her available not-suitable-for-work photos and videos.
In terms of premium content, LiveJasmin is easily the winner, as you can join any of the cam models in private chat.
---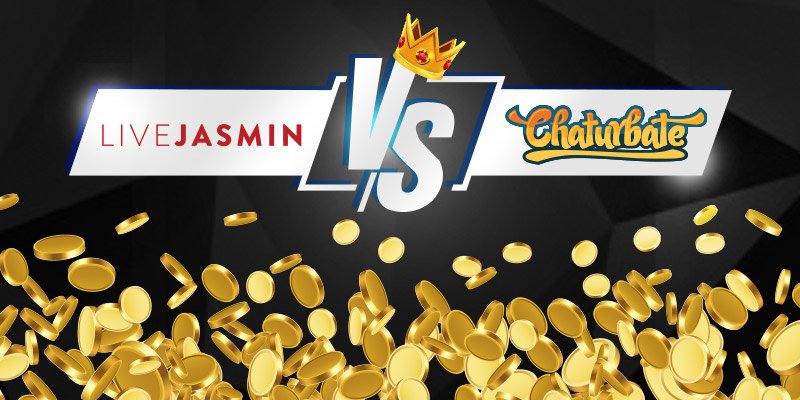 LiveJasmin vs. Chaturbate – Pricing Comparisons
In order to send tips, purchase content, or start a private cam session on either LiveJasmin or Chaturbate, you will need to purchase credits or tokens for you to use as currency. Both sites offer quick links on their homepage or from any of the chat rooms. Purchasing larger packages generally provides you with a better deal. The table below shows the cheapest price per credit/token based on purchasing the best value package offered by each of the platforms. There is also an indication if the site includes any free credits or tokens with your purchase.
| | | | | |
| --- | --- | --- | --- | --- |
| Cam Site | Site Currency | Price Per 1 Currency | Best Package | Bonus |
| LiveJasmin | Credits | $1.13 | $178.99 | Yes |
| Chaturbate | Tokens | $0.09 | $79.99 | Yes |
Looking to enjoy premium content? Once you've got currency to use, you are fully able to choose your own adventure. Head over to the models' profile pages on either platform and purchase some stunningly beautiful and erotic photos and videos. Want to send a private message to your cam girl crush? It is easy to do on both sites when you have credits or tokens in your account.
If free live porn performances featuring rowdy amateurs are your scene, Chaturbate has a near-endless supply of open shows driven by tips. If you're looking for a private session, though, you will likely have to wait until she's finished her performance. And, if you're looking to enjoy a cam2cam session you are only able to do so from your desktop device, as the mobile platform on Chaturbate simply does not support it.
LiveJasmin models are not going to give you free nude performances, but they are available for private chat sessions in HD with no waiting. The mobile platform on LiveJasmin is among the best to be found anywhere, and includes the ability to go fully interactive in a cam2cam session, giving the premium site the edge here. Best of all? LiveJasmin and Chaturbate are among the cheapest cam sites.
---
LiveJasmin vs. Chaturbate – Private Chat Show Rates
| | | | |
| --- | --- | --- | --- |
| Cam Site | Average Private Chat Rate | Cheapest Private Chat Rate | Activating Cam2Cam in Privates |
| LiveJasmin | $2.40 a minute | $1.20 a minute | An additional fee is required |
| Chaturbate | $3.00 a minute | $0.60 a minute | Some models charge extra |
While not all of the horny amateurs on Chaturbate are willing to head into private chat sessions, the ones who do are often quite wild and fetish friendly. If you want to really turn up the heat, many of these naughty babes will join you for a private cam session, and even let you share your webcam at no additional charge. There are some models though who do not offer cam2cam, or who offer it but at a much higher rate per minute.
All of the luscious cam models on LiveJasmin offer private cam shows, and they list what they are willing to do in their profiles. While the open and free chat areas on LiveJasmin are a bit bland, these performers are total pros and offer some of the hottest live porn on the web. You can also go cam2cam with any of them, on desktop or mobile, though you will have to pay extra for this feature. That can increase your cost, but there are also a number of ways to save money on LiveJasmin.
As the average private chat rate on both sites is so similar, this category is too close to call one site the clear victor.
---
LiveJasmin vs. Chaturbate – Show Types
Chaturbate offers two basic types of performances - Free Shows and Private Shows, and also gives you Spy Show options, where you can pull back the curtain and enjoy a model's private performance for much less than her standard private rate. When in a Spy Show, you have no interaction with the model as these shows are simply aiming to satisfy your voyeuristic desires.
In addition to Free Chat, Private Chat, and Spy Shows, many models on LiveJasmin offer Mobile Live Shows, where they broadcast from their mobile devices. VIP Shows allow models to sell multiple discounted seats to eager fans in order that they may enjoy live private shows in high definition. Performers frequently post Stories on the site, and these pics and vids operate like stories found on social media platforms like Instagram.
For sheer diversity of show offerings, LiveJasmin is easily the winner in this category.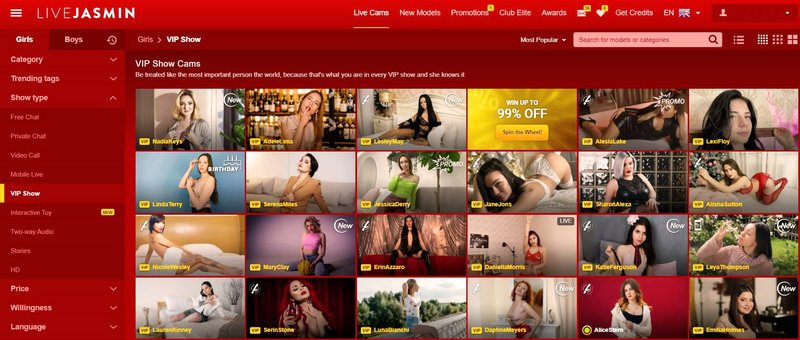 ---
LiveJasmin vs. Chaturbate – Chat Room Features
The chat rooms on LiveJasmin are in solid HD, and the interface lets you send messages and tips, start a private show, add her to your favorites, share your webcam and microphone for a c2c session, grab a screenshot during your private show, and even activate any sex toy she may have inserted. Best of all, the models list what they will do in private chat shows, so there's no wondering if she'll do what you really want to see.
Chaturbate's chat rooms are functional, if a bit basic. You can send a private message to your performer, join their fan club, request a private show, start a cam2cam session, and adjust the web player's size to your own personal preference. You will likely need to ask the model what she will do in a private session, as many do not list this info in their profiles. You can also head into a c2c session on desktop devices.
In this category, given the number of helpful features offered, LiveJasmin's chat rooms beat those found on Chaturbate.
---
LiveJasmin vs. Chaturbate – Webcam Streaming Quality
LiveJasmin models all stream in solid HD at 720p, and the video feed comes through with beautiful clarity. The homepage features professional quality images which switch to live video feeds when you hover over them.
Chaturbate has many rooms in HD, and even some at 4K UHD, but also some cam rooms streaming in medium to high quality standard definition. It is easy to have Chaturbate prioritize the HD web cam rooms. Simply select the settings icon and then select Prioritize HD cam rooms. Voila, you are all set.
LiveJasmin takes the W in this category, as all of the site's premium cam models stream in HD.

---
LiveJasmin vs. Chaturbate – The Webcam Models
LiveJasmin averages around 1,100 HD top-tier beauties at all hours of the day and night for your live cam pleasure. Most of these live web cam rooms feature female performers, but there are also about 100 or so trans cam models as well as dozens of gorgeous gay and straight men in HD. These live porn performers are total pros, and they put on excellent shows. Those who crave amateur cams will be better served elsewhere, as all of these rooms highlight premium talent with gorgeous women, trans, and gay cams.
Chaturbate's collection of cam models averages about 4,000, though peak hours will see up to a whopping 8,000 live web cam streams. Many of these cam performers are amateur women streaming in excellent HD quality, all the way up to 4K UHD. On the other end of the spectrum are cam models on the site who are still streaming in solid quality standard definition. Those looking for exotic and erotic gay cams and tranny cams will definitely enjoy the hundreds of seductive gay and trans performers.
Both LiveJasmin and Chaturbate offer a delightful collection of cam babes, trans models and gay cam guys. All of the talented performers on LiveJasmin are streaming in HD at 720p, but the site does not have full HD or 4K UHD cam streams. Chaturbate has many 1080p or even better live cams, but it also still has a number of high quality standard definition cams. If you're craving amateur cams in perfect clarity at 4K UHD, Chaturbate's the only choice here. The pros and cons on each site balance each other out here, making this category a draw.
---
LiveJasmin vs. Chaturbate – User Features
LiveJasmin, as reigning ruler of all premium web cams lets first time visitors get a glimpse of the beautiful cam models. Registering as a user lets you chat with any of these HD cam beauties as there is no charge to join them in open chat shows. The homepage is a snap to navigate, and the site does not have annoying pop-up ads.
Chaturbate offers wild amateur shows of all sorts for anyone who visits the site, but you'll need to register to really interact in open or private web cam sessions. If you want a sleeker homepage format, private messaging for models, anon tipping, and more, you will need to select their Premium Membership level at $19.95 a month. The amateur hotties on Chaturbate also offer fan clubs and joining can save you cash.
Registration on both sites lets you interact with the cam models and send messages, though Chaturbate's performers may not be super interested in chatting with you until you start tipping, especially if they are giving a free show. As the LiveJasmin layout is free from ads, with no payment required, it is the better site for user features.
---
LiveJasmin vs. Chaturbate – Search Tools
The LiveJasmin search tools are extensive and work perfectly. Selecting the advanced filter button that appears immediately to the right of the search bar lets you select as many of the listed filters as you want. There are dedicated filters which let you choose Show Type, Willingness, Language, Age, Appearance and much more.
Searching through thousands of cam streams on Chaturbate is possible through two main routes. The first is via the settings icon, where you can choose to promote HD cams, and include or exclude models from different continents, and this works very well. The other method of searching here is done via Chaturbate's available hashtags, which can be hit and miss, as the models have free rein to tag themselves.
The sort and search options on LiveJasmin are light years ahead of those found on Chaturbate, as they let you swiftly find the cam models you have been craving in mere seconds. LiveJasmin dominates and is the clear victor in this category.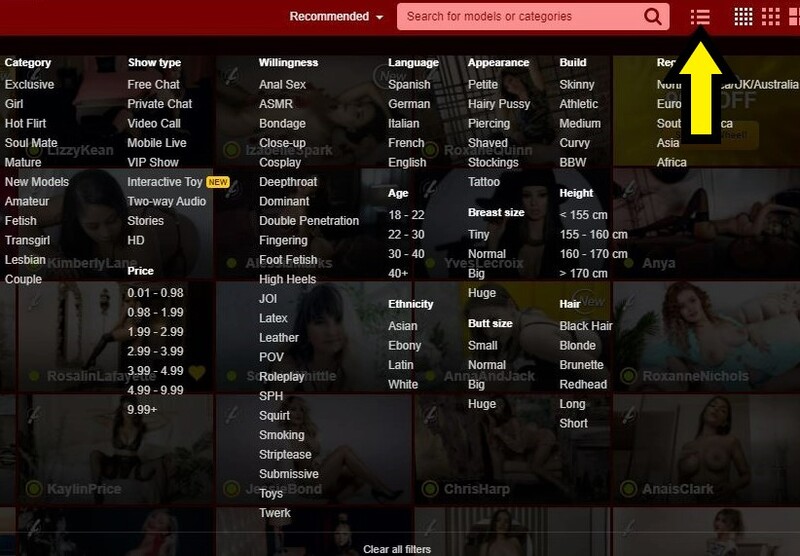 ---
LiveJasmin vs. Chaturbate – Help & Support
LiveJasmin's FAQ section is extensive and likely will answer any of your questions, and you also have access to live chat help 24/7, as well as phone and email support. The customer service department is exceptionally responsive and will do anything within their power to solve any issue you may have in short order.
There is also a large Chaturbate FAQ section, which does address the most common issues facing users, but if you need additional support your only option is to send an email and wait for a response.
While most users will likely never need help and support from either of these two popular web cam sites, LiveJasmin offers full support in a number of formats, making it the clear winner here.
---
Our Final Verdict
Chaturbate is an excellent cam site for those who enjoy amateur cam models, many in high-def quality, who delight in entertaining you via live performances in open chat rooms where tips drive the action. But in this battle between the two webcam platforms, LiveJasmin emerges as the clear victor. To give credit where it is due, Chaturbate has a mind-blowing number of live porn performers of all shapes and sizes streaming live every hour of every day. Many of these cam models are also available for excellent one-on-one private cam sessions.
If you are looking for pro-level performers, all of whom stream in HD and are available for a number of show types, including exquisite private sessions where models can get as wild as they like, LiveJasmin is simply unbeatable.The excellent streaming video quality on LiveJasmin is perhaps matched only by the charming and talented premium cam models and the site's sleek ad-free layout and kick-ass mobile platform. Chaturbate's mobile site does not support cam2cam at all. The LiveJasmin mobile site, in contrast, has brilliant high definition cam streams with stunning cam models. The chat rooms look great, models stream in excellent quality HD, and you can even join your favorite cam performer in an interactive mobile cam2cam session.
Back to full list of sex cam blog posts
---