LiveJasmin Versus Flirt4Free - Which Is Better and Why?
Last Updated
September 16, 2022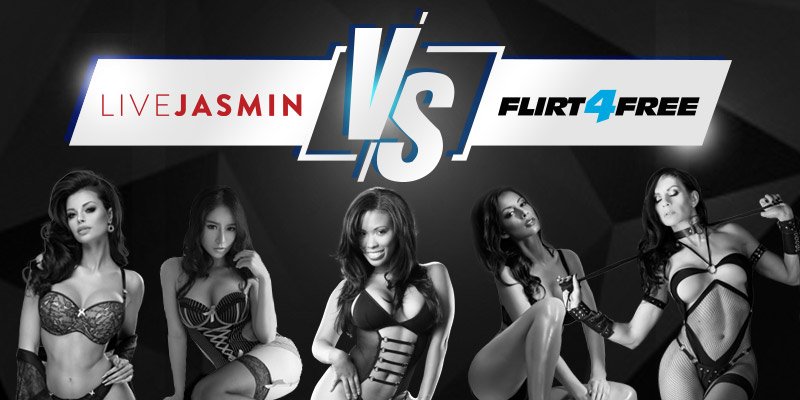 In a webcam face-off between LiveJasmin and Flirt4Free, which one comes out on top as the better live video chat site for you? If you've been to both platforms you probably already know that they're both very similar sites. To say one is better than the other at first glance may seem a tough call. However, when you compare the features they offer such as different types of NSFW shows, prices of a private X-rated cam session, selection of models and the streaming quality of the cam rooms, one site scores higher overall.
Read on to find out why LiveJasmin grabbed the title as the better cam site in a side-by-side comparison knock-out match with Flirt4Free. Its user-friendly interface, great selection of easy-to-find genres and niches, wide selection of hosts including a group of models who are so in-demand that they only perform at LiveJasmin, as well as great promos and deals that can score you a luxury show with a leading model for very little money make it our top pick in this comparison of cam sites.
---
LiveJasmin vs. Flirt4Free – The Comparisons
---
What is Best About LiveJasmin?
Time and time again LiveJasmin wins awards across the board as the best overall cam site. So in all fairness, going head-to-head with this cam site stand-out star isn't an easy task. For several years, LiveJasmin has been voted by cam viewers and the professionals in the adult entertainment industry as the queen of premium live video chat sites. It attracts top models in every category and genre, almost offer HD broadcasts.
Many of the 1,000 rooms you'll find streaming live shows 24/7, are professionally designed and lit studio settings which make sure no matter where the performer stands (or lays), the audience gets the best view possible. If you're looking for a partner for a spicier act, there are also themed rooms equipped with every type of toy and accessory needed for a range of kinkier genres.
In addition to the gorgeous girls, there's also a premium selection of transgender models, couples, guys and lesbians. Many of the performers also post X-rated media highlighting their sexual prowess and stunning figures. Most of their media is available exclusively at LiveJasmin. To find out more about the site read our full review of LiveJasmin.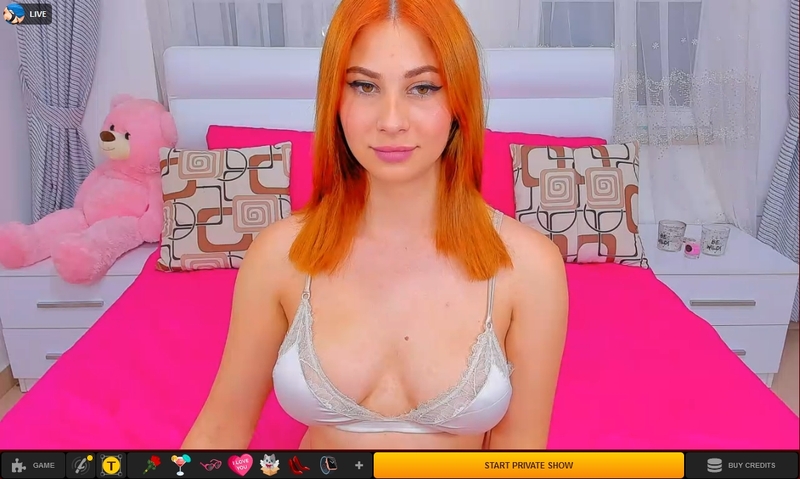 LiveJasmin Pros
Selection of exclusive top cam models
HD streaming live video chat rooms
Extremely user-friendly
Promo deals & free credits
---
What is Best About Flirt4Free?
Flirt4Free is a premium live cam site with around 600 rooms streaming live shows 24/7. Even though it is a premium site, which means all the hosts are screened by the site before being allowed to call themselves a Flirt4Free host, unlike other premium video chat platforms, at Flirt4Free the hosts are allowed to host time-limited free-to-enter X-rated shows where they'll carry out a range of kinky acts if the audience cumulatively tips enough.
Most of the performers use HD streams, though every now and then you'll come across a model who's still using an SD feed to broadcast their sexy acts. One stand-out feature at Flirt4Free is its dedicated microsite to all things kinky. Here you can browse though over 50 types of fetishes, many of which you won't find listed at comparable platforms. Many of the popular girls, guys and transgenders who stream at the site host Fan Clubs which provide members a range of benefits including free access to recorded shows, as well as discounts off private C2C sessions with them.
Prices can get high for a 1on1 cam date with a model but there are a range of discounts and deals which can reduce the sometimes expensive per-minute rates. For more information and comprehensive look at all the site has to offer read our full Flirt4Free review.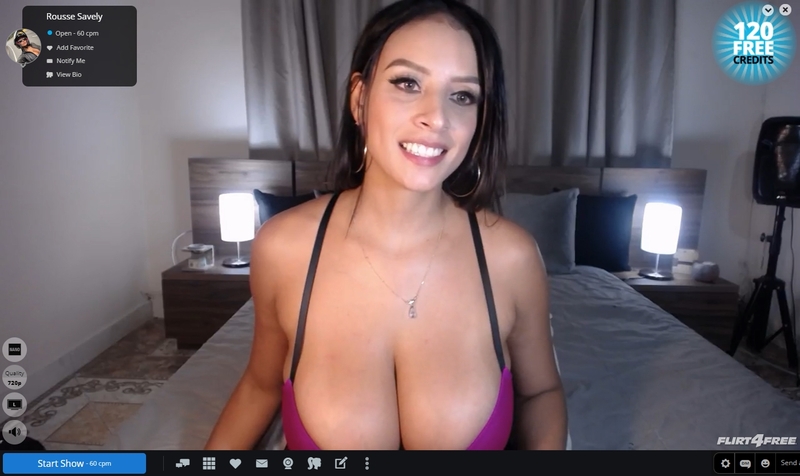 Flirt4Free Pros
Private rates include C2C & 2-way audio
Free time-limited XXX shows
Benefical VIP membership club
Recordable private shows
---
LiveJasmin vs. Flirt4Free – Free Content & Options
Both sites let you enter a cam room without paying or even signing up to the site as a member. However, at LiveJasmin, after a few minutes the video feed is blocked with a call-up asking you to register in order to enter the room. You don't need to do this. You can just go out of the room and re-enter but the same thing will happen until you are logged in as a user.
At Flirt4Free you have unlimited viewing as both a non-registered user and a logged-in user. The other difference is that at Flirt4Free some of the models host free X-rated shows where they hang-out naked and perform a range of XXX acts. However, the audience doesn't determine what the model will do and the shows are limited in time. None of LiveJasmin's models will get kinky in their free rooms, though occassionally you will see a flash of nudity.
For free NSFW cam shows, freemium cam sites are the best option, though at these platforms the quality of the models vary as anyone can open a cam feed and call themselves a webcam host. Both sites feature images and videos posted by models which are available to view for free, though all the freely accessible images and short videos are PG. Some of LiveJasmin's performers also host a story where you can see what they're up to on and off cam. These images are free though aren't necessarily non-PG.
When it comes to the battle between both sites of free X-rated content, Flirt4Free wins as it does feature open cam rooms with nudity and sexual acts taking place.
---
LiveJasmin vs. Flirt4Free – Premium Content
Premium cam sites by their very nature are more exclusive and this means the top models make sure all the fun and games are strictly relegated to a pay-for-play session. When it comes to exclusivity, LiveJasmin has a group of models who are so in-demand that they perform exclusively on LiveJasmin, Flirt4Free's hosts are also top performers, but there is no category for performers who only appear at the site.
Both sites offer premium content you can unlock and view for a small fee, these include XXX images and videos created by the performer and posted in their personal chat room area. Flirt4Free also allows you to buy access to a host's recorded live cam show. These are sessions they've performed for other users which you can then access once the show is over.
At LiveJasmin, even if a model is offline, many provide texting or phone numbers you can call for a small premium and sext with them even if they're not in front of a camera. This feature literally puts a model at your disposal 24/7. You can't beat that or the professionalism and glamour of the paid-for content waiting for you in most of LiveJasmin's cam chat rooms.
---
LiveJasmin vs. Flirt4Free – Pricing Comparisons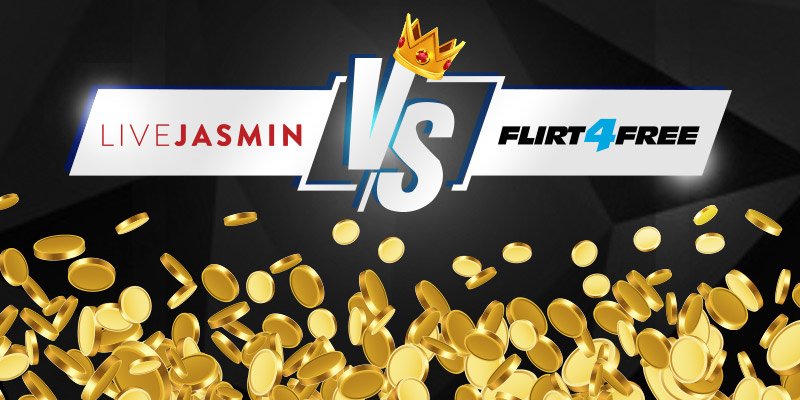 At most cam sites, prices for a show or access to additional X-rated content aren't listed in dollars or your local currency, but rather in the form of how many credits/tokens are required. Most premium cam sites use credits as their form of site currency. Before you can use any paid-for feature you'll need to purchase credits.The following table shows the cheapest price per credit based on purchasing the best value package offered, as well as if the platform gives bonus credits with your purchase. The more credits you purchase in one bundle, the less you pay per credit. If you purchase the minimum bundle of credits, the price you pay per credit is slightly higher.
| | | | | |
| --- | --- | --- | --- | --- |
| Cam Site | Site Currency | Price Per 1 Currency | Best Package | Bonus |
| LiveJasmin | Credits | $1.13 | $49.99 | Yes |
| Flirt4Free | Credits | $0.09 | $159.99 | Yes |
When it comes to scoring deals both LiveJasmin and Flirt4Free have a range of money-saving features. However, LiveJasmin's deals are site-wide whereas most of Flirt4Free's discounts and promos are applicable to an individual model. At LiveJasmin for example, you can get a reduced price on a credit bundle prior to purchasing it by using the platform's promotional wheel. The wheel brings up a discount each time so you can then determine how much you can save on your purchase. Check out our full round-up of money-saving tips at LiveJasmin for more cost-cutting tips.
Flirt4Free though is also no slouch when it comes to scoring a bargain. Our list of money-saving hacks at Flirt4Free shows you all the ways you can reduce prices at the site.
If you're looking for a cut-price private cam show, both sites offer extremely competitive rates. In fact when both LiveJasmin and Flirt4Free go head-to-head with other live video chat platforms, they come out in the top 3 of the cheapest cam sites around. LiveJasmin though takes the lead over Flirt4Free when it comes to which of the two offers the best-value-for-money shows and features.
---
LiveJasmin vs. Flirt4Free – Private Chat Show Rates
| | | | |
| --- | --- | --- | --- |
| Cam Site | Average Private Chat Rate | Cheapest Private Chat Rate | Activating Cam2Cam in Privates |
| LiveJasmin | $2.40 a minute | $1.20 a minute | An additional fee is required |
| Flirt4Free | $3.00 a minute | $0.50 a minute | Included in private chat rate |
Within a minute of entering a private chat show with one of LIveJasmin's stunning models and you'll see for yourself why this site constantly takes the podium as the best premium live video chat site. Almost every room streams in HD, the girls know exactly how to position themselves so you get the best view and close-up of their money makers and if they tag themselves as practitioners of a specific fetish or kink, it means they're not only willing to do in an exclusive show, but they're skilled in and experienced in the genre and have all the outfits and/or equipment needed to compliment their performance.
At Flirt4Free the quantity of models is smaller than at LiveJasmin but this doesn't mean they're any less skilled or attractive. Private chat shows at Flirt4Free average out more than LiveJasmin, but include cam2cam in the price, whereas at LiveJasmin this costs an extra fee. The cheapest private show rates at Flirt4Free are incredible bargains, but only if the room is streaming in HD. Some of the lower-priced shows come through in SD, which makes for a rather blurry and grainy picture.
When it comes to which has the best value-for-money shows, it comes down to your particular preferences. If you want to open your cam for a C2C show, then Flirt4Free has more cost-effective rates. For a user-friendly guide, our review on how to cam2cam at Flirt4Free shows you in simple steps how to start a face-to-face NSFW cam date at the site. If you're not a fan of c2c then LiveJasmin's rates are unbeatable. You're not paying for something you don't want to use and if your change your mind and want to open your cam, you simply pay a per-minute premium.
---
LiveJasmin vs. Flirt4Free – Show Types
When it comes to show types, both webcam platforms offer a variety of options.
At LiveJasmin you can choose between:
Free cam chat shows (no nudity or XXX activity)
VIP Shows (multi-viewer semi-private shows). You reserve a space ahead of time by paying a set entry fee. These shows last a pre-determined amount of time and feature full on nudity in a live porn performance
Private Shows. You and the model only
Video Call. If a model is offline some will let you video call them for a per-minute fee - prices for these tend to be higher than their regular private show rates and not all hosts offer this
Sneak Peek. A 25 seconds peek into a private show the model is performing for another viewer. You can see her performance but you can't interact with the host)
At Flirt4Free you can choose between:
Free cam chat shows (no nudity or XXX activity)
Party Chat Shows. Free to enter NSFW sessions where the audience tips in order for the host to perform a specific X-rated act
Private Shows. You and the model only
Voyeur Mode. A peek into a private show the host is engaged in for another viewer. You are a silent onlooker with no ability to communicate with the host.
Group Chat.The performer sets a target of the number of credits they want for a show of a pre-determined time. Viewers can pledge any amount of credits above the minimum to help meet the goal. If the goal is reached, the show begins and all those who have paid get access to the event.
LiveJasmin once again scores higher and that's purely down to the ability to contact a model and enjoy some live video chat action even if the performer isn't streaming live on the site.
---
LiveJasmin vs. Flirt4Free – Chat Room Features
When it comes to which site has the best features that you can use to personalize your chat room experience, LiveJasmin wins with a knock-out punch. Almost all rooms let you view in either HD or SD. You can alter the live video feed window's size and view in a theater screen mode or even full-screen layout. Some LiveJasmin hosts also feature a 'request an action' tip menu. This shows you how many credits you need to tip them in their open room to see them to carry out a somewhat tame teaser act such as spanking or providing a cam close-up of a part of their body. There are also the usual features such as the tool to open your cam in a private show, use your microphone and of course pull up the host's bio so you you can see what they get up to once the private show curtain comes down.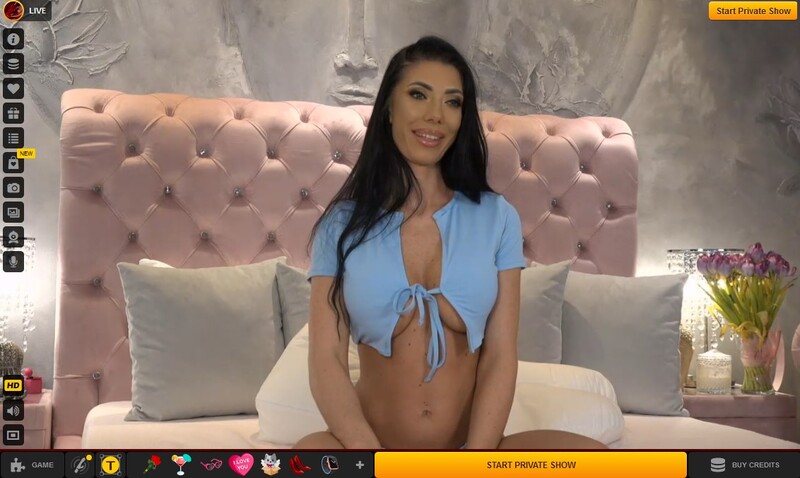 Flirt4Free also lets you alter the video window to a theater mode and full-screen view, as well as accessing the model's bio to see which kinks they're into. However, there's no real option to adjust the streaming quality of the show from SD to HD (or vice-versa) and there's no tip menu.
---
LiveJasmin vs. Flirt4Free – Webcam Streaming Quality
When it comes to battle of broadcasts, LiveJasmin wins without a shot fired. Almost every room here is using an HD feed to stream their shows. Occasionally you'll stumble across a room which maxes out at superior SD, but these rooms appear less and less. If your bandwidth is struggling to stream an HD live feed, you can always alter the quality to SD by simply clicking on the HD button which appears on the bottom left of any video chat window.
Flirt4Free on the other hand is a mixed bag between HD and SD feeds. You can select HD as a requirement in your search results, but often non-HD rooms sneak in. At LiveJasmin it takes just a second or two of hovering over a snapshot until a real-time feed comes through as a thumbnail. You can do the same at Flirt4Free, but it usually takes more than a second or two, sometimes you'll hovering over the photo for 10-15 seconds until a live feed appears.
---
LiveJasmin vs. Flirt4Free – The Webcam Models
Considering LiveJasmin has double the number of models streaming 24/7 compared to Flirt4Free, it's no surprise which site is the best when it comes to finding the perfect partner. While you can find a mixture of genders at both sites (girls, guys, trans and couples and 3somes), it's LiveJasmin's gorgeous girls who truly take the cam cake. The only type of host you won't find there is a true amateur performer. In order to be granted the title of a LiveJasmin host you need to be skilled and experienced.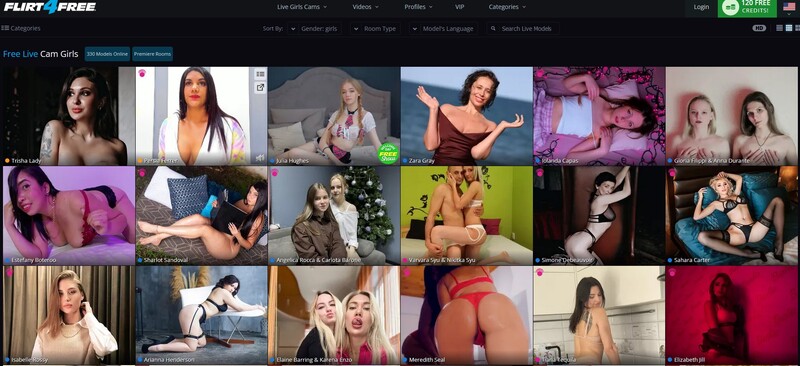 However, that's not saying that Flirt4Free's performers are any less talented and stunning. It's just that you have a smaller selection to choose from.
---
LiveJasmin vs. Flirt4Free – User Features
When it comes to user features such model's exclusive Fan Clubs, and a site wide VIP membership program, Flirt4Free streaks ahead of LiveJasmin. Flirt4Free has one of the best VIP membership programs of any cam site. Subscribers to the premium membership package get enhanced private messaging, free access to exclusive VIP live porn feature shows, unlimited free access to models' recorded shows, as well the option to view up to 200 free XXX videos every day. The site also gives its VIP members promotional offerings and deals not available to other users, as well as a monthly gift of 150 credits ($15.00 value) every month.
If there's a model at Flirt4Free you're a fan of, chances are she may host her own Fan Club. Members to a model's Fan Club get discounts off private chat rates, special deals and access to XXX content which is only available to Fan Club members.
LiveJasmin on the other hand doesn't have a premium membership package. Instead, all users are enrolled in the platform's loyalty program called Club Elite. You rise in the rankings of Club Elite by purchasing and spending credits at the site. However, there are no practical benefits to the club, no matter which status you reach.
---
LiveJasmin vs. Flirt4Free – Search Tools
When it comes to user-friendliness in navigating the site, LiveJasmin is pretty much the best there is. The homepage menu bar lets you sort by private show price, ethnicity of the model, the languages they speak, hair color, body type and of course the fetishes they practice. If you use the advanced search tool, you can add several tags on to your search so only those rooms ticking every preference appear. And, if the search terms aren't offered in the menus, then by simply typing in the word in the search bar, you'll find any hosts who have used in their bios.
Flirt4Free also has a well-defined homepage menu of categories but if offers far few categories and you can't layer on search results.
---
LiveJasmin vs. Flirt4Free – Help & Support
In this final comparison, it's a tie as to which has better customer support and response. LiveJasmin has 24/7 customer support in the form of an online live chat representative, there's also a phone number and email listed for customer questions and issues. If there's a question about LiveJasmin not answered above, check out our LiveJasmin FAQ page. Flirt4Free also has a 24/7 online live chat customer service center, as well as a comprehensive FAQ section and an email address. For more information about Flirt4Free, our article covering all for Flirt4Free's FAQ provides answers to a range of most commonly asked questions.
---
Our Final Verdict
Flirt4Free is one of the top premium cam sites. In fact, if it was to go head-to-head with most other live video chat sites, it probably would come out on top. Even though it has a limited number of live shows (around 500) to choose from, all of them are hosted by semi-pro and professional cam models, many of whom are fetish experts. Flirt4Free's private show rates are inclusive of cam2cam and if you take advantage of one of the several Flirt4Free deals, you can score a great price for an exclusive cam show starring a gorgeous model.
However, in most aspects of XXX camming, LiveJasmin is simply an unbeatable live video chat site. The settings are superb and reflect the high-quality of performance you're pretty much guaranteed from every model. HD streaming is a given and the user-interface makes it a cinch in finding the perfect partner.
Back to full list of sex cam blog posts
---