How to Go Cam2Cam on MyFreeCams
Last Updated
September 11, 2022
MyFreeCams is a great freemium cam site where you can actually cam2cam without entering a private show. We rank it as one of the best sites for cam2cam. That being said, the MyFreeCams user interface is quite messy and you can't just cam2cam at the click of a button. That's why, we are actually going to explain how to cam2cam on MyFreeCams.
If you aren't already a premium member, you will first need to register and buy yourself some tokens. Free users can't cam2cam.
You will then need to click to Start My Webcam, which can be found under your personal Menu. We marked the spot with a red box in the image below. It's at the very bottom right corner. Cam2cam is only possible on computers. If you want to cam2cam on the phone, that option is only available on LiveJasmin and CamSoda.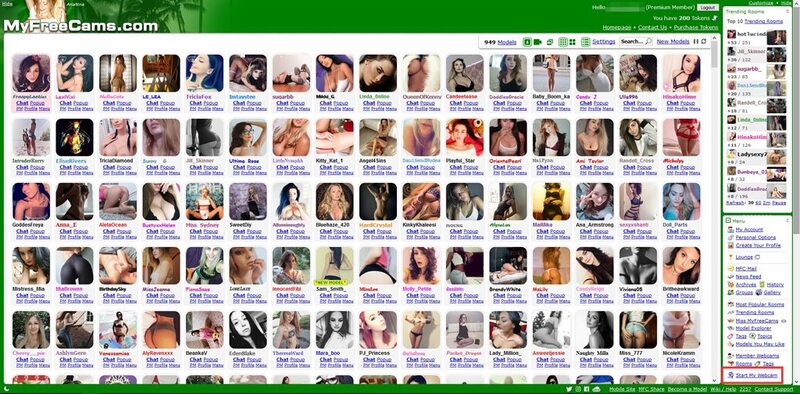 Once you have clicked to start your webcam, you will be presented with a new window for confirmation. Before activating your webcam, we highly recommend adjusting your Webcam Privacy Settings. This is where you can control who gets to watch you. For the sake of privacy, we advise setting it so that Only Models can watch you. You can also set it so that anyone can join your chat room, but we seriously don't advise jacking off in a room that a random user could screenshot.
You will then need to click to agree to all the rules before your webcam is activated.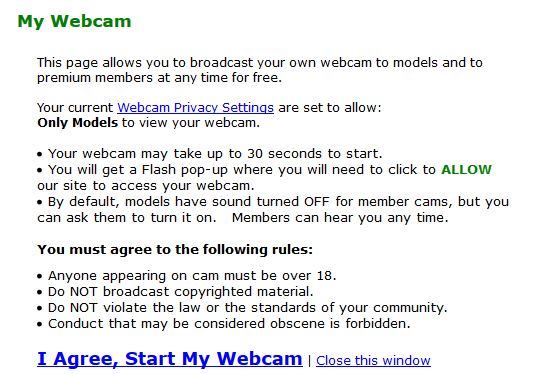 Once you have agreed, a new page will open up, and you will need to give MyFreeCams access to your camera and microphone. If you don't already have Adobe Flash Player installed, you will need to install it before you can proceed. While the notification window might state that you might be recorded, that is a warning from Adobe, not MyFreeCams.
According to the MyFreeCams Terms & Conditions, "We are committed to protecting the privacy of our valued members. When your webcam is active, only the people that you have allowed access are able to watch you. Even the administrators of this website do NOT have access to your webcam and you are not being recorded."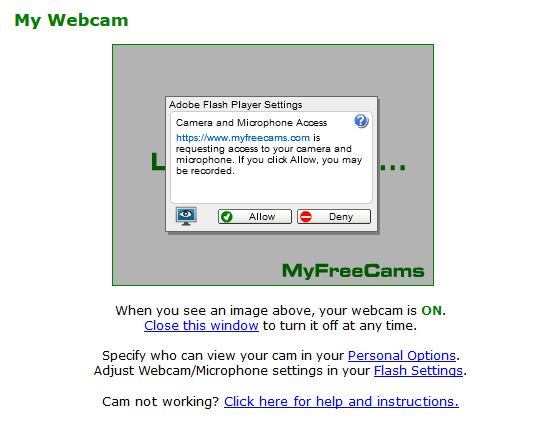 Once your webcam has started up, this is what your room will look like. The smiley face won't be there.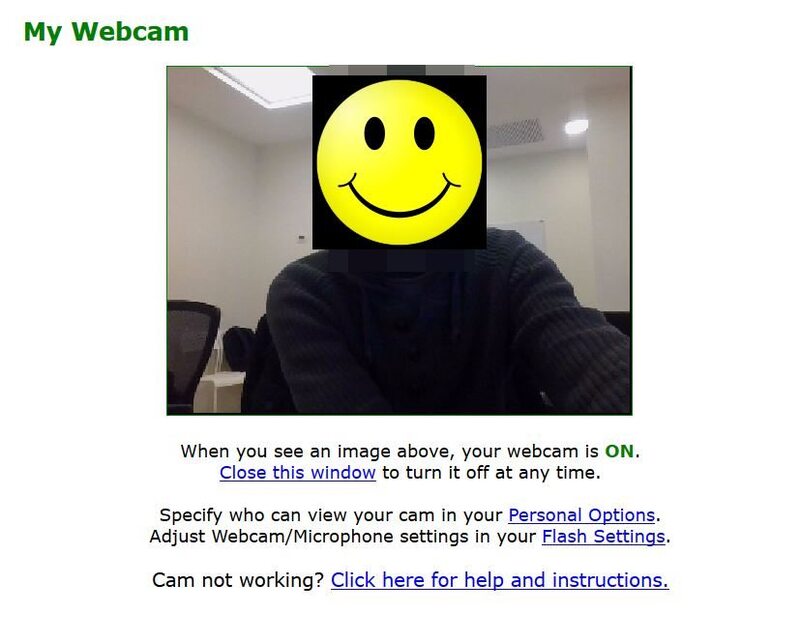 As you have probably been able to tell by now, your cam room must operate in a separate window. Cam2cam on MyFreeCams doesn't work like on sites like LiveJasmin and ImLive, where you just start a show and click a button to activate your webcam.
Instead, the c2c on MyFreeCams works more like the c2c on Chaturbate. You keep the window open in a different tab and the cam girl you paid for cam2cam enters it. You don't really get a notification, but you can check the Webcam Viewers to see who is watching you. Webcam Viewers is a new tab that opens up in the Menu once someone starts watching your webcam.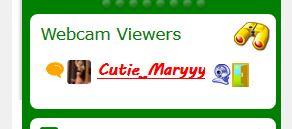 MyFreecams is quite luck based. When you tip, you don't really know how long the model will watch you for. Some girls charge 15 tokens for cam2cam, while others charge 200. In either case, you don't know if she will watch you till completion, or if she will just be taking a peek. If you are in a private show, then she will likely watch till the end, but if you are in a free show, it will likely depend on how much extra you tip and how attractive you are.
As a broadcaster, your microphone is always on. For models that are watching users, the window opens up muted. You will need to request from the model to unmute you, if you want her to be able to hear your voice.
Generally speaking, if you are in a free chat room and you ask her to unmute you, it's kind of unlikely that your request will be fulfilled. Most of the girls on MyFreeCams only unmute users in private chats, otherwise everyone sitting in the free chat room would be able to hear you.
When you are in a models room and have your webcam on, there is a webcam icon next to your name. This icon is an indicator that your webcam is on. The girls you are watching will also be able to see this icon. When you pay for a girl to watch you on cam, all she needs to do is click on that icon, and your window will open up on her screen.
The complicated about thing MyFreeCams and cam2cam, is figuring out who really offers it. Since it isn't included in private shows, you will find that some girls give it for free during privates, while other charge extra for it. In general, if you are expecting a free cam2cam show you are being unrealistic, most of the babes will demand a tribute to even peek at you.
You can use the search function to look for c2c, cam2cam, webcam2cam, and other relevant terms, but you shouldn't feel limited. You can enter any cam room and ask.
Conclusion
Go to your personal menu and click on Start My Webcam.
Adjust your privacy settings and click to agree.
Allow Adobe Flash Player to access your webcam.
Find a cam girl that offers cam2cam and tip her to join your room. We recommend writing c2c/cam2cam in the tip note.
Back to full list of sex cam blog posts
---