1436
models are online now
As low as
$0.99
per minute
121SexCams Review - A Safe and Trusted Cam Site
Last Updated
September 14, 2022
Is 121SexCams Good?
A highly reliable and trusted cam site, 121SexCams is a giant in the sex chat industry, with over 12 years of experience with fulfilling people's deepest desires. It boasts a giant selection of HD cam rooms and sexy cam girls for relatively cheap prices. Above all, with millions of satisfied customers, 121SexCams is undeniably safe, secure and gratifying.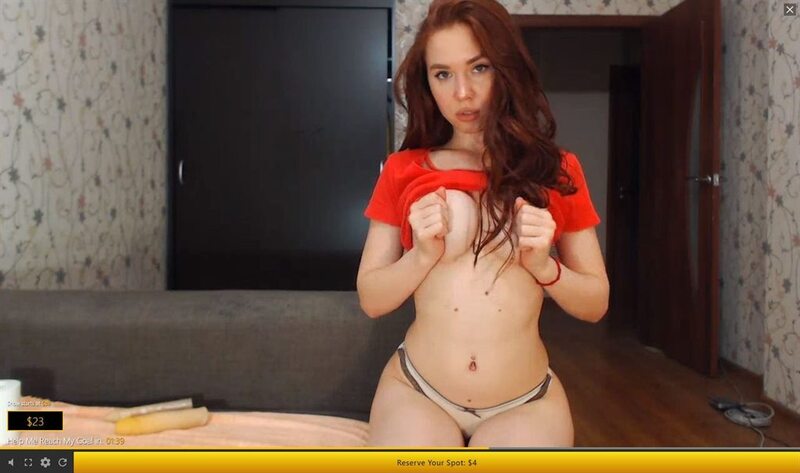 For most, a 121SexCams review won't even be necessary, but if you're one of the few who have yet to experience this giant of the industry, then we've got you covered. We've checked every nook and cranny of this veteran cam site to give you tips, tricks and suggestions on how to navigate it, save money when you're on it and overall, get the most bang for your buck.
Overview
From its presentation to its search and categorization features, 121SexCams is nothing but convenient. Once you are registered, you can turn on video preview for the cam rooms, which also includes audio preview as well, as easily explore the site. Cam rooms are clearly separated by show types for your convenience, and you even have the option to change the thumbnail size of the cam rooms and the number of them shown to better fit your screen.
The main downside of the 121SexCams site, is that it only lets you open one chat room at a time. Open more, and you'll be kicked out of any previous show you were watching. This may frustrate some who like to shop around a bunch before taking it to the next level with their chosen cutie, and in general just seems cheap.
On the more technical side of things, 121SexCams is an incredibly professional and secure webcam site. All your information is protected and encrypted, and this live chat site refrains from selling even anonymous details about you, such as your likes and preferences, to any third party like some other big websites such as Facebook do. It's also translated into 9 different languages for your convenience.

Ultimately, the fact that 121SexCams is veteran, is far from being the reason for it being such a trusted cam site. It treats its customers well and provides them with all the options they might want or need in order to have a satisfying experience.
Strengths & Weaknesses
Strengths
A veteran and trusted cam site
Discreet and secure payment
Fast and responsive customer support
Gold shows are an incredibly cheap solution for getting your sex cam fix
Cam2cam is available for free in every private chat
Prices of paid shows tend to be very reasonable
Weaknesses
Only one cam show may be opened at any given time
You are required to put valid payment details upon registration
Video resolution is capped at 720p, and models are not required to stream in HD
There aren't many payment options available
The Webcam Models
The Girls
There are more than 40,000 cam girls using the 121 Sex Cams platform. That, in itself, is more than impressive. The fact that about 1,400 of them are online on average at any given time, though, is jaw dropping. From white, black and Asian chicks to kinks and fetishes such as anal shows and mature cam babes, 121SexCams is not short on variety either.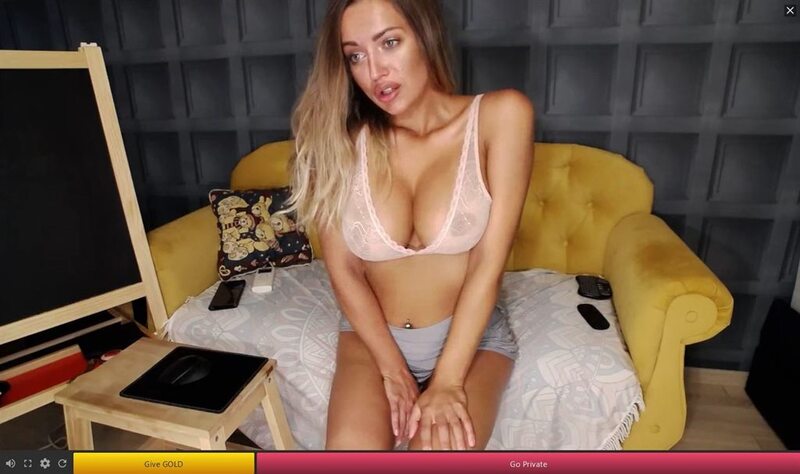 You'll also be surprised by how many of them are drop-dead gorgeous. Once you scroll through the pages and check out the less popular ones, your mind will be blown at how few viewers some of them have and how cheap their show is compared to how engaging and beautiful they are. If you're looking for anything specific, use the Advanced Search option at the top.
The Guys
121SexCams' selection of gay cams may not be the biggest, but it's not negligible either. 121SexCams has about 200 cam dudes online on average, and they vary from muscular studs to slender twinks. You can filter them by ethnicity, fetish or even if they're circumcised or uncut.
If men are your favored gender you should check our list of the best gay cam sites and choose one of them instead, as gays are not a 121SexCams specialty.
The Couples
121SexCams has a main category fully dedicated to couple and group cams, which unfortunately has only about 50 cams active at a time. The selection is sparse, and it's a shame, since the couples featured on 121SexCams are generally sexy, experienced and charge even less than solo shows on average.
There are better webcam sites for watching couples than 121SexCams, so if it is your preference - this may not be the most compatible cam site for your needs.
The Transgenders
121SexCams has a great selection of tranny cam shows, with about 100 online at any given minute. The majority of them are very feminine and the shows are pretty affordable. If you want to give 121SexCams' trannies a try, use the site's advanced search option to find them, or just look for them under the Transgirl category.
Model Profiles
Every model's cam room also serves as her profile page and, at times, even personal store.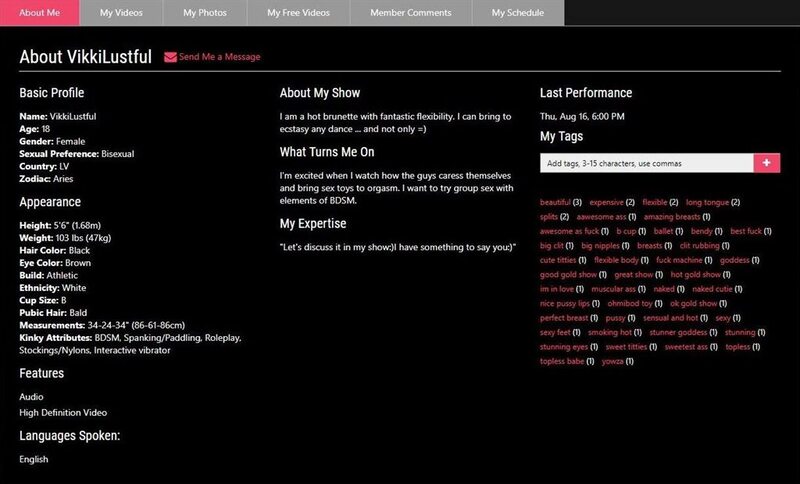 About Me - This section, as per usual with any cam site, lists basic information about the cam model, like: sexual preference, age, what she's willing to perform and so on.
My Videos - Some models shoot and sell videos of themselves in action, which their fans can purchase at a reasonable price. Any video purchased in this way is stored in the member's account and can be viewed at his leisure.
My Photos - Many models on 121SexCams keep a gallery of sexy shots on display. Access to this section is free to all users.
My Free Videos - Some cam babes opt to feature videos of themselves showing off their skills to get members into paid shows. These videos are free, but usually limited in length and selection.
Member Comments - Any member of 121 Sex Cams who has been in a paid show with a model has the ability to leave a review of the performer. Read these reviews to get a feel for the model before spending any of your hard earned money on her.
My Schedule - Some models have a schedule table, letting their fans keep track of when they perform.
Chat Options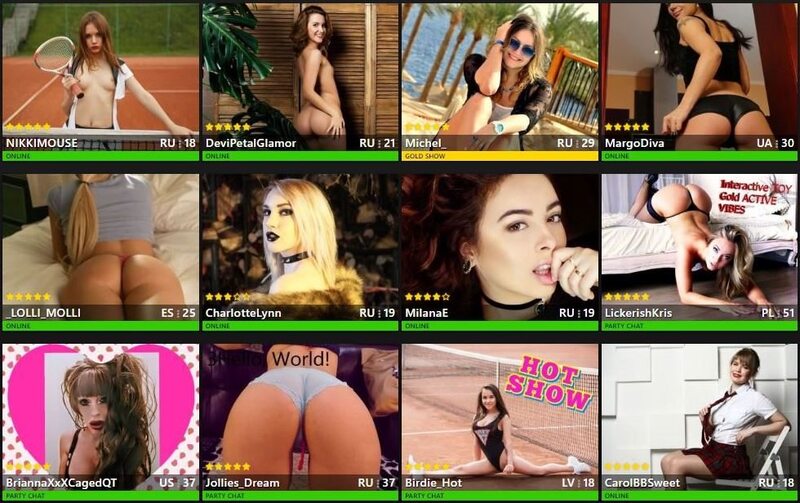 Free Video Chat

Any person who enters 121 Sex Cams is free to chat with any model he pleases, even before registering. 121SexCams also lets any member choose whether they want other members seeing what they write to the cam girl or not.
In general, 121SexCams encourages you to chat with the model and get a bit more familiar with her before taking her private, and the models here are congenial enough to make that a desirable experience.
Do note: some chat rooms are categorized as Party Chat rooms. This means nothing, and is basically just another live chat room. It is a leftover from the earlier days of the site and has yet to be removed as an option for the models to use.
Private Chat

Private chat on 121SexCams is split into two categories: Private and Exclusive. In Private, Only you can see and hear the model, but she may receive and send messages to other members in her room. In Exclusive, you are totally alone with her, and have her undivided attention.
Exclusive costs more than Private shows, but is usually preferable if the model is in high demand. If it's too heavy on your pocket though, our experience gained from writing this 121SexCams review has taught us that in most cases, going Private does just as well in fulfilling the need for an adult intimate experience.
In addition, cam2cam is freely provided in any paid show. So whether or not the model can receive messages from others or not, know that she'll only be able to watch you, should you choose to let her.
Gold Shows

While 121SexCams doesn't make use of site currencies like other cam sites do, there is a special currency used by the site, which is called Gold. You can purchase 1 gold per 1 unit of your country's currency (for example, 1 USD = 1 gold) to use for various things on the site, though mostly for tipping your favorite cam girls.
In this case, however, you can spend a nominal amount of gold predetermined by the model to purchase a seat in her show. What the model does in her show is determined by her in advance, and if a certain goal she has set is reached within a certain time frame, the show starts and you're free to enjoy it. If the goal is not reached, you are refunded the full amount of the buy-in.
This is very similar to ImLive's Candy Shows, and is a great option for those of us who love cheap group shows.
Discounted Block Sessions

Discounted block sessions allow you to book private and exclusive chats 15, 30, 45 or 60 minutes long at a discounted rate from the cam models' regular per-minute price. You will receive discounts of 5% off of 15-minute sessions, 10% off 30-minute sessions, 15% off 45-minute sessions and 20% off 60-minute sessions. If you continue the session after the show is complete, the session will continue at the discounted per-minute rate.
Block sessions are available only when your daily limit permits this feature (more on that later), and the model has chosen to offer them. If you have used up a partial amount of your daily limit, you will only be able to select block sessions that would not exceed your set limit.
Video Quality
Even though 121SexCams doesn't enforce a minimum video quality for its chat shows, their video resolution is generally great. The unfortunate thing is that 121SexCams limits the video resolution of its sex shows to 720p, not allowing any model to stream in 1080p. So, while 121SexCams' cam shows look great, their video quality is still surpassed by the likes of LiveJasmin and other top premium cam sites.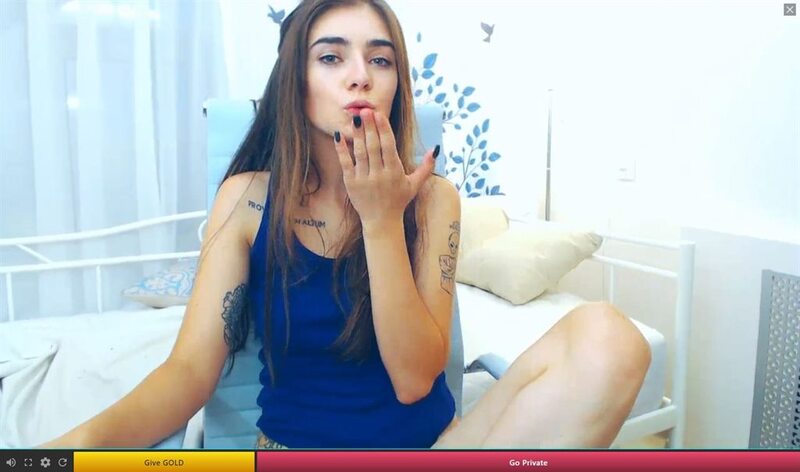 Still, 121SexCams obviously puts an emphasis on giving its members a great visual experience. Any cam room you go into will have the show on a wide screen and in full display, pushing the chat to the right and the top bar of the site out of view so as to not get in the way of the show. If you wish to lower the quality for bandwidth purposes, click the cog icon at the bottom.
121SexCams' Mobile Site
121 Sex Cams' mobile site works well enough to be a consideration in case you want some adult entertainment on the go. It loads fast and its video and audio is crystal clear even with an average internet connection.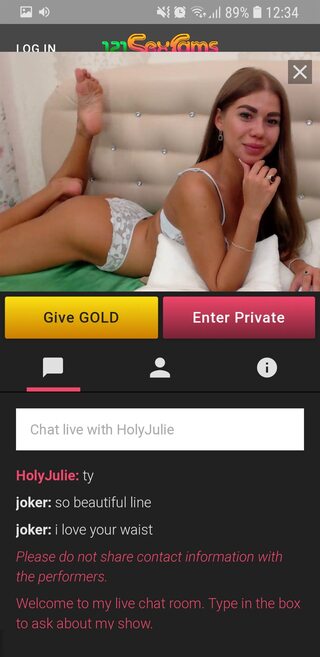 The problem with 121SexCams' mobile site is that the chat is sub-par. It doesn't have as many options as is available on its desktop site, and it obstructs your view of the screen every time you pull up the keyboard to type.
Overall it's good enough to rank among the best mobile cam sites, but doesn't measure up to the likes of CamSoda.
Additional Media
Aside from some models putting up videos of themselves for sale on their page, 121SexCams lacks any sort of additional media worth mentioning.
Registration on 121SexCams
Registering for 121SexCams could have been simpler, but the people behind it chose otherwise. To keep it as much of a secure adult chat site as they could, they chose to demand that each new member fills in valid payment info upon registration. This way they stop people from opening up fake accounts using bots, or from viewers just clogging up the site's bandwidth looking for free cam porn.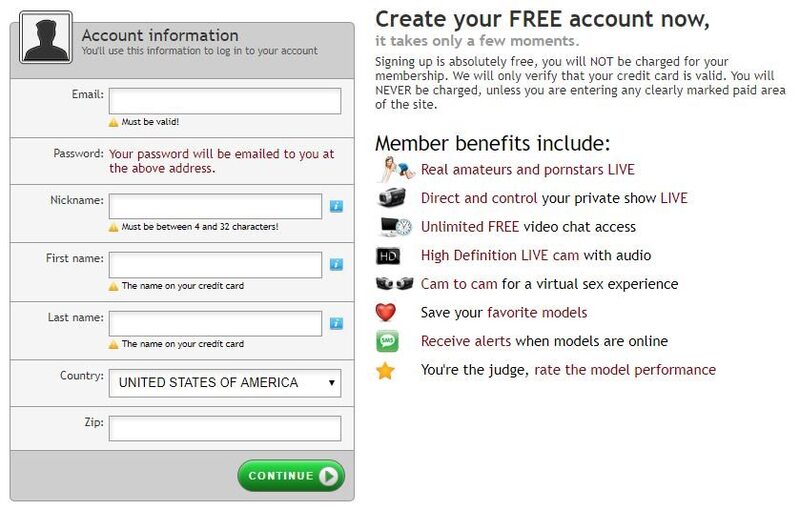 Some may be understandably put off by this. Fortunately, since the open chat is actually free and lets you converse with any model you so choose, this becomes less of an issue for anyone that's actually interested in a premium experience.
Prices on 121SexCams
121SexCams has no hidden fees or recurring payment. You shell out for what you want at the moment you want it, and you do it with full knowledge of how much things cost.
This secure webcam site makes a point to reassure you that any transaction you make will be secured by top-of-the-line encryption protocols and is discreet, appearing as a transaction with "ECHST.NET," a service that doesn't appear to be associated with any adult entertainment.
The prices are, generally speaking, low and affordable, calculating approximately $2.50 on average per minute for a private show. If you take just a bit of time to look though, you'll find a lot of cam babes that stream for as low as $0.99 a minute.
121SexCams, as mentioned before, doesn't use tokens or credits like many other cam sites do. Instead, you pay in your currency, and can therefore accurately work out how much you're spending. It just charges your card directly as any normal business would. On top of that, 121SexCams has a daily spending limit feature, applied to all new members, starting at $25.00 USD, which protects you from overspending.
Payment Methods
121 Sex Cams doesn't accept many payment types. your options are:
121SexCams may boast that it is a highly secure site, but that's not without its drawbacks. We're sure some of you will be going to wish 121SexCams would be a bit less stringent on security, just so more payment options could be available.
Customer Support
What sets 121SexCams apart from the rest is how it treats its customers. Aside from protecting you from burning through your savings by accident, this trusted cam site offers customer support that's fast and responsive to anyone who encounters any issues.

There's 24/7 live support for all, which you can find at the bottom of the page near "Need Assistance?" If you do open up a live chat session with a support representative, just make sure to keep writing so they don't end the chat and move on to someone else.
121SexCams has a FAQ page that covers most of the basics, so if you have any general queries check it out at the bottom of the page.
The Bottom Line
121 Sex Cams is a very popular and secure adult cam site. It is user-friendly, discreet and aces all the basics. It offers a plethora of cheap options for those of us not born into royalty, and knows how to treat its customers right by offering a great service and excellent customer support.
If you should take anything from this 121SexCams review, it's this: If you're in the market for a sex chat site with a ton of sexy cam girls who stream for cheap and in HD, you should look no further. Register, peruse and enjoy.
Back to the full list of Best Webcam Sites
---