ScoresLive.com Review – Play the Online Webcam Game & Score in Live Chat
ScoresLive doesn't exist anymore. It's just a reskin of ImLive.com, meaning this whole review is pretty much defunct. As such, we recommend going directly to ImLive, rather than going to ScoresLive. You might as well cut out the middle man where you can.
ScoresLive.com is a site different than other adult cam sites. Aside from the fact that they offer over 30,000 differect webcam model chat rooms, they also give you free credits when you sign up, just like Flirt4Free, but they also give you a low cost to try out their VIP subscription - $1 only for a 3-day VIP pass, and amazing live webcam shows of famous adult stars. It's true that you can find free credits on sites like Cams.com, but not all sites provide this adult club experience like Scores Live does.
You can watch anything you like on Scores Live, and that's why you simply must try it out, and why shouldn't you when you can get to try the product before you buy it!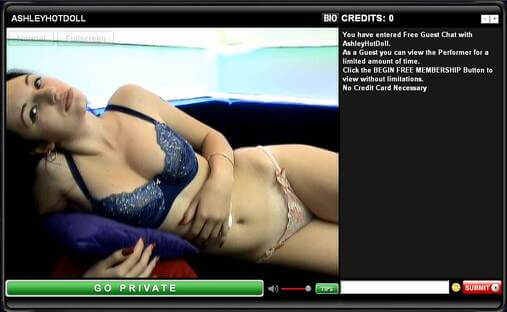 Free Live Video Chat
Know your way Around ScoresLive.com
ScoresLive.com is a busy cam streaming site that offers a look and feel that is much fresher than many other live adult cams sites around. While many offer a simple, uncluttered and plain colored layout, Scoreslive.com offers an active background and website that is entertaining and as easy on the eye as the real webcam chat models that are the stars.
The site itself runs on a layered menu processes. This is something else that breaks from the norm with this style of website. Free streaming cam sites like to use a three level menu structure, while Scores run with a single level system. A navigation grid and the main live adult cams grid and in between is an advert and in-site promotional links - for example, a countdown to the next live VIP show. The background is a club setting which is perfectly suited to the style of services that are being offered. It is a nice break from the usual set up and a unique selling point in its own right.
Navigation around the site is simple. The upper menu offers all of the stops that can be made. Clicking on them opens the link and takes users right to the location.
Home
Free Sign Up
Buy Credits
Live Models
Models Bios
FAQ
VIP Club
News – Latest Score.net news
Promo – Special Promotions being offered by the site
Support – Customer Support

Top Navigation
Scores Live also offers a great model search feature which allows you to find exactly what you are looking for instead of browsing through thousands of webcam star profiles. The search filters are opened by cilcking the "SEARCH MODELS BY" bar under the top navigation menu, and it allows you to filter the adult chatrooms by several of the women's criteria:
Body type
Ethnicity
Age
Chat status
Hair color
Activity category (they call it a Preference)


Cam Model Filters
What Kind of Shows do the Live Adult Cams Models Offer?
There are several different streaming cam shows available, and each type of show is clearly indicated on the main active model link. Each model advertises the style of show they are doing.
Free Chat – Free chat, open to members and guests alike
Voyeur Chat – A members only chat. Reduced price when compared to private chat but with more to see than private sessions.
Member Chat – Only registered members are allowed to chat.
In Private – A notice that the model is in a private chat with another member.
On Break – The cam is temporarily offline. The show is not over, just on a break.
What happens in a private and voyeur chat sessions is up to the discretion of the live adult cams host. Free cam streaming offers a softer approach.
With around 500 live adult cams models live at any one time there is always plenty of choice and a wide range of shows being offered that everybody will be able to find that special someone to spend their evening with.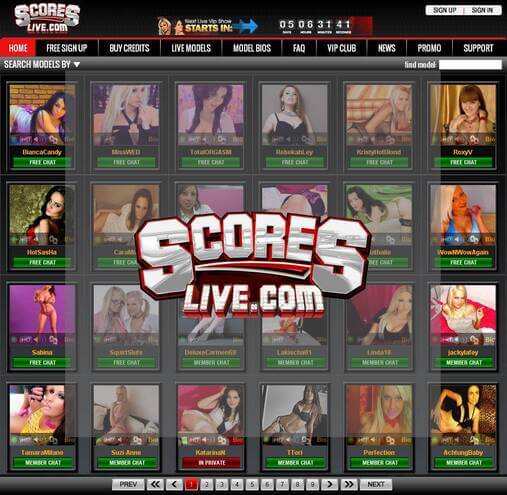 ScoresLive Homepage
Along with the show type, the models image links and a direct link to the models Bio. It is a rather interesting approach to have not only a link to the bio within the image link, but also to have an individual page that links through to the models bios. It is a great touch, because reading the biography of the ladies that star in the real webcam chat sessions is a great way to get to know them. It puts users in the best position for making the most of their time with the live adult cams stars.
Attention to Detail Makes for a Good Live Adult Cams Biography
A biography speaks volumes about an adult cams model, and puts users in a clear position with regards to what can and cannot be expected during a live show.
The biographies are split into four tabs.
About Me
Photos
Videos
Member Comments
The 'About Me' section is split into multiple sections and goes through a model's physical characteristics, likes, dislikes and also gives an overview of the stars free cam streaming schedule. The bio is presented in an easy to read layout that leaves no grey areas. Photos, videos and member comments are restricted sections, free sign up is required. A process in itself that is very simple.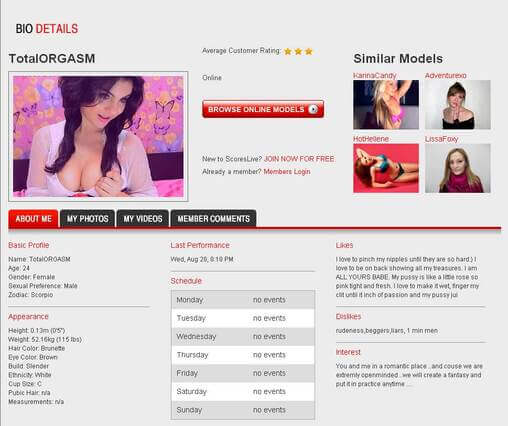 Model Bio Page
Creating your Free ScoresLive Account
Signing up is free and easy, only a username, email address and password are all the fields that are required. When creating a new account, users can get up to 100 credits free, which equates to a $10 monetary value, and furthermore, a 3-day free trial of a VIP membership. The free credits you receive can be used towards any billable items that the site has to offer, such as live cam shows, tipping the models, cam to cam with your favorite model, and more. It's important to note, that in order to receive the credits, you will have to provide a valid credit card number for age verification purposes, and after that you'll be able to enjoy your free ScoresLive credits. Another thing to keep in minf, is that there will be a "charge" of 00.00 on your credit card statement - so you get $0 for 100 credits - the best deal in town!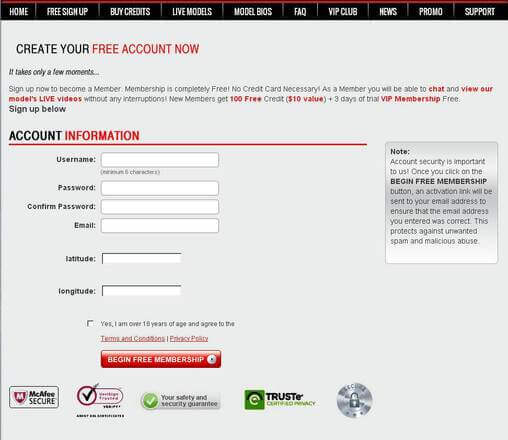 Free Signup
Funding your Account
Additional credits can be purchased in block amounts. A set exchange rate of Dollars to credits is used so that no matter where in the world a member is, the split is the same. Purchases of 750 credits or more come with up to 200 free credits. The available credit buying options are as follows:
250 Credits for $24.95
500 Credits for $49.95
750+50 Credits for $74.95
1000+100 Credits for $99.95
1500+200 Credits for $149.95
The best value for money is obtained, as one would expect, by buying the largest available package.
Scores Live Cost per Credit for Every Package

| | | |
| --- | --- | --- |
| Credits | Cost | Cost per Credit |
| 250 | $24.95 | $0.10 |
| 500 | $49.95 | $0.10 |
| 800 | $74.95 | $0.094 |
| 1100 | $99.95 | $0.091 |
| 1700 | $149.95 | $0.088 (Best Value!) |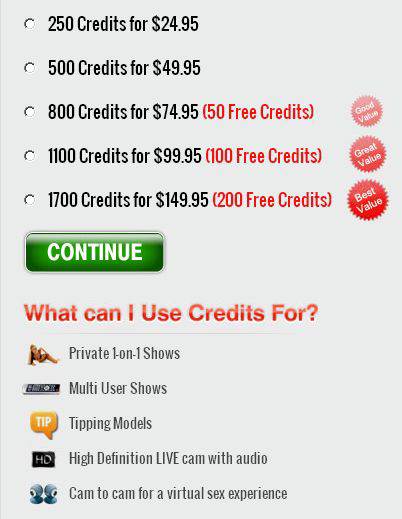 All major credits cards can be used to top up an account including among other popular payment methods:
Visa
MasterCard
Discovery
Maestro
JCB
UKash
And many more including direct bank transfer.

Your purchased credits can not only be used for private shows in all forms, but also to tip the models. This is a monetary – credit – gift that is sent to a model on a no strings attached basis.
Get your VIP on!
Besides purchasing credits members can join a VIP club for either a recurring monthly fee of $29.95 or a yearly fee of $199.95. VIP membership brings with it is own unique bonus features including:
Free unlimited access to 75,000 videos
Free unlimited peeking into private shows of other members
Free unlimited messaging with online webcam models
Free unlimited access to adult cam start events
10% Bonus credits for all credits purchased while you're a VIP
A VIP Badge to draw the lovely cam model's attention

This is a sweet and highly recommended deal - for under $1/day you can get everything for free aside from tipping, joining group shows, or having a private one on one video chat. However, if it's too expensive for you, you should check out Webcams.com which gives you a 15 day pass for only $1.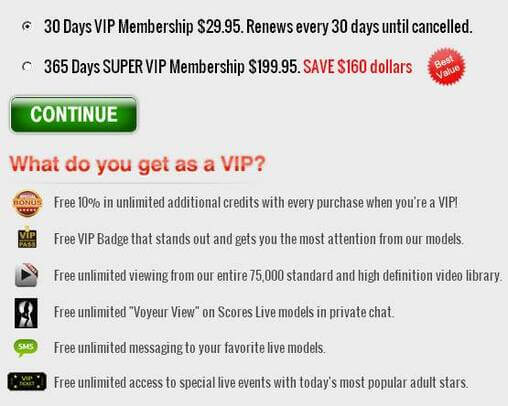 VIP Membership
How Important is Customer Support to this Online Webcam Chat Site
The customer support section of the site is split into two different sections, FAQ and Support. Even though there are no luxuries like live chat with the support team, even this much is not often seen on the online webcam chat sites. The FAQ section is a list of queries ranging from basic to more advanced queries. The answers are hidden until the question is clicked. This set up keeps the page small and smooth running but keeps the level of detail high.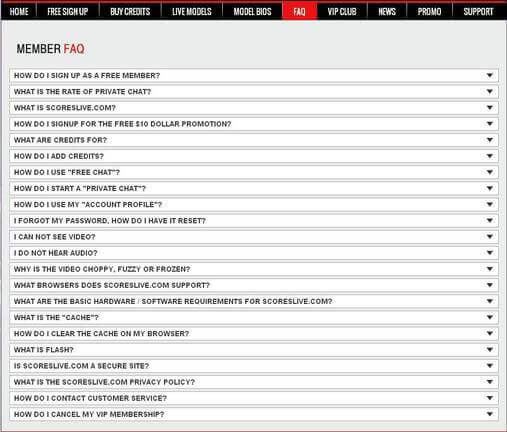 FAQ Section
The ScoresLive.com customer support page offers a number of direct contact links and phone numbers from general support, billing queries, lost passwords and more, and is easily accessible through the top right hand side of any page.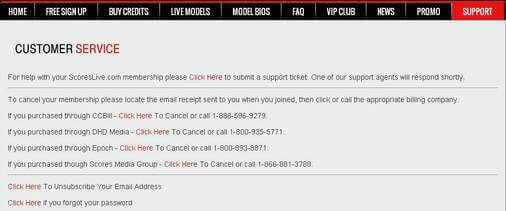 Customer Support
Benefits and Drawbacks of ScoresLive.com
Benefits
Nice design that gets you in the right mood
$10 in bonus credits just for signing up
Fluid site navigation
Very nice Model Biographies
Detailed 'Search' functionality
Good webcam screen resolution and quality
Discreet billing
Drawbacks
Recurring monthly fee for VIP membership
Limited time only in free chat
Slow connection loading live cam feeds
Cam show connection can fall away
The Bottom Line
In summary, there is a lot to love about ScoresLive.com and it exceeds the live adults cams and the free streaming cam chat session. It is a total package presented in a way that is standard enough for people to find their way around without fear, but different enough to engage users and keep them coming back for more. This is a high quality site that deserves your attention and will undoubtedly continue to have plenty of success.
---