Webcams.com Review - Adult Shows of Real Women on Live Bedroom Cams
Important Notice:
Starting August 1st, 2016 Webcams.com rebranded into MyDirtyHobby.com. The review below, is a review of the old version of Webcams.com. If you'd like to read about the new features of Webcams.com, you can read the Review of MyDirtyHobby.com which has the same management, but improved features over the old Webcams.com.
---
There are a lot of live adult webcam sites around, and each one, while offering the same end product, presents their wares in different ways. Webcams.com is a great site that has built, and still is building a solid reputation for itself.
Besides great quality HD webcam chat, and a more than satisfying selection of 14,500 adult cam models, Webcams.com has recently revamped its appearance, the homepage resembles what you might find on LiveJasmin.com, but this is the only similarity. Webcams.com took it a step further than LiveJasmin and created the simplest, cleanest and most modern user interface live cam sites have seen so far, a layout which is truly in line with the 21st century.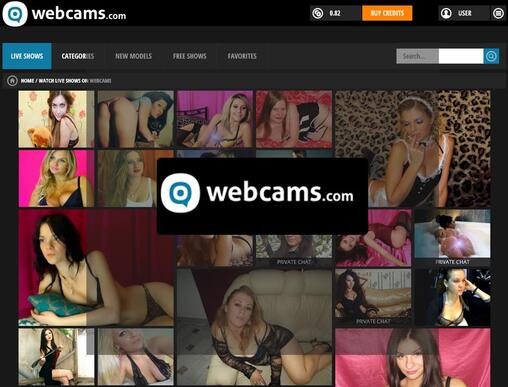 Webcams.com Homepage
Clean Layout and Simple Navigation
When you first load the homepage, there is a clear contrasting color scheme. The dark colored borders automatically pull your eyes towards the webcam thumbnails. The site is a very simple one by design, and incredibly easy on the eyes. Almost as easy as the adult cam stars that run the show.
Another nice thing that the site has done with regards the live adult web cam feeds is that rather than have everything lined up in even rows and columns, they have opted for a more collage based structure with thumbnails linking together like a jigsaw to create a solid block of links. Every time the page is reloaded the order of the cams is adjusted, so there is no preferential treatment given to those live cam show ladies who get the large icon.
The site has a very simple menu structure. Four main options running on the main horizontal banner take you to the models via various links.
Live Shows
Categories
New Models
Free Shows – This is a members only perk. A once a month hour long free show that is guaranteed to keep you coming back for more.
There is a single Join Now option in the upper most menu, but for the rest, the site is about the live adult webcams that the attractive ladies that star behind them. Signing up to the site is an easy process, and an account is quickly created. That being said however, you do need to have a credit card in order to join.


Top Menu
Free Webcam Chat for Guests
Some people don't like signing up and entering their card details unless they know it is a live webcam site that is right for them. Guest users have a great ability on this live cam show site, to be able to chat with the adult webcam models. This affords all users the chance to really experience the site before they register.
The site really is that simple to use. The homepage is filled with live cam thumbnails, and all one need do is click on the image they like and wait for the cam to load, which sends them to a video chat room of a gorgeous lady.

Free Webcam Chat
Model biographies, while not overly descriptive, or detailed, can be viewed by guests as well as members, and always serve as a handy way to get to know the model and their turn ons before going into private chat. The link to the cam model's bio can be found right above the chat window, and when you click it the chat is replaced with the bio, while the live video stream remains active and visible.
Another nice thing you can find above the chat window, is the webcam model's free photo gallery, which is in the 3rd tab, right before the orange button saying "buy credits". Just to make it easier for our readers, here's a small explanation of all the simplified icons in the chat session.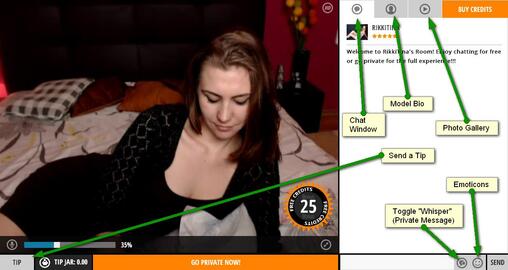 Live Video Chat Features
Choosing a Live Adult Cam Room
The site offers users – both guest and member alike – the chance to refine the live cam show results by means of a category system including:
Asians
BBW
Ebony Cam Models
Couples
Europeans
Guys
Interracial Couples
Latina
Transsexuals
And many many more
It may not be the most definitive way to filter, but it works well enough for anyone to find what they like without refining their search, and it's a feast for the eyes. The models can select their own group selection via their profile page. In here they can tag certain keywords that that form the filters mentioned above. So it is possible to see a certain live cam show model in multiple groups. The feed is the same, they are just ensuring that they get maximum coverage for their show.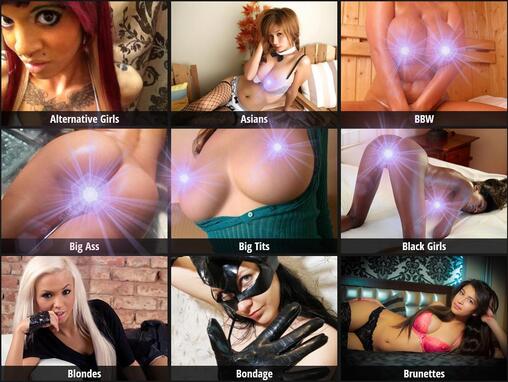 Category Selection
Signing Up is a Simple and User-Friendly Process
Creating a username is no hassle at all, first of all you just have to provide a username of your choice, a password, and an email address for your member account.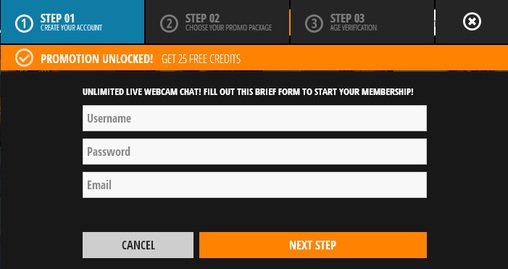 Creating a Free User
Aside from creating a free account with unlimited access, you can also purchase credits while registering your username, thus saving time and an additional round of forms. If you decide not to buy credits immediately, you just have to verify your age by credit card. If you do decide to buy credits immediately, you should know that you can save up to 20% if you buy more than 30 in a purchase. Credits can be bought in several denominations.
Webcams.com Cost per Credit for Every Package

| | | |
| --- | --- | --- |
| Credits | Cost | Cost per Credit |
| 30 | $29.99 | $1.00 |
| 50+10 | $49.99 | $0.83 |
| 75+15 | $74.99 | $0.83 |
| 100+25 | $99.99 | $0.80 (BEST VALUE!) |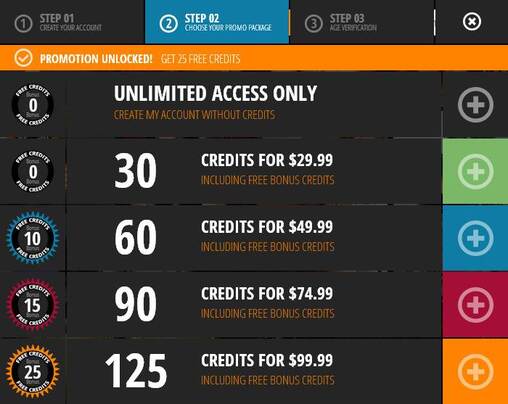 Choosing a Credit Package
The credits you purchase are the virtual live web cam site currency on Webcams.com, and can be bought online with various bank cards including:
MasterCard
Visa
Discover
JCB
Diners
The minimal payment you can make is $1, which will provide you an unlimited access to the website for 15 days. This is a recurring charge which can be easily cancelled by accessing the customer support screen at the bottom of every page.
All payments that are made are secure and discreet, with banking information not being held by the site but rather with one of the government regulated third party companies that handing billing throughout the adult web cam business. Companies such as: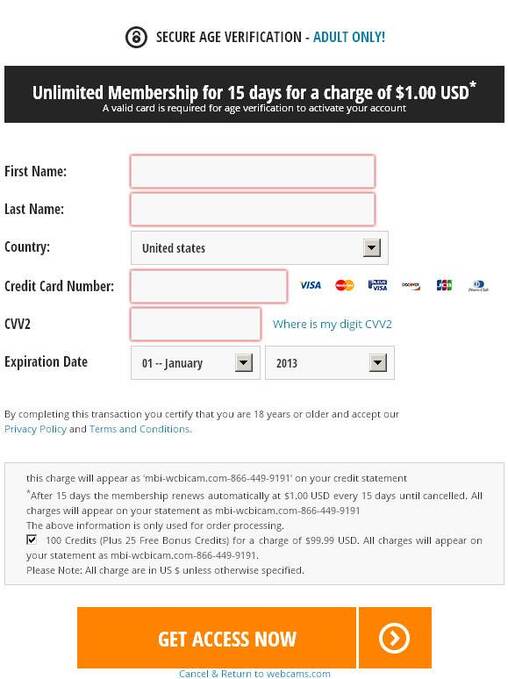 Age Verification
Member Features
When looking at live webcam site, the first thing to consider is the show types.
There are two basic show types on the site:
Free Video Chat – including guest chat.
Private Chat – This is a one on one show between you and the chosen adult webcam model. These shows provide the most entertainment, and are charged at a variable rate depending on the models own preferences. They can range from 2 credits a minute, to 4 credits per minute or higher.
The shows are amazing, the models beautiful and the live web cam interaction fluid and flawless even when on a less than perfect wi-fi connection. The cams are, for the most part high definition and the sound – for those models that have it activated – is crystal clear.
That being said, there are several other advantages to signing up for an account at webcams.com. The models are all far more receptive to members than guests. Many will talk directly at you, or even (whisper) to you. This is a form of private messaging within the live cam show itself.
Tips – these are token gesture payments sent to the models during shows, more specifically during free chat shows. They are not a prerequisite for private chats, but if you tip a model, preferably in serial smaller amounts, they do remember it and from experience, the live cam show fun in private was made all the richer because of it.
Cam to Cam – This is an additional extra that comes at no extra cost, but allows the model to see you during your private moments.
Messages – Members can send messages to models via their member profile. It is a nice way to communicate with your preferred live webcam stars and even make arrangements for private shows ahead of time
Favorites – Members have the ability to set certain models as being their favorite. These are then stored in a new tab on the main horizontal menu bar.
Free Adult Celebrity Cam Shows - This is the most amazing feature that members get; members are treated once a month to an hour long free show with a truly professional adult web cam model.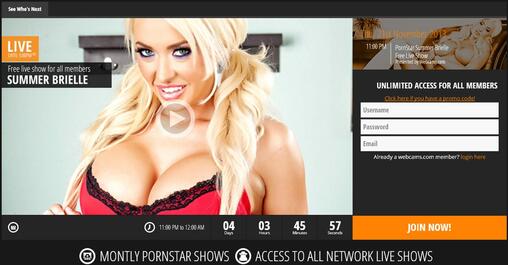 Free Webcam Show Countdown
FAQ, Help and Customer Support
The site comes with an in house Customer Service / FAQ section which answers the majority of questions posed with real answers. Written in full sentences rather than bullet points, and the screens are all selection based, meaning the you click the question that relates to you and see the answer. This keeps the site of the page small, and stops unnecessary scrolling.
By presenting users with a live chat support feature, Webcams.com pass a lot of their competitors by taking another big step forth into the 21st century. Aside from the live chat (which is usually all you need), there is also a contact telephone number for
Toll Free 24 hours – US Internal
International (including UK)
Australia
When all else fails, there are always the basic options of the customer support email address, and even a standard form that you can fill out with the specifics of your question and have the customer service team respond to you directly.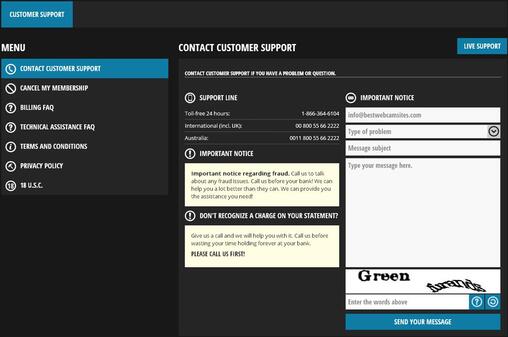 Customer Support Screen
Benefits and Drawbacks of Webcams.com
Bebefits
HD Cam Feeds
Free Cam to Cam
Easy to navigate site
Fresh appearance and layout
Guest users have access to chat
Customer support is attentive and easy to reach
Drawbacks
Few payment options
Limited range of show types
The Bottom Line
All in all Wecams.com is a professional site that can show anyone a good time and with a dedicated member base it has all the makings of being a site that can be easily placed along the top names in the adult webcam industry. So just in case it's not clear, just in case you still have doubts, you should be certain that this is a site to experience for yourself, there's no other way to describe its greatness.
---