Best Ways to Save Money on XLoveCam
Last Updated
September 01, 2022
XLoveCam is premium cam site that sometimes blurs the boundaries between freemium and premium. While all the models are semi and pro cam performers, the activity you can see for free in the open cam chat rooms isn't always premium-style. In orthe words, if you jump on over to XLoveCam, there's a very good chance you'll get to see some free X-rated action without having to pay a penny.
However, if you do go into an exclusive show, you'll have to pay, but if you read on, you'll find there are ways to make sure you pay less than others.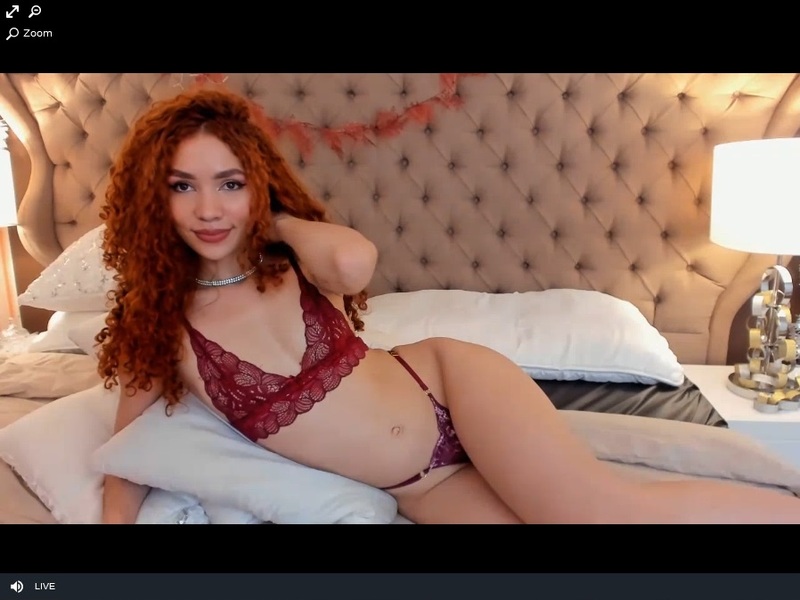 ---
Free Topless Monday
XLoveCam starts the working week off with a bang. Every Monday the models are officially allowed to hang out in their open cam chat rooms naked from the waist up. However, you'll quickly see that many of the international exhibitionists push the boundaries and seemingly forget to put any clothes on at all. Monday is a great day to get a free peek at what awaits you if you decide to go into a private show on any other day and enjoy some naked naughty cam adventures.
Not all the performers take part in the site's Topless On Mondays party. If you're looking forward to seeing a specific performer strip off, check beforehand that she's registered to the event. You can see ahead of time which girls are partying by clicking on the homepage's promotion to the XXX event.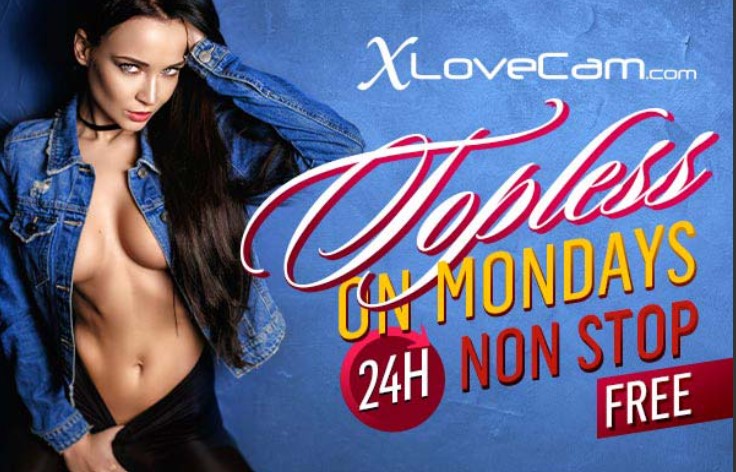 ---
Register for a Free VIP Video
You can browse the rooms incognito without the need to sign-up as a member. You can even send a model a message using the chat box in her open cam room. However, there are benefits to registering at the site and providing an email address.
If you give an email address and verify it, the site gives you access to a free VIP video. You can choose whichever VIP video at the site you want, but choose wisely. Some of the VIP videos last no more than a minute or two, while others come in at between 15-20 minutes.
The site also hosts a huge range of clips from models' recorded shows. These are free to watch, but generally last no longer than 2 minutes.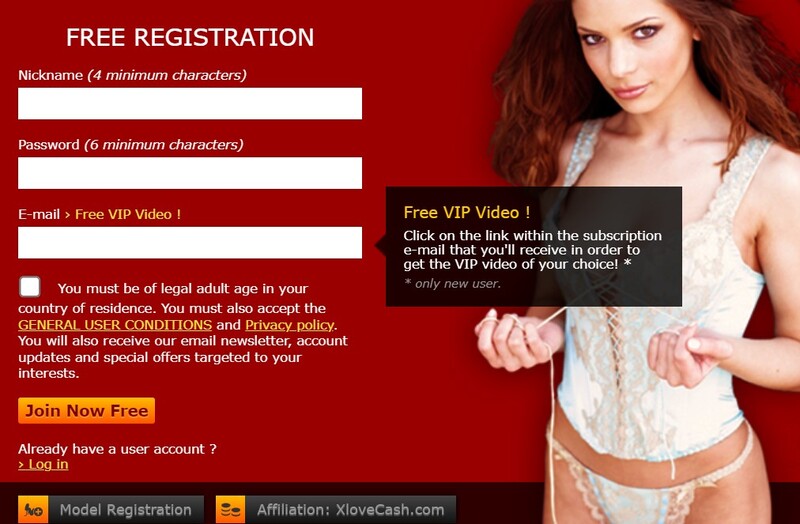 ---
Cheapest Private Cam Shows
One of the easiest ways to get the best-value-money cam shows is to start off by browsing through all the low-cost private video chat shows. On the homepage, select Rates from the left menu bar and click on the Less than $1.00 rooms. Many of these webcam performers are using HD camera feeds. You can either choose between a Private Show or a 100% Xclusive Show mode. The only difference is that in the Xclusive show mode no-one else can peek in on the activity.
Even if you're in a Private Show and someone can enter your paid-for private performance, the interloper can't interact with the model in any way. Quite often, performers charge twice their regular per-minute price if you want to close the room to silent witnesses. Considering the other viewers have no input whatsoever in what's taking place, the premium fee doesn't bring with it any tangible benefits deserving of the price hike.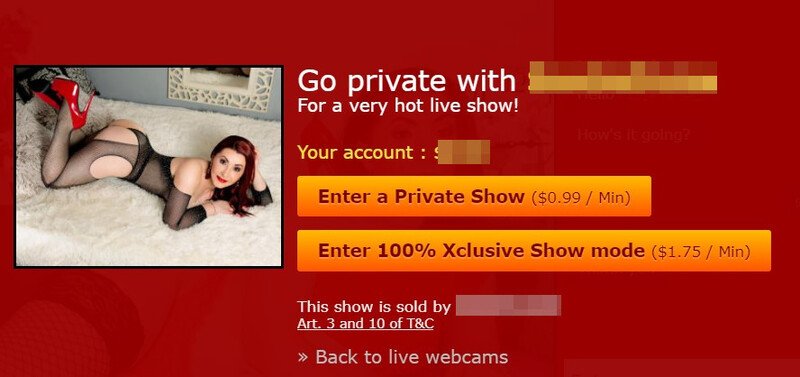 ---
VIP Member Clubs
XLoveCam's doesn't have a site-wide premium membership club, but some of the most in-demand cam models do offer VIP levels for dedicated fans. If you find a model who you want to see more of, it's worth seeing if she hosts a VIP Club. Once you're in her video chat room, select Information from the top tabs in her hang-out and scroll down to the bottom of the box to see if she has VIP offerings.
Unfortunately, you won't get a discount on her private chat rates if you pay to join her exclusive club, but your monthly membership will give you unlimited access to all her videos and photos. Membership to the clubs varies, but most ask around $10.00 a month.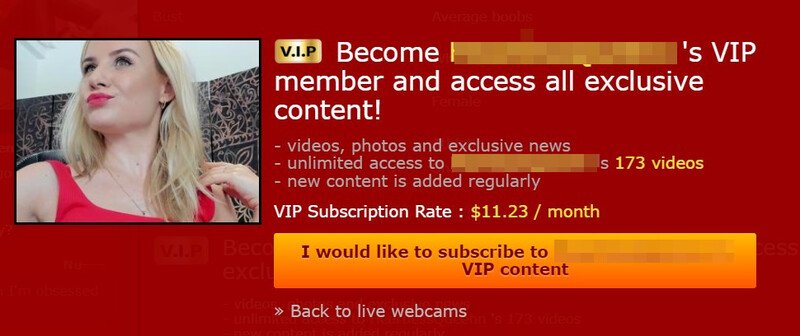 ---
Spy On A Private Show
While it's not really a money-saving feature, spying on someone else's private show is a quick and cheap way to see what you can expect if you decide to go into a 1on1 cam show with the performer. If there's a little red box on the bottom right of a snapshot, this means the performer is in a private show mode.
If it's not an Xclusive Show, you can peek in for 20 seconds. The cost for the 20 secs is usually 50% of the per-minute rate and you can't interact with the model in anyway.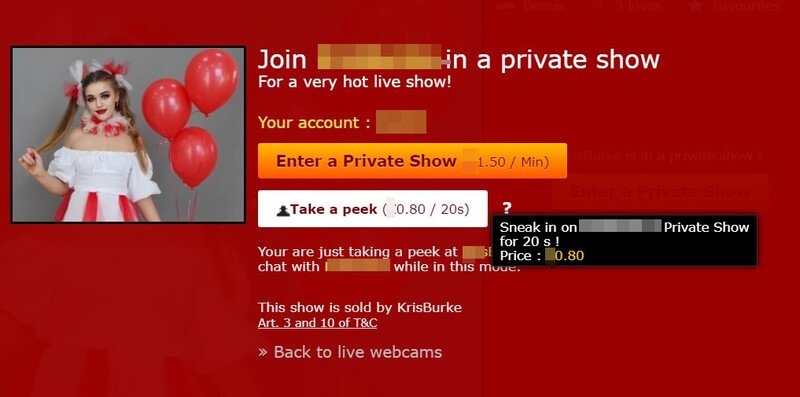 ---
Conclusion
Unlike many other cam sites, XLoveCam doesn't give away free credits, nor does it give extra credits if you purchase a large amount of credits in one bundle. What you can get for free here is access to X-rated videos which are exclusive to the webcam platform.
Private show rates are cheap, in fact, almost 50% of the 500-600 or so performers streaming at the platform 24/7 ask the site's cheapest per-minute rate of just under $1.00 for a private cam show experience. While other comparable sites have a bigger selection of performers, what XLoveCam has is a wide selection of European cam girls. If you're looking for a cam girl to chat with in your native language and don't want to pay a premium price for some kinky live video chat fun and games, there's a good chance you'll find her on XLoveCam right now.
Back to full list of sex cam blog posts
---