5 Best Webcam Sites With Japanese Cam Models
Last Updated
September 15, 2022
Sweet and submissive, exotic and exhibitionist, perverted and perfectionist — what comes to your mind when you picture a Japanese babe? No matter what stereotype is stuck in your head, you'll find her at one of the following live video chat sites.
Japanese cam girls are a rare breed. Unlike other nationalities you won't find many of the them performing live XXX cam shows. However, there are a few sites which do host a selection of ladies from the land of the rising sun. Find out how to get to the top Japanese live video chat performers at each site, how much a private cam show, where anything goes, will set you back, as well as what extra perks each site offers in order to make your Far East fantasy an affordable journey into exotic eroticism.
LiveJasmin.com
LiveJasmin has long been regarded as the empress of premium cam sites and that title is certainly deserved when it comes to Japanese cam models. It not only has one of the largest selections of professional models streaming shows 24/7, but every model is an A-list performer in her category. They cover every fetish, age, and body-type and once you take them into a private cam date, they strip away their shyness and show you in HD just what Japanese censors have been pixelating all these years.
There's usually over 1,000 models broadcasting at LiveJasmin from all over the world. In order to get on the fast train to the Far East all you have to do is type in Japan in the search bar and the page will refresh showing all the live porn performers who are either broadcasting from Japan or are of a Japanese heritage. What's great about LiveJasmin is that there's usually a girl for every taste. From amateur-looking babes who let their natural beauty shine to professional glamour models wearing sexy outfits and not a hair out of place.
When you hover over a photo with a green circle or a VIP yellow sticker next to the performer's name a live video feed from the girl's cam chat room appears so you can see how she looks like in real-time. If though there's a red dot, it means she's already in a private chat show and you'll have to wait till she's back in her open room. A grey or orange dot means she's not online but once you've registered you can send even the offline hosts a message and set up a date and time when you can both get-together in a virtual meet and greet.
Almost all rooms use HD feeds and if you're looking for a Far Eastern fetish femme fatale, the kink queens are all experienced and skilled in their genre such as SPH, JOI, femdom, as well as submissive cam girls waiting to obey your every command.
LiveJasmin is all about the best of the best, which unfortunately can sometimes be reflected in private show prices which can get expensive if you want to open your cam and make it a 2-way visual chat. On average, an exclusive session with a Japanese cam girl hits the $2.40 a minute mark. However, you'll need to add another $1-2 a minute more if you want to open your cam for a C2C session and that amount again if you want to use your microphone to talk to her.
---
Cam4.com
Cam4 isn't often found grabbing a pole position when it comes to recommended cam sites. It's a freemium site with thousands of performers streaming 24/7. It has a user-friendly interface, a huge selection of HD shows and X-rated free tip-fueled cam shows. But, it also has very high private show rates compared to many other platforms which means it often slips down when in rankings. However, if you're looking for a Japanese cam girl, Cam4 can't be passed over. It has one of the biggest selections of shows streaming from Japan in HD. And, if you're looking for some free multi-viewer kinky entertainment starring a Japanese nympho, Cam4 comes out on top.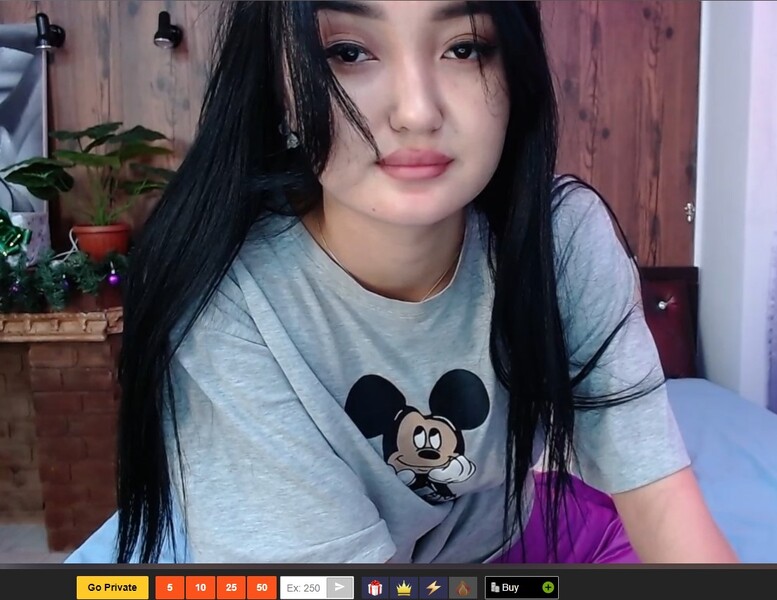 When you go into Cam4, all you have to do is click on the orange Filters button on the top left of the screen and select Japan from the list of countries. For some reason this is better than choosing Japanese as the language option. Not all the models from Japan list it as their language. Then when the photos refresh simply hover over a snapshot and a live video feed comes through showing the room's activity. This is a freemium cam site, so expect a lot of wet and wild XXX antics from the get-go.
When it comes to streaming quality, HD is pretty much par for the course in the Japanese cam rooms and even if you're not registered as a member, you can watch the session in a full screen screen view by clicking on the screen icon at the bottom left of the video window. However, you'll have to wait a few seconds while an ad plays through before getting access to the show. 
This site is all about extreme exhibitionists performing X-rated free shows where you tip the girl in order for them to take a request. If you want it to be an exclusive session there's a chance the Japanese cam girls won't go into a 1on1 mode. If she does, expect to pay around $4.00 a minute and some of them will even charge a higher rate if you want to open your cam, though most include it in their private show rates.
---
C2CPorn.com
When it comes to the largest selection of shows streaming from Japan, C2CPorn is the platform to check out. It doesn't host live cam sessions itself, rather helps you narrow down your options to the perfect Japanese live porn performer and then redirects you into her private cam chat room at whichever site she's broadcasting from. C2CPorn is a cam site aggregator which means it brings to one screen all the rooms from several of the biggest webcam sites and then gives you user-friendly search tools that lets you find in seconds a performer who ticks every box in your cam fantasy wish list.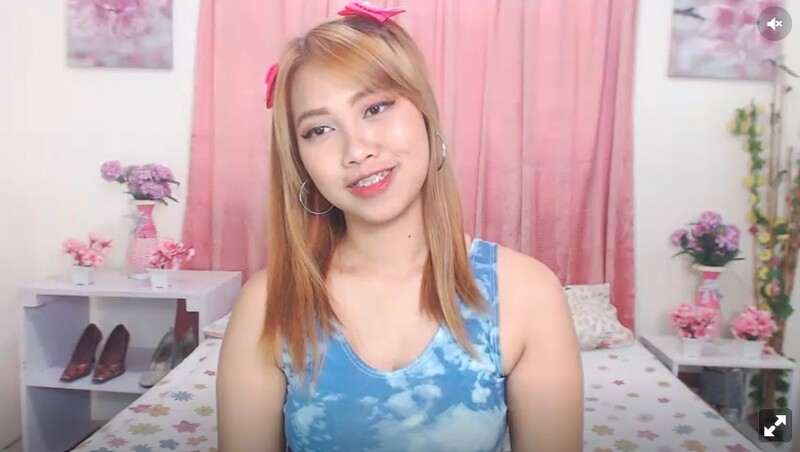 Type in Japan at C2CPorn in the search bar at the top right of the homepage and the screen immediately refreshes showing the sex sirens hosting live chat from Japan. There's also the option to choose Japanese from the Languages group on the main search menu on the left of the page but this won't be as accurate as some cam girls add Japanese as a language they speak, even if they only know how to say konnichiwa and sayonara. The results can be quite extensive but if you're looking for a live cam show there and then, make sure the top right toggle is showing the Online Only options, otherwise you'll also see rooms hosted by Japanese cam stars who aren't broadcasting live at that moment.
Once you see a photo that piques your interest, clicking on the photo brings up more info about the performer. You can see which site she broadcasts from, what rating she's received from other users, as well as a short bio which often includes the fetishes she practices such as using interactive toys in her room, ahegao cam shows, and even if she's a bushy beauty or a hairless pussy player. You can even see which days and hour she's normally performing live so you can time a future visit, accordingly.
In fact, there's only one thing you won't find at C2CPorn and that's a payment page. It works as a free cam site concierge service and won't cost you a penny. In fact, you don't even need to sign-up as a member or give the site any personal information or data in order to use it. And, there's not an advert in sight. Your visit to C2CPorn is totally anonymous.
---
CamSoda.com
CamSoda once again took the top spot as the best cam site for 2022. It has huge variety of cam rooms streaming 24/7, most of which use HD feeds, along with cheap private cam shows that can be recorded for free, the ability to turn on your cam in a free chat show and enjoy a C2C tip-fueled open show, as well as models performing almost every fetish and kink imaginable. In fact, the only reason it doesn't come in the top 3 best Japanese live sex cam sites is due to the limited number of Japanese cam girls at the platform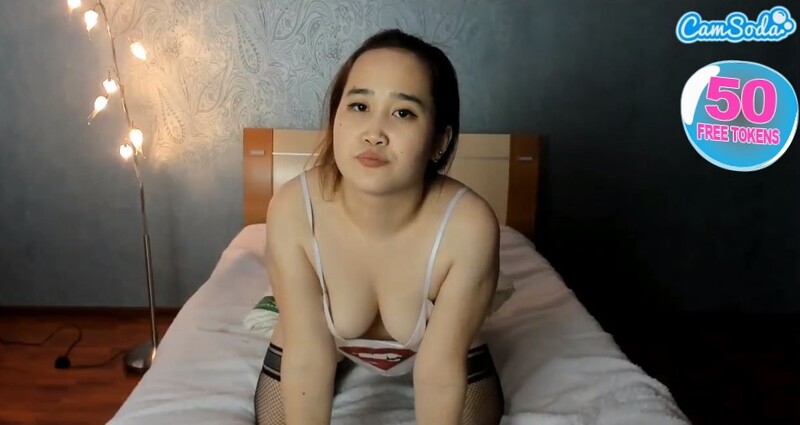 The best way to get to as many webcam girls from Japan as possible at CamSoda is to use the search bar and input Japanese. For some reason, this brings quite a few more suitable live cam rooms than choosing Japanese from the language category on the main menu. The small selection can be somewhat frustrating considering all the great features you have at your fingertips at CamSoda. Everything else at the site is top-rated. 
At CamSoda you don't necessarily need to enter a private cam show in order to not only enjoy some 2-way visual communication with the model, but also to see her perform your favorite perv. These models tend to be amateur and semi-pro live porn performers and will happily show off their fetish favorites in free shows for a small tip. If you want to open you cam in these rooms, remember only the model can see your feed and check with her first that she's willing for you to do this. Most will ask for an upfront tip and if there are a lot of viewers in the room, don't expect to get much attention from her unless you continue tipping.
If you do choose to go into a session where it's just you and your oriental beauty expect a show rate of about $1.80 a minute, some ladies include c2c in their rates while others will ask a higher per-minute fee if you want to make it C2C. One of the biggest benefits you'll get included for free is the option to record the model's show and keep a copy of the session in your CamSoda account for unlimited free access.
---
Chaturbate.com
Chaturbate probably has more cam hosts streaming 24/7 than other webcam platform. This freemium live video chat site attracts all types of performers from around the world. You can find a first-time experimenter opening her cam for the thrill of being watched as she plays with herself to professional celebrity porn-stars giving their fans an intimate show fueled by tips. Streaming quality varies as much as the skill of the models, while there are many SD feeds, there are thousands of rooms using not only HD and HD plus broadcasts, but also a significant number of 4K UHD enabled rooms.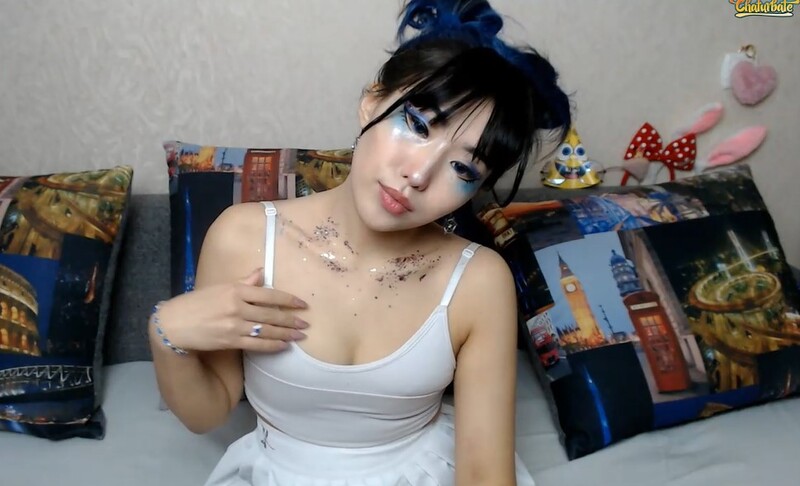 Similar to CamSoda, this platform would come higher in the rankings for the top Japanese sex cams if there were more shows broadcasting from the country. In order to find the Japanese webcam girls click on the more tags link on the top far right of the home-screen and then select the Hashtag link to re-order the results in alphabetical order. Then it's just a matter of getting to J and choosing the Japanese cam room category. You will find though that the number of live shows depends greatly on the hour. Chaturbate attracts mainly amateur cam girls who tend to go live in the evening hours in Japan. If you go searching for a Japanese sex cam star in the off-peak hours there's a good chance there'll only be 1 or 2 rooms to choose from.
Chaturbate, like CamSoda also lets you open your cam in a free video chat show. By selecting the Cam to Cam link located under video window you can turn on your cam but always check first with the model that she allows it. And, if you don't tip her, don't expect her to pay you any attention. In some cases they'll even close your video feed if you haven't tipped or asked first.
Private sessions are the way to go if you want some 1on1 attention. The average per-minute rate for an exclusive video chat date with a hot Japanese babe comes in at $3.00 a minute. There's no hard and fast rule when it comes to paying for C2C. Some performers include it in their rates and others ask a higher fee or extra tip. The only way you can find out is to click on the Start Private Chat button and see what her policy is. What is included though is a free recording of the session. The majority (though not all) of Chaturbate's cam hosts will let you record a paid-for private cam show and keep a copy of it in your online account for unlimited free future viewing.
---
Conclusion
Without a doubt, the best way to get the biggest selection of Japanese live sex cams to choose from at any site is to time your visit to coincide with peak viewing hours in the Far East. If you check into a platform in the early evening hours in Japan you'll most likely find many more performers from the country performing live compared to during early morning hours.
There are a couple of genres that Japanese cam girls excel at compared to almost any other nationality and that's Ahegao and cosplay webcam shows. The Japanese beauties are renowned for their facial acrobatics and love of gaming. If you're looking for an Ahegao porn actress it's worth starting off with the Japanese babes who list it as a preference of theirs.
At the end of the day though, if there's one site that's better than others for finding a a gorgeous webcam girl from Japan and that's LiveJasmin. This site features not only easy-to-find rooms starring professional Japanese cam models streaming in HD, but also all of them will let your open your webcam and enjoy a private cam2cam date where you can really get to know the oriental beauty inside and out.
Back to full list of sex cam blog posts
---