ImLive Versus Cams - Which Is Better and Why?
Last Updated
September 10, 2022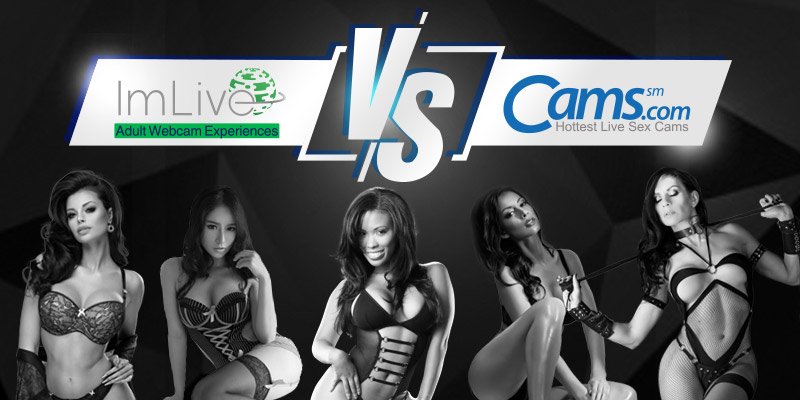 Many of our readers scour the internet trying to find the best live cam site, especially those that are just starting out in the magical world of webcam chats. Sometimes they find themselves confused, when two or more sites are hailed as great, and they don't know which one to choose. While there are benefits to any site, there's always a clear winner as to which one should take the crown in this battle of the cam sites. In this match-up, ImLive is the absolute and clear winner, which will be explained in detail below.
---
ImLive vs. Cams – The Comparisons
---
What is Best About ImLive?
ImLive is a webcam site like no other, not only because it's one of the first, its legacy spanning almost two decades. Part of this is because it appeals to almost all users. Those who are looking for a premium site with pro models, but also those looking for super low chat rates. With around 600-700 online models to choose from, each in their own categories and an easy to use filter, you'll easily find the show you want, with the stunner you want. And there's even a dedicated fetish menu so this is a great site for kinksters. You can also use the mobile platform with c2c to take your honey anywhere, anytime, at no extra cost.
The site also offers all sexes and sexual orientations, and even groups. There are private chats as well as Candy Shows for those on a tight budget who don't mind sharing their lady with other members. ImLive lets you join Discount Clubs of your favorites, which will also give access to their videos and pictures that to others would cost credits to purchase. The only user this site may not 100% satisfy is the one looking for perfect streaming quality. There are still some cams on the site not in HD, but SD — the only real downside of ImLive. For more, read our full review of ImLive.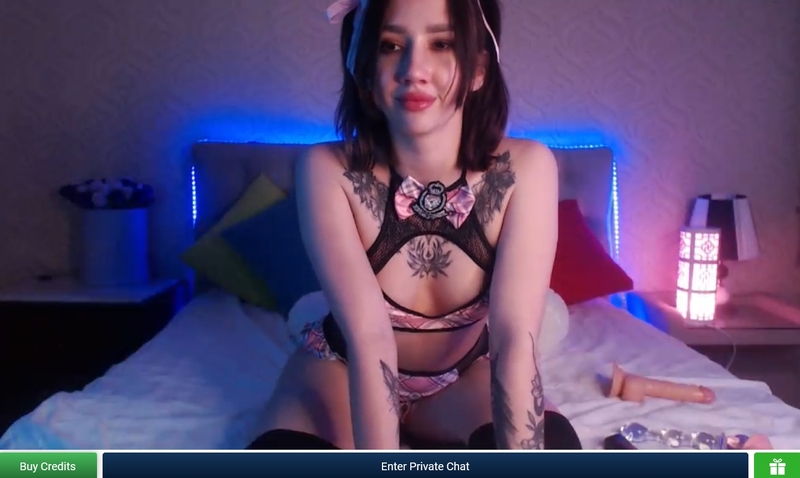 ImLive Pros
24/7 live customer support
Mobile platform with c2c
Great selection of fetish categories
Friends & Romance cam rooms
Super cheap privates
Unique site features
---
What is Best About Cams?
Cams.com is all about it's knock-out models, around 400-500 online on most hours. It's a simple premium site, no bells and whistles. If you're looking for absolutely amazing girls, this is the place. The variety is impressive too, ages and body types, show styles and accessories/toys. Most models offer a Fan Club you can join to get access to their pictures and videos, and even get custom-made vids too. Prices vary, and can get pricey (Per month) depending on the model.
The main downside is similar to ImLive, there is no way to tell which rooms are in HD until you're in them, and there's no HD filter, so this isn't the place for those with a keen eye for quality. Also, as the main filter on the left is extremely minimal, this is not the site for those with particular fetishes to explore. Lastly, though the mobile site is great, it doesn't offer the option to cam2cam. For more on the site, read our full review of Cams.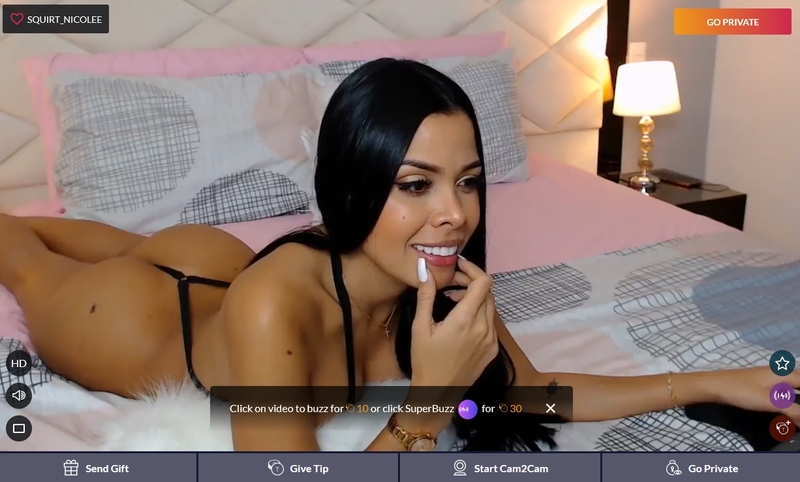 Cams Pros
Drop-dead gorgeous models
Rooms have games you can play
Rooms has an option of theatre mode
Impressive model variety
---
ImLive vs. Cams – Free Content & Options
On any live cam site there are two kinds of basic chats, free open rooms which you can enter at any time and chat with the model, and the paid-for option of a private chat where it's just you and her. Most sites allow free chats, but not all allow nudity and/or sex acts. Though an entire nude show is rare on both sites here, you can still catch glimpses if you're lucky. On freemium webcam sites, you'll get plenty of sex and nudity, completely free.
As far as content, such as pictures, videos and the like, some sites give away free content and some don't. ImLive provides registered members with free content but it depends on the models. Some will offer free content in their bio, and some only for sale. Also, under the Videos category up top, you can watch free previews for shows and even full contest videos. However you must be a Bronze member for this privilege. All you need to do to become one is purchase any amount of credits on the site.
---
ImLive vs. Cams – Premium Content
As mentioned above, sometimes content is given for free, especially pictures from models that are not nude. However, most models on most sites offer content you need to pay for, and that's premium content, mostly found on great premium sites such as ImLive. Also, private messaging differs from site to site, as sometimes it's free and sometimes it costs extra credits/tokens.
Private chats, of course, are also a premium service as it costs money no matter what site you're on. Some sites charge extra if you want to add you cam and mic, such as Cams.com. ImLive, however, does not charge extra for this added feature of c2c. On ImLive you can also have a private c2c on mobile, on Cams.com you can't.
---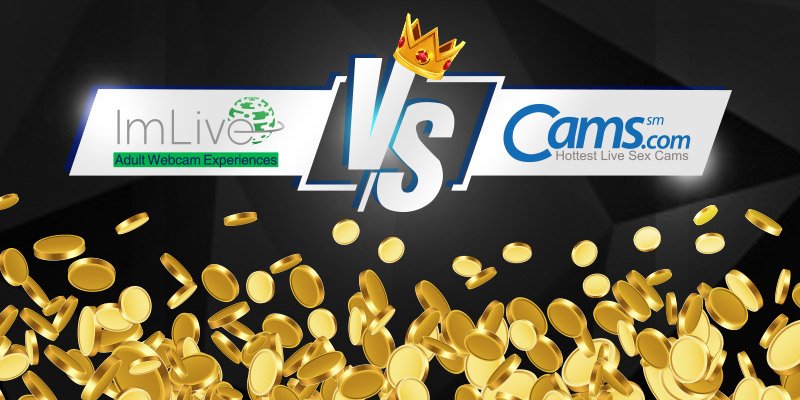 ImLive vs. Cams – Pricing Comparisons
| | | | | |
| --- | --- | --- | --- | --- |
| Cam Site | Site Currency | Price Per 1 Currency | Best Package | Bonus |
| ImLive | Credits | $1.15 | $114.95 | Yes |
| Cams | Tokens | $0.10 | All the same | No |
To get started with paid-for services at each site will cost you very close to the same amount. The cheapest credits bundle from ImLive will cost you $29.95, while at Cams, the cheapest tokens bundle costs $26.00. And when it comes to the payment methods on offer, both sites are somewhat limited when compared to the various payment methods offered by other well-known cam sites. Cams is limited to credit card purchases only, where Imlive accepts credit cards, as well as PayPal.
Another advantage to ImLive, is that it enables its users to search its private cam rooms by price, where Cams has no such prices filtering option.
---
ImLive vs. Cams – Private Chat Show Rates
| | | | |
| --- | --- | --- | --- |
| Cam Site | Average Private Chat Rate | Cheapest Private Chat Rate | Activating Cam2Cam in Privates |
| ImLive | $2.50 a minute | $1.00 a minute | Included in private chat rate |
| Cams | $3.00 a minute | $2.50 a minute | An additional fee is required |
ImLive is, without a doubt, one of the cheapest live cam sites around, and it's definitely the cheapest premium site in the biz, with the cheapest models asking for less than $1 per minute. Cams.com is relatively expensive, as the cheapest rooms it offers don't even include cam to cam in the already hefty price tag.
On both sites, you'll only know how much the model charges when you hit the either Go Private (Cams.com) or Enter Private Chat buttons (ImLive), from inside the models' public cam rooms.
---
ImLive vs. Cams – Show Types
Show Types on ImLive — Free chats open to all, Private chats with the option of webcam to webcam at no cost (On mobile too). There's also one other option:
Candy Shows - Multiple user shows that are much cheaper and require you to tip so the model reaches the goal before the show starts. If the goal isn't reached, the show doesn't start and you get refunded your credits.
Show Types on Cams.com — Free chats open to all (But non-registered users have a limit of seconds in the rooms), Private chats with the option of webcam to webcam for an addition $1 (Not on mobile). Other options include:
Goal Shows - A model sets a goal for receiving tokens and receives tips from viewers until the goal is reached. Viewers can collectively tip towards the goal. Once the goal is reached, the model will drop her "tipping curtain" and can perform for all the members who tipped toward the goal.
Nude Show - Some models choose to charge a modest token amount to enter their nude chat, which is typically steamier than free one, and requires tipping to continue.
Party Shows - Other members are allowed to join in on the fun for a token-per-minute fee. You can start a Party Chat with a model who has enabled this feature.
---
ImLive vs. Cams – Chat Room Features
Cams.com definitely offers more in the models' chat rooms that ImLive. Both sites offer the option to control the performers' sex toy. Both also offer a gift option, but Cams.com also offers an in-player tipping option. And you can 'favorite' the models on both sites, too.
Cams.com allows you to go to theater mode and have the stream on the entire screen. Also, you can start cam2cam in the open room as well, if you don't mind paying for it. On the right, some models have the option of playing games like Wheel of Fun, which for some tokens will get her to perform a certain act. Also, when you scroll down the page to look at her pics/vids, a small window showing you her stream will follow you down as you scroll, so you don't miss anything. Cams.com wins on the chat rooms features front, no doubt.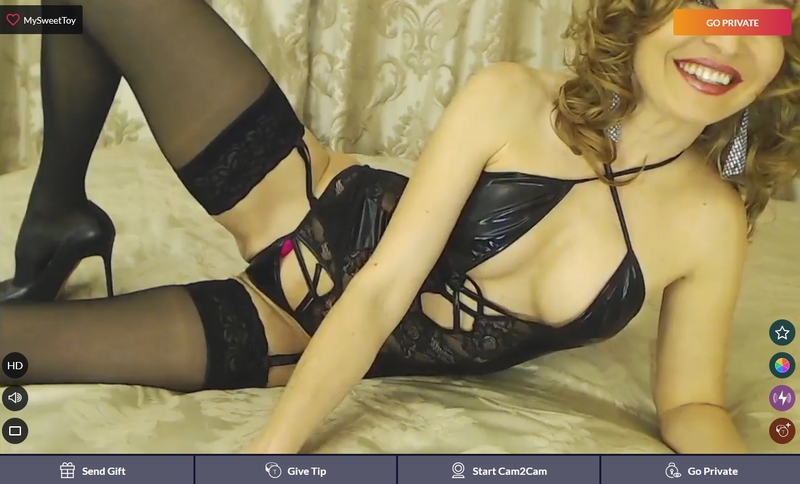 ---
ImLive vs. Cams – Webcam Streaming Quality
Unfortunately, both sites find the HD subject a sore one, as neither has an HD filter, and both have many models that don't offer HD streaming at all. Generally speaking, it seems that Cams.com may have more HD cams, but it's really a tiny advantage compared to all the rooms without HD. Also, Cams.com has an HD sticker in a girl's room that has HD, and on ImLive there's no indication if the room has HD other than you trying to eyeball the actual stream, and making a judgement call.
---
ImLive vs. Cams – The Webcam Models
Though both sites have similar number of several hundred online models, ImLive takes the cake when it comes to variety and also how easy it is to sort through the models.
Both sites offer female, male and trans models. But ImLive offers couples (Straight and Lesbian) as well as groups, too.
Both sites offer a filter of new models, but ImLive lets you loo through models who are Top Hosts, those who have an Interactive Toy, and those with Prepaid Sessions (Paying in advance for a set amount of minutes and getting a discounted rate).
For those looking for a GF experience, ImLive offers both the Shy Girl category, and also an entire section titled Friends & Romance. Cams.com has no such option.
ImLive has a Pornstar category dedicated to the multitude of famous faces that come to put on special shows on the site. Cams.com doesn't have this option.
ImLive offers a Top Host Arena, in which you can take a look at all current and previous winners of contests and the site's own Hall of Fame. No such option on Cams.com.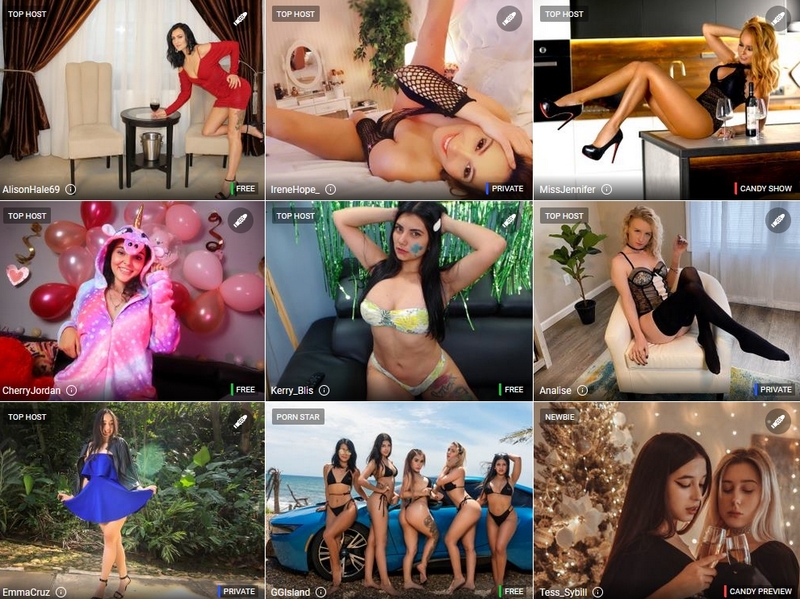 ---
ImLive vs. Cams – User Features
The ImLive membership costs nothing, and is actually a rewards program, which raises you up in accordance with how much you spend on the site. For example, you become a Bronze member just from making your first purchase and already receive: Access to all hosts galleries, free videos and free intros to all premium videos, free pornstar shows, and multiple discounts.
Cams.com offers a Premium membership, that will give you: 10% all live shows, free recorded shows, and access to all the model's content on the site. The price is $19.99/month or a 3 month membership for $13.99/month.
---
ImLive vs. Cams – Search Tools
ImLive takes the cake in this comparison. On the left you'll find an expansive list of categories to filter with, from appearance to price to show type. Also, when you select the Fetish category a brand new drop down menu will appear on the top right of the page with hard core topics for the most extreme fetish user.
Cams.com offers several basic categories on its left side, but these are minimal and don't help much when it comes to finding a specific model, or even a kink you may enjoy.
---
ImLive vs. Cams – Help & Support
There's no doubt about it, ImLive is amazing when it comes to customer support. But hitting the Support Center link on the left, you arrive not only to an FAQ section, emails and phone numbers, but also to an option of contacting the site 24/7, live, and get in touch in just a couple of minutes with their team.
On Cams.com, press Help on the bottom of the main page and reach a minimal FAQ section, and two phone numbers, one for customer support and one for billing support.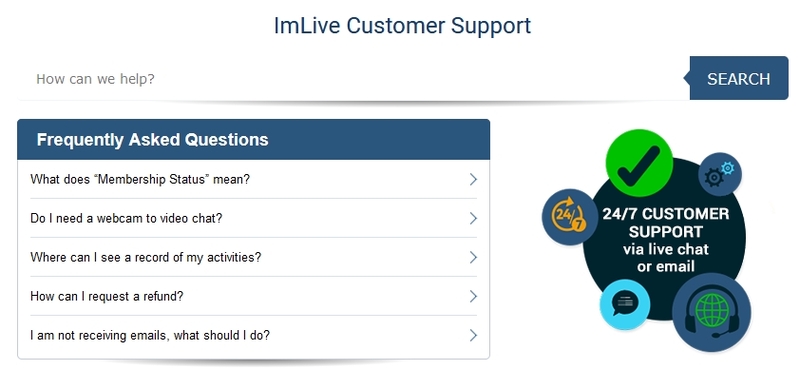 ---
Our Final Verdict
Cams.com is a great site for those looking for scorching hot babes, no fuss live cams. This site is perfect for users that don't have a particular fetish in mind, they just want to have a great time, and they also have less budget issues. But there can only be one winner, and it's ImLive, winning with ease. The site offers great advanced and fetish filters, 24/7 live support, a wonderful rewards program, pornstar shows, couples and groups as performers, and super low cost private chats, with free cam2cam, and a free (Excellent) mobile platform with dual audio and video. And of course, some of the best and the sexiest webcam models in live cams.
Back to full list of sex cam blog posts
---