Top Webcam Sites Featuring Girls With Big Asses
Last Updated
September 07, 2022
What do Donkey from Shrek, LL Cool J and the band Queen have in common? They all sing the praises of bootylicious babes. The ideals of a feminine physique change over time. In the 60s it was waifs and twigs, the 80s gave way to the statuesque forms of athletic supermodels and today it's over to J Lo and the Kardashians who have turned the spotlight onto delicious over-sized rounded derrieres.
Big bums have never been as popular as they are today. In fact, ass enlargement is the fastest-growing niche in plastic surgery. From silicone butt cheeks to hours of squats in order tone-up and turn a flat ass into a fabulous ass, at the end of the day 'it's all about that bass'. We've taken a look to find out which cam sites feature the hottest cam models with some of the juiciest rumps around, as well as how you can score a rear-end show at a rock-bottom rate.
CamSoda.com
CamSoda is one of the top freemium cam sites not only for the selection of models streaming on the platform, but also for the extras the site offers users. There are usually over 800 rooms streaming shows 24/7, many of which are hosted by models with ample asses. You can either enter a free NSFW cam session and tip the host a few tokens in order to see some twerking or even more extreme rear-end acrobatics. Or, enter a low-cost private show and direct the derriere dance.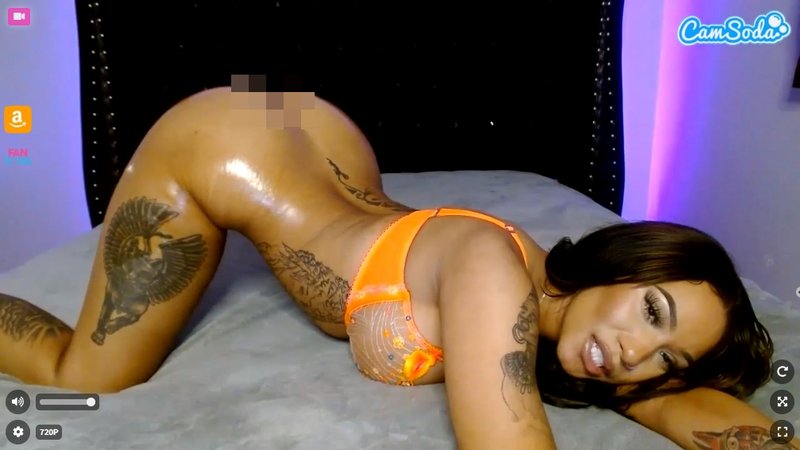 There are two ways to find a babe with a big behind. One is quick and to the point. The other is much more fun though takes a while longer. On the homepage's menu bar there's a link to Big Ass. Select this and the photos refresh showing only those who have tagged themselves as owners of bigger butts. A more entertaining way though is to simply browse the photos which are active snapshots featuring a couple of seconds of action grabbed from the room's live feed within the past minute. The performers aren't shy and you'll come across hundreds of naked or nearly naked girls showing off their beautiful booties.
CamSoda has a range of extras that make it a bootylicious cam site for all types of shows, featuring all types of performers. Most models let you keep a recording of their private show. The video of it is stored in your CamSoda account where you have free unlimited access to it. You can also turn a tip-fueled session into a cam2cam one. Many hosts will let you open your cam feed and live video chat to you in a C2C mode in their open cam room for a small tip. And, if you join CamSoda's VIP membership club, for the first month you get comped 200 FREE tokens. The tokens are actually worth slightly more than the $19.95 monthly membership fee and of course you get a range of additional perks as a VIP member.
Private shows are extremely affordable at CamSoda, with the average cost of a 1on1 session hitting just $1.80 a minute. There are cheaper rooms coming in at just $0.50 a minute, though the number of hosts who ask these rock-bottom rate is very limited.
---
LiveJasmin.com
LiveJasmin is the queen of premium cam sites and the girls with the plump sweet cheeks are some of the hottest bootylicious babes on cam. Almost all the 1,000 live rooms at LiveJasmin use HD feeds, with the majority of hosts streaming from beautifully designed and professionally lit settings which underscore the luxury feel of a LiveJasmin cam experience.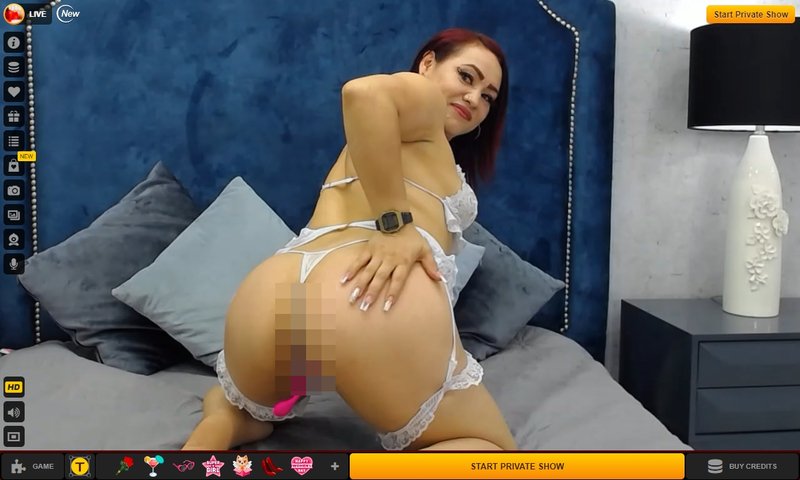 The homepage at LiveJasmin lets you filter your results in just one click to show all the models who have Huge Butts or Big Butts. The difference isn't really noticeable. Both groups feature girls with juicy bum-bums. However, you can further narrow the options to models who tick every box in your big bum wish list by using the advanced search filter. Click on the small icon (three dots and three horizontal lines) directly to the right of the search bar and select not only the ass size you want, but you can also specify the fetish you're into such as a deepthroat cam babe or a girl who's into JOI, as well as her age, hair color, breast size and even her height.
LiveJasmin is a premium webcam site through and through so this means there's no X-rated fun and games in a host's open cam room. For all the XXX adventures you'll need to pay for a private show or join a low-cost multi-viewer performance. In the free rooms though you can tip to see a range of generic acts, these include twerking and many offer a tip-fueled zoom option that gives you a close-up of their ass. However, in order to see the rumps without any clothing, you'll need to go into a closed exclusive session.
Prices can get high if you want to open your cam for a c2c session and use your microphone to talk to the host, as opposed to chatting via the message box. Both of these feature incur an additional $1-2 a minute more on top of their regular private show rates. On average, a 1on1 session hits the $2.40 a minute mark, though there are often rooms asking the cheapest cam rate of $1.20 a minute. If though you link your account to a credit card, you'll get 9.99 free credits even before you make a purchase.
---
Flirt4Free.com
Flirt4Free is premium site similar to LiveJasmin, but with a kinky twist. This platform hosts a micro-site dedicated to fetishes. Flirt4Free's fetish home features a community powered forum where you can discuss your fave kink with other users and models. It also hosts a range of articles focused on fetishes and over 50 categories of kinks showing the models who are practitioners of the proclivity.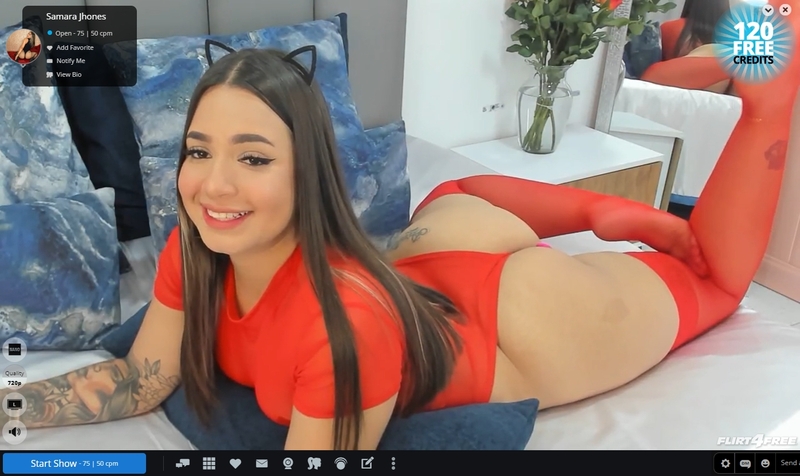 If you click on the top left Categories button on the homepage, a menu appears showing a range of categories, one of which is Big Butts. Selecting this refreshes the page showing photos of girls with juicy asses. However the snapshots don't always show the beauty of the butt. To really see what the true situation is, you'll have to click on the photo to enter the live cam room. You can hover the snapshot for a while and a live feed will appear, but this can take several seconds and doesn't always work.
If a photo has a pink circle on, it means the model is hosting a Party Chat. These are free tip-fueled shows, similar to those you find at freemium cam sites. They last a limited time and if the audience cumulatively tips enough,  the performer will carry out an X-rated act. However, if you want to direct the action yourself, you'll need to pay for a private show. Rates for these aren't cheap but do include cam2cam and 2-way audio usage.
On average, a 1on1 session with a huge butt cam girl costs around $3.00 a minute. The cheapest per-minute prices for a private show at the site are just $0.50 a minute, but very few rooms offer these rock-bottom rates. There are several ways to save money at Flirt4Free. Some models have Fan Clubs. These cost around $16 a month to join and you get not only access to all her upload XXX videos and photos for free, but you also get a 5% discount off her private show rates.
---
ImLive.com
ImLive is a premium cam site with one great advantage, though it also has a couple of minor disadvantages. On the upside, it offers one of the cheapest average cam2cam inclusive private show rates of any premium site. On the downside the number of hosts is more limited, with around 600 shows streaming live, and not all use HD feeds. However, the models featured are all skilled performers and most are experienced in a range of kinks and fetishes.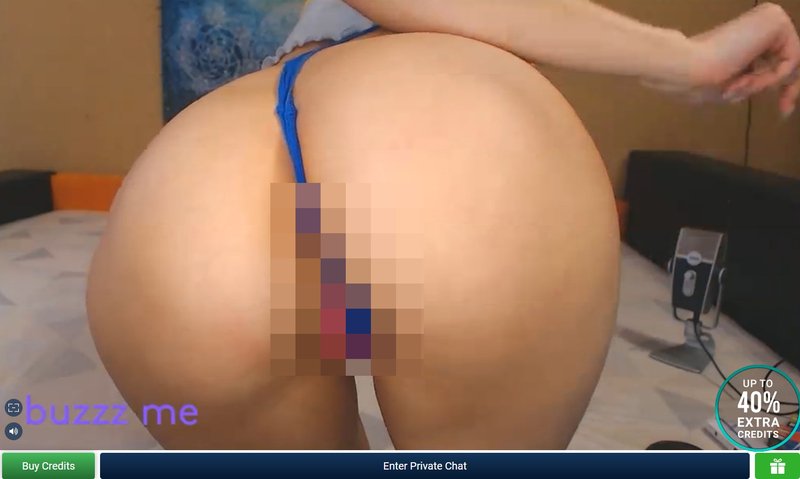 On the homepage of ImLive select More Filters from the left menu and then choose Big Ass under the Appearance section in the pop-up menu which appears. If you want to be more precise with the results, selecting the advanced search icon on the top far right of the page (three lines and three dots), brings up a range of parameters. Here you can not only choose your Ass Size (Big and Huge are both options), but also the age group, hair color, body type and even price range of a private show.
If though you're looking for something slightly spicier, selecting Fetish from the main menu then lets you choose what type of kink the babe is into. Anal training, whips, orgasm denial and some seriously skilled fisting cam girls are some of the search groups on offer.
The average cost of a big butt babe performing in a show where you're the only participant comes in at just $2.50 a minute. If that's too high, with a bit of hunting around you can often find a performer asking the site's minimum cost of $1.00 a minute. If you don't want to settle for just one performer, try the platform's Multi-Viewer feature. You can watch six live free cam rooms for free or pay $3.00 a minute and see 6 private shows someone else has paid for where the model is nude and getting raunchy. However, you're a silent voyeur in these sessions and can't interact with the performer in any way.
---
Stripchat.com
This freemium cam site is all about choice. Choice of models, choice of extra site benefits and choice of private show rates. Stripchat has well over 3,000 live shows streaming 24/7, hosted by all types of cam models from amateurs to porn-stars, solo acts to threesomes and groups hosting virtual sex parties. Site extras cover the spectrum, from recordable private cam shows and even recordable free shows, to VR cam feeds and HD free tip-fueled sessions.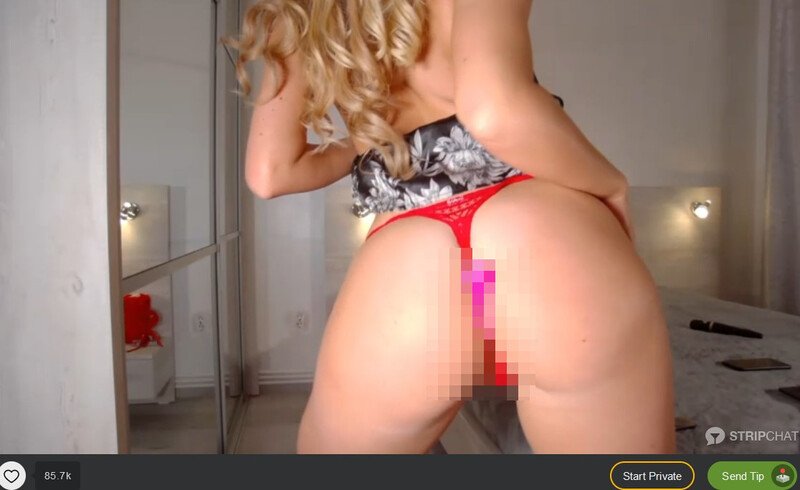 The search engine at Stripchat is one of the best of any cam site. You can select Big Ass from the main menu but a better way is to write it into the search bar. If you do this a range of options automatically appear featuring links to groups such as Big Ass Latina, Big Ass MILF, Big Ass Teen 18+. If though you're looking for a free show where you pay just if you want to see the girl do something specific with her bootylicious behind, choose the option for 'big ass' in Tip menu. This brings up photos of girls who'll play with their huge butts in a free show, as well as how many tokens are required in order for them to get jiggy with their juicy rumps.
If though you want to direct the twerking and even see some extra ass acrobatics using toys you'll need to go private. Unfortunately at Stripchat, many of the models insist on a 10 minute minimum or thereabouts before they'll go private. So, if you're looking for a quick private session, you may have to go through several potential playmates until you'll find one who'll go exclusive for just a few minutes.
Private show prices vary with the average cost working out at around $2.40 a minute. The cheapest rates kick off at just $0.80 a minute and you'll find quite a selection at this low price. However, the lower the cost, the higher the chance will be that the model will ask a higher fee if you want to open your cam for a C2C date.
---
BongaCams.com
Big butts rule the roost at BongaCams. This freemium cam site hosts around 1,700 live shows 24/7, most of which feature skilled amateur models. And, for some lucky reason, an inordinate amount of BongaCams babes are bottom heavy. Private show rates are standardized across the site and are higher than at comparable platforms. However, you don't necessarily need to pay for a private session in order to see some kinky big bum action.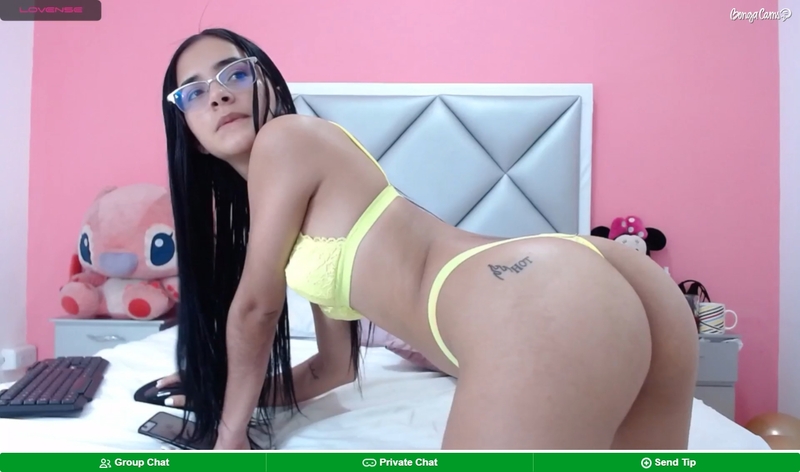 Selecting the advanced search icon on the left of the BongaCam's logo on the homepage brings up a search menu that lets you choose a Big Butt, as well as additional criteria you're looking for in a live video chat partner. You can also specify what size breasts you prefer, her age, ethnicity and which languages she speaks.
Once the page refreshes, one thing to look out for on the photos is an HD or HD+ sticker. BongaCams has not only a range of HD plus streaming rooms, but also quite a few broadcasting in 4K UHD. There's no sticker showing which are using 4K feeds, but if there's an HD+ icon it could be the room is also using a 4K (2180p) feed. If you want to see the ass action on your TV, BongaCams is currently the only leading recommended cam site which lets you stream directly to your TV.
Private show rates are set site-wide regardless of the streaming quality or skill and experience of the webcam model. Exclusive sessions come in at $3.30 a minute and include cam2cam usage. If though you don't want anyone else spying in on your session, you'll need to pay $5.00 for a Full Private Chat. Some models let you keep a recording of their performance at no extra cost, but not all. You'll have to check before starting a private chat show if this is a feature your big butt babe allows.
---
Chaturbate.com
If bigger is better, then the sheer number of live video chat shows streaming at Chaturbate is the biggest there is. This mega freemium cam site has over 5,000 options to choose from day and night and feature every type of cam host imaginable. You can find everyone here, from experimental first-time exhibitionists to verified big butt, big-name porn-stars streaming in 4K. Private show rates low and many offer free recordings with a paid-for session, but with so many extreme tip-fueled free NSFW cam shows to choose from, going private is an option you may never need.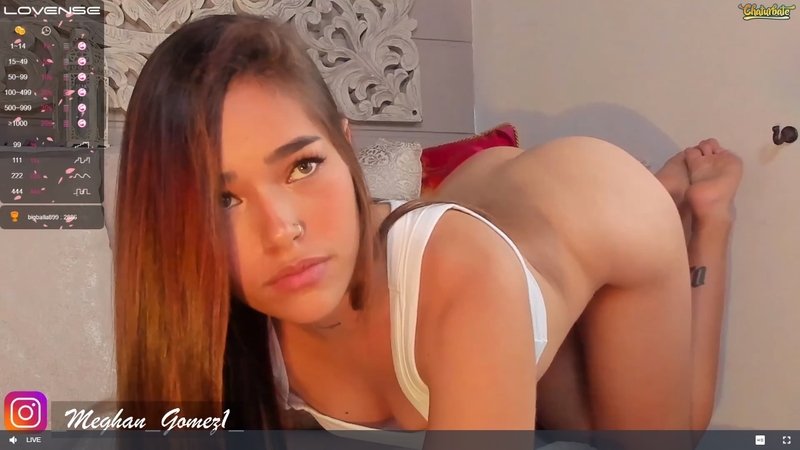 Above the gallery of XXX images that appear when Chaturbate loads are a selection of most commonly searched groups. One of which is often #bigass. If it doesn't come up then you'll have to select on the 'more tags' link. This brings up all the search tags the performers use. Clicking on Hashtag twice will bring up the results in an alphabetically order beginning with A. Scroll down until you get to Big Ass and then choose the link to find the girls with bootylicious behinds.
However just browsing the photos is all that's needed to find the ample asses. The photos are screen shots grabbed from a live feed so you can see not only who's stripped off and getting kinky in their free-to-enter room, but also who's already playing with their perfect plus-size posteriors. Streaming quality varies at Chaturbate with the novice nymphos tending to use SD feeds. But, there's no reason to suffer from a blurry image as Chaturbate features hundreds of HD plus streams and even a number of 4K feeds. These are shown by the HD+ sticker which appears at the bottom left of any photo.
The free shows at Chaturbate get extremely XXX, with performers whipping out their dildos and toys and performing all sorts of anal acts in their open rooms. If you tip them, many will also let you open your cam for a free c2c chat show. But, if you want to be the sole focus of their attention, a private show is the way to go. On average these cost $3.00 a minute, though there are usually a wide option of rooms asking the cheapest rate of just $0.60 a minute. And, similar to CamSoda, you can upgrade your status to that of a Supporter. This costs $19.95 a month and you'll get a range of benefits including a 1-time bonus of 200 tokens. Not bad considering purchasing 200 tokens alone will set you back $20.99.
---
Conclusion
The best site for a cam girl with a huge ass really all depends on your particular preferences. Every leading live video chat site has a wide selection of babes with big bum-bums. In this category, it isn't so much which webcam platform has the most options of girls with ample asses, but which platform has the extra benefits that best suit your needs.
CamSoda is one site that has pretty much every benefit to suit every need. Free tip-fueled X-rated cam shows, the ability to cam2cam in a free chat room, cheap private shows, as well the extra perk of recording a session and watching it over and over without paying a penny more. Obviously, the best way to find the perfect posterior is to check out a range of platforms, but we suggest you start your search at CamSoda.
Back to full list of sex cam blog posts
---