Top Cam Sites With Deepthroating & Gagging Webcam Shows
Last Updated
September 13, 2022
Athletes get to show off their prowess, their talents, their years of training in international events. They get medals and worldwide recognition for breaking records and bringing home the gold. When it comes to sexual acts, there are some genres that truly deserve a global gathering where performers can compete to show their talents and dedication to pushing the boundaries and going further than anyone else. One such act that demands such a focus is deepthroating.
Pushing aside the gag reflex and taking it deeper than most is a gift in itself. At the following live video chat sites, you get to see some of the most talented deepthroat divas around. They can swallow down a giant dildo and groan with pleasure as their eyes water with pride. Read on to find out how to get to the best deepthroating cam performers at each site and how to make sure you score the best deal when it comes to a gorgeous gagging girl taking it orally in a private cam show.
CamSoda.com
At CamSoda, deepthroating is a talent the majority of the cam models at this freemium live video chat site like to demonstrate in their free open cam rooms. With over 1,200 live shows to choose from it won't be long until you enter a room with a girl showing you just how far she can take a giant dildo down her throat. However, it's not just the championship-worthy gaggers that make CamSoda our number 1 pick for deepthroat cams. Cam2cam in open chat rooms, recordable private shows, and cheap 1on1 show rates will make you gasp with pleasure, not gasp for air at CamSoda.
You don't need a search engine to help you find the girls with an olympic-level gag reflex at CamSoda. Just browsing through the active snapshots in the platform's gallery of live rooms quickly shows which girls have a toy at the ready and are showing off their swallowing skills. If though looking through hundreds of steamy images isn't your thing and you want to get straight to the babes with giant dildos and oversized throating talents, clicking on the all the tags link brings up page after page of search groups. Instead of wasting your time at CamSoda's rather messy search engine, just go directly to page 4 of the results where you'll find a link to all the rooms featuring deepthroat cam girls.
Most performers will put a dildo in their mouths and take it till their eyes water, for a small tip in their free open cam rooms. However, if you want to direct her moves so she does it exactly as you like, then you'll need to enter a closed private show mode. On average these cost around $1.80 a minute, though when it comes to deepthroat divas, many of the cheaper rooms which cost just $0.48 a minute, also offer it as a particular talent they have.
The only issue you could have when it comes to the cheaper priced rooms, is that they may not be streaming with an HD feed. When it comes to opening your cam so the performer looks directly at you and sees your reaction as you watch her take it down her mouth, some will ask a higher per-minute price for C2C, while others include it in their rates. On the upside you can also open your cam in a free chat room at CamSoda. Even though this is a free feature, most performers will ask for a tip in order to look at your feed on their monitor.
One way to get a great deal at CamSoda is to signup as a VIP member. This costs $19.95 a month and gives you a bunch of extra benefits including a one-time gift of 200 tokens. It's worth taking out membership just for one month considering the cost of a VIP membership is slightly cheaper than purchasing 200 tokens in a stand-alone package. You won't get the 200 tokens in your second month as a VIP.
---
LiveJasmin.com
Unlike CamSoda, at LiveJasmin you'll need to go into a paid-for show mode in order to see a girl deepthroat a dildo. However, every single cam host at LiveJasmin is a professional model and when it comes to gagging girls, these babes are gold-medal contenders. There are over 1,000 rooms streaming 24/7 at LiveJasmin, all of which stream in HD and the majority of performers host their sessions from professionally designed and lit studio settings.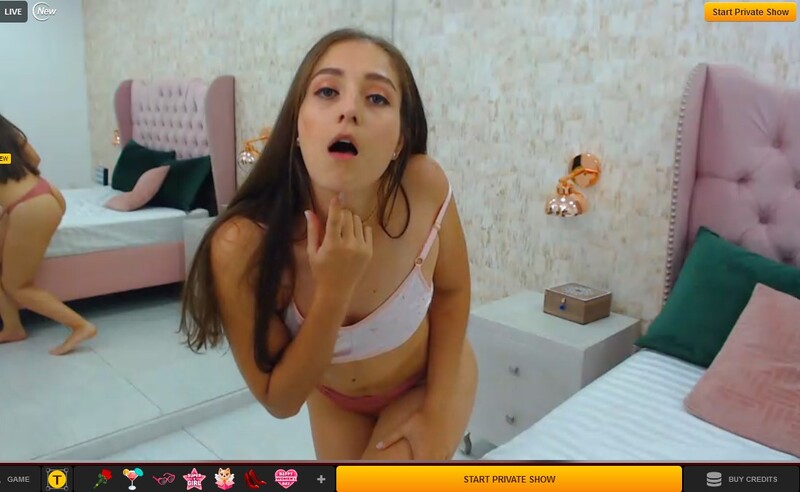 When it comes to discovering what a blowjob babe at LiveJasmin can do, all you have to do is select Deepthroat from the Willingness category on the main page's menu bar. You then see photo after photo of gorgeous girls, all of whom have champion-level gagging skills. To be honest, most of the cam girls at LiveJasmin know how to swallow like pros and the choice you'll get is huge. It's probably more effective to not search for the deepthroat cams but rather look for a model suited to your preferred physical appearance and age.
Using the advanced search tool you can choose a body-type such as a BBW cam girl, or a skinny sexpot, then pick the age group, her hair color, even her butt size and height and from the results see which are the best deepthroat cam girls for you. Almost all have dildos at the ready and are ready to get them moist with their mouth in a private show mode.
Once you've found your dream deepthroat dame, you'll have pay for a 1on1 session in order to get her take the dildo in her hands and begin an oral examination of it. On average, an exclusive show comes in at $2.40 a minute. This is great value-for-money considering the girls here top performers in their category and skilled not just a deepthroating but a variety of fetishes. But, and there is a big but here, if you want to open your cam for a C2C session and talk to her using your microphone, each of those features come in at an additional $1-2 a minute more.
There are specials which can make sure you pay the lowest price for any live show. If you link a credit card to your profile at LiveJasmin, you'll get 9.99 free credits as a thank you. Also, make sure you use the promo wheel before making any purchase, you can get huge discounts and free extra credits depending on where the wheel lands.
---
Flirt4Free.com
Flirt4Free is another premium cam site, similar to LiveJasmin, but this one has a kinky underbelly — a microsite dedicated to over 50 fetish genres. But, it's by no means a kink-centric site. At this live video chat platform you have a choice of around 600 shows streaming day and night, all of which are hosted by semi-pro and pro cam models, most of whom stream in HD and all of whom include cam2cam in their private show rates.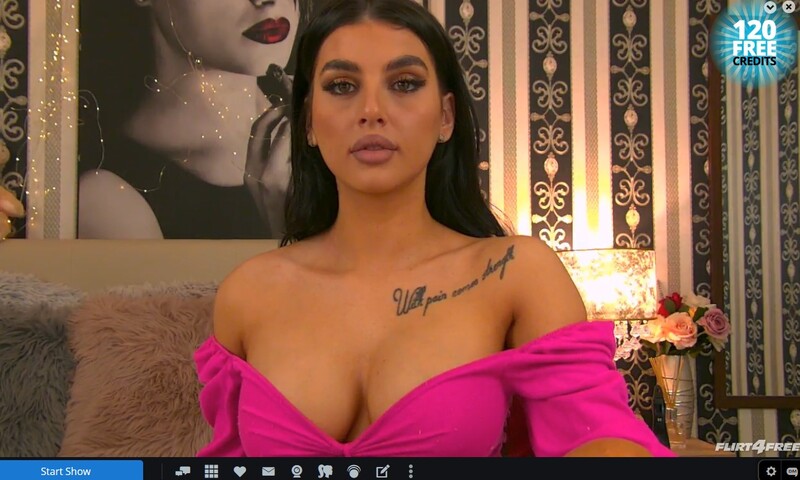 You don't need to enter into Flirt4Free's fetish microsite in order to find the deepthroat cams. If you want to see a girl with a seeming limitless gag reflex you can check out the rooms which appear when you click on Giant Dildo in the Categories menu bar. This though generally only offers a handful of options and isn't reflective of all girls who like to simulate blowjobs using a toy. A better way is to simply search for your type of girl, go into her room and ask her if she'll do show you her BJ skills in a private show. Most have a range of toys at the ready and will happily make their eyes water as they take a dildo as far as they can down their throat.
Flirt4Free also has a range of videos starring cam girls and over 200 of them appear when you search the XXX video library for Deepthroat. Before you use your Flirt4Free credits to access a video, the snapshot of the video shows you how highly other uses have rated the porn clip, how long it lasts for, when it was uploaded and how many other viewers have watched it.
When it comes to some live deepthroating cam action, a private show at Flirt4Free hits on average the $3.00 a minute mark and includes cam2cam and 2-way audio. There are cheaper rooms with the lowest-priced shows coming in at just $0.50 a minute. The more expensive the price, the more likely it is the cam model will be open to discounting her rates if you commit to a set amount of time lasting at least 20 minutes in a paid-for show mode. Others feature promo codes that give you free extra minutes in a private show.
One of the best deals you can get at Flirt4Free is when you sign-up to their VIP cam site program. This costs $39.95 a month but in return you get not only 150 credits each month you're member, but also access to 200 free videos including all the blowjob and deepthroat porn movies, as well as unlimited free access to recorded cam shows and free entry to hour-long X-rated VIP members only shows.
---
Stripchat.com
With over 3,500 cam rooms broadcasting 24/7, there's no surprise that you can find every type of cam model doing almost every kink imaginable at Stripchat. What makes Stripchat though unique, isn't its huge selection of shows, but what the site offers in addition to X-rated performances. This is one of just a very few cam sites offering virtual reality live video chat shows. If you have a VR headset, then take your deepthroat passion to a new level in a VR experience with a gorgeous girl who'll show you full-on how much she can take in her gaping mouth.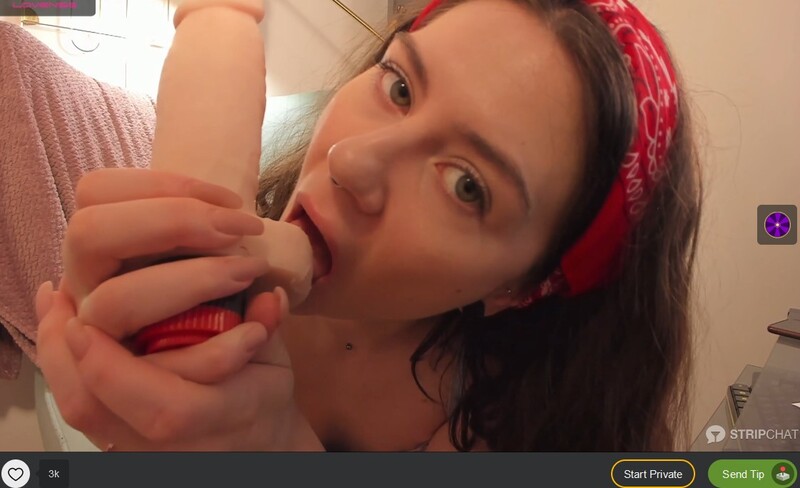 If you type Deepthroat into the search bar at Stripchat, you'll probably get a couple thousands results. The results are broken into four groups with a lot of crossovers. The site lets you look for those who have deepthroat listed in their tip menu, those rooms where the model performs deepthroat in a private show and those rooms where it's listed as a an interest in the performer's bio.
If you click on the tip menu link, you can then see photos of a performer and under the photo it's listed how many tokens they require in order to perform a deep-dive blowjob in a free show. Not many cam sites offer this search feature but then again Stripchat offers several features not many other platforms offer including VR X-rated cam shows and the ability to record a free cam show.
If you don't want to tip in a free show but want to direct the action in a 1on1 session, prices here average out at around $2.40 a minute. Some models let you record the session at no extra cost, but by no means all. Those that do allow it can be found using the Recordable Privates link on the homepage menu bar. If you want to tip and record a free show, almost every room allows this. The prices for a recording a free show are on par with the room's rates for a private show. However, most hosts insist on at least 10 minutes in a private show whereas there's no time minimum requirement for recording a free session.
While there aren't special deals or promos often offered at Stripchat, the site does gives away 500 free tokens every hour. This is done in form of a raffle which any online registered user can enter. Simply log-into the site and click on the hourly token raffle link which can be found under the message box in any chat room. Every hour 10 lucky users win 50 tokens each.
---
LivePrivates.com
LivePrivates is somewhat of a mixed cam bag of treats. On one hand it's a premium cam site which means all the models are vetted before being allowed to stream their kinky acts on the site. As a premium site it also means (usually) that all the X-rated activity is reserved for paid-for show modes only. However, recently LivePrivates began to offer free X-rated show fueled by tips, similar to those you'll find at freemium sites. What you will find though is a quite a difference between the models who host these free kinky live porn sessions and those who are strictly premium pay-for-play performers.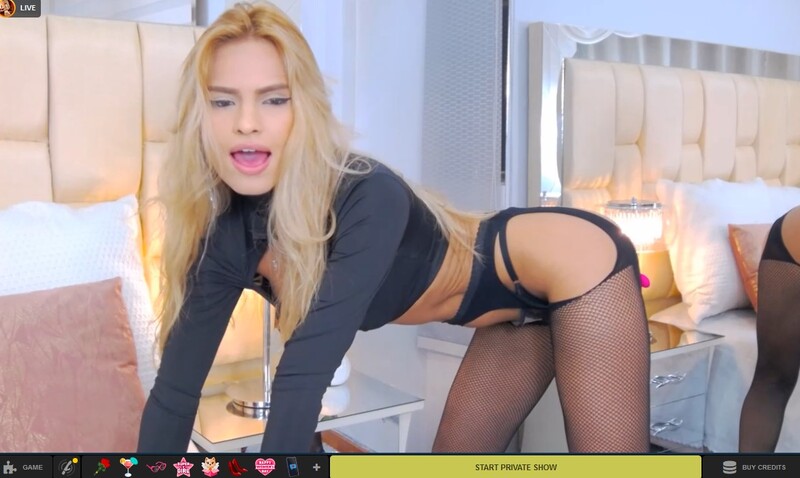 You can use the main menu to search for deepthroat divas or even the advanced search tool to narrow your choices to the particular type of model you like who practice deepthroating an over-sized shaft, as well as other kinks such as fingering, anal and even showing how far she can squirt in a private cam show. But in reality, almost every girl has a dildo in her room and the majority considering themselves as potential contenders in the deepthroating championships.
The best way to narrow your choices is to decide whether you want to pay the per-minute rate for a private session, or tip in a free show. If the latter option, you'll need to select Free Show from the menu and then browse the photos. You may notice that the models on the site run the gauntlet of styles with some looking as though they've stepped off the pages of a luxury lingerie magazine. The more polished and glamorous they appear, the less the chance that they'll perform in a free show. These babes are premium and you pay for the privilege of their XXX company.
Private show rates generally come in at around $2.40 a minute which is a great price if you don't want to open your cam for a face-to-face session. If you do, then you'll have to pay another $1-2 a minute more, the same again to use your microphone. If your favorite host won't perform any XXX jaunts in a free show, you can always ask if she hosts multi-viewer shows. These cost a set low-cost fee to enter and last around 10 minutes or more. They're great budget-friendly ways to see a stunning babe deepthroat a dildo for very little money.
If you see a photo with a girl who piques your interest and it has a Promo or New sticker on it, you may just end up scoring a bargain exclusive cam show. New models have been on the site for less than 3 months and are working hard to build up a fan base. Those with a Promo stickers are holding time-limited sales. In most cases, both types of rooms are asking the platform's minimum show rate of just $1.29 a minute (though again C2C and 2-way audio costs more).
---
Conclusion
When it comes to selecting the girls who just might make it onto your team for the deepthroat olympics, the potential contenders at the above live cam sites is huge. Unless you want to have some 1on1 try-outs, one of the cheapest ways to enjoy the feats of the fetish-loving gagging girl is to check out the stars of the freemium cam sites.
At CamSoda you can spot a deepthroater thanks to the active cam room previews within seconds of the site loading. Once you find a babe who loves to take it all in her mouth, you can either open your cam in her free show or, go into a private session which you can record at no extra cost, and then relive the sweet sensation of watching her take it to the balls and beyond without paying any additional fee.
Back to full list of sex cam blog posts
---