Athletic and Flexible Webcam Models Doing Gymnastic Movements
Last Updated
September 03, 2022
When the Olympic Games are going on, the world is a buzz for the stunning adult athletes, wearing tiny little outfits and sweating up a storm with all the different sports, such as boxing, beach volleyball, swimming, karate and weightlifting. But, it's the ladies of gymnastics that truly capture much of the attention. These women all have different body types, and are able to perform magnificent movements, with years of discipline and practice behind them. To take this Olympic spectacle of beautiful bodies testing their mobility and range a step further, we present to you the best cam sites to find gymnast webcam models.
Stripchat.com
Stripchat is a freemium site that you really have to struggle to find any fault with. From the impressive HD quality rooms (Up to 1080p), to the naughty models who love to exhibit their particular set of skills, super cheap prices, all nudity and sex all the time, and enough fetish categories to make your head spin. Don't be fooled by the "amateur" title of these performers, they know all the tricks, and they know all the ways to seduce and entrap you. Perhaps the most exciting show type the site offers are it's Virtual Reality live shows.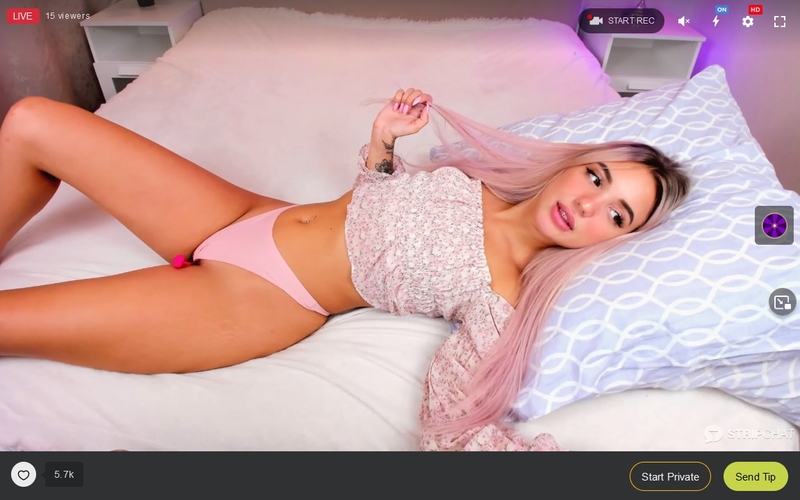 Stripchat, by far, offers the most categories from any of the sites on this list. This is an extremely fetish-centric site. All you need to do is hit the All Categories section on the bottom of the left hand filter, and you'll be in view of hundreds of categories. Here are just a few that relate directly to sporty models and physical endeavors: Athletic (More specifically as well, according to ethnicity/country, such as Athletic Ebony or Athletic Colombian), Yoga (Age specific too, such as Yoga Granny), Roleplay, Cosplay, Outdoor, Oil Show (Lots of models love to oil up when wearing athletic gear), and others. There's no doubt you'll find your hot gymnast gal here.
Live shows cost $2.40 a minute on average. The lowest rate you'll find on the site is $0.80 a minute. Some performers have minimum chat durations that can range from 5 to 10 minutes. If you open your cam, you will be charged 30-50 percent extra. Good news is that if you want to find models that allow free show recordings, just select the Recordable Shows category on the left and enjoy rewatching your sessions any time, at no cost.
Stripchat also offers its users a great membership program that gives you the kind of power normally reserved only for the models. For $20.00/month, you can become a Knight, which means a model can select you to be a moderator in her room. You can kick out users, comment as a moderator, and receive other special privileges, decided on by the performer. In other rooms, it also gives you the option to be invisible, and enter without being "seen".
---
Flirt4Free.com
Flirt4Free is an premium site cam site, with enough freemium perks to make you forget it's luxurious amenities and focus on the purely fetish side of this impressive platform. Not only does the site boast it's own fetish community, it offers Forums for members and models, an Education Center, and fetish categories on the most "vanilla", and the most extreme sides of the kink spectrum. It also offers great 24/7 live cam customer support, and a mobile platform you'll enjoy using with cam2cam capabilities.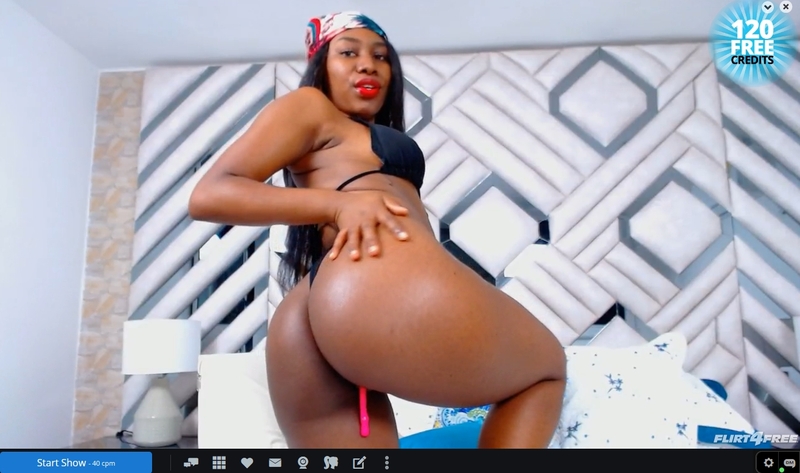 Flirt4Free offers the most extreme fetish categories under it's fetish dedicated mini-site, located under the Live Girls Cams section at the top of the homepage. There, you'll be able to see all fetish models under categories such as Roleplay, Costumes, Wet & messy (Lots of water and sweat), and in addition, you can also use the regular filter on the left of the main site, offering a Bobybuilder category. It's only a matter of time to find your actively sexy performer.
A private cam striptease at Flirt4Free will cost you around $3.00 a minute, inclusive of cam-to-cam and 2-way audio. Many of the models will offer a lower rate than advertised if you contact them and pre-book a session of at least 10 minutes or more, others offer promo codes that provide extra minutes or reductions. Flirt4Free gives out 120 free cam site credits, which have a dollar value of $12.00 for every new member who verifies their card, no purchase needed.
The video quality of Flirt4Free, in general, is excellent. It's rare to see a non-HD cam here, and to make sure you only see HD live cams, just hit the HD button located on the top right. Finally, Flirt4Free allows to limit your spending with its Play & Pay feature, which is the site's pay-as-you-go option. It can only be used for private shows, and for tipping in them, and is easily accessible by simply selecting the Play & Pay option when initiating a private show.
---
BongaCams.com
BongaCams is a super fun freemium site with a welcoming energy to anyone, from anywhere, as it translates into one of 33 languages, and continues that continental attitude with the variation of models, too. The models are comprised of worldly performers, mostly from Europe. Another great perk of the site is 1080pHD rooms (Just hit the #HD+ hashtag), and a huge array of couples and groups. The rooms are full of sexy antics for free and based on tips. If you're into exotic accents and group sex, this is definitely the site for you.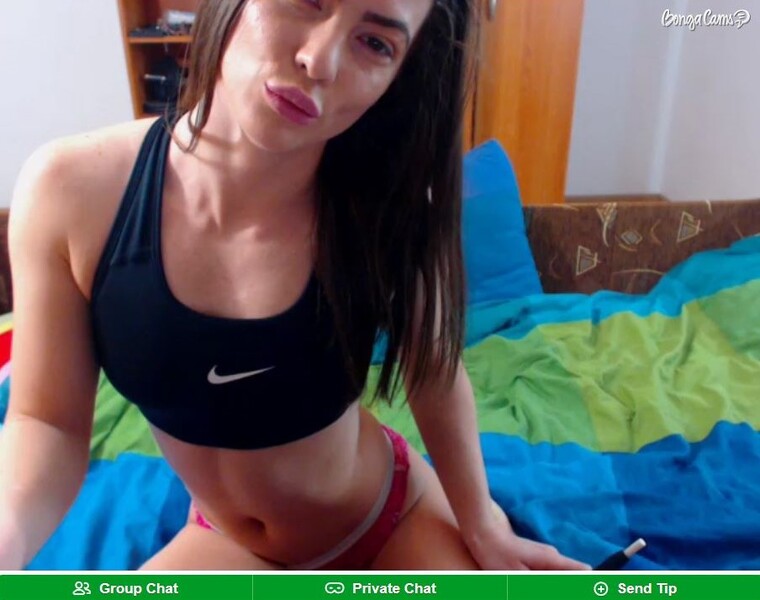 To find your fit, fabulous gymnast babe, simply select the Quick Search, which is the main filter. You can choose Athletic under the Appearance section, and you can also select the main Categories, where you'll find fun ones - Muscle and Fetish. In addition, you can use the View main tags on the top right to search for favorites of yours, such as #Dancing and #Games. BongaCams is a great site to just hang out with gorgeous gals and ask them for a private session with your specific fantasy in mind.  
A private chat with your favorite model will cost you $3.30 a minute. This is a uniform rate charged by all of the performers. To prevent other users from spying on your shows, you'll have to opt for a Full Private Chat, which is 50% more expensive. Alternatively, you can join a Group Chat and pay 50% less than a regular private chat, but that's only if you don't mind sharing the model with other users. The site also offers a great promo for mobile devices, as it has a great mobile site with cam2cam capabilities: 100 free tokens for any purchase you make via your mobile device.
There's one singular downside to the site, and that is its gratuitous use of pop-up ads. No matter how much you purchase (Unless you become a VIP for $20.00/month), you'll always see some kind of ad regarding purchasing more credits. On the flip side, the site has so many promotions that it's easy to see why it's so popular. There's also 24/7 customer service that usually can only be found on premium sites.
---
Streamate.com
If you want more quantity and variety of cams, then Streamate could be a good fit for you. It has a good balance of premium and freemium features, and you're much more likely to see the model in action here outside of private rooms. On average, you'll have around 1,500 cams to choose from, and they're much more diverse in terms of the model's country of origin, which you can easily sort/filter from the categories on the top, above the live cams. The site is also on the top of our list to find stunning muscle cam girls.
To narrow down the choices from so many live cams, simply use the filter on the left, and select your category, in this case - Muscle, usually occupied with between 20-30 live cam hotties. There is also an option to use the Trending Tags and selecting those appropriate. You can also use the Fetishes on the top-middle filter and select categories Roleplay, and Rubber/Latex. You'll find plenty of flexible ladies getting sweaty in the general rooms too, so don't rule those out. 
Prices for a private session come in at around $2.70 a minute, but the site has you covered when it comes to potential overspending. If you want to prevent people from spying on your show, you'll have to pay an extra dollar a minute for True Private. Know that even if you don't, they won't be able to see or interact with you or with the chat in any way. They will, however, be able to message the model, so consider this if you want the performer's undivided attention.
Streamate is one of the few live cam sites that employs a pay-as-you-go system, which also allows you to use a prepaid card, and even set a daily spending cap on your account. This all leads to not only keeping your expenses in check, but keeping your anonymity and safety secure as well, as there's no use of bank account details with a prepaid card.
---
Chaturbate.com
Chaturbate boasts up to 4K HD quality live cams, which is unheard of on freemium sites so gigantic and so full of models who never leave their free, kinky rooms as they make a lot of change from tips alone. The site offers thousands of models from all over the world. You could easily spend hours on it without spending a dime, and who knows - You may even be tempted to become a model yourself. In fact, you'll see hundreds upon hundreds of people who've already made this decision, making Chaturbate the best cam site for amateur cams around.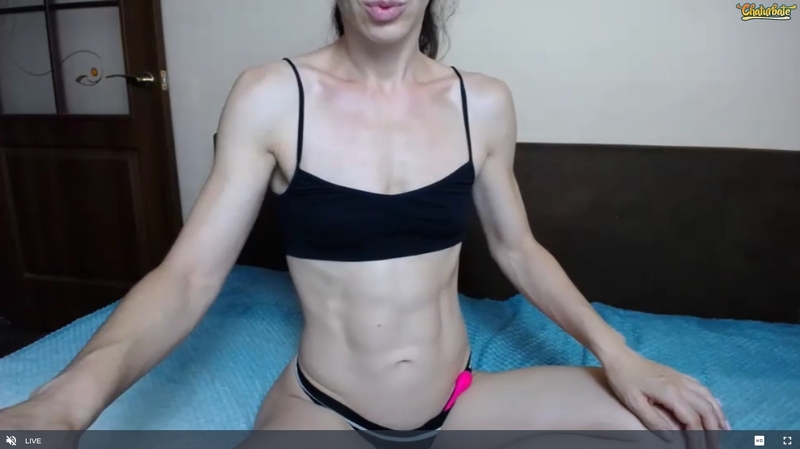 Like many freemium sites, Chaturbate works using only a tagging system. Unlike other sites, the tags actually match the models that label themselves, which is a big perk. For example, when you select the More tags option on the top right of the main page, you'll find the #muscle tag, which will lead you to models who look like they stepped out of a fitness magazine. You can also search for related tags, such as #latex, #fitness, #roleplay, #wet, and so many others when looking for the gymnast cam girls.
If you're interested in a 1-on-1 show you'll have to pay $3.00 a minute, on average. The cheapest models on the site charge $0.60 a minute. Cam2cam isn't necessarily included in these rates as the models may demand an extra fee. While the top models of the site tend to charge much more, if they even accept private invitations at all, there are simply so many low-cost cams here that you can always find a show that fits your budget, no matter how tight it is.
Many of the webcam models on Chaturbate also include free show recordings with their private shows. All recordings of over 30 seconds are added to your personal collection, and you can watch them again whenever you feel like. That means you are free to record anything in private at any time you want, and you won't be spending a dime to watch it again at any time you want.
---
Conclusion
When Olympic fever comes, it takes the world by storm. So, it's only right we introduce you to the best athletic, sporty, ripped and fun-loving models around. By far, the best place to find them is Stripchat, and it also offers so many more attractions. The virtual reality cams are amazing and don't cost extra, prices are low and include free show recordings, and the free rooms are filled to the brim with free sex and nudity. For all your fit-for-a-king needs, take a walk on the kinky side and head on over to Stripchat.
Back to full list of sex cam blog posts
---