Webcam Sites to Watch Muscle Girl Cams
Last Updated
September 11, 2022
If you like muscle girls, then are you probably well aware of how incredibly difficult it is to find a buff cam girl online. Few adult chat sites have a dedicated category for muscular women and the sites that do are more often than not mistagged. These are the top 5 webcam sites to watch muscle cams. We explain how to find the ripped and toned chicks on each one.
Be aware that even with the best sites for it, finding any muscle cam girls online is quite rare. You will likely need to check on each site.
Streamate.com
Streamate has made it onto a bunch of our lists, but this might just be the very first time Streamate took the #1 position. In terms of muscular cam girls, Streamate has by far the truest selection. You should use the search bar to look for buff, muscle, and biceps. The results won't always be accurate, but there will usually be at least one or two true musclebound babes.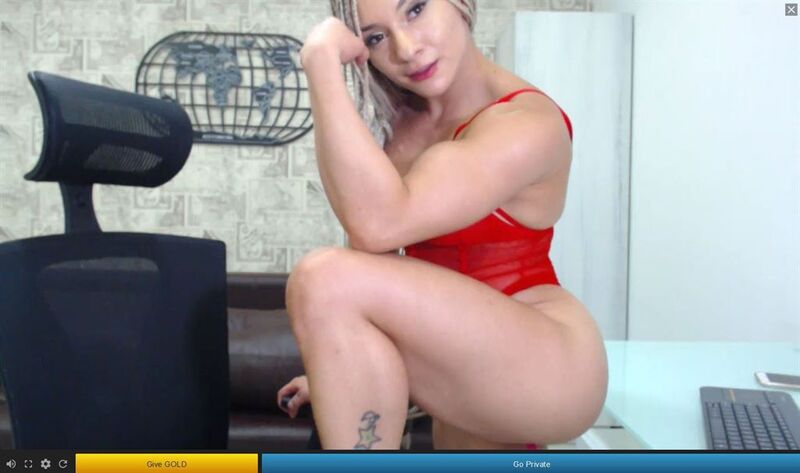 Streamate doesn't work like other cam sites. You don't buy credits or tokens. Instead, you leave your payment method on file on the site's secure server and pay as you go. It vastly simplifies the payment process and you never have to do complicated math trying to do currency conversions. The site is premium in nature, but you can tip the models for requests. Most of the babes will flash in the free chat rooms, if they are tipped to do so.
Generally speaking, if you want the cam girl to perform for you, you are going to have to Go Private. Private shows range from as low as $0.99 a minute to over $12.00 a minute. The price range is quite large, and it's hard to guess exactly how much the muscle girl you want to watch will want.
Cam2cam is usually included in the private shows on Streamate, but it does change from model to model. Some girls will only watch you in exclusive shows, while others won't watch you at all.
---
ImLive.com
ImLive is a great sex cam site with an amazingly rewarding rewards program. As you use the site and climb up the loyalty ranks, the site continues to get cheaper. ImLive doesn't have a muscle category, but it does have a muscle search option in the Advanced Search. Just select Appearance and choose Muscular. The selection isn't always the greatest, so we recommend submitting your sexual fantasy.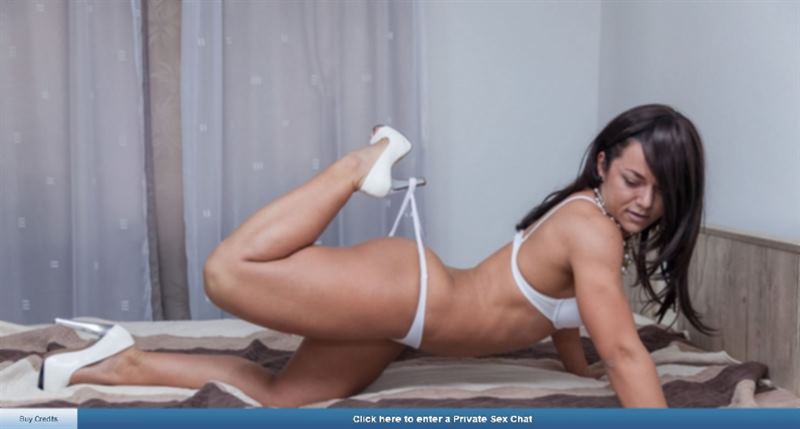 ImLive uses a 1 to 1 exchange rate between the US dollar and the site credits. It is quite simple to keep track of your spending on ImLive, as you can always look at your account and tell exactly how much what you have left is worth. The math becomes a little harder when you climb up the loyalty ranks and start getting more free credits, but we highly doubt you would be complaining about all the freebies.
As a premium site, ImLive does not have any free nudity. You might catch the occasional nip slip, but the free chat rooms remain quite tame. Entering the Private Sex Chat is where you gain more control and can command the muscle babe you are watching to flex and pose to your satisfaction. These shows average between $1.98 and $3.00 at the lowest level of the loyalty tier.
Cam2cam and 2 way audio are included in all private shows on ImLive. It's the site policy, that if you request cam2cam, you get it.
---
MyFreeCams.com
MyFreeCams was the original free cam site and all the rest just copied it. MyFreeCams has a huge collection of webcam models with not a man in sight. The entire site is dedicated purely to women. There is an impressive search engine that can help you filter down your results. Most of the women who tag themselves for muscles are physically fit, but aren't exactly the buffest girls around.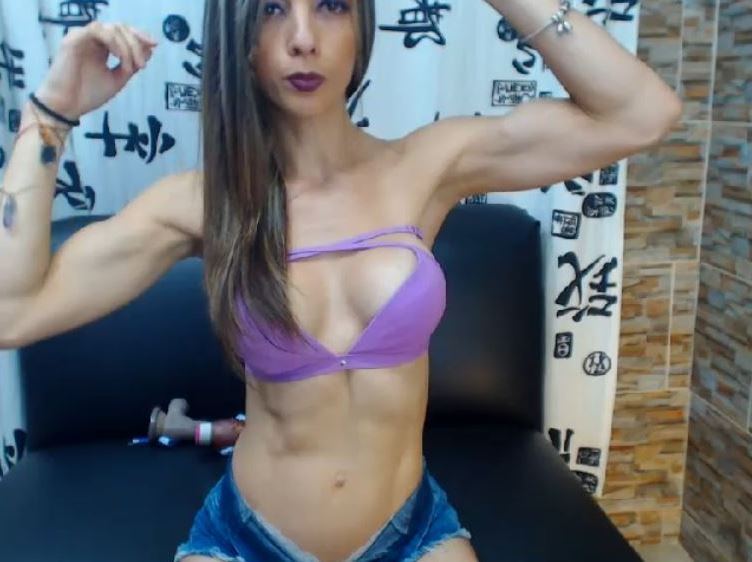 MyFreeCams is completely free to use, but as a free user you are muted in most rooms. The site uses tokens which cost between 8 and 10 cents per token. After completing your first purchase, you are upgraded to a premium member for life. As a freemium site, many users tip for models to perform in the free chat rooms. Trying to figure out exactly how much you've spent on the site can get a little confusing, but you can pretty much treat it as $10.00 per 100 tokens.
MyFreeCams is always rife with nudity. That means there's also a lot of people watching. To get more personal with the buff woman you are watching, you are going to have to invite her to Go Private. The problem is, that MyFreeCams has a set price which is honestly expensive, coming in at $6.00 per minute.
Cam2cam on MyFreeCams is not included with the private shows and needs to be set up and paid for separately. Most girls charge a one time fee rather than per minute.
---
Chaturbate.com
When it comes to sex cam rooms, no one has a bigger selection than Chaturbate. It is the most popular webcam site on the internet, among models. Chaturbate has about 3 times more chat rooms online than any other site. There are always a few muscular girls of varying buffness on the site. The problem, is that Chaturbate is awful with tagging. Cam girls will tag themselves for anything and everything, except what is relevant.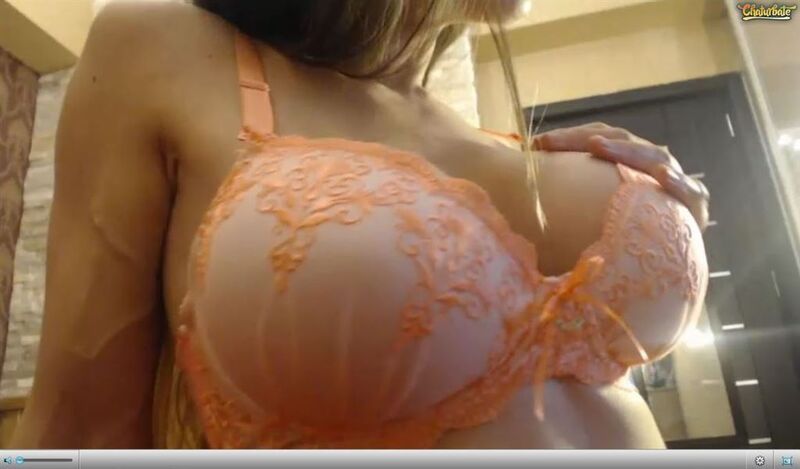 Chaturbate is a free cam site with a huge selection of rooms. The site is very similar to MyFreeCams and also uses tokens. The tokens on the site are slightly more expensive, ranging between 9 and 11 cents per token. Making a purchase enables you to talk in most chat rooms and to use most of the site features. But, it doesn't make you a premium member. Premium membership is a separate fee that honestly doesn't give you that much in terms of benefits.
Chaturbate has plenty of nude women on the site. The problem will be to find girls who are actually muscular enough to suit your tastes. They are rare enough, that they usually charge quite the premium. While you can find rooms for as low as $0.60 a minute on the site, most of the buffer girls charge upwards of $3.00 a minute.
Cam2cam on Chaturbate is like on MyFreeCams, you set it up and have the cam model join your chat room.
---
BongaCams.com
One of Europe's favorite sites, BongaCams gets more traffic than Wikipedia in certain countries. The site has many great features and many beautiful women to choose from. The site has a dedicated Muscle category that can be found in the left hand category menu. There's always a large number on display, but very few rooms will actually contain muscular women.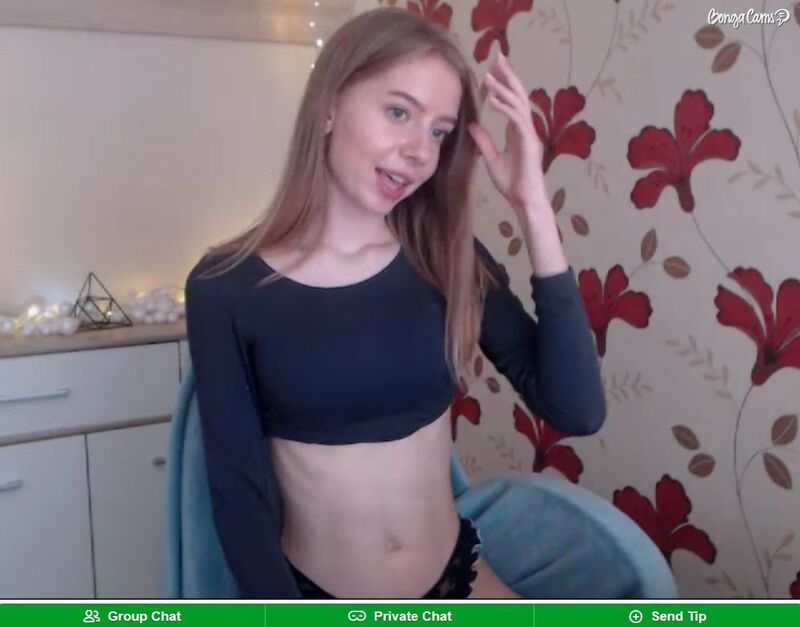 BongaCams is also a free cam site, and is usually filled with an abundance of nude sex chat rooms. The site uses tokens which cost cost between 11 and 16 cents per token. The site has two different types of VIP programs, a paid one and a free one. You can climb up loyalty tiers by consistently spending money on the site, or you can just pay to get treated like a VIP straight away. While you can tip for requests on the site, there are rarely goals.
As with Chaturbate and MyFreeCams, the rooms on the site can get quite busy with a lot of people watching. But, unlike on those two sites, there is a proper cam2cam implementation. You don't need to set up your own cam2cam room, in fact you can cam2cam in the free chat room by just clicking a button. You can click on the button for free, but unless you've actually tipped the girl, there is hardly a chance that she'll watch you.
Private shows on BongaCams have a set price, but unlike on MyFreeCams it is much more reasonable. You can get a private show on the site for just over $3.00 a minute.
---
Conclusion
In all honesty, trying to find a muscle cam girl is like finding a needle in a haystack. Even if these girls are bigger and stronger than the other girls, they don't really get the recognition they deserve. If you find a buff woman, we highly recommend adding her to your favorites list and tipping continuously, god knows when the next time will be.
Streamate and ImLive are your two best bets for finding the really ripped women. The other 3 sites are nice, but they are more of a last resort sort of thing. You could seriously spend hours on each of them, searching for a buff woman, never to find one.
If you want to properly utilize your time, go to ImLive and submit your fantasy. Write that you are looking for the buffest woman possible, and explain what you want her to do during the show.
While waiting for the messages to start coming in on ImLive, make an account on Streamate and check out the selection available. It is the likeliest place for you to find some muscle right now, but you should really keep your fingers crossed.
Back to full list of sex cam blog posts
---