6 Best Cam Sites Featuring Goth Models
Last Updated
September 05, 2022
For some reason the "goth" category has not yet become so mainstream in which live cam sites have it as one of the fetish categories. This is odd, since so many models apply the goth look and feel to their shows, sporting latex, leather, choker necklaces, heavy makeup, and dungeon-like rooms they broadcast from. So, here are the top 6 cam sites that offer the most fetish-oriented live cam goth performers. Learn more about the sites' amenities, HD quality, mobile platforms, and low cost webcam chats.
LiveJasmin.com
The leader in premium live cam chats, as well as amenities that prove that premium is where you wanna be, LiveJasmin has it all. A sleek and beautiful site design and ease of use, 24/7 live customer support, 720p HD rooms, pro models that converse in the open rooms (No nudity allowed) and get super nasty in private, fun features such as Stories (Instagram-like uploads from models), and Mobile Live (Performers stream from their mobile), and even a welcome gift of 9.99 credits, worth $10, once you validate your credit card, no purchase needed.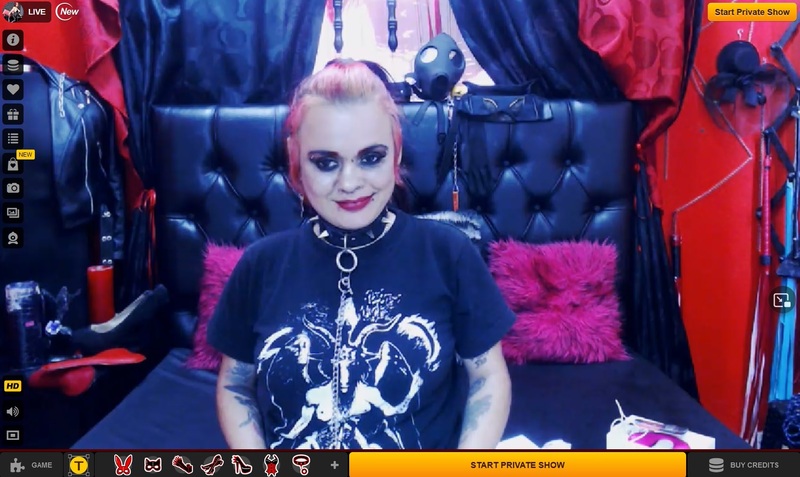 LiveJasmin's selection of goth webcam models can be found by selecting the Fetish link on the left of the main screen under Categories. Once you've done this you can then either eyeball the photos until you see a girl who's a potential partner for some deep, dark and emo conversation, or you can use the advanced search icon for making multiple selections.
This search tool can be found by tapping to the right of the search icon (Three lines and three dots) which is on the top right of the homepage. Not only can you select Fetish, but in the other categories you can also choose anything else that strikes your fancy, as this search allows for multiple selections. Feel free to add HD quality, price level, world region, appearance, anything really.
The average price of a private show at LiveJasmin stands at $2.40 a minute, while the cheapest rooms come in at $1.20 a minute. If you want to add turning on your camera and your mic, it'll be another $1-$2 for each. This goes for the site's mobile platform with cam2cam as well. And, if you don't mind others in your room, consider a VIP Show, which sometimes will offer new models, at a fraction of a private show's cost.
---
CamSoda.com
And now we arrive to the reigning king of amateur freemium live cams, where the open rooms are all about seeing as much nudity and sex acts you possibly can, for free. But this site is not just a peep show, it also offers 1080p HD cams, free recordable live shows, exclusive vids made by CamSoda which are full length and offered to all at no cost, bb forums where you can upload a post and if you're the most upvoted, win up to 2500 tokens (Worth $250!). CamSoda is here to give you free stuff and gorgeous amateur ladies.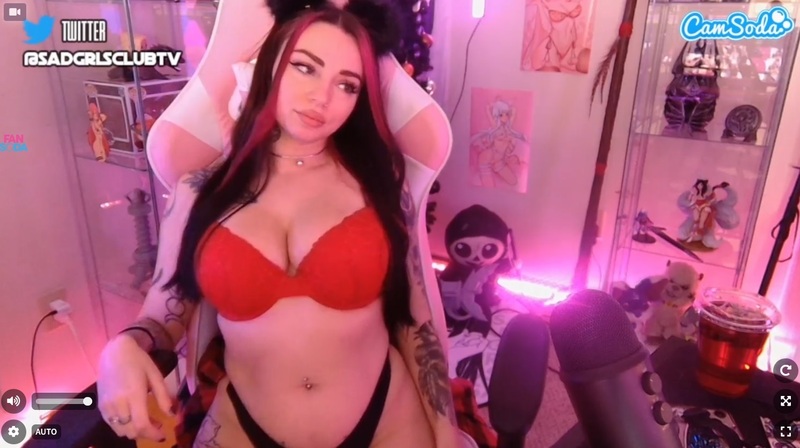 To find a goth performer, either search the tags, which is not very effective, or do what we recommend, which is take a gander at all the live cams streaming at once, in full view, a feature only CamSoda offers. This makes searching for a goth webcam model easy, and you'll be able to enjoy the ride, too. Another cool feature on CamSoda, which is also for free (Though tipping is encouraged), is turning on your cam during an open chat (Available only for those using a Chrome browser). After activating the Share My Cam feature, you'll see the option to Start Private or Share With Model. The Share With Model option will open your webcam during the free chat.
An average private will cost you $1.80 a minute, but the lowest privates are an almost shocking $0.50 a minute, which is one of the lowest costs in live cams, especially when considering the price includes cam2cam on desktop and mobile, and free show recordings. But things can get even cheaper, if you choose Voyeur (Completely free) and Spy On Shows (Private shows that you can watch without anyone knowing), located on the top of the main page, and give you a pervy peeping feeling for a fraction of the cost.
Other ways to save cash include 200 bonus tokens (Worth $20) given to those who upgrade from basic to Premium membership for $19.95/month, which you can cancel anytime. And, each week 1 lucky member is voted as the nicest by the cam hosts and receives 1000 free tokens, worth $100. These are usually members that tip generously, and also communicate respectively with their favorite ladies.
---
Stripchat.com
Boasting 6000 models and hundreds of fetish categories, as well as 1080p HD rooms and virtual reality live cams, it's hard to compete with Stripchat as a brilliant freemium live chat site. The main page is loaded with countless open rooms, displaying all manner of undress and sex acts, solo as well as couples and small groups. If you're also into men and trans models, this is also a great place to find them (Around 200-300 live cams). And if you select the Recordable category, you'll see all the models (Over 2,000 of them) that allow free private session recordings.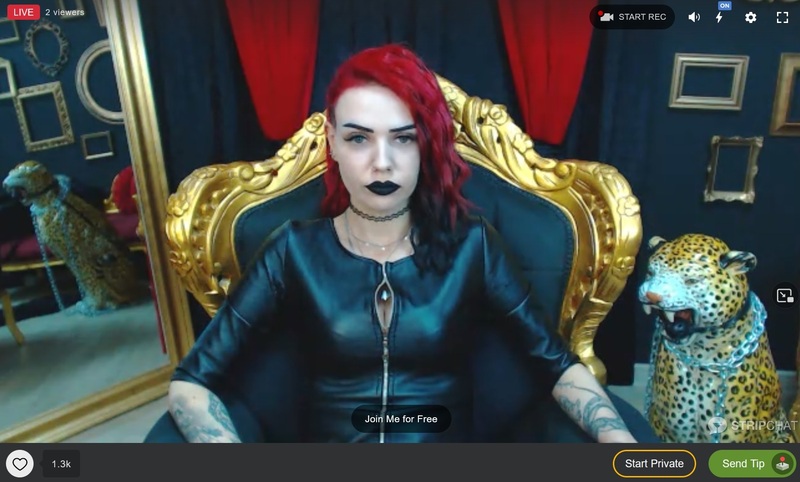 For a free-to-use live chat site, Stripchat has an impressive offering of chat features and cam categories. The site's side menu bar is always there for easy navigation, but the best way to find your exact niche is to scroll down and select the All Categories link, will launch a giant A to Z list of webcam filters, in the hundreds. Among those, you can choose the letter G, and then select Goth, where around 20 cams will be waiting for you.
A private show on Stripchat costs $2.40 a minute on average, while the minimum stands at $0.80 a minute. Stripchat loves its models and gives them total control of what they charge, and what they give. So, some models will ask for extra to use cam 2 cam, some won't offer free recorded shows, and some will offer Fan Clubs, with different perks such as discount codes, block sessions that give you major reductions, and even the title of Knight, which gives you the power to moderate her room and kick other members out.
One of the reasons so many flock to Stripchat, is because it is one of the only live porn sites offering virtual reality live cams, which you can find on the left handed filter under VR Cams. Between 20-40 lovely ladies will be there, allowing you to use your VR tech and have a stunning 360 degree experience. For those that need more guidance, the category will also provide all the info you need to get started.
---
Chaturbate.com
The king of cam site weirdness, this is where the "creative" models express themselves, all 4000 of them, in up to 4K HD quality live cams. Here, you won't just find goth, but goth wearing a french maid outfit, or goth wearing a Disney character dress, crazy makeup and wigs, which go along really well with the playful, wacky, exhibitionist nature of these ladies. This is also why so many stick with open rooms only, with some of their open chats inhabiting literal thousands of users, tipping.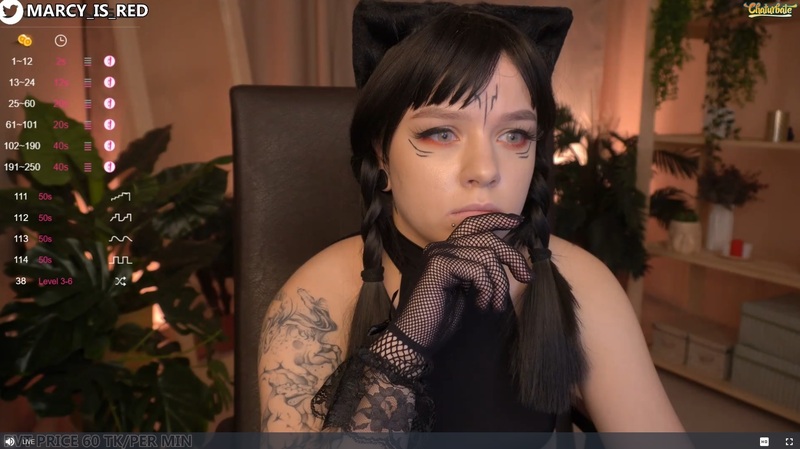 There is no conventional category list in place, only a tagging system to sort through the girls. We recommend scanning through all the rooms, as the thumbnail gallery layout actively refreshes with photo snapshots of what's currently happening in every room, and it refreshes every few seconds. But if you want to try searching with the tagging system, use the search bar and enter "goth", or try and go through the hundreds of tags using (more tags) on the right.
The option to go private is there, and many of the less popular, or newer girls, will jump to the call. But, if you go after the top performers on the site, they may reject your request. Or, if they're up for it, they'll want an initial payment. With that in mind, private sessions average $3.00 a minute, with the lowest priced rooms asking for $0.60 a minute, which is one of the cheapest prices in live cams, and they're all recorded for free. You can even turn on your own cam in the free and open chat, for free, by hitting the Cam to Cam button. Only the model will see you, of course. It's a great way to stand out among the crowd, especially when there are hundreds/thousand of users in one room.
There's a one-time free bonus of 200 tokens (Worth $20) with an upgrade and become a Chaturbate Supporter. In this status, you'll gain a clean, ad-free interface, custom chat font and color options, and free private messaging. Also, as mentioned above, this is a great chance to remain anonymous to everyone else except the model, a feature only available with the membership, costing $19.95 a month.
---
MyFreeCams.com
MyFreeCams is another goldmine of amateur babes camming from around the world, though it does offer the largest collect of American models. The site itself allows you to manipulate just about every element you interface with. Site settings let you adjust, resize, and hide nearly all user functions and elements of your account, including privacy and payment. If you like a lot of features and customization (You can even upload picture galleries), this is the site for you.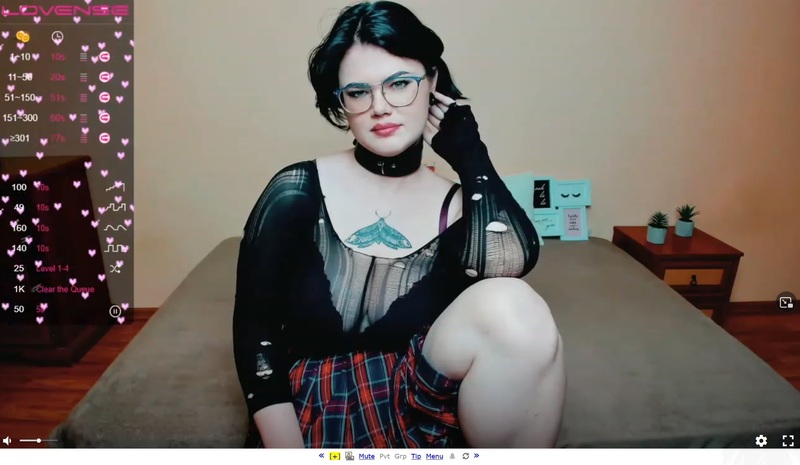 MyFreeCams' search bar consists of a multi-optional menu allowing you to sort out models according to hundreds of tags. Moreover, by tapping on Model Explorer, you'll be presented with a variety of criteria for choosing your favorite cam girl. Some of these criteria are related to the models' personality and lifestyle. For example, the things they do for fun, their talents, the best reasons to know them, whether they have a pet and their favorite movies and books. Of course, you can also use the search bar on the top right and input "goth" to your search.
MyFreeCams offers a singular price of $6.00 a minute, for all chats. And another fee of $2 for a private chat without spies. Frankly, there's little reason for private sessions, unless you have a special kink in mind, but this site is much more about the hot chicks with toys and very little clothing, and more for those looking for a good time, rather than users who will look for particular fetishes. Also, you can open up your cam during open chat, with only the model seeing you, which makes private chats less vital, as well.
With $19.99 being the cheapest buy-in on MyFreeCams, you may like to consider it if you frequent the site. Once you make that first purchase you'll be upgraded to the Premium status. Where other sites will revert you back to a basic status once you've brought your account back to zero, this site keeps you in the upgraded status forever. Premium members can chat in the open rooms, send private messages to performers, as well as to other members seen in a model's chat room, and be able to set up your own chat room, if you're so inclined.
---
Streamate.com
Streamate is a premium site that veers hard into freemium territory, with most rooms flaunting all body parts and sex acts,and the prices are also incredibly low for such an impressive collection of performers, a mixed bag of amateurs and pros. This is a great site for finding slightly older models, there's lots of them, and also a nice bunch of athletic models and even bodybuilders, with plenty of tattooed stunners. It's a cheap site, with great girls, and a great middle-of-the-road stop for those looking for a good time.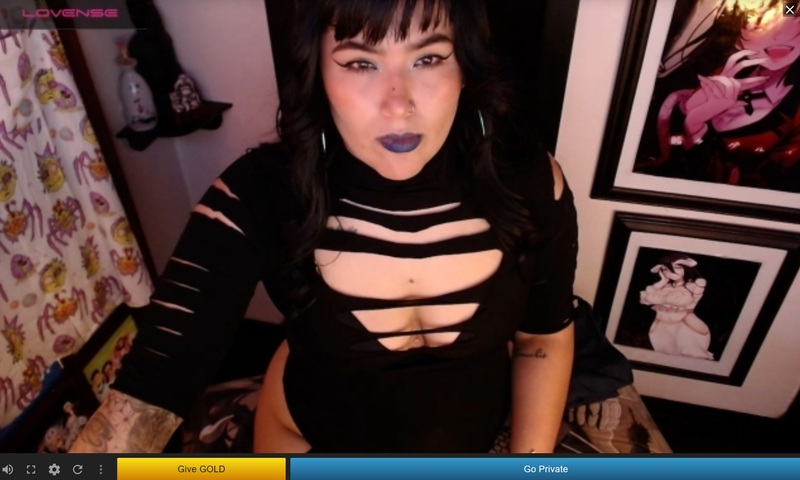 Streamate offers two filters, the main one on the left that houses the basic categories, and the one on top, where you can make multiple selections, from categories such as Fetishes, Features, Age and Regions. To reach your goth goldmine, select the fetishes that will be the closest connected to goth, such as Dominant, Roleplay, Leather, Smoking, and others. You can also search for "goth" in the search bar on the top right.
Most of the rooms at Streamate use HD feeds which is great considering this site lets you watch both a paid-for X-rated cam show and a free chat session in full screen view. The average price for some 1on1 time with a goth cam girl hits the $3.00 a minute mark, while the cheapest private shows start at under $1 a minute. There are two kinds of privates, the basic one, and the Exclusive chat that doesn't allow peepers, which can add another $1-$2 to the cost, depending on the model. The other multi-user chat is called a Gold Show, and is great for those on a budget.
Streamate has the most unique, and user-friendly payment system on this list. No credit/token packages here. When you register, you input your card info, and you're charged every 24 hours, per second (Not minute). You can also set up a daily spending limit for yourself, and even use a prepaid card, which will boast both your security and anonymity, and will allow you to keep close eye on your spending.
---
Conclusion
From the sites above, there's no doubt LiveJamin takes the cake. The amenities are impressive, such as the HD quality and live support, and the large amount of fetish models almost guarantees you'll find your goth goddess among them. You even get a free trial once you validate your card, and you get to Spin the Wheel prior to each purchase for the chance to win double your credit amount. There's a lot to appreciate on LiveJasmin, but the premium webcam models are it's crown and glory.
Back to full list of sex cam blog posts
---