100
models are online now
As low as
$0.98
per minute
FetishGalaxy Review - The Best Cheap Fetish Site
Last Updated
September 10, 2022
Is FetishGalaxy Good?
For those in the market for cheap live chat shows and fetish categories aplenty, FetishGalaxy is absolutely the best site for the job. The highlight of the site is the models themselves, professional and stunning, with abilities and kinks to put any other group of hosts to shame. The advanced filtering system makes sure you find just the right kinky lady, and the affordable private show rates make FetishGalaxy a must for fabulous fetish lovers.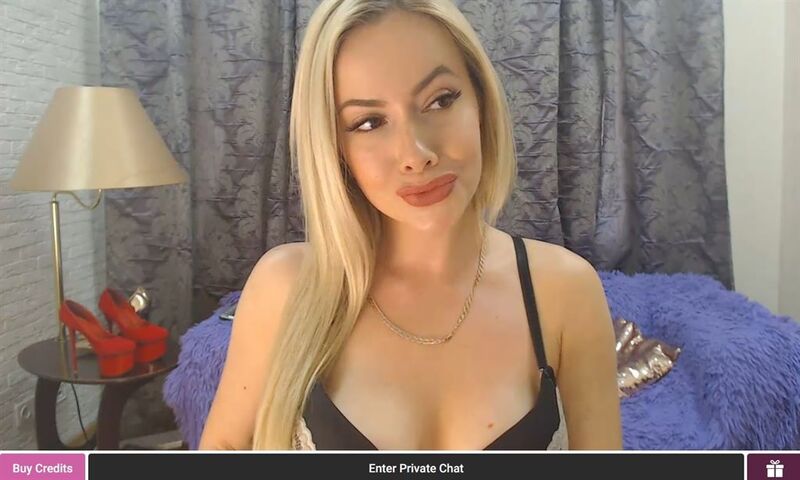 In this FetishGalaxy review we bring out all the stops for the frugal users, and give tips and tricks to find the best deals and steals to get the most out of this fetish haven.
Overview
FetishGalaxy is a premium site, which means that everything you do on it is a paid service, including chats, features, and everything else the site has to offer. The free rooms, which are a lot of fun with these gorgeous models, are nudity free. Sometimes, premium can mean high prices, but this is where FetishGalaxy shines - You get the same level of professionalism, polish and fetish madness, for much less.
There are a number of benefits to a premium site such as FetishGalaxy, one of them being a beautiful design, which includes a super friendly interface and search engine. Using the Advanced Search option on the top right of the screen, you can find the host of your kinky dreams by price, type of show they are currently in, physical appearance, and even ratings from other users.
This is why the experience on FetishGalaxy is particularly rewarding. The same upscale "service" for low-cost, budget friendly prices.
Strengths & Weaknesses
Strengths
Diverse, multi-lingual fetish hosts
Prices to match any wallet
Over 40 fetish categories
The site is translated to 16 languages
Multiple customer service options
Excellent search engine and advanced search
Model bios include pictures and recorded shows
Loyalty program gives extra credits and features
Control a model's sex toy by tipping
Many low-cost options available
Weaknesses
Only 3 payment methods
Streaming quality is low in many chat rooms
No Cam2Cam option on mobile
Free chat excludes nudity/sex acts
The Webcam Models
These ladies know what they're doing. Every model embraces a variety of specific fetishes, like Feet, Dom/Sub, JOI, to name just a few. The diversity is great, too. You can tell by the large pics in the main gallery page that these are not one trick ponies. Young, mature, small, BBW, white and black, Latina and Mediterranean - You'll find it all on FetishGalaxy.
Because the girls don't get naked in the free rooms, they're excellent in getting you to divulge your darkest desires, which is a great thing before you decide whether or not to take the plunge into a fetish model's private chat room.
The Women
The stunning ladies occupying the Women category separate themselves into four categories:
Professional Submissive - As all you fetish lovers know, one of the biggest categories in kink is being either a sub or a dom, which usually means your partner is the opposite. The sub women love to be bossed around, told what to do, they love to be called unsavory names and told to perform despicable, wonderful acts. These ladies usually associate themselves with subcategories (Found in the Advances Search) of Foot Fetish, Wet & Messy, and Gags & Blindfolds. Just tell them what you desire, and they'll answer with a "Yes, master", and obey your every command.
Professional Dominatrix - On the other side of the spectrum are models who will not be given any kind of orders, or will take any requests. Instead, these delicious divas will control you, and make sure you behave. They can mostly be found in subcategories Cum Play, Domination, Humiliation & Whips.
Professional Educator - These ladies want you to know - That you know nothing, but that's ok. Their mission, which they chose to accept, is to teach you anything and everything you need to know about the fetish world. They will usually be seen wearing lots of leather and latex, and performing a sex act on their profile pic that will attest to their unique educating skills.
Expert - The experts are the wild cards of the bunch. They could be an expert at Fisting, Outfits, Electrosex, Anal Training - Anything, really. Get into a free room with these luscious ladies of fetish and discover their expertise.
The Men
Though the men also put themselves in the same four categories as the women, there are very few male hosts on FetishGalaxy. This may be viewed as an advantage to some, especially those who love getting special attention from their hosts, and that definitely seems to be the case with very few, sometimes no guests in the free available live rooms. In other good news, these men are just as kinky and perverse as the women, so you will not remain wanting for fetish delicacies, despite few models.
The Trans
More than the men, but less than the female hosts, these trans goddesses are impressive. Each profile pic shows off a different fetish, with hardcore options that may be just too hard for some. Much like the men, it's not easy to find an online tranny, but in peak times their numbers grow and so does the excitement. They are also divided into 4 categories like the women/men.
The Pornstars
In the Advanced Search option mentioned above, you can filter the hosts according to several categories, one of them being Porn Stars. These are seasoned veterans from all corners of the xxx world, which are experts in the fetish field and hold regular shows on FetishGalaxy. Obviously, they have the most expensive shows on the site, but when you're looking to watch a show with a real star, you have to pay the appropriate price of admission.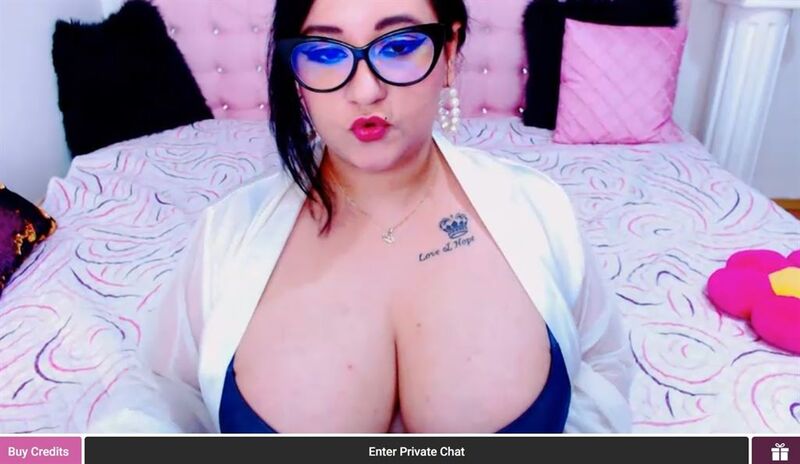 Model Profiles
Though the profiles differ in the amount of information, there are set categories in each of them. Usually, the experienced and top models have the most information, and the most pictures and videos in their galleries as well.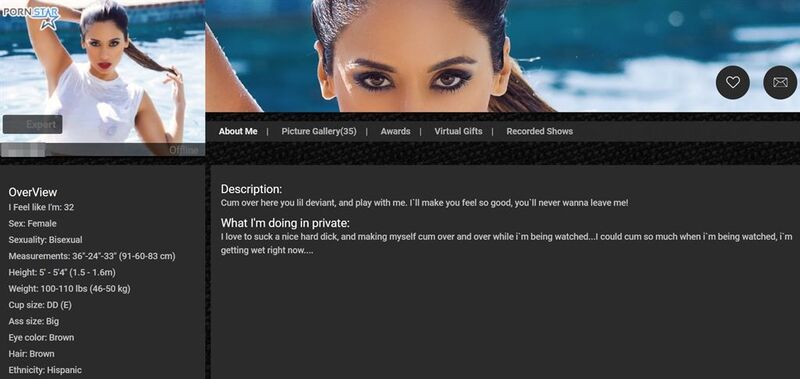 These are the categories in each model's profile:
About me
All the information regarding the girl's physical features (Sexuality, Measurements, Ethnicity, and more), The model's style in her own words and what to expect, plus her turn on/offs.
Reviews
Models receive reviews from users that have completed private chats, and it's a great way to get to know the model even better.
Picture Gallery
Unless you're a member of the lady's discount club, you'll be able to view only the pictures without nudity (But topless at times).
Awards
Given to the model by the site and also the members.
Virtual Gifts
The variety of gifts you can give the host you adore, and the cost of each one.
Recorded Shows
Many hosts upload recorded shows for their fans and members of their discount club, or for other members who need to pay (The purchase lasts for 72 hours).
Chat Options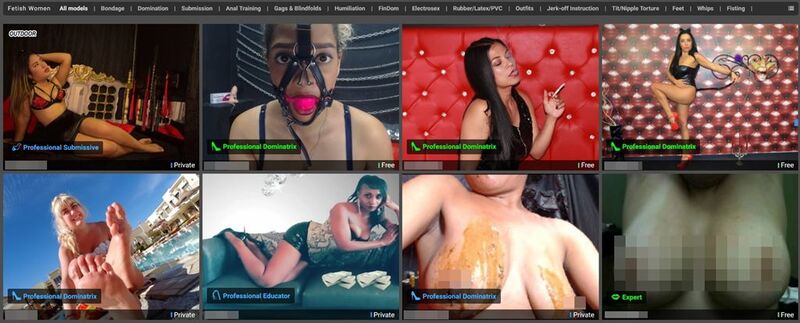 For a fetish site, free chat is really important to get to know your model of choice, as proclivities are so specific to each of us. Though the hosts are all happy to oblige, you need to make sure the special gal is in-tune with your personal style, so that the following private chat will be everything you're looking for. The free chat is particularly valuable in this case, and allows you to spend as much time as you like chatting and confiding with your luscious lady, making sure you're both on the same page.
On FetishGalaxy, the private chat is so much more than a 1on1 encounter. These ladies are here to fulfill your deepest fetish fantasies, and some do it for extremely low prices, while others ask for much more. On average, a private show will go for $3.00/min, but you can find private chats for as low as $0.98/min.
Candy Shows are a low-cost option for those who don't mind being a part of a group in a private-like experience. At first, the host sets a timer, and in that time she is hoping to get a set amount of credits. All the users chip in, until the goal is reached, and once it is, the show starts. This is also why it's a great place to get some live cam x rated action without paying for it, as the model usually shows the members what they can expect to see in the Candy Show, which encourages them to give more credits. If the amount set is not reached, then the show is cancelled and you will be refunded your credits.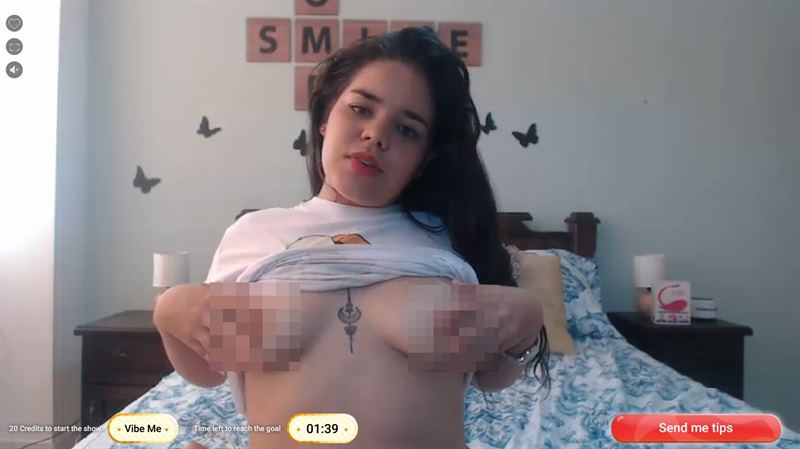 Anything Else?
Celeb Events
FetishGalaxy is proud to hold among their ranks real porn-stars, but they also host events with award winning celebs in the porn industry. Every month or so members are invited (VIP members for free) to join these events and take part in "directing" the shows. Sometimes these are large, themed parties, and sometimes more intimate and available to specific ranks in membership only.
Hands Free Mode
FetishGalaxy models own multiple sex toys, but not all of them connect to the chat - And to your tipping. With each tip you give, you control the toy and cause the model to squirm in pleasure. This particular feature lets you do just that, without even touching your keyboard. You can choose specific time increments, time of activation, and even completely random tipping to go off and buzz her to ecstasy, while you get to watch her moan and groan, with two free hands.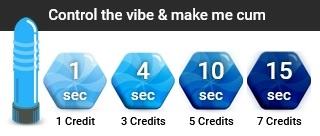 Video Quality
Probably the singular downside to the site, the streaming quality leaves something to be desired. Though some rooms have decent quality, it's not HD, and even the rooms that do support it are difficult to locate. There is no way of knowing which rooms, as there is no filter for 'HD'. The best chance, however, to catch the high quality rooms is to filter in the Advanced Search by price and models with awards, which mostly all use superior streaming services and have much better streaming quality. They are pricier of course, but it's all up to you and what's important to you in your viewing experience.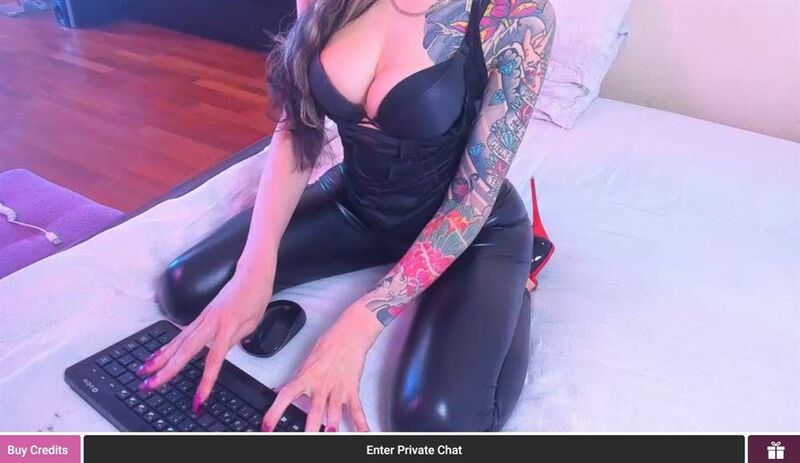 FetishGalaxy's Mobile Site
FetishGalaxy has a great mobile version, with the exact same features as the rooms on the desktop site. There are no frills and special features, just like the site, and the focus (Especially in landscape mode and full screen) is always on the ladies themselves. There is no option to use Cam2Cam on the mobile site, but the private chats are just as delightful, and the quality issues that can be problematic in the desktop version seem much less noticeable on the mobile because of the screen.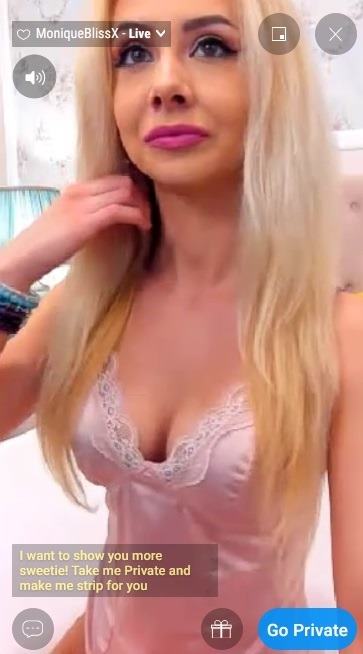 Additional Media
Additional media is only available in certain models' bio, such as pictures and recorded shows. Most of the time these will be the veteran models, the awarded, recognized models and the porn-star category (All of which you can filter in the Advanced Search). For members of a model's Discount Club, the media will all be completely free.
Registration on FetishGalaxy
Quick and simple, the site requires a valid email address (which you will be required to validate), a username and password. Once you register, you will rewarded with up to 15 bonus credits for your first purchase (depending on the purchase amount), which on this site can be well spent on multiple chats.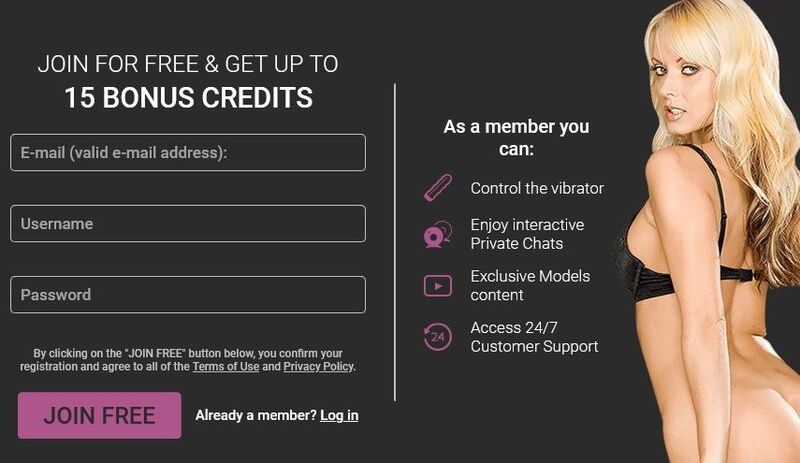 Prices on FetishGalaxy
Thankfully, and unlike many other sites, the exchange rate from dollars to credits is straight forward and easy to calculate. 1 credit equals 1 dollar. On top of that little happy surprise, the first purchase of any amount on FetishGalaxy gifts extra credits, which is a considerable amount on a site where you can easily find very cheap live cam chats. There's also a rewarding loyalty program, which is covered below.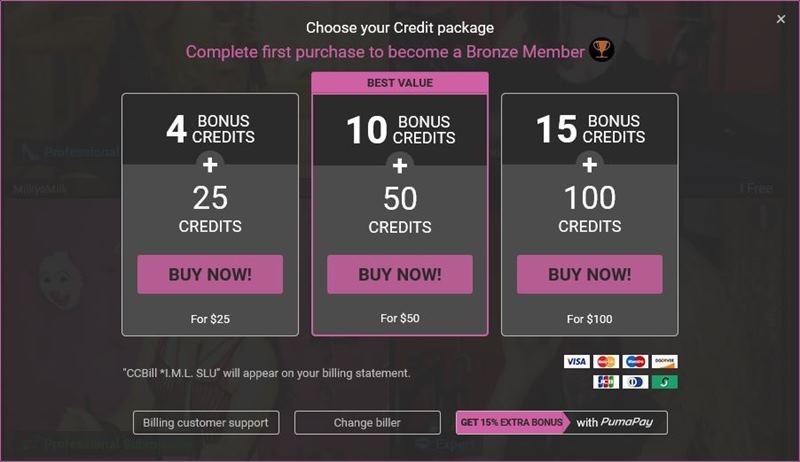 After getting to know your model, you'll be glad to know that you might just get an even lower rate than her regular price, by asking for a Discount Code. She is not obligated in any way to provide it, but if she does, you can enter it and get a cheaper rate. On average, a private show will go for $3.00/min, but you can find private chats for as low as $0.98/min.
For a Candy Show, prices very considerably, as do the lengths of the shows. While some will offer a 5 minute show for only 2 credits, others will offer 10 minute shows for 8 credits - There is really no way of knowing other than going into the rooms with the big candy sticker on the profile pictures and checking out what the beautiful lady is all about.
A great tip about the Candy Shows - As all the shows have a ticking clock while the model is hoping to achieve her credit goal, she will be performing live to tease members and show them what she's got. By performing, we mean full sex acts and nudity, which are prohibited in most rooms, and so you will have the lucky pleasure of watching a sneak peak for a few minutes for free. Of course, you can continue the kinky pleasure onward to the Candy Show itself, but even if you don't, you'll get quite the eyeful before the show begins.
Payment Methods
There are only three ways to pay on FetishGalaxy, but there is an option to choose which billing processor to use with your credit card. The site prides itself on using the most cutting edge and strict technology to keep your information safe, and there is even a Trust Us link at the bottom of the main page that explores that further, if you feel like taking a read.
The payment options are: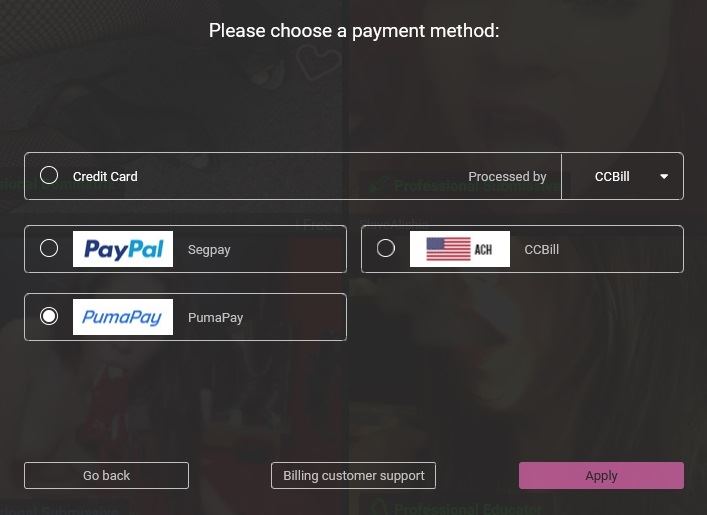 If you choose to pay with PumaPay (A Cryptocurrency option), you will receive 15% more credits, which is a fun bonus gift.
Customer Support
Customer support is better than many other sites, because there are multiple ways to get help, and information. The FAQ section is vast and covers most things you could want to ask. In addition, there are two other ways to get help - Both within 24 hours. There is ticket submission option, as seen below, and a direct email to customer support. The site promises to answer quickly, and we have indeed confirmed that we received from both sources replies before the 24 hours were up. For VIP members, there is also a 24/7 live chat option, which is fantastic.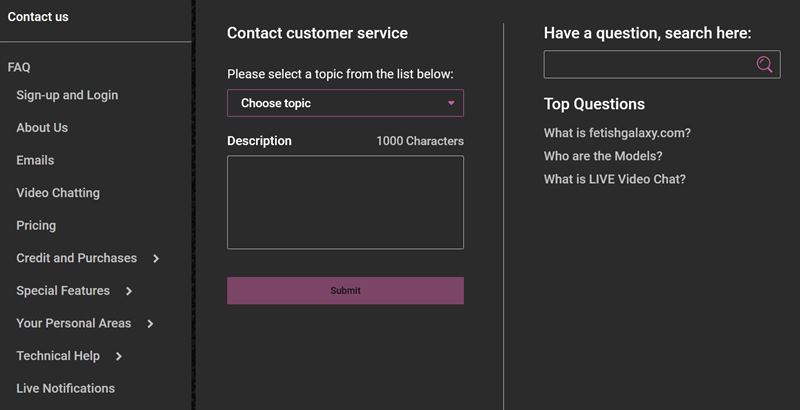 Customer Loyalty Program
Another advantage to going to FetishGalaxy for your deviant pleasures is a top notch loyalty program that actually gives you bonafide perks for continuing to purchase credits. Not only do you get more free credits, you get access to features that "regular" members cannot use, which makes them completely exclusive to your and other members in your level. Though getting to be a VIP member might take a while, the special customer support you get is outstanding and well worth the ego boost.
There are 4 levels on the site:
Bronze - Get up to 5 Bonus credits on every purchase and access to paid features
Silver - Get up to 8 Bonus credits on every purchase and access to paid features
Gold - Get up to 25 Bonus credits on every purchase and access to paid features. Added bonus - Free access to all celebrity events
VIP - Get up to 30 Bonus credits on every purchase and access to paid features, free access to all Celebrity events, 50 Bonus credits on every 10,000 Points collected, and special VIP customer support.
The Bottom Line
For those who simply love fetish, and appreciate professional models who know what they're doing (And love doing it), FetishGalaxy is the site. Not only are the models obliging, fun-loving and stunning, you can easily get ridiculously low cost private chats even for veteran hosts, and in general you can easily enjoy the site's features for budget friendly prices.
The streaming quality is not the best and needs work for sure, but the quality is not that bad. You can always opt for the top-tier models with higher price marks, or choose to enjoy every moment of these lovely fetish queens despite this little flaw.
FetishGalaxy is one of the best fetish sites available online, and not just because of the great pricing options but because there is no substitute to that special feeling of finding like-minded exquisite females just as into fetish as you are.
Back to the full list of Best Webcam Sites
---