5 Best Cam Sites Featuring Granny Webcam Models
Last Updated
September 15, 2022
There are certain things in this world that are universal, one of those being that we all love comfort. Support. Safety. Feeling cared for. And we all love sex. Put those things together and what do you get? Gorgeous grannies that show you a good time, and also provide a sense that everything's gonna be alright. And though they can't give you candy through the screen, you can feel these webcam grannies' sensuality, curves and beautiful bodies even in cyber space.
LiveJasmin.com
LiveJasmin tops many of our lists, and it's not only because it's one of the best premium cam sites around. It's because the live cam models are first-rate perfomers, most models stream in 720p HD, and they have professionally taken profile pics that can easily go in any fashion magazine. And the site makes finding your granny super easy. Select from the left sided filter the 40+ category under Age, or use the advanced filter on the top right to add other categories, as this is a multiple-choice filter, such as HD quality, kinks, location, and more.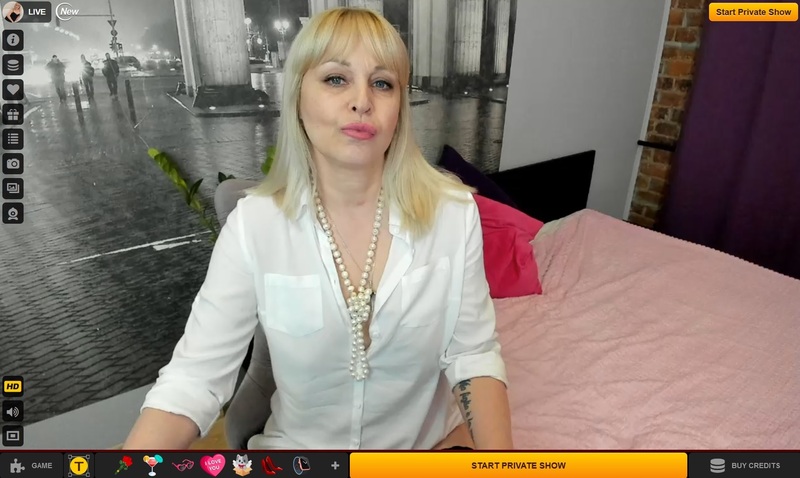 The average price of a private show at LiveJasmin stands at $2.40 a minute, while the cheapest rooms come in at $1.20 a minute. For a basic private that's a great price, but if you want to be seen and heard by your gorgeous up and comer, things get pricey, as you add between $1-$2 for audio and video, separately. However, the same prices include usage of the site's live cam mobile platform, which also has cam2cam capabilities. If you don't mind others in your room, consider a VIP Show, which sometimes will offer new models, at a fraction of a private show's cost.
LiveJasmin also offers some fun features. Select Stories from the left sided filter to watch what your favorite mature mistress has uploaded, just like on Instagram. Plenty of pics and short clips, some for free, and the extra naughty ones cost a few credits. There's also the enjoyable Mobile Live category, which shows you the live cam lovelies streaming from their own mobile devices, which can be very intimate, as you follow their show from their homes, sometimes with equally raunchy friends, or other public locations.
---
CamSoda.com
CamSoda rules the roost when it comes to free sex and nudity. When you first enter the site, you'll find all the models in their open rooms, showing their live streams in full display, instead of static pics. So despite the fact that you can search for granny in the search bar and go through the tags for #milf, #mature and #granny, browsing these mind bending, sexy webcam live streams is the best way to go to find your next partner in crime.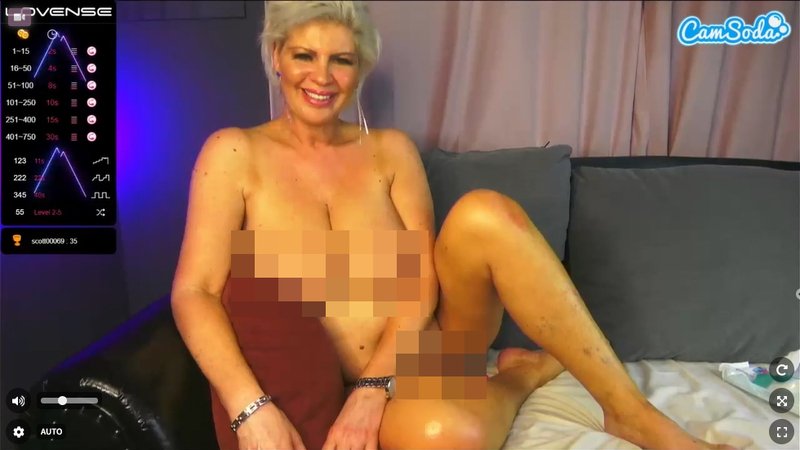 An average private will cost you $1.80 a minute and starts at only $0.50 a minute, including cam2cam. Though there's so much on offer that you don't need to pay for, there are a few other options to the private shows. Take a look at the tabs on the top of the site, where you'll find Voyeur and Spy On Shows. The first allows you to be a fly on the wall, as these cams are situated as a birds-eye view of the models. This is completely free, but you can tip. The Spy Shows are super cheap and let you enter a private show already in progress, while only the model knows you're there.
In addition to the site being the cheapest on this list when you consider how much it gives for free, including free show recording of your private shows, there's even more to be explored here. First, check out the exclusive vids on the top left that CamSoda produces, free even for non-registered users. Next, scroll all the way down to find two channels, Reallifecams and Nude in Public, both at no cost to you, as well, and showcasing some more fun spying, as well as pre-recorded free content. By the way, CamSoda also boasts a great mobile site with c2c, at no extra cost.
---
ImLive.com
ImLive is followed and beloved by millions of live-cam enthusiasts, and for good reason. It's got a beautiful, sleek design, some of the cheapest prices around despite its premium status, it offers 24/7 live support, and the models can get pretty naked in their open rooms, despite being seasoned pros. To find that one special mature lady, select the Age category on the left sided filter (40+) or choose the Mature/MILF categories below. There you'll find between 50-100 models that fit the bill.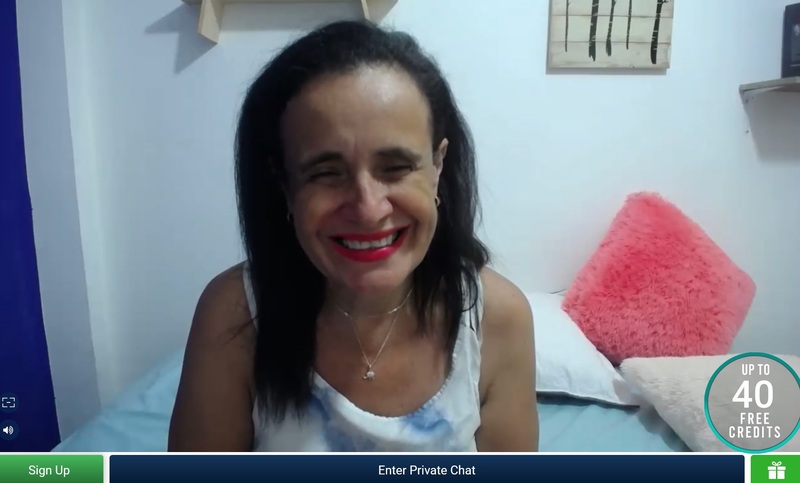 On ImLive, prices include cam-to-cam and dual-audio usage, and average at a budget-friendly $2.50, making ImLive one of the cheapest and best private c2c sites online. The cheapest chats start at just $1.00 a minute, and much less if you go for the Candy Shows, in which you only pay a few credits for a ticket, and watch the model get naked with a few other like-minded fans. Good news is ImLive gives out up to 40 (worth $40) free credits on your first purchase.
Though you have the filter on the left at your disposal, we'd like to gleefully offer one other option when it comes not only to finding your granny hottie, but literally designing your own show, negotiating a price, and choosing every element of your private session. How do you do it? On your member's page hit the cool genie lamp on the left, and Fulfill Your Fantasy. The models see the submission in their forums, and then bid on the pleasure of working it for you.
---
Stripchat.com
The largest cam site on this list is, not surprisingly, gloriously freemium, and hosts around 6000 models most hours of the day. And it even offers some premium amenities you can't ignore, like 1080p HD cams, hundreds of fetishes in alphabetical order under the All Categories link, and not just one Granny category, but t-e-n Granny categories: From Granny Anal, to Granny BBW to Granny squirt, Granny with Tattoos and more, this is definitely the site to be when you want as many older models your heart desires.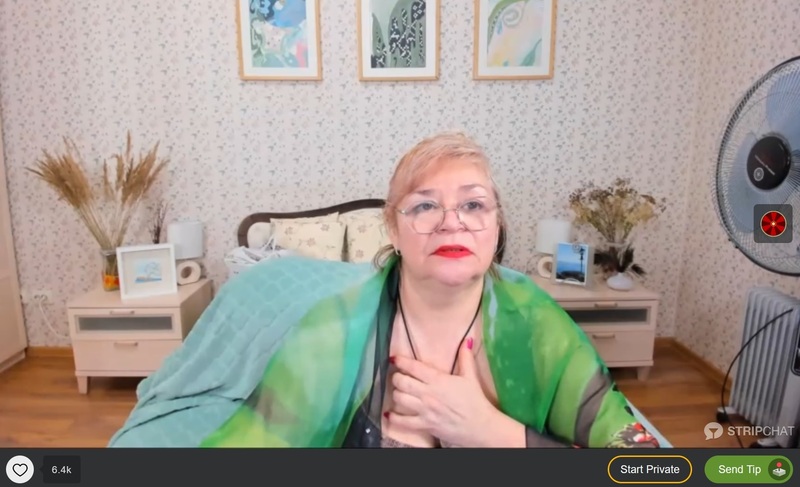 A private show on Stripchat costs $2.40 a minute on average, while the minimum stands at $0.80 a minute. Stripchat loves its models and gives them total control of what they charge, and what they give. So, some models will ask for extra to use cam 2 cam, some won't offer free recorded shows (Those that do are located under the Recordable category), and some will offer Fan Clubs, with different perks such as discount codes, block sessions that give you major reductions, and even the title of Knight, which gives you the power to moderate her room and kick other members out.
But in a sense, we buried the lead on this site, that offers something that is super rare on live cams — Virtual reality. When you select the VR Cams category, you'll reach between 20-40 beautiful ladies all eager to show off their tech, and their bodies, and you may get lucky and find a granny or two defying stereotypes and getting all tech-savvy. You also get full instructions and recommended gear when you're in the category, so don't worry if you're not sure how to go about it.
---
XloveCam.com
This humble premium site may not be flashy, and its models may not all be pros, but one thing they are mostly, is European. This means so much nudity and sex in the free rooms, as well as a delightful Monday event — Topless Mondays. We guess you can infer what that means, and it happens every week. To find you granny cutie, select on the left under the Age category 45+, or you can go to the top and select Mature female under Categories. This is a great filter as it allows you to make multiple choices.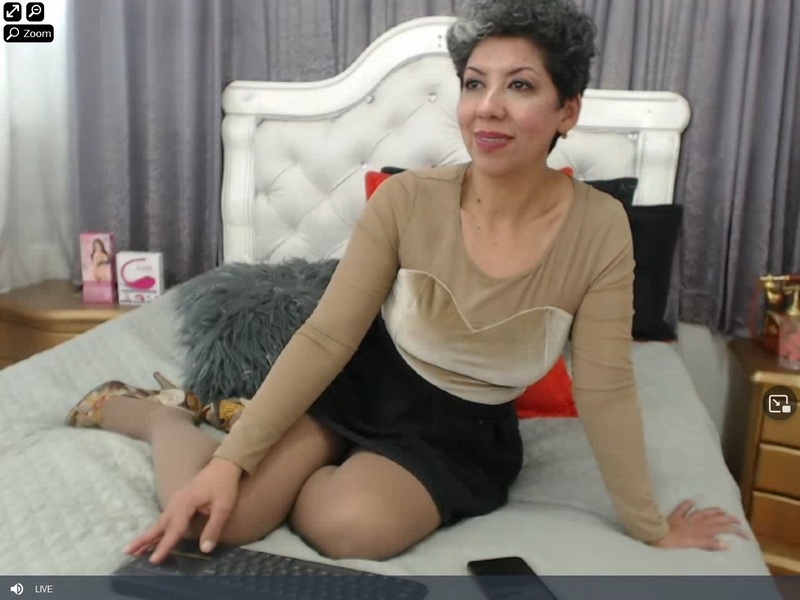 A 1-on-1 cam show costs $1.80 a minute on average, crazy cheap when you take into account it includes cam to cam as well as the use of the same features on mobile. The cheapest models take $1.20 a minute, which is just as impressive. Yet, there's a "but", which is that these shows are open to others spying in. For a strictly exclusive show, there will be an added fee, which is about 25%-50% more expensive than the regular price. This depends on the model, and also your relationship, as members can purchase Fan Club memberships for exclusive content and reduced cost shows.
There's another great thing about this site we love, part of the fantastic filter we mentioned above. Most sites allow you to filter according to similar categories, but none that we know offer these unique and incredibly helpful ones, under the Sorting section on the left: Cam Rank (Site rank), Loves (Given during open chats), Best Rating (User rating), Votes (Contests), Number of Fans. There's also an impressive model filter including Threesome, Foursome, Transsexual Couples, and even Just Chatting for those looking for more of a GF experience.
---
C2CPorn.com
C2CPorn is way more than a live cam site, as it isn't one at all. Instead, it's a professional aggregator of models, thousands of them, from all around the world and coming from the best webcam platforms on the web, which have all been vetted for security and safety, as well as quality of performers, prices and promotions. This site boasts a filtering platform so advanced, it will make your search feel more like a simple pick up, as you use the filter on the left to make as many selections as you'd like, starting with Granny (50+) under the Age section.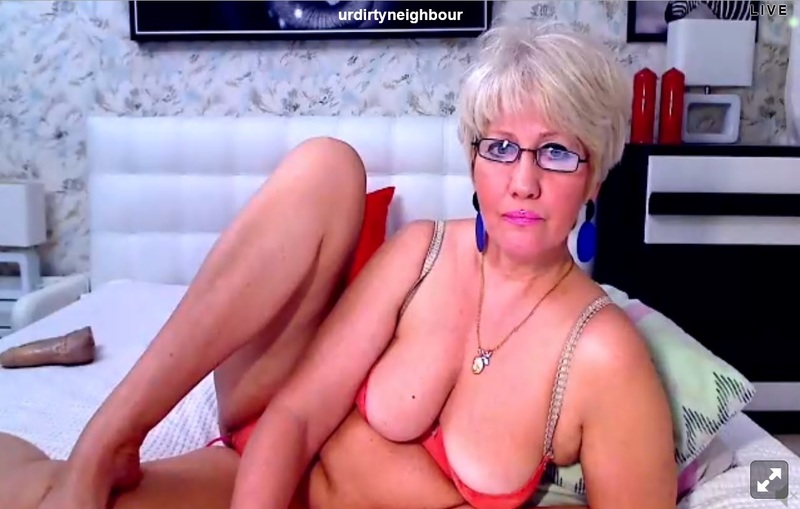 As there is no cash needed on this site, nor is registration required (Though, if you do, you'll get to save your favorite models in your account), you can spend as much time as you'd like trying out the different functions, and perhaps adding to your search, narrowing down the rooms as you go. Once you do find your luscious lady lover, her profile picture will not lead you to her actual live cam room from her origin site, but instead to a much more helpful introductory page.
On the models page you'll find everything you need to make an informed decision about your next private chat. You'll get her physical stats, what she does in her shows (Along with tags leading you to similar models who perform similar acts), cost per minute (Though you won't know if there's extra for c2c until you enter her actual room), and usually a few pictures of the performer, and something she writes about herself. Also useful is getting to see her schedule so you can book your 1on1 when she's active.
---
BongaCams.com
BongaCams has an apt name, as it sounds like a party site. It is. This is a freemium site with over 1500 ladies, with countless sex acts performed for all to see. This is the best site for couples, and even groups, as there's a dedicated Group Sex category, which is super fun. And to find your mature webcam model, all you need to do is select Granny from Categories up top in orange, or make your search more specific by using the Quick Search under the tags allowing multiple selections according to age, language, appearance, and other options.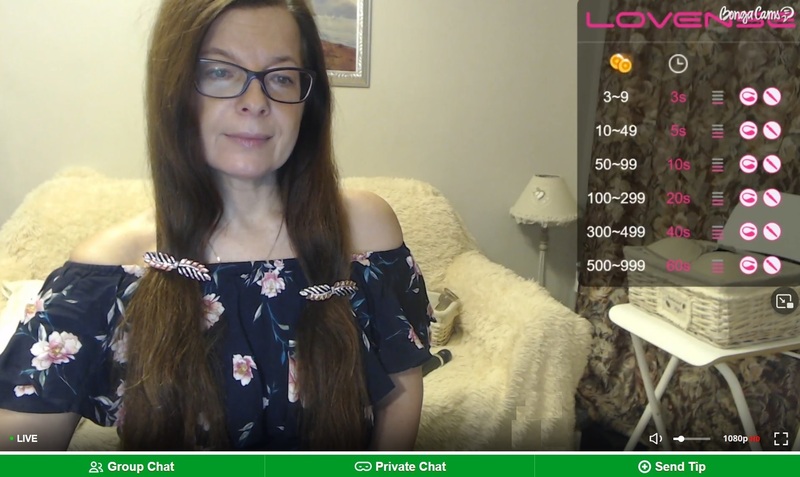 Unlike most sites, BongaCams offers one singular price for all chats, which includes cam to cam, $3.30 a minute. However, this isn't private. For an exclusive private chat, you'll need to add another $2 to the price per minute. Both show types include c2c. The site also offers a beautiful mobile platform that includes webcam to webcam capabilities. The same rates apply. But BongaCams loves promos with free tokens, too. Select the Promotions tab on the top left to see what the site has to offer, which is pretty impressive.
There are a few more features on BongaCams worth mentioning. Despite being a freemium site, it boasts 24/7 live customer assistance for all users, and also offers rooms streaming up to a maximum of 4K HD, the only one on this list. It also translates into 30 languages, which means that no matter your mother tongue, you'll get to browse with ease. Lastly, the site offers a cashback reward to 5 members every day, for anyone that has purchased any amount on the site. You could win up to 200 tokens, worth $20, every day!
---
Streamate.com
Streamate is a funny kind of premium site, offering models that you could find on other sites, as they stream on multiple platforms, but also these surprising gems, mostly from Eastern Europe, that can really wow you despite their amateur status. The site also offers a great filtering system that is doubled, the main filter on the left for you to select the Granny category from, inhabiting 50 models, or by using the filter up top that allows for multiple choice, on which you can also select under Age the Mature 50+ category, too.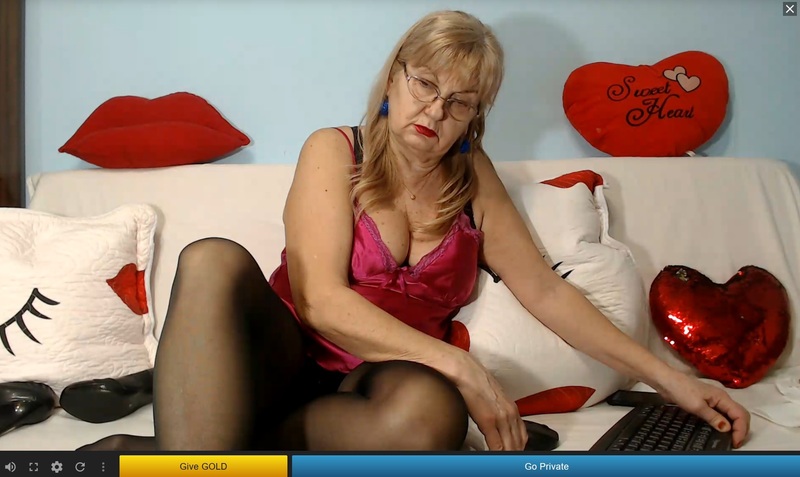 Prices for a privates session come in at around $2.70 a minute, but the lowest chats start at less than $1.00 a minute, and prices include c 2 c. But regardless of prices, Streamate offers something very unique that few sites do, Pay As You Go. There are no packages to purchase here, and the site has you covered when it comes to potential overspending as you provide your card info (You can even use a prepaid card) when you register and get billed based on your activity. You can select a daily spending limit which resets every 24 hours, too.
Streamate's membership program is also a bit different to most sites. Here the more money you spend on the site, the higher the Reward Level you reach. Each level gives you a money back refund. For example, at level 1 you'll get 1% of the money refunded back to your Streamate account. Once you get to level 10, then you'll be getting 10% of everything you spend back into your Streamate account.
---
Conclusion
Though each site on this list is a stellar stand alone options for many of your live cam needs, we recommend starting off your granny adventure with LiveJasmin. The main reason it is the best all around site experience. From the pro older models, to the HD quality webcams, to the excellent mobile platform so you can take your mature mama anywhere you go. LiveJasmin is the perfect premium site for both live cam novices, and hardcore devotees alike.
Back to full list of sex cam blog posts
---