5 Best Cam Sites for Watching Couples Giving Pegging Cam Shows
Last Updated
September 02, 2022
Pegging is the fourth dimension of sexual activity between men and women. It is a novel experience only a small fraction of the heterosexual males at the age of puberty have ever had, and, so, you may want to watch it being carried out in front of the cam before you try it in real life. Alternatively, you belong to the few fortunate ones who have done it and now you want to re-experience the fun watching couples performing this act in a live show. Whatever your reason is, we have gathered here the 5 best cam sites with couples whose performances revolve around all sorts of anal games, especially ones in which the man is passive and the girl is active.
Stripchat.com
Stripchat is a wonderful site for watching opposite-sex couples performing for you for the simple reason that there are hundreds of them available for cam chats around the clock. Many of these couples perform undressed in their open chat rooms enabling you to enjoy tons of free nude shows.
To get to couples who incorporate live anal acts into their shows, tap on Couples on the main page header and then press on All Categories beneath the search bar. You'll reach a page displaying all of the site's categories for couples in alphabetical order. Under the letter A, you'll see the categories relevant to pegging, which are Anal, Anal Beads and Anal Plug.
Live shows given by couples cost $2.40 a minute on average. The lowest rate you'll find on the site is $0.80 a minute. Some performers, including couples, have minimum chat duration that can range from 5 to 10 minutes. If you open your cam, you will be charged 30-50 percent extra. On a more positive note, a c2c chat will prevent other users from peeping into your show unlike a regular private chat which can be accessed by spies.
If you think that Stripchat's couples are adequately anal-oriented and you intend to watch them regularly by visiting the site frequently, you should consider upgrading your membership to Ultimate. By doing so, you'll enjoy great perks comprised of sending private messages to models, chatting invisibly, tipping anonymously and using emoji in chats. You'll also be eligible for becoming a model's Knight (If she chooses you as her savior) with moderation powers in her chat room. A special badge will be attached to your username indicating your new elevated status. Ultimate Membership costs $19.99 a month.
---
Chaturbate.com
Much like Stripchat, Chaturbate offers you plenty of couples, counted by the hundreds, available for a live chat at any given moment. They too perform in the raw in their public chat rooms. What makes Chaturbate a top-nocth freemium cam site is its supreme streaming quality with many of its performers broadcasting at HD+ and even 4K quality.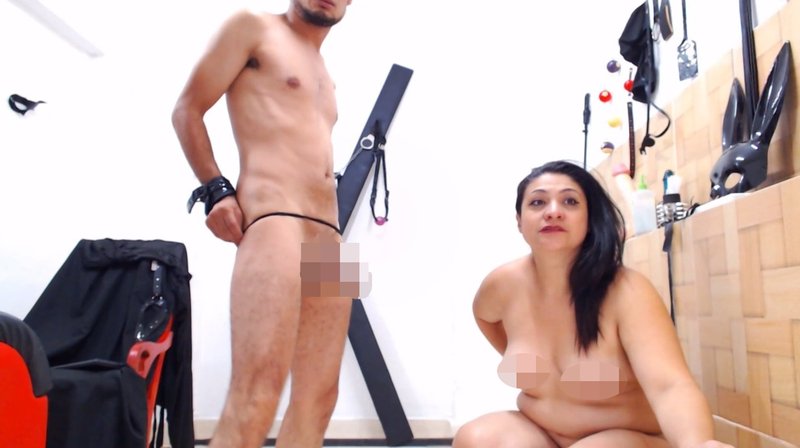 By choosing Couples as your preferred gender group (There is a tab for that on the main page's header), you'll reach all the site's online couples, including heterosexual ones for whom the male's ass is an integral part of the show.
Take into account that private chats on Chaturbate are quite rare, since to initiate them, you'll have to establish yourself as a broadcaster and then invite the performer to your room. And after all that bother, there is no guarantee she/they will accept your invitation.
So we suggest finding a hot couple, staying in their public room and using your tips to make them assume the role of an anal penetrator and a penetratee with the male being the latter. It might require some effort explaining to them what you want and, of course, quite a lot of tokens to convince them to do that, but it'll definitely be worth it.
If you still insist on an intimate 1-on-1 show and you're undeterred by the effort required in setting it up, you'll have to pay $3.00 a minute on average. The cheapest models on the site charge $0.60 a minute. Cam2cam is possible once you become a broadcaster, but it's not necessarily included in these rates as the models may demand an extra fee.  
Chaturbate has a nice VIP program. For $19.95 a month you'll become a Supporter. You'll navigate an ad-free interface, be able to send private messages to models, tip anonymously and use custom chat fonts and animated room images. You'll also get a 1-time bonus of 200 tokens (worth $20.99).
---
Cam4.com
Cam4 is a highly popular freemium site where you can watch free nude lives shows given by hundreds of couples of all types coming from all corners of the world. Many of them stream in high definition promising you optimal viewing experience.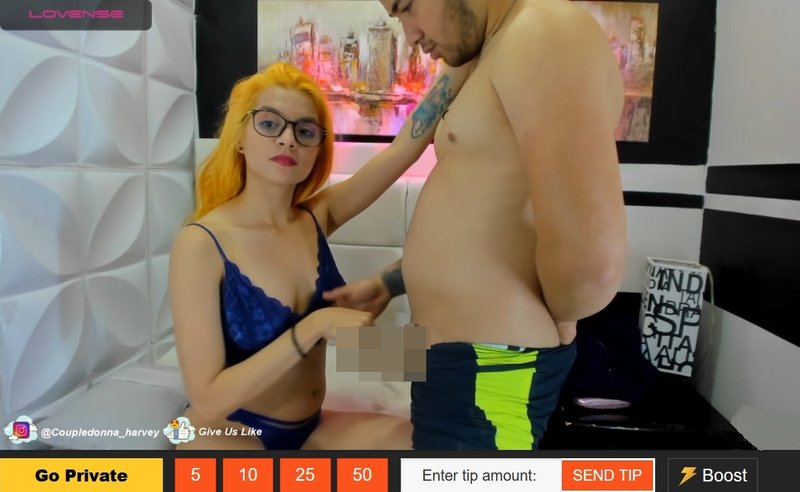 Cam4 has a highly advanced search mechanism. Once you choose Couples as your chat category, you can use its filter to cross-reference your choice with additional parameters. For example, you can choose Straight under Orientation to get to couples that consist of males and females. You can choose Middle Eastern under Ethnicity if you're looking for Arab couples. You can even search for performers based on their specific country. No other cam site lets you do that.
You can also sort out performers based on theme tags. The tag section on the site has a search tool. By inserting 'anal' or 'ass', you'll reach tags directly related to pegging, like Anal, Ass Cams or Assfuck.
The average price of a private show is $5.40 a minute. If that's too high for you, you'll be able to find cheaper models; the cheapest ones take $0.80 a minute. You won't be charged extra for c2c, but most models have minimum chat duration of 1-5 minutes. Some models have present time blocks, for example 5, 10 and 15 minutes.
Cam4 enables you to become a Gold member for $19.99 a month and unlock special features that consist of exclusive bonus token offers, an ad-free interface, automated chat translations and free monthly Gold Gifts. You'll also receive a welcome bonus of 100 tokens (worth $15.00).
---
xLoveCam.com
If you're looking for pegging cam shows given by European couples, xLoveCam is the site for you. Most hours of the day, it hosts 30-40 couples from Europe, who perform in tandem with another model of the same or opposite sex at prices you can definitely afford.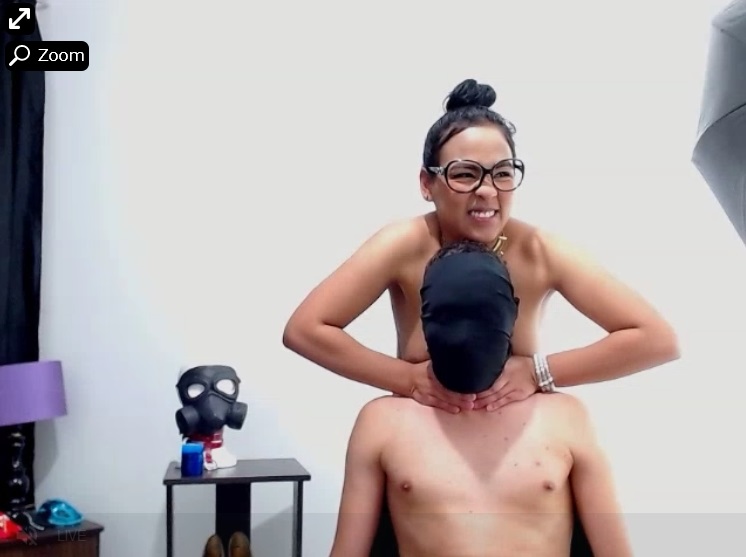 Although every once in a while, you may run into models who shed their clothes in public (especially on Mondays, on which the girls tend to perform topless), generally speaking, xLoveCam is a Premium site. So to engage in hot nude action, you'll have to initiate a private show.
We suggest selecting Couples under Categories on the site's filtering tool and then picking one of the heterosexual couples and asking them whether they would be willing to anal-yze the man's ass in a private session. They'll probably demand a tip proportional to the effort required of them, but we have no doubt you'll find a couple willing to play ball.
xLoveCam is known for its affordable chat rates. For a private session, you'll have to pay $1.80 a minute on average. The cheapest price on the site is $1.20 a minute. Be advised, other users can access your private shows as active participants if they're willing to pay the model's rate. They can also peek into your show for a reduced rate. To drive them away, you'll have to initiate an Xclusive Show, which usually requires an extra payment of 30-50 percent and sometimes even more than that. The good news is that these rates include cam2cam chats, which you can carry out on your computer or on your mobile device.  
Some of xLoveCam's models (couples included) have a gallery of premium videos you can access by becoming their VIP member. Rates vary from 3.00 to 15.00 and even 20.00 euros a month depending on the model's rating on the site.
---
BongaCams
At any given time, BongaCams operates around 120 free-nudity chat rooms occupied by couples. Many of these couples consist of dominant females who like to manifest their supremacy through their male partners' anuses making it possible for you to realize your pegging fantasies.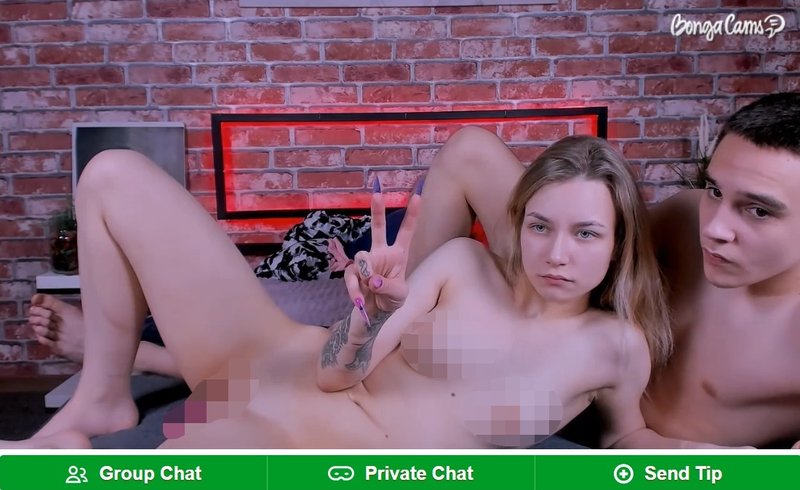 To get to those couples who like to play with their asses in front of the cam, choose Couples under Gender on the site's filter (There is also a Couples tab on the header) and then go to Categories and select Anal Games.
Starting a private session with one of these couples will cost you $3.30 a minute. This is a uniform price charged by all of the site's performers. Private sessions on BongaCams are open to spies. To lock the door to your shows, you'll need to opt for a Full Private Chat which is 50% more expensive.
Alternatively, you can join a Group Chat and enjoy watching hot shows side by side with your fellow users awhile saving 50% compared to a regular private chat. A Group Chat will start as soon as a minimum number of users set by the performer connects.
BongaCams allows you to activate your cam in a private chat but also while you're in public rooms. Worry not, only the model will be able to see you. Opening your cam in private is usually for free, though the models are at liberty to charge extra for c2c and some will do so.
As a new user, you'll highly appreciate the site's promotions. Once you finish sign up and make your first purchase, you'll get a bonus of 10 token and will become Gold member for life. If that purchase is performed on your smartphone, 50% of what you'll spend on private chats (up to 100 tokens) will be given back to you.
BongaCams also spoils its veteran users. The moment you spend $200, you'll get a $5.00 gift card. The Cashback Offer gives 25-200 tokens to the five biggest spenders every 24 hours. Some of these promotions are fixed. Other are constantly replaced by new one, so you'd better keep track of the changes. 
---
Conclusion
Almost all cam sites have a couples section, so you may rightfully ask why we chose to focus on the sites that appear in this review. The answer is simple. These sites have the biggest sections with the largest number of couples in general, and heterosexual couples in particular, making it much easier for you to locate the ones who will be willing to include pegging in their cam shows.
It's definitely not going to be easy to choose one site which we recommend more than the rest. They're all great with plenty of hot and flirtatious performers and advanced features. Yet Stripchat stands apart from the rest thanks to a combination of a large selection of couples and a variety of anal categories, which make it ideal for pegging live chats.
---