650
models are online now
As low as
$0.50
per minute
Naked Review - A Premium Experience For Less
Last Updated
September 08, 2022
Is Naked.com Good?
Naked.com is a rare site that combines a premium, luxurious feel with design and features, while still keeping the vibe very light and freemium in feel, especially when you consider ladies getting frisky in the free rooms, which is not usually common in a premium site.
With around 600 lovely ladies, gentlemen, couples and groups on the site at all times, it's definitely quality over quantity, which makes it easier to find your one special performer. There's also a great filter on the left with multiple kinky categories, making it clear that the site is definitely not "vanilla", but takes a dip in the wild end of the spectrum, too.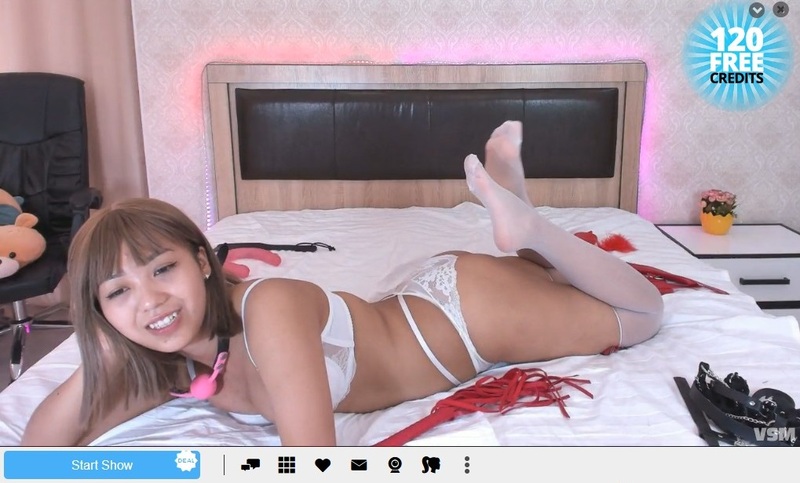 Overview
On the very top of the first gallery page, lies the heart of Naked.com, with filters and sorting, as well as your member account, purchases and the like. It's extremely easy to navigate even for the least tech-savvy among us, because it's all compiled right at the top.
The most basic filter comes first, in which you decide if you prefer women, men, or trans models. Then, under the Room Type section await all filters regarding the type of show you want to see, from a group show that's cheaper, a model who has a 2-way sex toy feature, you can select to sort rooms according to price, and you can even select to see the girl's country flags. You can also select the model's language, if you feel like getting exotic.
Above the main filters and sorting highlighted in grey, you'll find the light side of the site previously mentioned, in the form of fun contests, winners, an enormous video library, and the link to discover the site's VIP membership, which we will detail below.
All in all, the site is incredibly user-friendly, and seems simple, until you recognize the brilliance of it's design. The one tiny thing we should mention, in case you miss it, is the all important HD button on the top right. Select it, and you'll only view rooms streaming in 720p HD quality, crisp and clear.
Strengths and Weaknesses
Strengths
A combination of pro models as well as amateurs
Schedules of the models are available for your convenience
Cam2cam is available on desktop and mobile
Show recordings are free
Accepts store brand name gift cards
Private chat prices start low and include c2c
Great HD quality in most rooms
Super user-friendly and easy to navigate
A great VIP membership
24/7 live customer support
Interactive 2-way toy control
Weaknesses
Not many Trans/Couples cams
Prices can get high with popular performers
Expensive monthly VIP membership
The Webcam Models
The Girls
Despite there only being around 400 female models always onlien, the variety is impressive. All ethnicities, ages, and fetish inlclinations. You can choose one of three ways to view your hot mamas, located on the top right of the page. You can make the profiles smaller or bigger. The pics are static, but if you hover over them, you'll get a live stream. Most profile pics are very racy, some naked, some engaged in sexual acts, and some coy and shy. Speaking of which, if you also belong in the quieter group, you can opt for something a little different. If you go to the bottom of the page, you'll notice 2 links - FlirtPhone and FlirtSMS. Using these options, you can call or SMS your gal and enjoy a more subdued, yet no less intimate encounter.
The ladies speak up to 11 different languages, and you'll notice little flags on profiles so you can tell where they come from, too. If you feel like going into a chat with the most popular, successful ladies, go to the top of the page under the Profiles section and you can select from the Top 20 Models, Hall Of Fame, and others.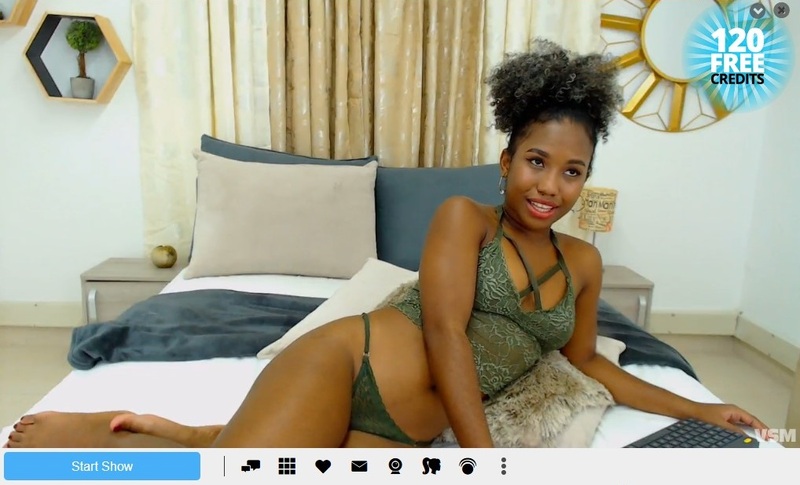 The Guys
200 men are awaiting to chat with you at all times, including straight and gay models. Categories include Guys Who Top, Uncut, Monster Cocks, and others. Profile pics tend to be much tamer than the ladies, but when you enter their rooms, they are just as kinky, and many are engaged in self gratification. It's nice that all the same features the ladies have the men share, such as Schedules, contests, and videos.
The Couples
There are two options for finding couples on the site, the first is going into the female category and selecting one of two categories - Couples, which will lead you to straight couples. If you select the Lesbian category, you'll see only girl on girl action. On the Guys section, you can select the Guy-Guy category, which is only couples of men. Most couples seem like real ones, with great connections, rather than couples of random models put together.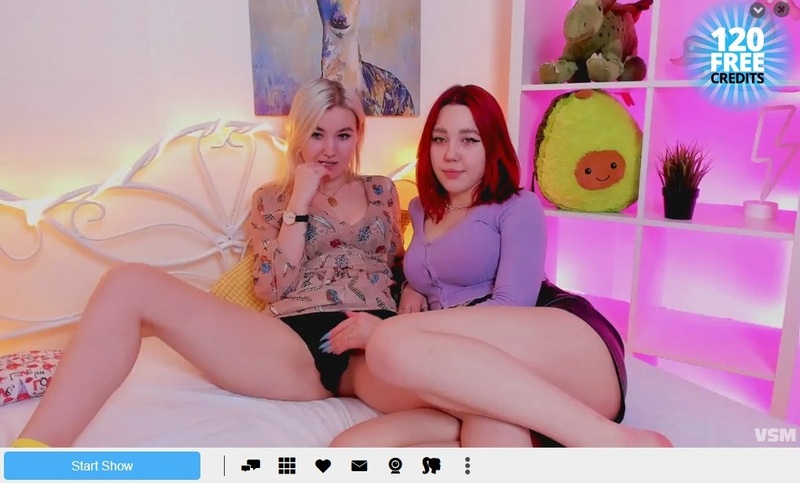 The Trans
There are only around 10 Trans models online most hours, mostly young with large, impressive breasts, and just as impressive appendages. These are definitely some of the most nasty, naughty models on the site, all naked and active in their rooms.
Model Profiles
When scrolling below the chat box in a model's room, you'll find several links, the first being See My Full Bio, which will open up a new window and show you all the pics, vids and info regarding that particular performer.
Profile Sections
This part of the profile includes the classic parts of most profiles, including pictures, videos, reviews left by members and a schedule. Not all models make sure these sections are complete, but most try and keep their profiles updated.
Profile Actions
These actions relate to the model as far as what you can do to get closer to her, whether with FlirtPhone/SMS, adding her to your favorites, sending a tip, giving her a boost for different contests, or simply contacting her.
Social Media
If a model has connections to a social media account such as Twitter, Facebook, Instagram, and others, she will list it so you can get closer to your lovely lady.
Details
This is the classic bio information such as physical features, background, and more.
Likes
In this section you get intimate, and learn what are the model's fantasies, fetishes, what she usually performs and is willing to do, as well as which sex toys she offers in her shows.
Recorded Shows
Some models like to offer up their past recorded shows for members, for a price.
Awards
If the model has won any awards, or if she's in the running, you'll be able to see it all here.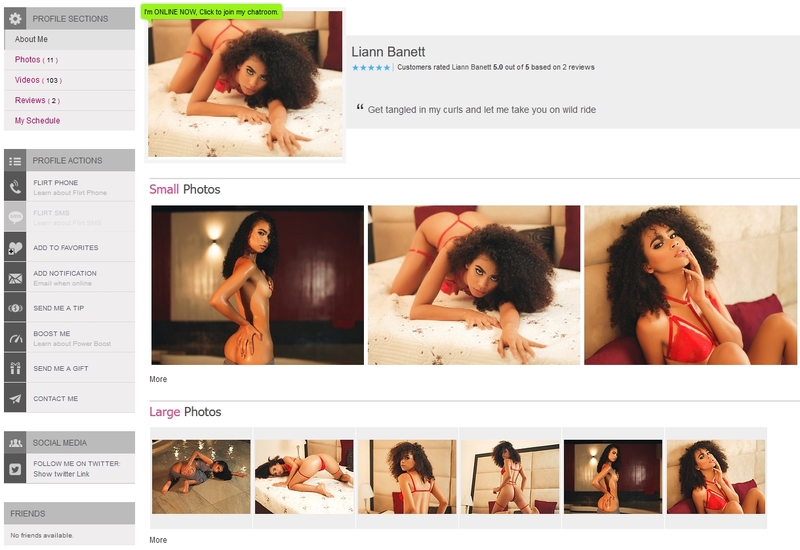 Chat Options
Naked.com allows you to flirt with the cam babes as long as you're respectful to their rules. You'll never be blocked from chatting just because you don't have credits in your account. The free rooms are therefore a great way to get to know the model better and chat her prior to taking her to a private show. Though prices start low, they really get up there, so use this chance to make sure your girl is exactly what you're looking for.
Private chats start at a super low at $0.50 a minute and range all the way to $4.50 a minute. What's unique about Naked.com chats as apposed to other sites is the option to not just control your performer's toy, but for her to control yours, and lastly, for both of you to control each other. These tip controlled sessions come in three categories which you can see on the profile pics:
Pink circle/Tip Controlled - You can control the model's toy by tipping. These ladies will usually offer tipping menu telling you exactly how much each action will cost in tips.
Blue/Interactive - In this category, you can control the model's toy with tipping, but also with a compatible device.
Purple/2-Way - These ladies offer devices that can be controlled by tips, but also have the ability to control and be controlled by compatible devices, so you can both control each other.
You can find these ladies by selecting these categories under the Room Type section.
Models who are already in a private chat offer this option, and it's a great money saver. You can pay the low amount requested and spy on the show the girl is performing. You don't have the ability to control anything, but it's a super fun option for all those peeping Toms out there.
Party Chat is a tip-based multi-user sex chat. It costs nothing to enter, but the show will end if users aren''t tipping, so tipping the performer is encouraged and rewarded. Party Chat is found under the Room Type section. Note: during party chat, private paid shows are disabled, and the Start Your Show and Tip Me buttons available in public chat are replaced by a Send Party Tip button.
Performers set their credit goal, a length of time for the countdown period and they choose the duration of the show they will perform if the goal is met. All customers who pledge credits towards the goal will be able to watch the show once the goal is met. You only need to pledge the minimum to secure a place at the show, but you may pledge as much and as many times as you wish. Meanwhile, in the countdown period, the cam models will do their best to seduce their viewers into tipping. These are also found under the Room Type section.
A Multi-User Show functions similarly to private chat, except that the per-minute rate is typically lower, and other users may enter and participate at the same lower rate. If other users enter a multi-user chat, they can interact with the model in the same way you can.
When a model offers Multi-User shows, the rate will appear at the top right corner of their feed, next to their private show Rate. Note that only the user who initiated the Multi-User show can cam2cam. Every user that joins after the first can watch and type, but can't be seen by the model.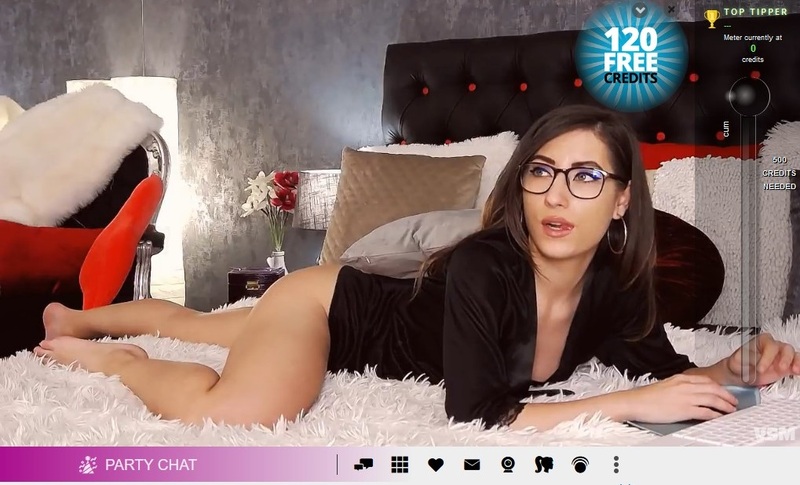 Special Features
Naked.com has a huge video library that must get a mention, despite this review focusing on live cams, because it's just so endless, and even includes videos that are free. You can find it on the top middle part of the main page under the Videos section. It's not just videos, but a whole section of the site. It includes Top 25 Videos, Hot Today, and My Recorded Shows, which are your private sessions which are recorded automatically after 4 minutes.
When you enter the library, you'll see multiple categories, as well as sections including free videos, top searches by other members, and models who are also trending and searched for.
It's important to put a spotlight on the Schedules category located under the Profiles section. In this part of the site, you can see not only the model's schedules, but you can filter and sort alphabetically to find your favorite girls to see when they are online. This is great for those who use the Make Offer option some models have when you enter their rooms, where you can choose a time and a price and negotiate.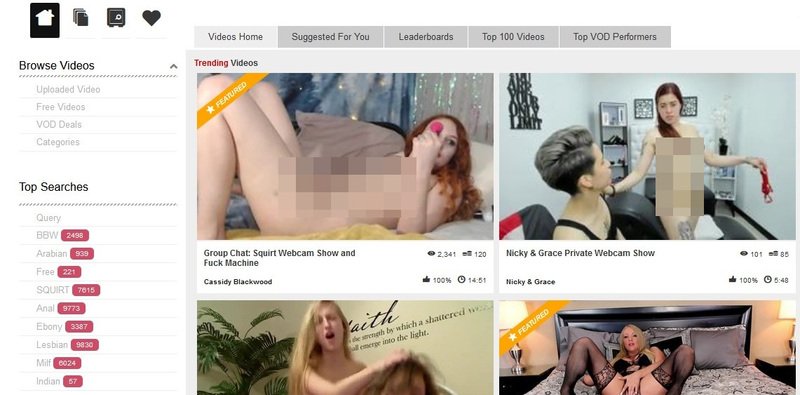 Video Quality
Naked.com puts a strong emphasis on high video quality. As soon as you'll open any of the chat rooms, you'll notice that the window of the show takes up most of the page. This is an online porn cam site that doesn't want to distract you from the show in any way, and it really helps that the vast majority of live webcam sex shows on it are in 720 HD, though there's no way to know what kind of HD level. To see rooms only in HD select the HD button on the top right of the site.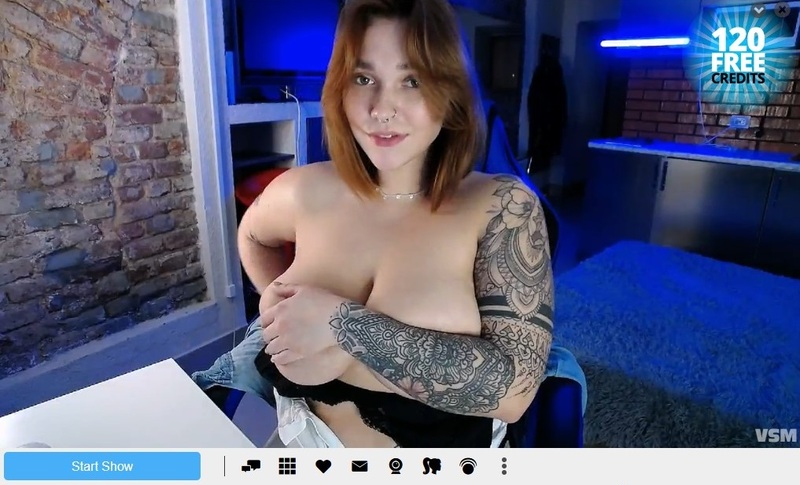 The Mobile Site
Naked.com offers one of the best mobile chat sites around, which even included cam2cam, at no extra cost. To activate cam2cam mobile, tap the webcam button to the right of the chat feed. From the c2c control panel, you can test your device from the "Test" tab, or start your session from the Start tab. When you tap Start Test or Start Your Webcam your mobile browser will ask permission to access your camera and mic. Grant it, and your feed will begin, providing your device and browser are compatible. Note: Android users can use Chrome, FireFox, or Opera for Cam2Cam. iOS users must use Safari.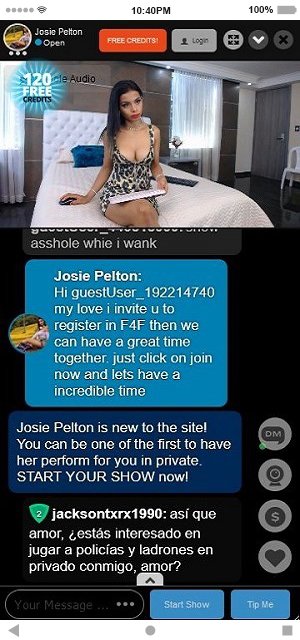 Additional Media
As noted above in the special features, the video library is a very impressive source of extra media, along with the model profiles themselves that contains pics and vids. Other than that, the site loves to concentrate on the live cams, to the joy of it's users.
Registration
Signing up for Naked.com is simple. You just need to provide an email address, a username, a password and then confirm your membership through your personal email account. Once you do that, you're defined as a basic member, and as the name suggests, you're entitled to basic privileges which comprise unlimited free chat, personal nicknames, viewing models on a large screen, using emoticons, and watching free video previews.
By adding a payment method you become a premium member and automatically receive 120 credits, which can be used for various activities on the site, such as private HD one-on-one sex chats with a model, participation in parties, group and multi-user shows, rating and reviewing models and videos, and tipping performers in exchange for interesting thing they will do for you on cam.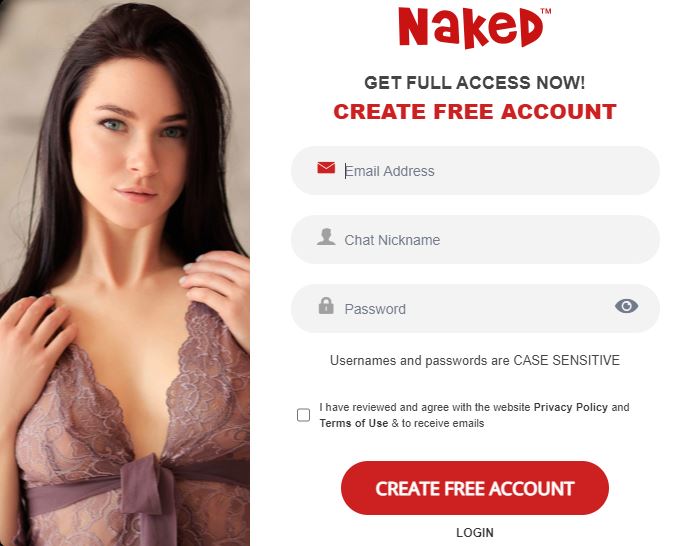 Prices
Naked.com works with credits, and offers many different sizes of token packages in which the cheapest starts at just $5, which is unusual and good news for first time users, or more budget oriented users. From our experience, an average cam room goes for about $5.50 a minute, while the cheapest cam rooms only cost around $0.50 a minute, which is a pretty huge difference. To make sure you land on the cheaper rooms, select Lowest Price under the Room Type filter up top to see models in ascending order of cost per minute.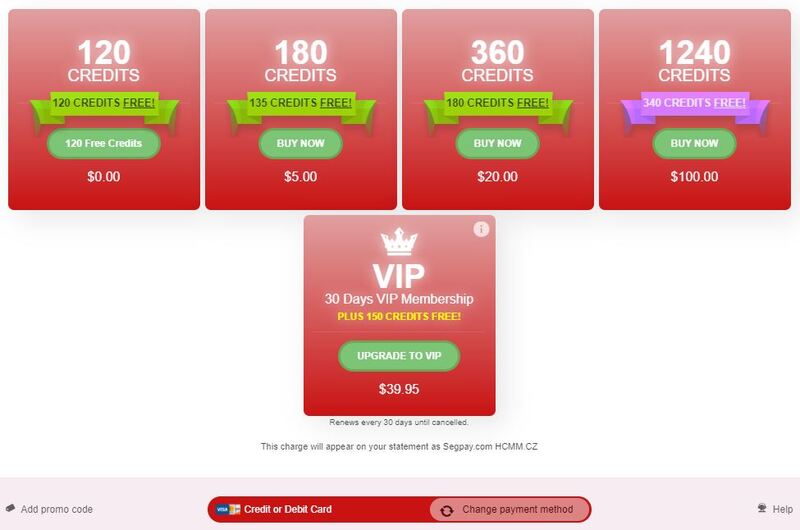 Payment Methods
Naked.com, to continue the user first mentality the site holds, gives you plenty of options when it comes to payment methods. So much so that you can even use a gift card, which could give you potentially hours of fun from a card sitting in the back of your junk drawer. To make a purchase, simply select the Buy Credits button on the top right of the screen, choose your payment method and package size, and complete your purchase.
Naked.com offers:
Pay For Play
With Play & Pay, you have the ability to go private with a model and your payment account is charged at the end of the show. You do not need to purchase credits in advance. Simply start a show choosing the option and your payment account is charged at the end of the show. Play & Pay is activated when you add a valid credit card to your account. Once a valid card is added, you'll see the option to use Play & Pay when starting a private show. Your credit card will be usually be charged within 48 hours (but it could take longer). You'll receive an email receipt with the details of the charge.

Customer Support
As we mentioned, Naked.com loves it's users and members, and despite providing low price options and memberships, rewards and the like, it really shines in customer care as well. You have several options to contact the site: 24/7 live support, Email, Phone, Mail, as well as submitting a ticket directly on the site. Another great advantage of the site is a huge FAQ section which seems to cover every subject under the sun, we found answers to practically all potential issues withing that section.

Membership
The VIP program is based on a monthly subscription. There's three different pricing options for this - you can buy it on a month by month basis for $39.95 (Automatically renewed) or a 3-month package for $99.95 and a 6-month package for $179.95 (Not automatically renewed).
Included in your VIP package:
Unlimited access to your own recorded shows
150 daily videos available for 7 days
One-hour feature shows and access to archives
Access to an adult star video archive
Access to all photo galleries
Access to the VIP Forum
Gold VIP Font in chats
Up to 10 reserved nicknames
Email performers w/attachments
Largest private video preview
Customer Loyalty Program
Earn Flirt Rewards points to unlock extra bonuses, discounts, and spoil your favorite models. The more you flirt, the more points you get. There are many ways to earn points, such as spending over an hour in a model's room, having c2c sessions, logging in daily, messages to performers, and lots more. To learn everything you need to know about earning and spending these reward points, go to the bottom of the main page and select the Flirt Reward link on the bottom right.
Fan Clubs
The site's top models have Fan Clubs available for their biggest fans and customers. These clubs have photos, videos, video diaries, blogs, and other content that's just for their privileged members. By being a member of a model's club, you'll get the most personal look into a model's life, and more access to get to interact with a top model and all the perks of being one of her special fans. The club provides you with:
5% Discount on all shows with the model
5% Discount on all VOD with the model
Access to exclusive Fan Club member content
Show up in a special color when in a model's chat room that they have picked just for their members
Be able to write on a wall to your model and her members for private conversations
Get all the special treatment you deserve for being a model's biggest fan
Show Pass
If you're a fan of the videos on the site, you might want to consider purchasing a pass so you can view each month any and all videos. It's a membership that provides you with access to thousands of videos each month. Each week, the rotation of videos rotates to present a new variety of entertainment. You may purchase a 24 hour pass to access the videos that are available that week or you may purchase a 30 day pass to access 4x the amount of videos for the month. Monthly memberships are recurring subscriptions, providing you with automatic access to even more videos for the following months.
Model Pass
If your favorite models have created packages, then the packages will be visible at the top of the model VOD page. Models have the ability to sell the packages for 24 hour access, 7 day access, or for 30 day access. Prices vary based on the packages that the models create. Packages may contain from 5 to 50 videos. After you purchase access to the packages, the videos within that package will appear on the My Collection page but will appear individually, not as a package.
The Bottom Line
Naked.com is the perfect site for those looking for a great range of stunning models, both on the cheap and expensive sides of the spectrum. It's also a great place to find fun features like the video library, group chats with other members that also cost much less, and get intimate with your favorite ladies with double-sided toy control. The mobile platform is also excellent and provides c2c, and the rooms mostly stream in 720p HD.
The site really shines with the user experience and plenty of offers that are customized to your personal preferences along with 24/7 customer care, such as a VIP membership, but also special passes along with specific fan clubs. The filter and sorting tools are fantastic and make the experience on the site easy and enjoyable. This is definitely a straight-to-favorites kind of site, for sure.
Back to the full list of Best Webcam Sites
---