3
models online on average
As low as
$1.00
per minute
LiveUnicorns Review - A Subscription-Based Adult Cam Site
Last Updated
September 17, 2022
Is LiveUnicorns Good?
LiveUnicorns is unlike most live sex cam sites. This platform is a hybrid between a content creator based platform similar to OnlyFans or FanCentro, and an upmarket premium cam site. This is a closed site which only paid-up members can enter. Once you've joined as a member, you get access to exclusive X-rated media and live shows starring a hand-picked selection of glamour models, adult-themed social media influencers, BDSM artists and international sex instructors.
There is not a plethora of free live cam shows. At any given time, there are a few models hanging out in their cam room, but they are there to chat and accept tips for teaser acts. If you want a private cam session with one of the platform's models, you have to arrange it in advance. LiveUnicorns is all about high-end exclusivity and features a limited curated range of hosts who are looking for a discerning audience, people who truly appreciate the best of the best in XXX content and performances.
The platform itself sums up its offerings in one simple sentence: 'Your private club for live entertainment'.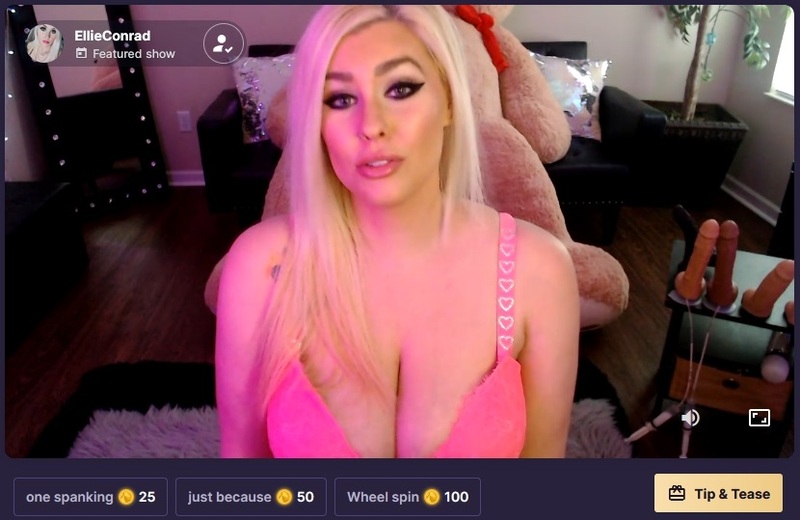 LiveUnicorns isn't trying to be another premium live video chat platform. It has positioned itself more as a base where content creators can control their own narrative through photos, videos and live shows where the model gets to choose who they'll perform privately for and who can talk to them in a 1on1 setting.
What is LiveUnicorns?
Similar to influencer style adult content sites, LiveUnicorns is more of an online home where the creators — in this case, leading professional XXX models, fetish stars and soft-porn girl gamers and practical sex educators — can showcase their talents in live and recorded shows that only invested viewers can access.
This means no freeloading users. The audience at LiveUnicorns are cam aficionados who are willing to pay a monthly fee in order to get access to the models and porn-stars who won't appear on cam sites where anyone can enter their room.  
Overview
The number of models who broadcast and post their kinky media at LiveUnicorns is much smaller than at similar-style premium cam sites. Currently there are just under 50 girls. This is partly due to the fact that LiveUnicorns only started streaming at the end of 2021. For now, the site is finding its footing and carefully vetting content-creators and sex influencers to ensure that every model on the platform is at the top of her game.
For now, 'unique' pretty much encapsulates what LiveUnicorns is all about. Almost all the shows are themed. The models often take on different personas and role-play costumes in a performance. For example, Sexy Ghostbuster, Sailors Delight, Viking - a Sexy Northern Tale are some of the characters who've made an appearance in kinky live porn sessions.
However, if you're not signed in you won't be able to see anything, including teasers of the site. Fortunately, the platform offers a free month trial subscription. You can cancel before the month ends and not pay a penny. This deal won't be around a long time. It's simply a way for LiveUnicorns to attract an audience as the site grows.
This free temporary membership is a no brainer. Sign-up now. You've really go absolutely nothing to lose.
Strengths & Weaknesses
Strengths
Curated library of glamour models & XXX influencers
Membership grants full access to past recorded shows
Themed scheduled live shows
HD Streaming
User-friendly site design
Full access to recorded live shows
User-friendly mobile site
Weaknesses
Limited number of live free chat rooms
Model selection is scant, comparatively
The Webcam Models
The Girls
Every girl here is a proven star in her field. In order to make sure members get the very best of the best when it comes to the models — social media personalities and fetish experts who appear on the site — every performer is interviewed by the platform. Only a select number of applicants are then allowed to host a show which fits the culture and ethos of the site.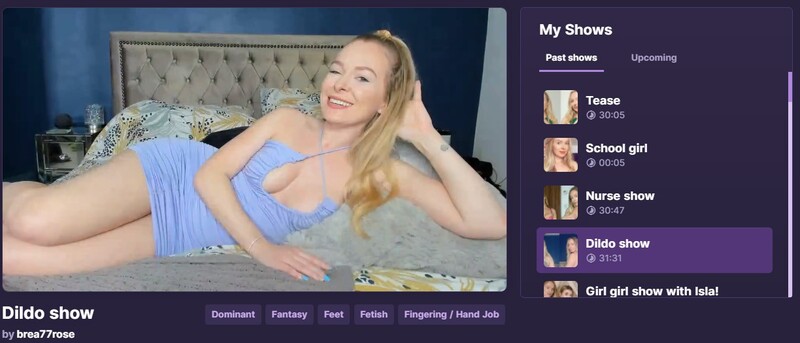 One reason LiveUnicorns is able to cherry pick the top cam stars is due to the high pay-out the hosts receive. LiveUnicorns' girls (or Brand Ambassadors as the site calls them) receive a 90% payout on all income they get from shows and private sessions. This is far higher than any other cam site offering.
The Guys & Trans Cam Hosts
As of now, there are no male models or transgender cam hosts performing live or recorded shows at the platform.
Couples Shows
Many of the female hosts note in their profile that they are bi-sexual. Occasionally one of the site's featured brand ambassadors invites a friend to join her in a scheduled show for some girl-on-girl action. However, these shows are rare. If you're looking for a girl with girl show, you'll either need to contact the performer directly to ask her when is her next scheduled appearance with a friend. Or, check the upcoming show list and set a reminder if you see one promoting more than one host.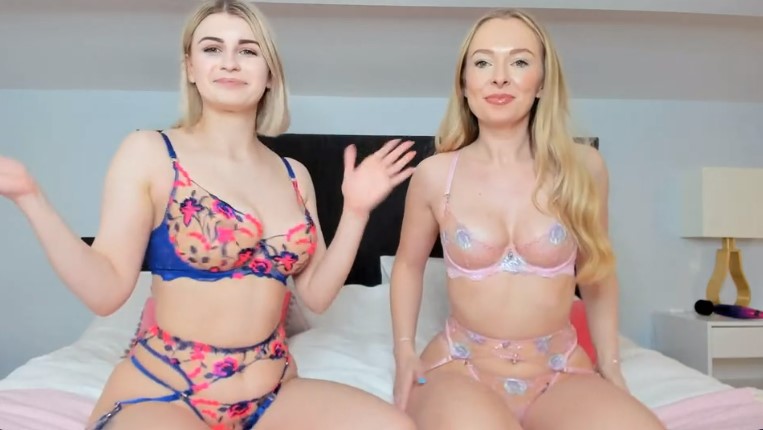 Model Profiles
The site's homepage lets you browse Past Shows, Coming Up shows, or by Performers. Each model on the site has a professionally produced snapshot that you can click on to find out more information about the model. You can see the last time she was live on the site, as well as when her next upcoming live show is scheduled. And, if you don't want to miss it, the site lets you set a reminder and you'll get an automatic notification prior to the show starting.
Unlike other webcam platforms, all members here get full access to any media the model has posted, as well as free entry to all the recorded scheduled shows (not private) she's taken part in on the site. The number of videos varies according to how active the model is. Some have 15 or more videos to watch, while others may have just one. Almost all the kinky videos last for 30 minutes and can get extreme, especially if the girl is one of the site's fetish experts.
A model's bio also notes which fetishes and kinks she's into, vital statics such as her age group, body types, whether she's got piercings and/or tattoos and whether she's straight or bisexual. It also notes how much a private show with her costs per minute.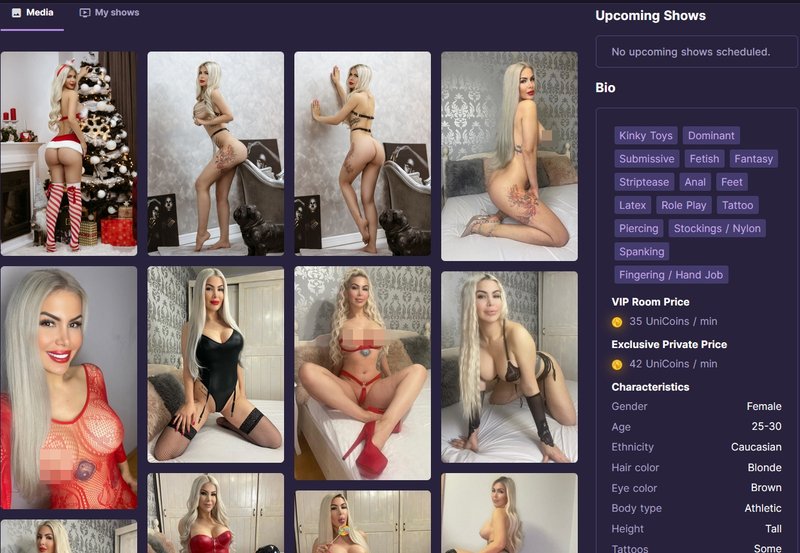 Chat Options
Currently there are three ways you can live chat with a LiveUnicorns performer.
VIP Room chat
Exclusive Private
Scheduled Show
VIP Room
You have to schedule a day and time when you can join a model in her VIP room at LiveUnicorns. Each model sets her own price on a per-minute basis. If you're looking for a particular type of performance, make sure you coordinate with her prior to the show so she can have all the toys, costumes and other accessories at the ready.
Exclusive Private
This show mode is strictly on a 1on1 basis. You can activate an Exclusive Private with any model that is braodcasting live, or you can schedule a private session. Only in this show mode can you activate the cam2cam feature. If you do choose to make your private webcam show one where the model can see you too, then be prepared to pay a bit extra. It's up to each individual model on whether they ask for more to turn on your webcam.
Scheduled Show
These are the advertised performances that take place throughout the day. All these sessions are pre-arranged and any member can enter them and talk to the performers at no extra cost.
Video Quality
The majority of the rooms at LiveUnicorns use an HD feed and in most cases, are streaming in HD plus (1080p). As of now there are no 4K UHD broadcasts and there's no way to minimize the feed to a lower resolution.
The site does offer a picture-in-picture mode so you can play a video of a girl's show while browsing around the site and entering different rooms.
LiveUnicorns' Mobile Site
LiveUnicorns' mobile platform offers all the same features as the desktop version of the site. The scheduled live shows and past recorded shows play in both landscape and portrait mode. If you flip your phone to landscape viewing you can then watch the action in a full-screen mode. In portrait view the video plays in a much smaller format.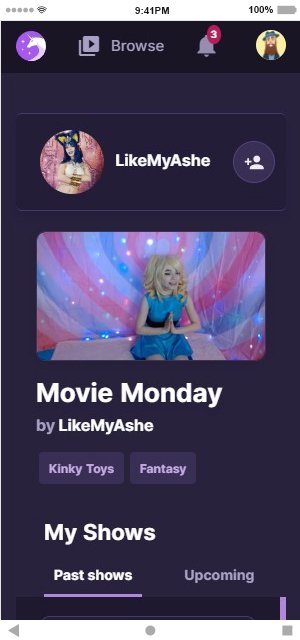 In order to browse all the recorded shows you simply select the top browse link and then start to scroll through the options. Once you see a video that's worth further examination, selecting the photo brings up the video and a list of related search tags. If the show isn't to your taste, you can choose one of the tags in order to see other options featuring the same kinks and fetishes.
Registration on LiveUnicorns
Unlike other cam sites, LiveUnicorns only allows registered, paid-up members access to the models and shows. Fortunately, you don't have to jump in the dark here. You can sign-up for a month's free trial and see if it's a platform that suits your requirements and preferences.
As it's a new site, LiveUnicorns is currently offering a month's free subscription in order to build up an audience base. You simply give an email address and password of your choosing and link your profile to a credit card.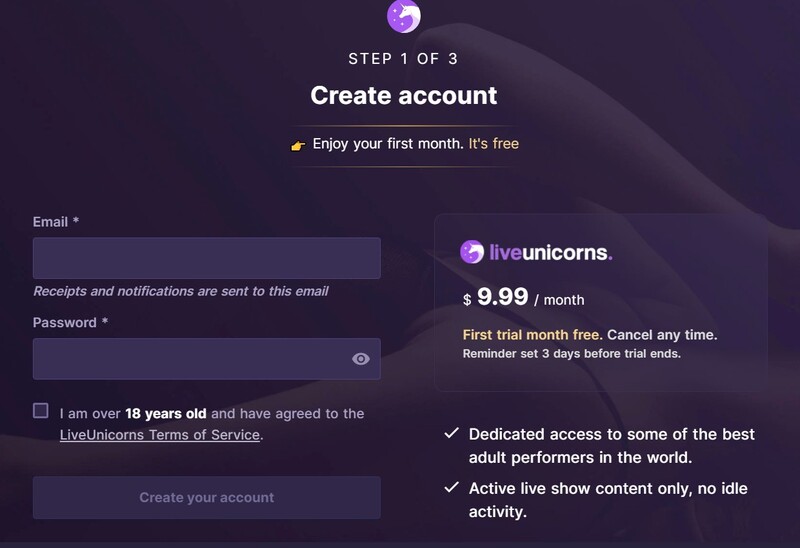 Your credit card isn't charged until the end of the free trail membership period. The site will send you an email three days before your free subscription is about to end. You can then either choose to end the subscription in which case your membership will end and you won't be charged a penny.
Or, you can choose to continue to be a member of LiveUnicorns and be charged the monthly membership fee.
Prices on LiveUnicorns
A monthly subscription to LiveUnicorns costs $9.99 a month. This gives you access to all the scheduled live shows and recordings of every show that the site has broadcasted. You can also enter any model's chat room, read her bio and check out her photo uploads and recorded shows.
Though, if you want a live video chat session where it's just you and the performer, you'll then have to pay an additional per-minute rate.
Prices for a private cam show vary from model to model. On average, a private cam chat with a LiveUnicorns girl comes in at $5.00 a minute. This is higher than private shows rates you'll find at comparable premium cam sites. But, at LiveUnicorns, all the models are handpicked by the site and are leading social media influencers, glamour models, BDSM experts and even x-rated gamer girls.
The cheapest rate for a private session starts at just $1.00 a minute.
Payment Methods
The site offers very limited payment options. You can only pay for a membership using either:
Unfortunately, you can't charge your membership to a PayPal account or use cryptocurrencies such as Bitcoin.
Customer Support
LiveUnicorns promises a reply to your query within 10 minutes, or at least that's how long it takes them to 'usually' reply through their live chat box. To activate the live chat customer support, simply go to you your membership profile and select Support.
By activating the Support feature, a chat box will appear at the bottom of the page you are on. You may need to scroll to the bottom of the page to see the chat box that you have activated. Type in your question, and you will get a reply within minutes.
The Bottom Line
LiveUnicorns is an upcoming cam site that's attempting to merge the offerings you get when you subscribe to a channel on popular sites like FanCentro or OnlyFans, with the live kinky performances and ability to video chat with the model in private, similar to the features available at leading premium cam sites.
Though the number of performers is limited, this is no reflection of the quality of the platform's features and offerings. It's more due to the fact that LiveUnicorns only launched at the end of 2021 and is being extremely discerning when it comes to who they'll enable to perform and host a chat room on the site.
Bottom line? Considering you can get a free month's membership without any conditions, there's no reason at all not to sign-up as a subscriber. The site lets you know 3-days before the trial period is over so you have the time to remove your profile and details if you decide not to become a paid-up member.
---