Daily Challenges on LiveJasmin
LiveJasmin just introduced a Daily Challenge promotion. Each day this week has a different challenge attached to it. Completing the challenge will add you to the draw. At 23:59 CEST, 99 random users who completed the challenge are selected, each receiving 157.99 credits for free. In total, over 100,000 free credits will be given out this week.
The promotion will only run this week, but the promotions could be come a permanent feature if enough users become interested.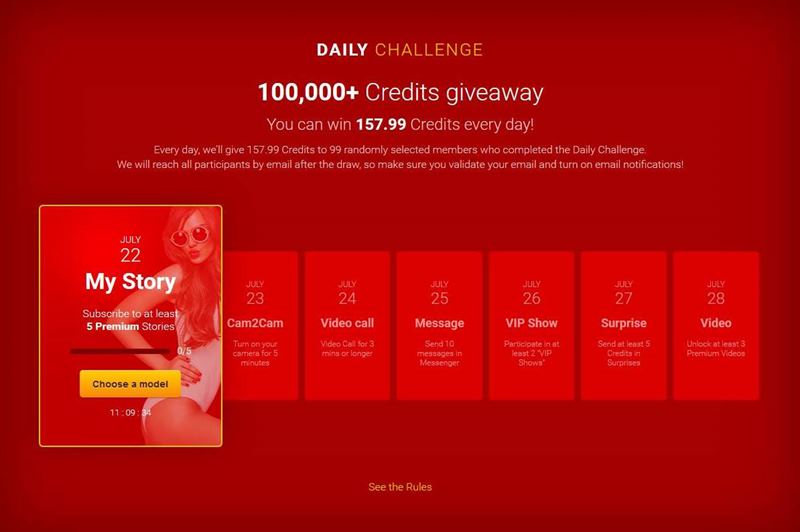 July 22nd - My Story - Subscribe to 5 or more premium stories
July 23rd - cam2cam - Have a private session with cam2cam enabled for 5 or more minutes
July 24th - Video Call - Do a video call for 3 or more minutes
July 25th - Message - Send 10 or more messages in messenger
July 26th - VIP Show - Participate in at least 2 VIP shows
July 27th - Surprise - Send at least 5 credits as surprises
July 28th - Video - Unlock at least 3 premium videos
As you can probably tell from the challenges, they all cost money to participate in. At minimum, you would need to spend at least 10 credits each day to participate in each draw. There is no limit to the number of times you can win, so you could technically spend 70 credits to win up to 1105.93 credits.
The promotion appears to be a part of the latest changes on LiveJasmin. The site first introduced the LiveJasmin Elite program and now the Daily Challenges. It seems that they are trying to spice things up, to gather new users and to entice old users back onto the site.
It's really nice to see how LiveJasmin has stepped things up recently, giving more consistent discounts and more freebies. As a whole, LiveJasmin has very fair prices. Taking in all the recent discounts, LiveJasmin can easily compete as one of the cheapest cam sites online today.
Back to full list of sex cam blog posts
---