Watch Hot Costume Cam Shows this Halloween
Last Updated
September 02, 2022
Lately on Chaturbate, there have been four particular cam girls that have been gearing up with Halloween sex cam shows. They caught our eyes with their high quality cosplay and Halloween outfits. They have invested so much effort into their costumes that we felt they deserved their very own blog post. We aren't talking about a girl just slapping on cat ears and putting in a furry tail butt plug, these girls really go the extra mile.
From full on anime and video game cosplay to their very own renditions of famous movie and television characters, these camgirls make their own unique costumes. If you want a Halloween sex cam show, this is where you will find the hottest costumes on cam. From what we've seen, it doesn't look like they repeat performances in the same outfit, so we suggest you add them to your favorites now. You might regret missing out on their costume cam shows. 
Chaturbate actually has a contest running for the models for the models right now. They can post their pictures on Instagram with the hashtag #ChaturbateHalloween, and if they are chosen, they win extra cash. It is the 6th consecutive year that they are running this event. We noted which of these girls have won so far.
Don't worry if you missed out on a specific show, most of these cam girls also sell recordings of their Halloween costume cam shows.
Purple_bitch
A verified SuicideGirl, Purple_bitch is a relatively new cam girl on Chaturbate. Since she's begun, she's had multiple hair colors and styles. She has cosplayed heavily as many different video game characters. She has also done costume sex cam shows as movie characters such as Harley Quinn. Most recently, we saw her in a D.Va costume. Just look at her licking that gun.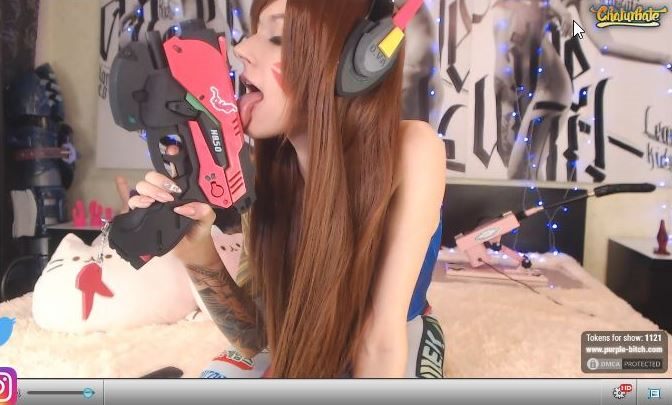 Purple_bitch is very popular on the site. While she often starts off her camshows in a costume, goals are quickly reached. Sometimes she strips out of costume quickly, while others she's in the costume for most of the show. She has a huge collection of toys, including giant dildos, glass toys, and a fuck machine. Purple_bitch is a great webcam model to check out in the look for Halloween themed sex cams.
So far, all the shows we have seen with Purple_bitch have been solo shows.
---
Shackle_shot
Shackle_Shot has updated her account. Her new user name is Barbie_is_Broken. Our link will now take you to her new profile.
Another tattooed beauty, Shackle_shot has many tattoos of kitties. In fact, she has an entire sleeve full of them. She is quirky and unique and has lately begun to have some serious costume sex cam shows. In just the past few weeks we have seen has as a jester, Ursula from the little mermaid, and Chun Li from street fighter. It doesn't seem like there's any specific theme, other than characters she personally likes. We don't mind, she looks fantastic in all of them.
Shackle_shot's popularity on Chaturbate has been on the rise since she began her costume sex cam shows. She often meets her goals and has nude shows as well as squirt shows. We highly recommend checking her out, she has a great personality to go with that sexy body of hers. By the way Shackle_shot has beautiful feet and isn't afraid to show them off. If you're into that, you should check out the best feet cams we have a picture of her there too. 
Shackle_shot won week 2 of #ChaturbateHalloween with her rendition of a gangster vampire. 
Shackle_shot does mostly solo shows. We were lucky enough to catch her with another girl once.
---
Those_darn_frigs
A certified pale gothic chick, Those_darn_frigs is an avid anime and video game cosplayer. We have no idea what her natural hair or eye colors are, they often change. She is one of the few cam girls on the list that will reuse costumes. In fact, she has multiple sets of the same outfit. In the image below you can see her as Samus from Super Metroid. She actually has a crotchless version and an undamaged version. We got to see both.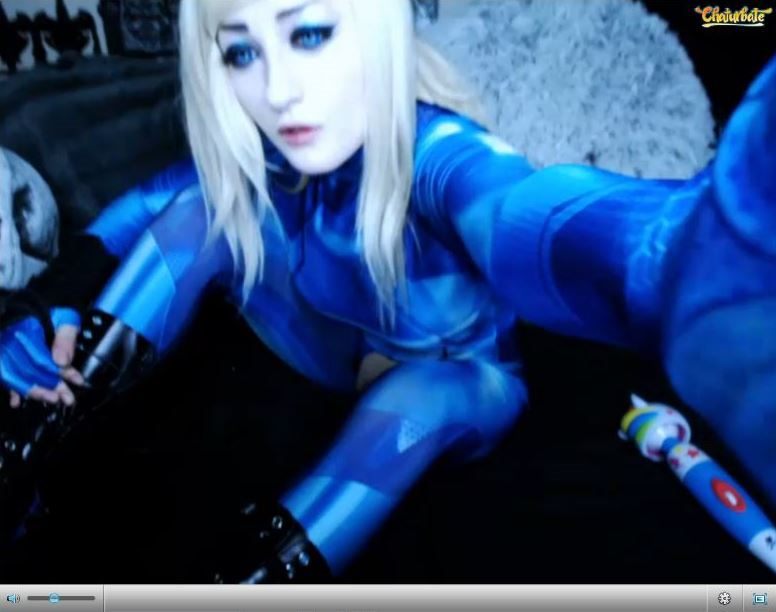 Those_darn_frigs has a great personality and is easy to talk to. If you are looking for a webcam girl with a deliciously dark appetie, you are sure to love Those_darn_frigs and her costume cam shows. She's actually running a Halloween raffle, you can win some unique prizes, including a vial of slime from the pool of slime she will be using on Halloween itself.
Those_darn_frigs does boy girl shows, and often in cosplay, but we are unsure if the Halloween costume sex cam show will be with a man. 
---
Emiliasongcam
Honestly, Emiliasongcam is not a name we noticed before we began compiling this list. While she has a big following she just doesn't seem to usually be online at the times we are. That being said, we noticed that she was a winner during the first week of #ChaturbateHalloween. As you might have guessed, we just had to check her out. Emiliasongcam does more than just Halloween costume cam shows. It looks like costume cum shows are are a daily staple in her repertoire.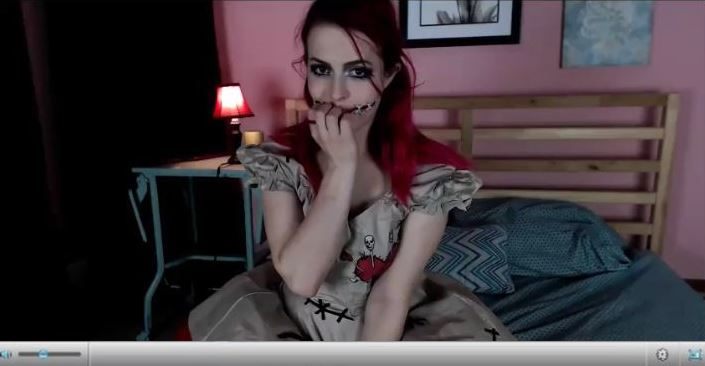 Emiliasongcam won on the first week of #ChaturbateHalloween with her sexy version of Death from Neil Gaiman's Sandman comics. Looking at her profile page, you can find previews to her videos as Catwoman, Batwoman, Poison Ivy, and a ragdoll as seen above. It seems she also has a boy girl video with her as Harley Quinn and the man as Deadpool. If you enjoy costume cum shows as much as we do, we highly recommend adding Emiliasongcam to your followed list.
We haven't seen Emiliasongcam in any couples cam shows, but we did find that she sells boy girl videos. She even has threesome videos if you prefer.
---
Extra Bonus - EliseRivers of MyFreeCams
EliseRivers is not a Chaturbate cam girl, she works exclusively on MyFreeCams. So why did we include her on this list? Arguably, no one works harder on their costume cam shows than EliseRivers. How so? She does full on body paint on her naked skin to create amazing art. Just check out her rendition of the Fantastic Four. That's all body paint that she applied onto herself. If that isn't the definition of skill, we don't know what is. She has done a huge number of characters, just check out her Twitter page..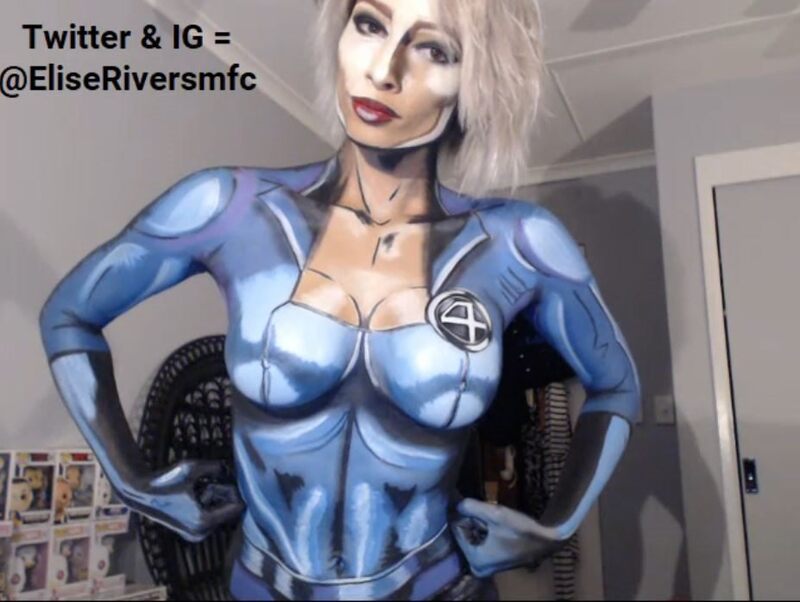 If you clicked the link above, you might have noticed that it doesn't take you directly to her models page on MyFreeCams, unfortunately their site doesn't give us that option.
As you may have guessed, as a MyFreeCams model, EliseRivers does only girl shows. It seems that she does work with other models, but it is rare. If you want a truly unique Halloween costume cam show, EliseRivers is definitely a woman to add to your list.
---
Conclusion
These were our favorite webcam models to check out this all Hallows Eve. They have the hottest Halloween sex cam shows and the best costumes. These are are costumes which require a lot of thought and planning to produce. None of your average catholic nun or school girl, these are full on works of art. You should definitely hop on over to Chaturbate and add Purple_bitch, Shackle_shot, Those_darn_frigs, and Emiliasongcam to your followed list. You should also go on MyFreeCams and take a look at EliseRivers, you won't be disappointed. If you still are unsure of who to look at, hop on over to Chaturbate, and take a look at everybody.
Back to full list of sex cam blog posts
---