Suicide Girls on Cam - Models & Where to Find Them
Suicide Girls are pin up girls that are heavily tattooed and pierced. On SuicideGirls itself, you can find high quality photos and videos, but you can't watch the girls live or chat with them. A few of the SG girls also have careers as webcam models, so you can actually chat with them, tip them to strip, or even cam2cam with them. Below you will find all the SuicideGirl cam girls we have found.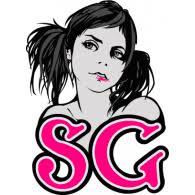 Our links will take you directly to the webcam room of the model you are interested in.
Purple_Bitch
Purple_Bitch started webcamming a few years ago and quickly exploded onto the scene. Nowadays, you can find her online on Chaturbate on most days of the week. She is a sexy Russian babe with a whole bunch of cool tattoos. She has a full dragon sleeve and a real life pet raccoon. She has an active SuicideGirls profile under the name Lure.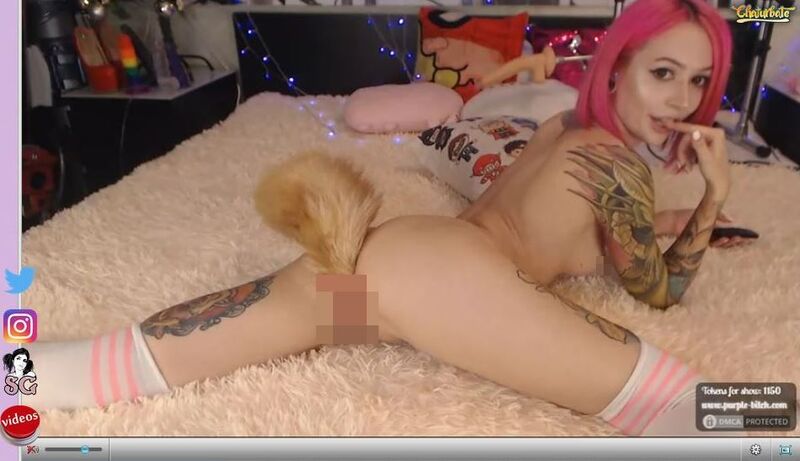 ---
Lovexxxpink
Lovexxxpink is another sexy Russian webcam model that is covered with sick colorful tattoos. She originally started off camming on LiveJasmin which is a premium site, but she made the switch to Chaturbate which is a freemium site. Since then, her sexy body and sweet tattoos have been gathering followers. Her SuicideGirls alias is Karnelia.
---
Mariewana/PetieMarie
PetieMarie is a Colombian babe with an amazing rack and over 30 tattoos. She has been camming on MyFreeCams for years now and it looks like her enthusiasm has not died down in the least. She often changes her user name. She's been known as Mariewana, PetiteMarie, Corraline, Sara Calixto and more. While the webcam she uses isn't in full 1080 HD, her webcam shows themselves are highly enjoyable. Her handle on SuicideGIrls is Coralinne.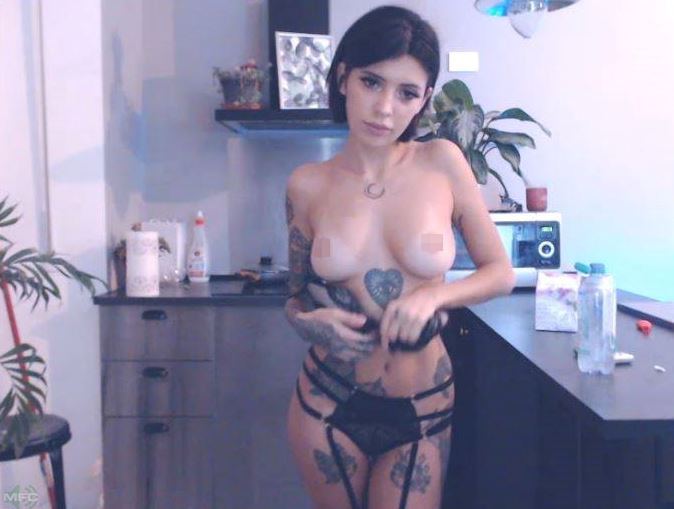 ---
BlinkSG
BlinkSG is a stunning green haired MyFreeCams webcam model with a penchant for DC's Joker, arch-nemsis of Batman. BlinkSG is a world traveler currently residing in Australia. She has a ton of uploaded content on the SuicideGirls site, where she has been working for years. You can find her on the site, using the same monkier, Blink, minus the SG.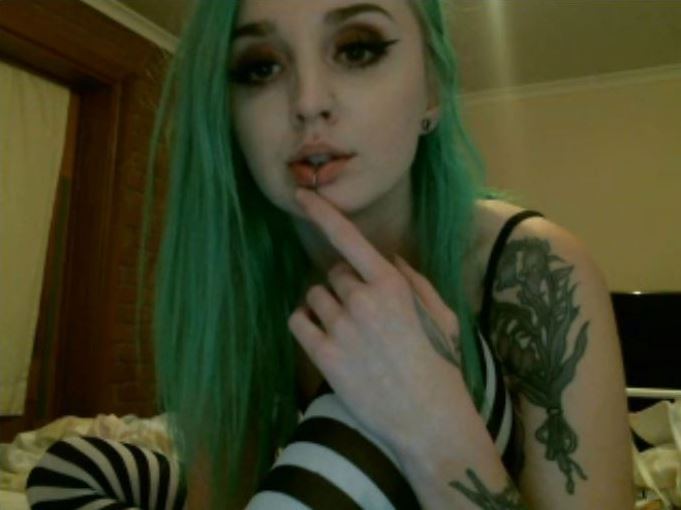 ---
Helly_Rite/Hellia_Yeah
A Siberian hottie, Helly_Rite is an inked babe with some seriously cool designs. She is seriously into body modification, and you will find that each time you see her on Chaturbate, she will have a little more artwork done. Currently, she is in the middle of getting her sleeve done, and with her dedication, it will probably be complete by the time you see her. Her SG account is Hellia. She was formerly known as Hellia_Yeah, but changed her name.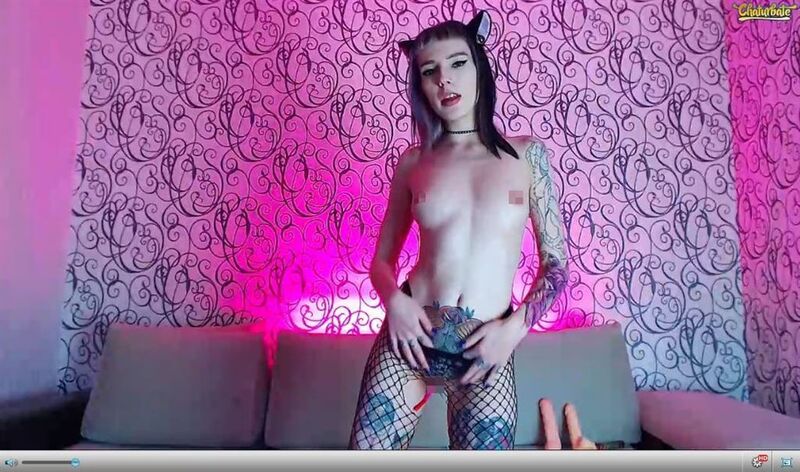 ---
Sia_Siberia
Another Siberian babe, Sia_siberia is vastly different to the other SuicideGirls on this list. You can look as hard as you want, but it doesn't seem like she is sporting a single piercing or tattoo. Sia_siberia streams on Chaturbate. She managed to become an SG hopeful through her dyed hair and cosplay alone. On her SG account, she is just known as Sia_.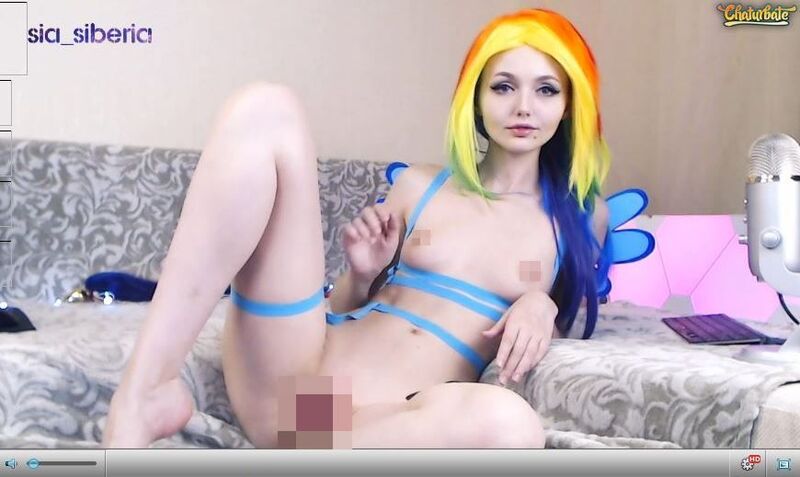 ---
Light_and_love
Light_and_love is a natural redheaded babe from Russia. Unlike the other SuicideGirls webcam models on this list, Light_and_love occasionally does couples shows on Chaturbate with her boyfriend, so you can actually watch her get fucked on cam. While she isn't the most heavily inked, she does get quite kinky. Her SG pseudonym is Kaleria.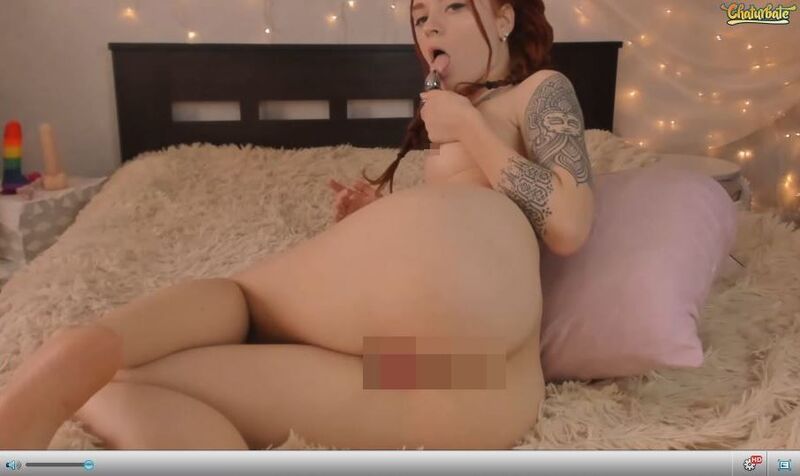 ---
Zzzirael
Zzzirael is a pale Russian babe with a number of crazy tattoos. She enjoys women as much as she does men, so sometimes you can find her in shows on Chaturbate with other SuicideGirls from this list. We have seen her in a show with Light_and_love as well as in a show with Frosty, who doesn't have a cam room of her own. Zzzirael can be found on SuicideGirls using the handle Zirael.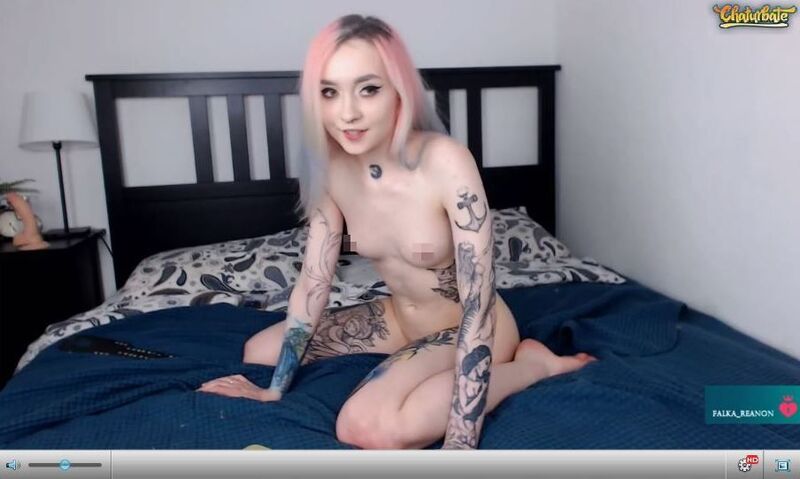 ---
Stacy_Mur
Stacy_Mur is a Russian webcam Chaturbate cam girl with a lot of tattoos and a few piercings. She is so dedicated to her ink, with it covering a significant portion of her body. Even her ass is covered in ink. She has a large gauge ear ring in one ear, and a tattoo of a small heart on her face. StacyMur is her account name on Suicide Girls.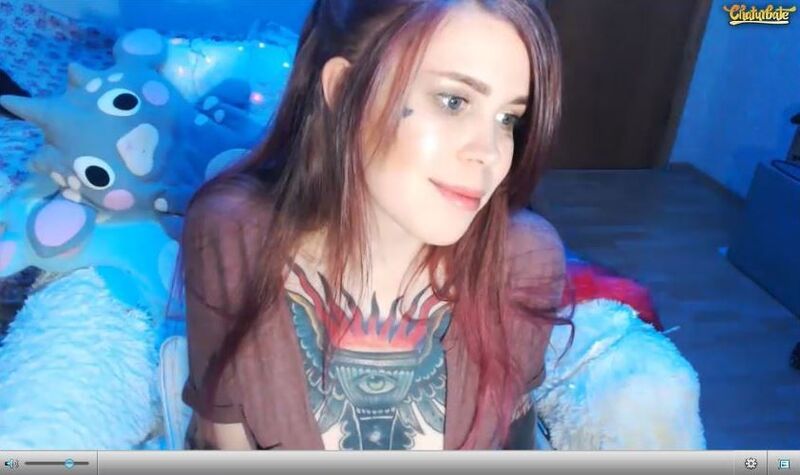 ---
Peachhes
Peachhes is a pale redheaded British babe with large colorful tattoos. She has been an alternative glamour model for 5 years, of which she has been a MyFreeCams cam girl for two. Peachhes has quite a few tattoos, and they are all pretty damn big. Her torso in particular is heavily inked. You can check out her SuicideGirls profile where she uses the same name, Peachhes.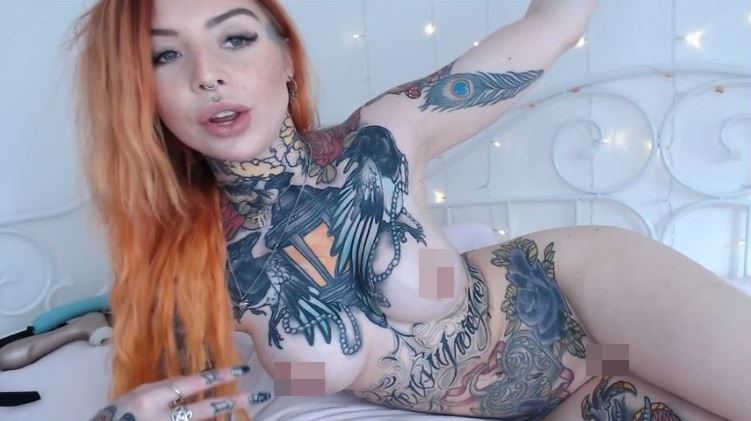 ---
Tessea
A tall and athletic Spaniard, Tessea's tattoos are more traditional than the other girls on this list. While she does have some color tattoos, the majority of them are in the standard black. She has very large number of tattoos, with space between each of them, giving each the recognition it deserves. She broadcasts on MyFreeCams. On SG, she is known as Nefka.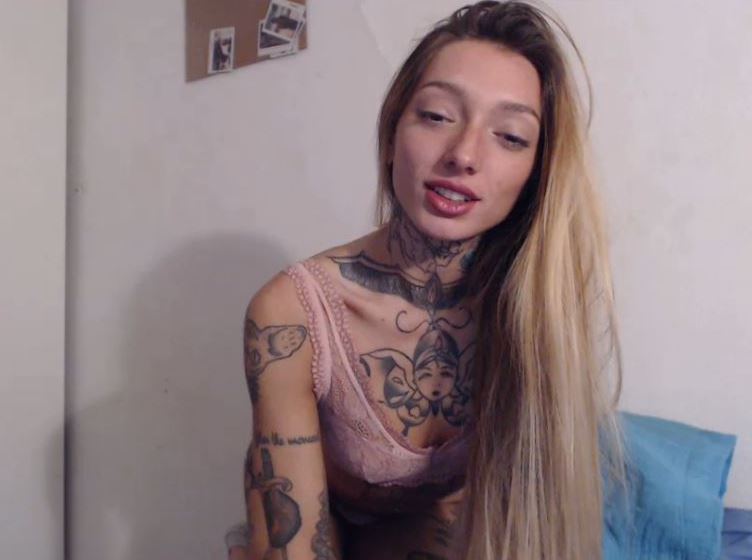 ---
LorettaRose
LorettaRose is a tattooed Canadian webcam model from Vancouver. She has several large pieces on her body, including a giant black raven which covers most of her abdomen. While LorettaRose might not be as petite as some of the other girls on this list, she isn't any less gorgeous. Her chat room is on MyFreeCams. LorettaRose is her name on SuicideGirls too.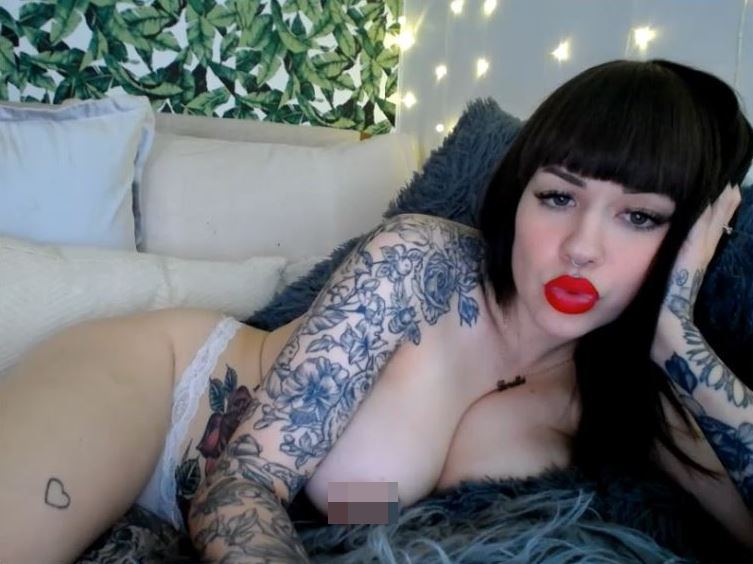 ---
BabyGhoulie
An American babe with plenty of ink, BabyGhoulie is a talented MyFreeCams cam girl and SuicideGirl hopeful. She has more of a gothic theme than most of the girls on this list, with her describing herself as the spooky goth gf experience. BabyGhoulie has many tattoos and quite a few piercings. She uses the same name on SuicideGirls, BabyGhoulie.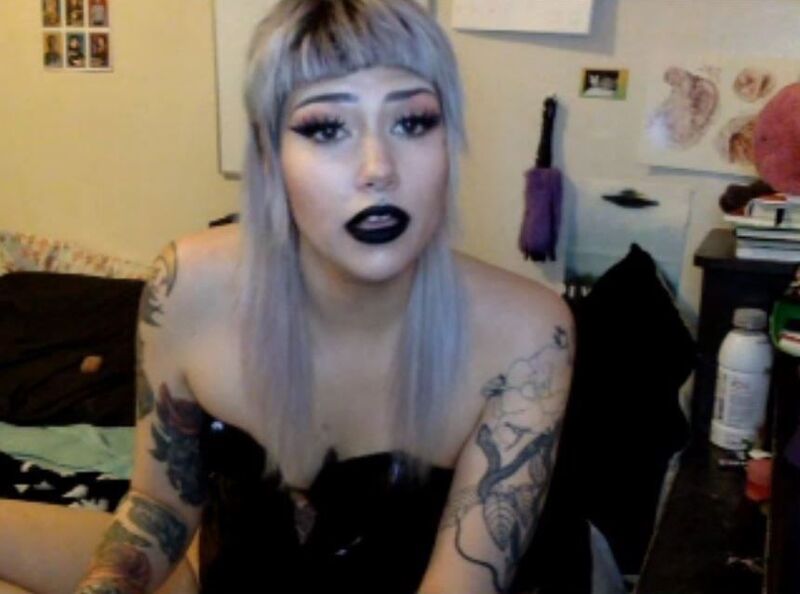 ---
HackerGirl/LoVanGogh
HackerGirl is an American MyFreeCams webcam model with a serious Game of Thrones obsession. Other than having the Stark's sigil tattooed on her arm, she also called her SuicideGirls profile by the name Stark. HackerGirl does cosplay regularly and has a number of tattoos, including a TARDIS from Doctor Who. She was formerly known on MyFreeCams as LoVanGogh.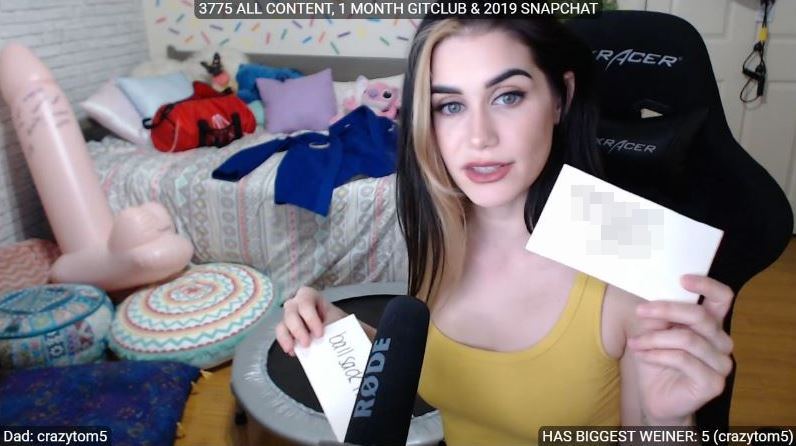 ---
Painbaby
A small titty goth gf, Painbaby is a mascohistic American cam girl and make up artist. She has a shaved head and a number of small tattoos. She can often be found with seriously crazy and original make up. Painbaby can be found in her MyFreeCams webcam room listening to heavy metal and punk. Painbaby's profile under SuicideGirls is Kaeli.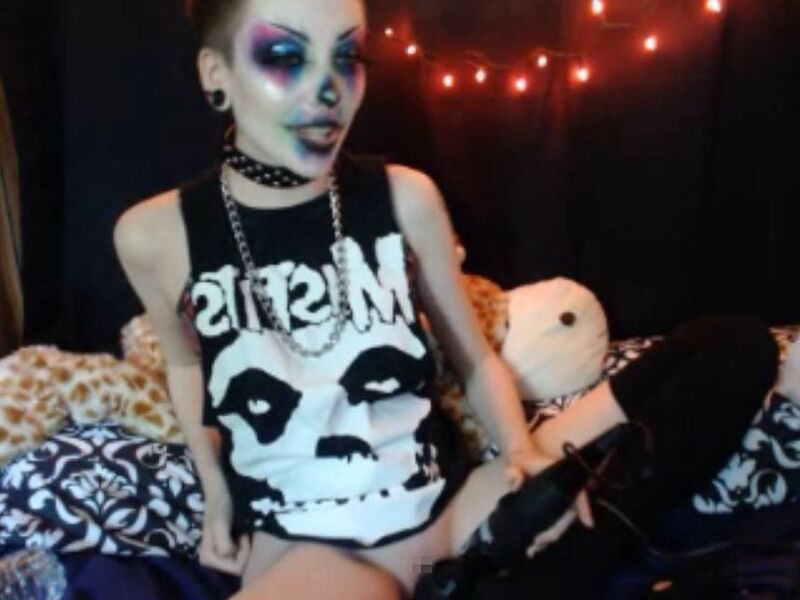 ---
Crystal69doll
Far from petite, Crystal69Doll is one of the few BBW SuicideGirls. She is proud of her PAWG status, with it chubby and curvy tags dominating her Chaturbate chat room. Crystal69Doll is an American with a number of tattoos, including a full sleeve. She also has some piercings, including her tongue. She uses the same handle on SuicideGIrls, Crystal69Doll.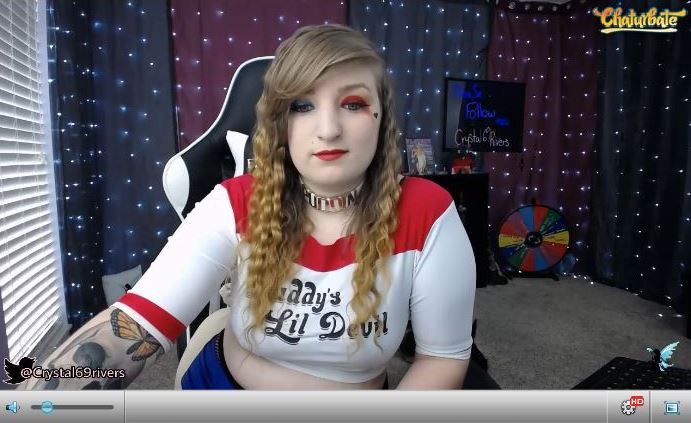 ---
Alicewonder_99
Alicewonder_99 is a Russian cam girl living in Korea. When she first started camming on Chaturbate, she had just one tattoo, of a giant colorful snake on her leg. Since then, she has added a full color sleeve, dedicated to Alice in Wonderland. Alicewonder_99 does cosplay shows quite frequently. She can be found on SuicideGirls under the name Alice_Wonder.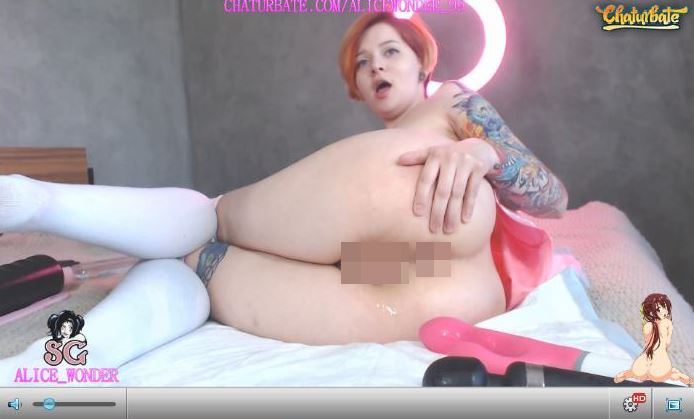 ---
RevYourEnjin
RevYourEnjin is more hardcore than most SuicideGirls. She has tattoos, piercings, colorful hair, and scarification. She is an American MyFreeCams model with a number of tattoos and a big anarchist A scarification body mod. The video quality of her webcam is not the greatest, but her shows are still enjoyable.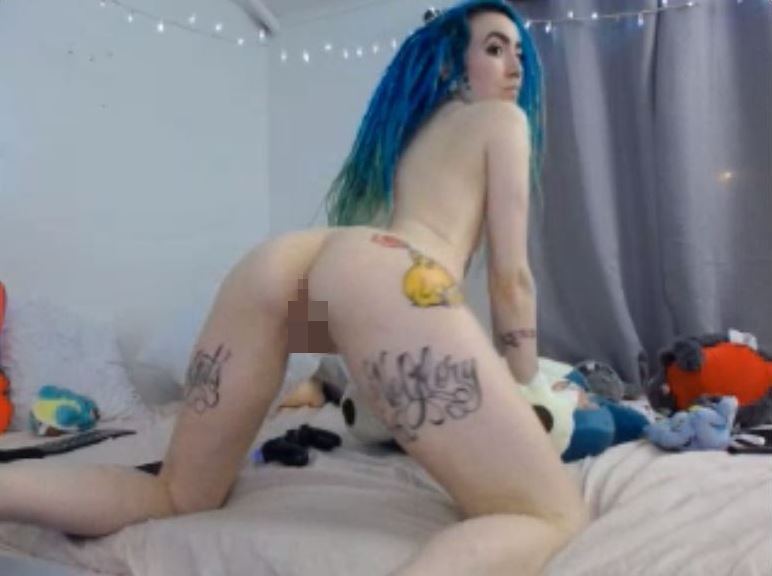 ---
KalivaSuicide
KalivaSuicide is an American babe with a number of small tattoos. She is full of energy, and can be found dancing around her webcam room on MyFreeCams. Her main occupation is as an exotic dancer, so she is well versed in giving a good show. KalivaSuicide posts on her SuicideGirls profile very frequently, she can be found under the name Kaliva.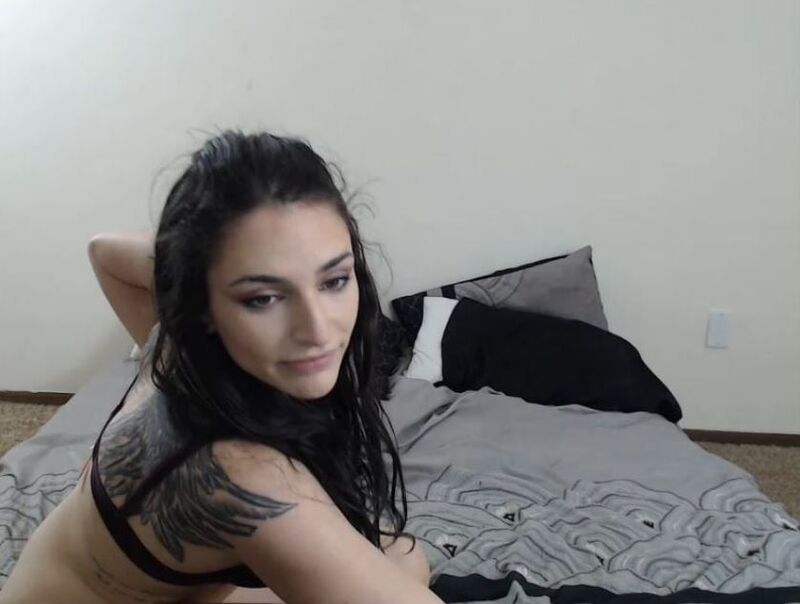 ---
MartaCat
Heavily pierced and tattooed, MartaCat is a hardcore German metalhead and BDSM aficionado. Her piercings include her face, both of her nipples, and several on her pussy. She has more metal in her body than most of the girls on this list. MartaCat cams on MyFreecams and has a SuicideGirls account which she is very active on. Her user name is Semelda.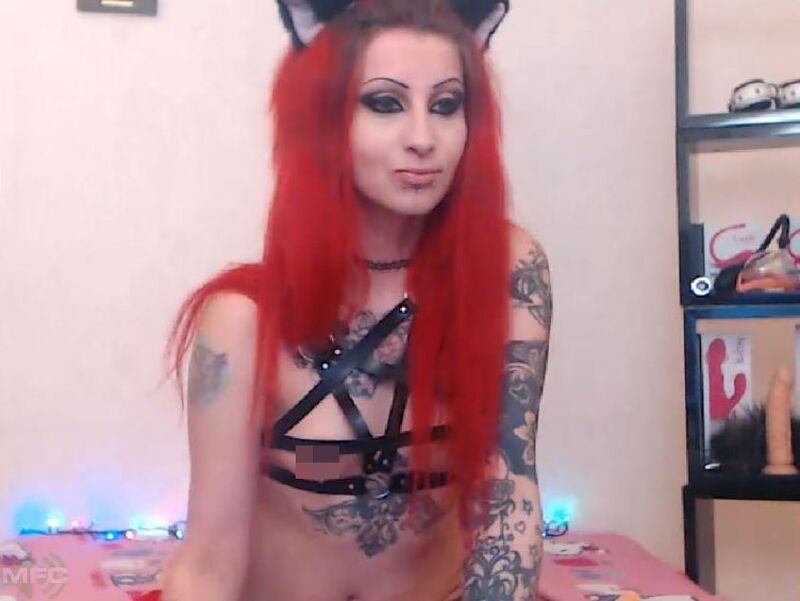 ---
Naypi_BDSM
The eldest on this list, Naypi_BDSM is an Argentinian ink model. She has many tattoos and piercings, and has been a SuicideGirl since 2007, but a MyFreeCams cam girl since only recently. As you can probably guess from her name, Naypi_BDSM is largely into kink and fetish play. Her profile on Suicide Girls can be easily found under the shortened name, Naypi.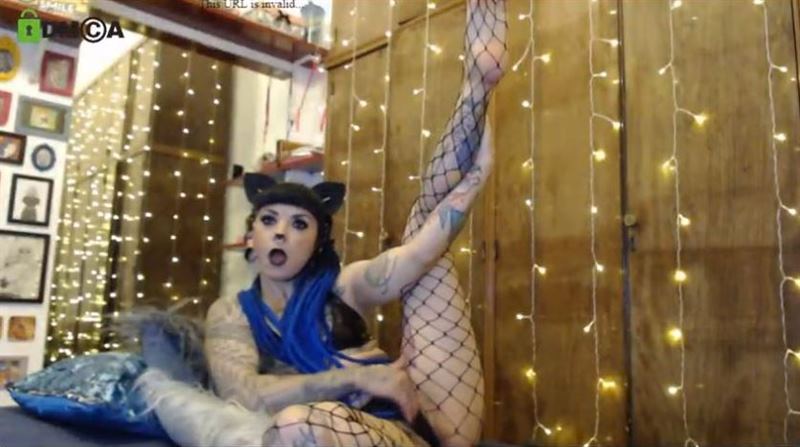 ---
Denever_Maxx
While she is American, Denever_Maxx is in fact not from Denver. She is beautiful babe with usually blue or green hair. She has multiple colorful tattoos, covering large parts of her body. Denver_Maxx has several piercings, and even gauged ears. Her name on SuicideGirls is very similiar to her name on MyFreeCams, DeneverMaxx.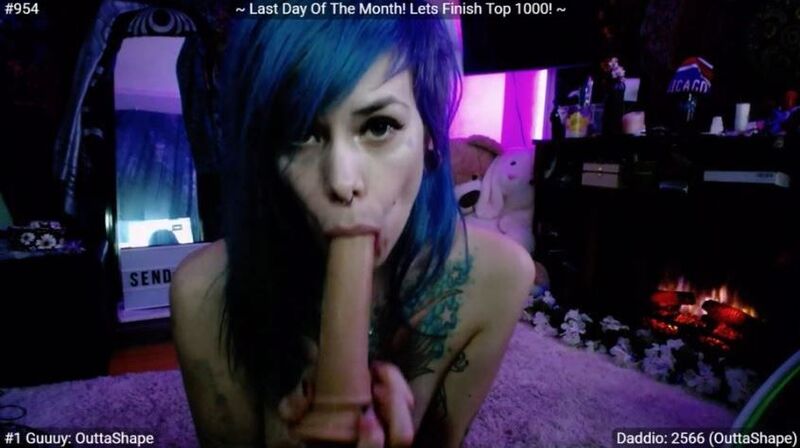 ---
HaubSuicide
A beautiful Brazilian, HaubSuicide has a killer body. She only has small tattoos, but they are strategically placed to draw your eye. She can be found on MyFreeCams, where she is always smiling, often while putting on vibrant and exciting shows. HaubSuicide posts on her SuicideGirls profile very frequently, her name on the site is Haub.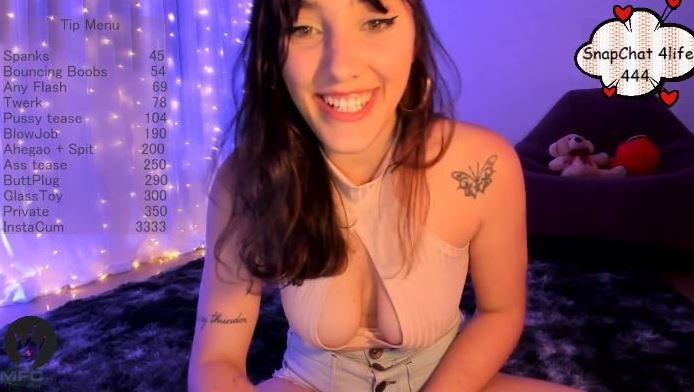 ---
FelixMeow
A sexy tattooed American woman, FelixMeow is an absolute babe with many tattoos. FelixMeow cams on MyFreeCams. While she does have a SuicideGirls profile, it doesn't appear as if it has ever really been updated. You can find some basic profile information, but that's about it. There are no sets or individual photos to enjoy. The SG profile name is also FelixMeow.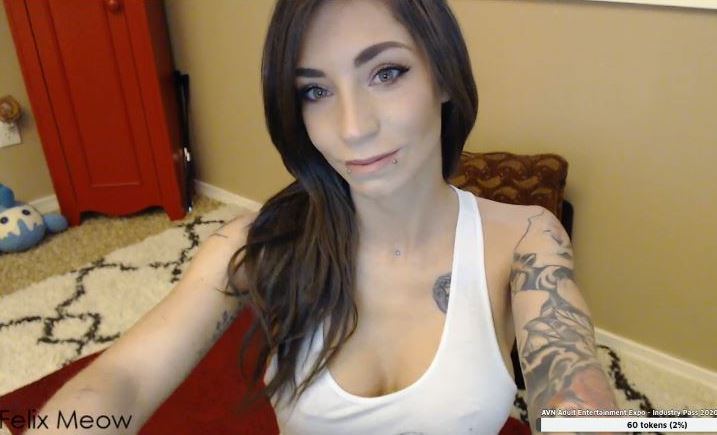 ---
Heidiv
A blued haired Australian, Heidiv is a cute paled babe. She has a number of tattoos on her body and uses an assortment of sex toys. Heidiv cams on MyFreeCams and can be found online regularly. If you want to check out what her SuicideGirls profile looks like, she uses the same pseudonym - Heidiv.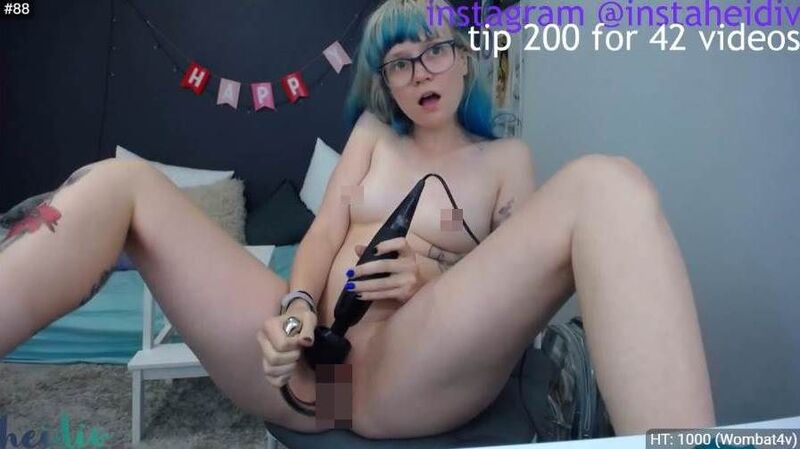 ---
CaitieCroft
Few cam girls take cosplaying as seriously as the Canadian CaitieCroft. She composes elaborate half nude costumes complete with crazy wigs and matching contact lenses. CaitieCroft's sex chat room can be found on MyFreeCams. You can preview her images on her SuicideGirl's account, CaitieRage.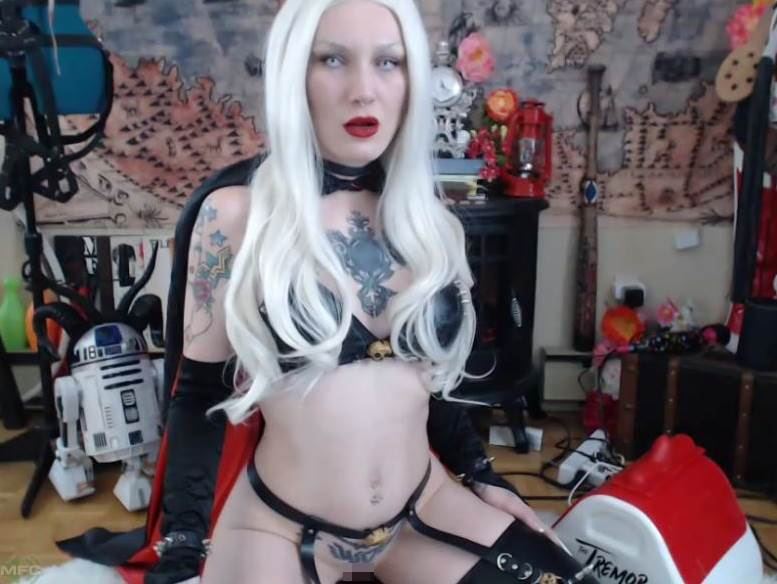 ---
JayLynn
Not many women are confident enough to shave their heads, but JayLynn is one of those women. She is a gorgeous big breasted tattooed babe. With over 35 wigs in her collection, Jay Lynn is a master of disguise. You can often find her in elaborate get ups on MyFreeCams. Her name on SuicideGirls is the nearly same, she just added an xo to form JayLynnxo.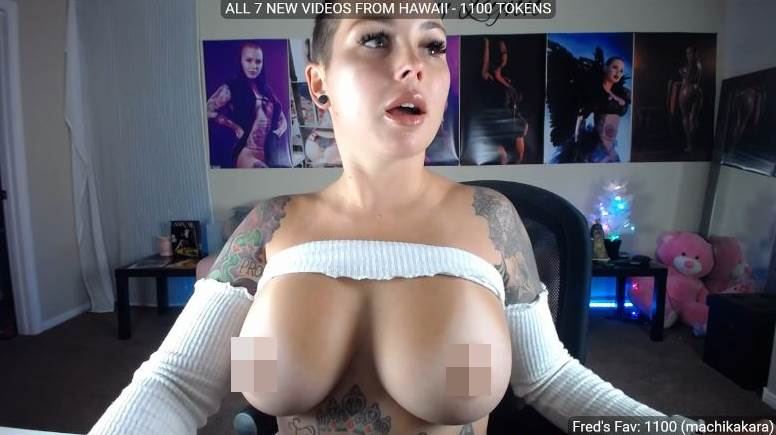 ---
Hellcatnat
Hellcatnat is an American cam girl with an attitude. She might be very young, but she has managed to create a whole lot of pornographic content in a short amount of time. She has also managed to get a whole lot of ink done, including a very impressive full sleeve. Hellcatnat cams on Chaturbate. She goes by the name Hellcat on SuicideGirls.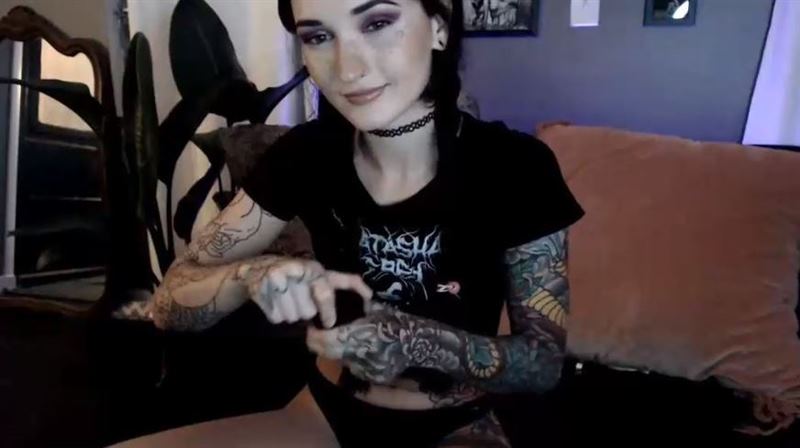 ---
Liasunmoon
Liasunmoon is a Colombian beauty with a number of tattoos. While she became a SuicideGirl hopeful a few years ago, she only started webcamming on MyFreeCams quite recently. While she doesn't appear very heavily tattooed in the image below, most her pieces are hidden by clothing. She uses the same username on SuicideGirls, Liasunmoon.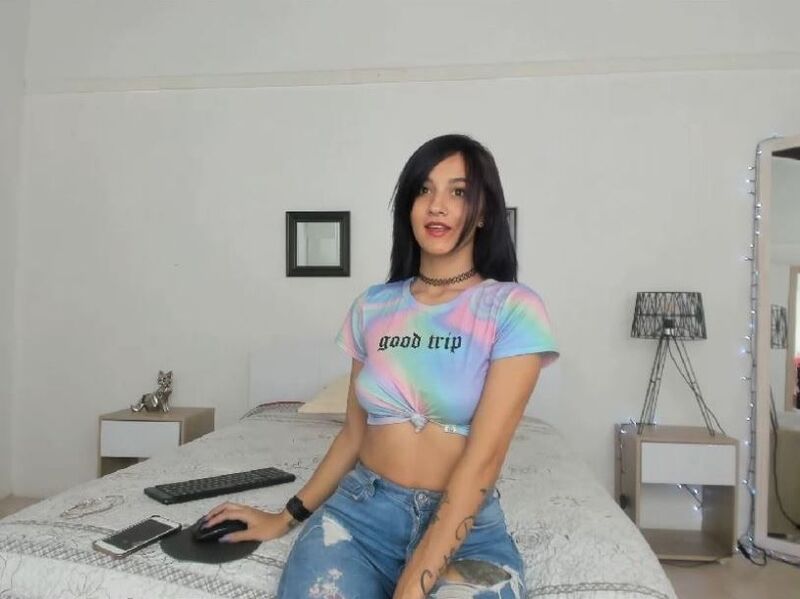 ---
BirdiSuicide
With over 23 hours under the needle, BirdiSuicide has an awesome tattoo across the side of her body. While you would think that people from Hawaii would be quite tanned, Birdi is really quite pale. You can find her online on MyFreeCams, often with a friend. She's on the right in the picture. You can view more pictures of her on her SuicideGirls profile, Birdi.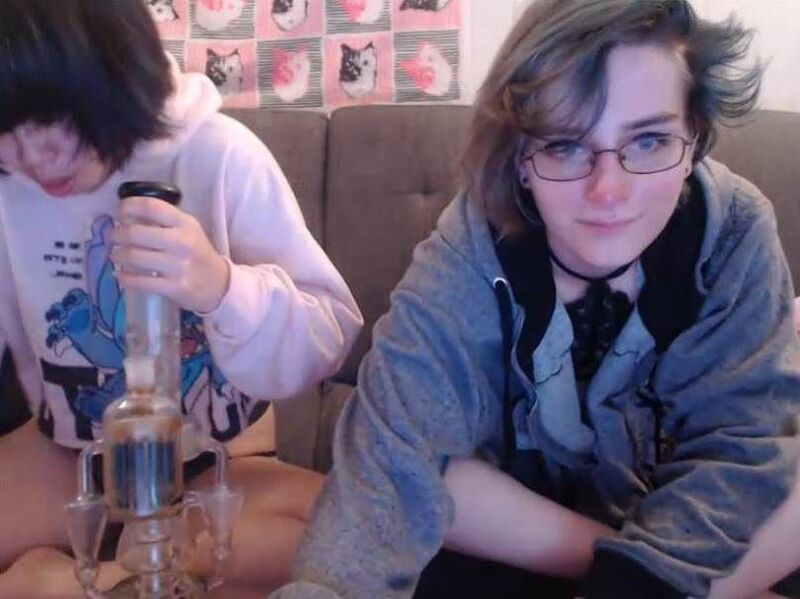 ---
ChaoticNyx
A Latina babe with some seriously curvy hips, ChaoticNyx is a SuicideGirl Hopeful that you can find on Chaturbate. She has multiple tattoos and piercings. While the quality of her webcam feed isn't the greatest, she is quite entertaining to watch. You can see better resolution pictures of her on her offical SG profile, ChaoticNyx.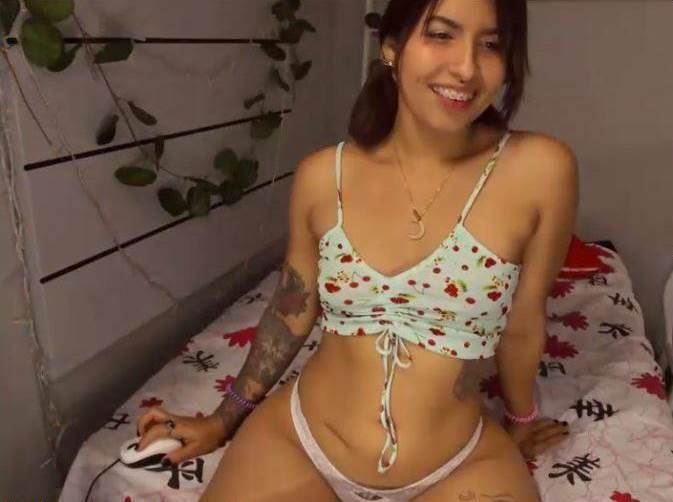 ---
KiannaMills
Pierced, tattooed, and with crazy hair colors, KiannaMills is a posterchild of the SuicideGirl movement. She is a gorgeous Colombian with many large tattoos, including one that covers pretty much her entire back. During the time she has been active, Kianna has managed to gather quite a few followers for herself on Chaturbate. You can check out her SuicideGirl profile TerrorLydia.
*picture pending*
Real name - Kianna
Age - 26
Height - N/A
Weight - N/A
Boobs - N/A
---
Conclusion
This is the list that we have collected so far.
All the girls on this list are SuicideGirls or SuicideGirl Hopefuls. We made sure to select only the models who have a verified profile.
Looking for #suicidegirls isn't too useful on either of the sites. We will continue to expand this list as we come across more girls, but it will be much quicker if you leave us comments regarding any babe we missed out on.
As you can see from the list above, most of the SuicideGirls that work on cam sites are Russian. You will find that if you follow them all, you will on occasion catch a duo show between two of them. SuicideGirls matches them up for photo sets, and they form friendships that lead to them camming together.
We highly recommend making an account on both Chaturbate and MyFreeCams, as they are the two sites with the most SG models. From what we've seen, the girls seems to stick to one or the other, with very few working on multiple sites at once.
Of course, we highly recommend actually purchasing tokens on both sites, to enable you to actually talk to the girls, and to be able to make requests.
Most of the girls have hardcore videos and photo sets which you can purchase, which are much less tame than the SuicideGirls sets. Many of the babes have boy/girl videos as well as girl/girl videos available.
Back to full list of sex cam blog posts
---