600 models online on average
As low as $1.90 per minute
FireCams Review - An Amateur Haven of Variety
Is FireCams Good?
FireCams is a pretty classic freemium site, offering basic services for those after a simple good time, with about 600 live cam models performing at most hours of the day, around a hundred of which are amateur models. The design of the site is simple and user-friendly, prices are low cost, and the models are definitely not shy, showing off their bodies in the free rooms.
Along with the fun stuff such as free nudity, there are also several issues that slightly hinder a potentially better experience, such as constant pop-up ads to purchase/join, the uneven HD quality, and the lack of more efficient customer care. Still, FireCams has a place among other enjoyable sites, mainly due to the adventurous ladies.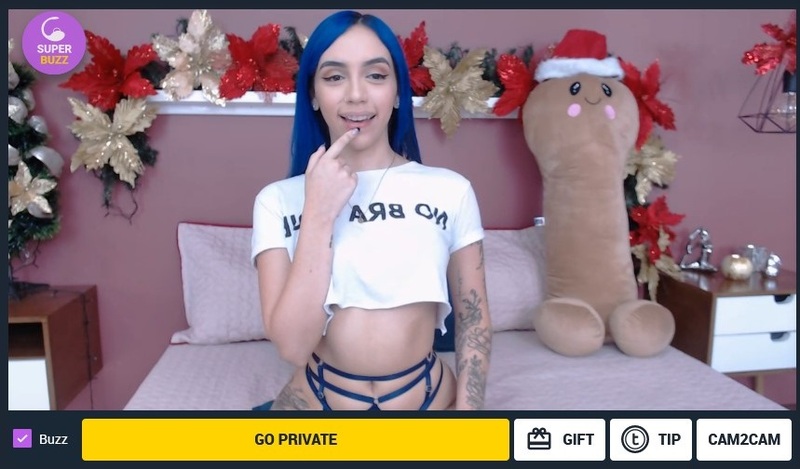 Overview
When first entering the site, you are greeted with dozens of profile pics, and a few main sections on top, including Top Models and Recorded Shows, explained in full below. What you may miss, is the excellent filter located at the very top by the search bar, which is much more thorough than the categories listed on the left filter which also includes you member's account, a choice of language, and other settings.
The aforementioned filter allows you to go deep, so to speak, particularly when it comes to the performers physical appearance. It seems the site could have organized this better, or at least made this extra filter more prominent.
There's several nice touches to this simple site, with special mention to key words in model's bios, which link up to other categories as innerlinks. For example, if a model mentions she is mature/a MILF, this will get highlighted and you can select this link to jump to the Mature category. This is a unique and cute touch we've yet to see in other freemium sites.
It's also good to note the site operates in 14 languages, not to be taken for granted, and much appreciated, especially since most performers hail from European countries.
As a whole, the site is easy to navigate and without frills, as it focuses on the most important asset it has, the stunning performers.
Strengths and Weaknesses
Strengths
Wide variety of ethnicities, ages and types
Schedule and fan clubs help you stay in touch with your favorite ladies
Cam2cam in available in both free chat and private chat
Show recording
You can pay using gift cards
Low prices for privates
Great HD quality in most rooms
Models happy and willing to perform kinky requests
Weaknesses
Relatively few categories
Cam2cam costs extra, isn't always available
Not many Male/Trans/Couples cams
No live feeds on profiles, only static pics
Customer care - Only FAQ and Email
No way to filter HD rooms
Ads and banners
The Webcam Models
The Girls
The site employs mostly women, but not just any models. The site knows they are the biggest attraction and champions large and clear pics when you enter the site. The ladies are no newbies despite being amateur, nor are they shy about their dangerous curves in many kinds of costumes, lingerie, tattoos, piercings, and in general much less "vanilla" than other sites. They're very open with users, laugh, make jokes, sing, and provide a great experience in private and free rooms alike.
Categories are basic, but include classics such as BDSM, Mature, Asian, BBW, and more.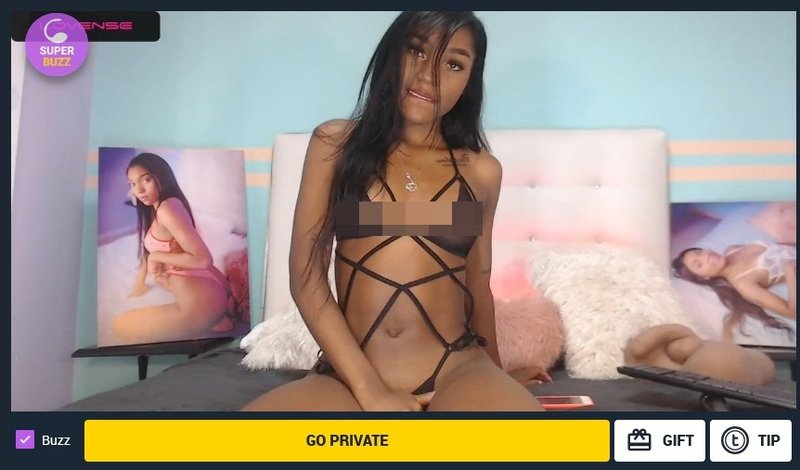 The Guys
With less than 10 men on average online, this is definitely not the site for male models. Those we met were sweet and quite young, but seemed less of veteran pros than the female models.
The Couples
Another fun surprise is the amount and types of couples on cam that FireCams hosts, which include lesbian, straight, and trans couples. Some are clearly long term partners, and others more amateur, trying out their sexual choices live in front of the world.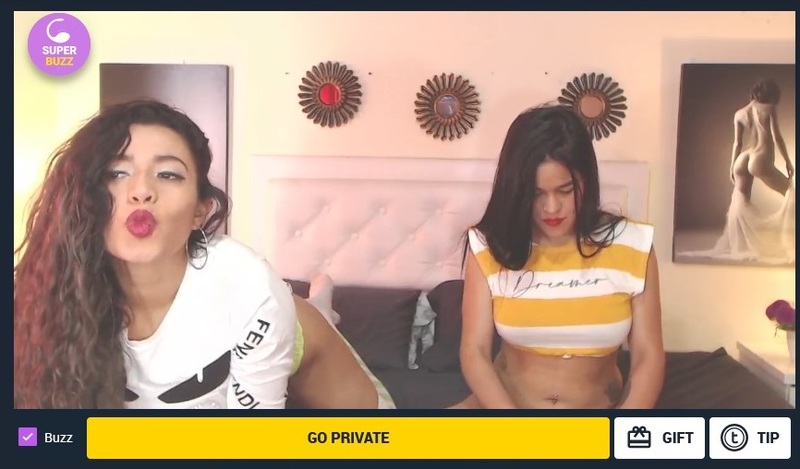 The Trans
The trannies were actually very impressive on the site, and even included couples. Plenty of ethnicities and ages, though most were truly beautiful and super fun. The shemale mamas range from pre-op ladies who love exhibiting their appendages, and also t-girls who are post-op and are super fem.
Model Profiles
Another great option is going into a model's profile right below her chat stream, and get to know her in a real way, most freemium sites do not offer this much depth and information about their models. You can learn several important pieces of information, such as:
General stats - Age, sexual preference, country of origin, languages spoken, and others. Not all models complete all these sections, of course.
About - This is a completely freestyle section in which the model can write as much or as little as she likes, including personal trivia, tips, advice, and so much more.
Turn-ons/offs - Wouldn't it be nice to see this list with every woman you meet? From physical looks to behavior to sex acts, it's all splayed out.
Kinky Attributes, Fetishes and Preferences - This speaks of what the model prefers to perform, and look like. Hairy/Shaven? Heavy makeup/natural? Whips/Latex?
Pics/Videos - Many models love to explore their different looks and skills by themselves, and create extra content, especially for those joining their fan clubs.
Schedule - Perhaps one of the most practical and useful feature, you get to plan your next session with a special mama by checking out her availability.
Similar Models - In case you'd like to check out more performers who have similar attributes.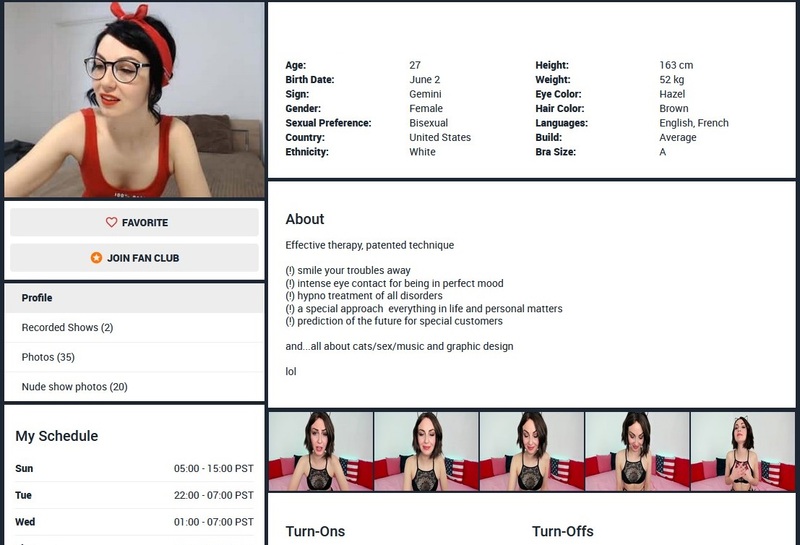 Chat Options
You can take part in any open room chats, and though the site states that there's no nudity allowed, models seem to march to the beat of their own sexy drums, and feel free to display their beautiful bodies.
Just like private chat, but other users can also join in. Nudity is definitely allowed, as per the room's name.
No one else is allowed in other than you and the performer, and you can direct the show as you wish. However, others can observe your model at her performance as voyeurs.
The apex of all things in the live cam world. You can broadcast yourself to any model in any chat, including Free, Nude, Private and Party Chats. No matter what, only the model is able to watch you. This feature does cost extra, though, and is not made available by every model. Expect to pay around $1.50 a minute for the pleasure.
Much cheaper than a private chat, you can jump from one private chat to another, as a silent fly on the wall. This can be extremely arousing, watching all the action like a peeping Tom.
A multi-user party, just like the name suggests. All forms of sex and nudity is allowed, and it's significantly cheaper than other chats, as the other members contribute to payment and tips.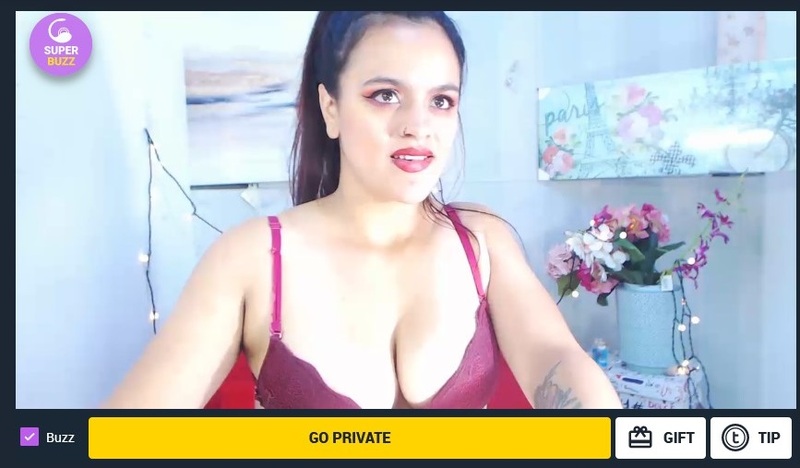 Special Features
Interactive/SuperBuzz - In general, the site offers an Interactive section on the top of the main page. This aggregates all models who have sex toys you can control from afar. This feature is called SuperBuzz, and will be displayed before the chat box itself comes up. It will show you how much a pleasure-click will cost you for a regular buzz, or the more expensive triple "super" buzz. It's a pure delight to cause your lady that deep felt quiver, despite being hundreds or thousands of miles away.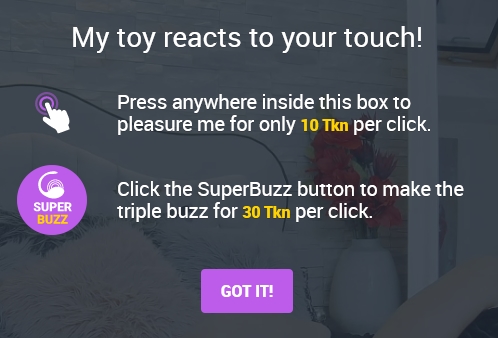 My Models - Another section up top will automatically save all models whose rooms you visit. This is a great extra thoughtful option, as it's easy to confuse one stunning chick from the other, especially if we have a particular type. This way, even days, weeks or more later, you can still go back to a model you loved previously and enjoy her once more.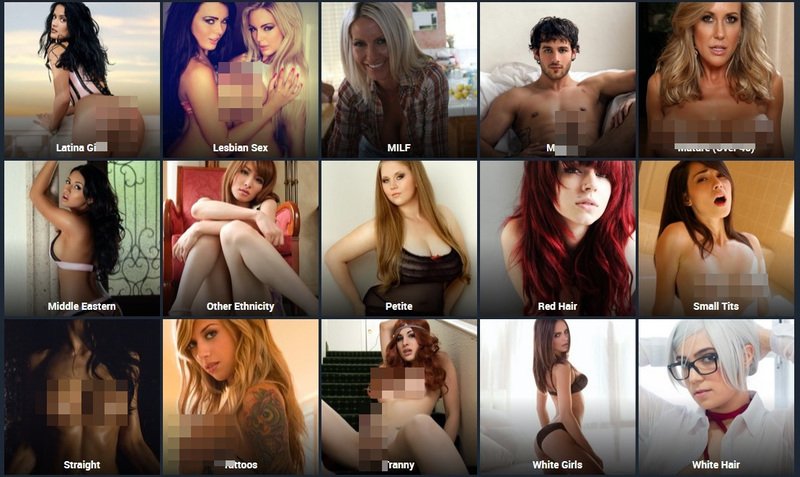 Video Quality
Freemium sites often have issues with streaming, as there's no quality control, and FireCams has similar issues for sure. Yet, while spending several days on the site during different hours, we were surprised at just how many rooms had excellent HD quality.
The main upset is less the quality but the fact that there is no way to filter the SD from the HD rooms, so you never know which of them you'll get when you enter a room.
Another slightly bizarre thing about the HD/SD situation is the odd button on the top right that allows you change between HD/SD, but it's confusing, as if the room is in HD, the button will show SD, and will only work in an HD room, as if the room is in SD there's no option to switch to HD.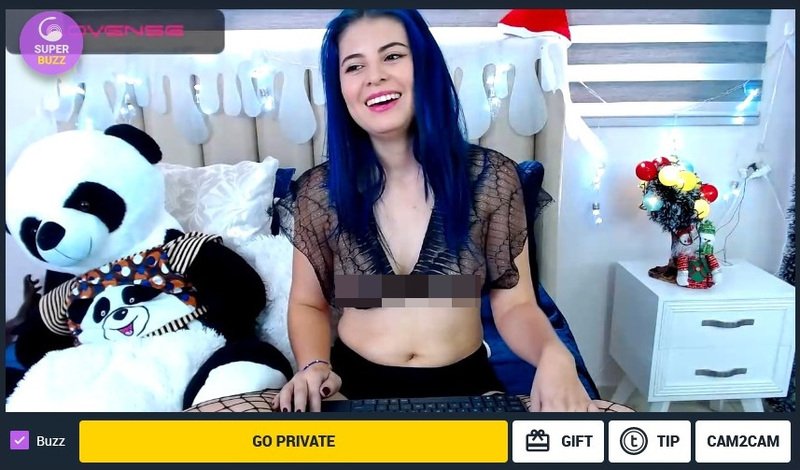 The Mobile Site
The site is a really decent mobile chat site. Just as slick as any other, and very user friendly. Just like the desktop, you have the main categories, the individual rooms with the ability to tip and gift, and of course the option to go private.
Also similar to the site, the bottom of the pages will all include ads, but these are not too intrusive, there's plenty of room to chat and also view the live stream. The main mobile platform's downside is that it does not have c2c capabilities.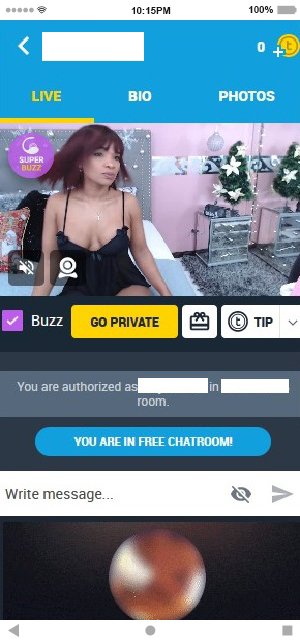 Additional Media
The site offers hundreds of Recorded Shows by models. Prices vary wildly, depending on the model and the price she's selected, and on the length of the clip.
It would have been great if the videos were separated into categories. but you can tell the basic "story" according to the picture introducing the clip.
Each model designs her profile differently, in the sense that she decides what to include. Some models have plenty of extra content, particularly pics and vids in their profile, and if you join their fan clubs you'll get free access to these.
Registration
You can remain on the site for only a short time before so many pop ups will ask that you register. Good news is that's it's quick and easy, and there's no need for a credit card either, only a username, email, and password. No need to validate your email.
Once you've registered you have your own account page, with options to fill in personal info, an option to raise your daily spending limit, email preferences, and you site id number to make queries to customer care easier to manage.
Currently, the site is among several others featuring a great sex cams promotion, offering a 50% discount on the first purchase for site visitors from the USA, Canada, England, Australia, New Zealand, and Ireland. Other countries get 75 free tokens with first purchase.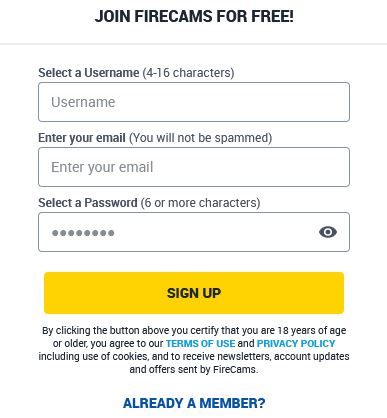 Prices
FireCams works with tokens, and offers many different sizes of token packages in which the cheapest starts at just $7, which is unusual and good news for first time users, or more budget oriented users. From our experience, an average cam room goes for about $2.25 a minute, while the cheapest cam rooms only cost around $1.90 a minute.
Keep in mind that this is a freemium site, so there's plenty of sex and nudity in the free rooms, you can spend hours on the site with any purchases, though you will encounter ads to purchase, constantly.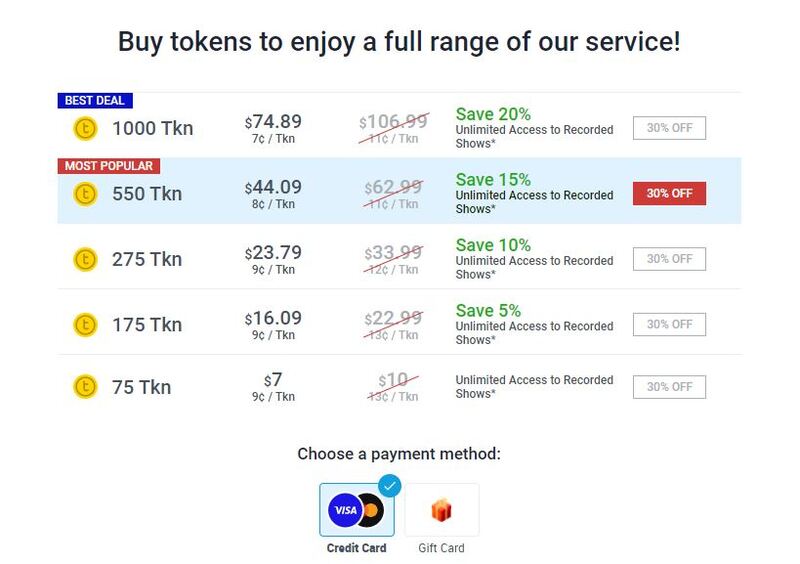 Payment Methods
This is one of the site's weaker spots, as it only allows for two payment methods. That being said, being able to pay using gift cards that usually sit around and gather dust is a great boon for users.
To make a purchase, simply select the Add Tokens button on the too right of the screen, choose your payment method and package size, and complete your purchase.
Customer Support
Unfortunately, FireCams follows the footsteps of many freemium sites and doesn't provide live chat, but instead email support which takes up to 72 hours to receive a reply back from. Billing support is much easier to reach.
The FAQ section covers most important topics, and as the site itself is not full of complex features, the FAQ section matches its simplicity. However, it would have been helpful to read more about the site itself, becoming a model for those interested, and options regarding promos, discounts and the like.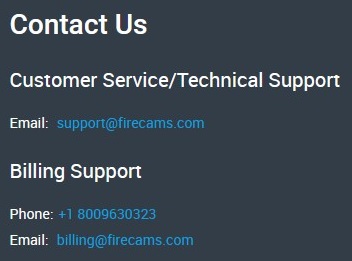 Membership/Fan Club
The site has yet to open up a loyalty program, but eagerly encourages you as a member to pick one or more favorite performers and join their Fan Club. All clubs cost the same amount of $19.99 for a single month, or a 3 month fan club subscription for $18.99/month. You get the following delightful perks:
Up to 70% off private chat
View the model's recorded shows for free
Get access to specially made (or 'custom') fan club videos for free
Instant access to al the model's nude pics
The Bottom Line
There's always rooms for one more freemium site that employs the kind of models we all look for - Gorgeous, fun, open-minded, sexy, unabashed, and all available for relatively very low prices.
The main points to highlight on the site are huge variety of models, their excellent profiles, available connectivity to your chosen honey, and multiple show types for every user, and every wallet.
Back to the full list of Best Webcam Sites
---