BestWebcamSites Review of CamSoda's Samarha-queens
Last Updated
September 01, 2022
Every so often, I get the need for a cam session that's a little different. Usually, I find a brilliantly stunning girl, she takes off her clothes, she cums, I cum, it's pretty quick and straight forward. But this time, I got a real need for a slow burn. You know the kind. You start touching yourself at the very start of the show, it moves slowly and sensually, you talk (A lot), you laugh, almost "forgetting" the horny as hell part, and then by the time you get to the end, the orgasm is so powerful and explosive you need to catch your breath, and you didn't even know it was coming.
| | |
| --- | --- |
| Price per minute | 6 tokens |
| Cam2Cam | Yes |
| Free show recording | Yes |
| Toys | No |
| Dirty talk | Yes |
| Time | 14:00 |
| Overall score | 10/10 |
This was one of those days. Hi everyone, I'm your resident female reviewer, taking you along for the ride as I meet Samarha, one of the best models I've ever come across, with no toys, oils, spanking, dirty talk, or any of the usual tropes I too require. But this lady manages to get me to talk so much and about such intimate details, I think I may have fallen in love, which is a rare and happy occasion on live cams. This love did not fade after the chat, but lingered, as the tingling sensation all over my body.
Prior to our chat, we spent quite a lot of time in her open room, which I often do, and I discovered a woman who was no amateur. She was manipulative in the greatest sense of the word, she knew exactly how to get the users to tip and stay on her channel, without taking off a stitch of clothing, for hours. She made jokes, sang 90's R&B lyrics, told stories about funny things that happened to her, she was flowing like a magical, mystical river, and we were all just lucky fellows who got to be on the raft beside her.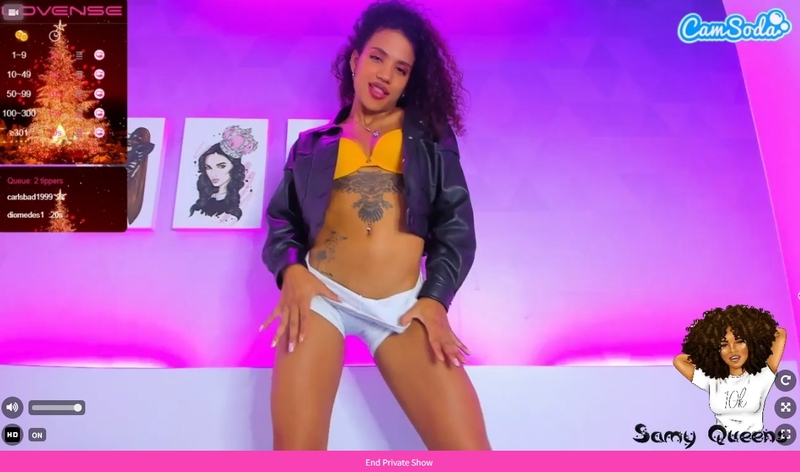 Finally, scared someone else would snatch her up or that she'd finish her shift, I asked for a private, and she accepted. I was actually nervous as the private show started, and she could tell. In a beautiful Spanish accent (She had great English), she said "Don't worry, I'm here only for you, there's no reason to be scared." Damn, she was good. I told her I was a woman, and she said "I know", which is the first time that had ever happened. I asked her how, and she replied that my comments in the open rooms were too sweet and specific to be a man. That made me blush, another first, and then she said, fanning her sexy leather jacket, "You know? It's getting really hot in here."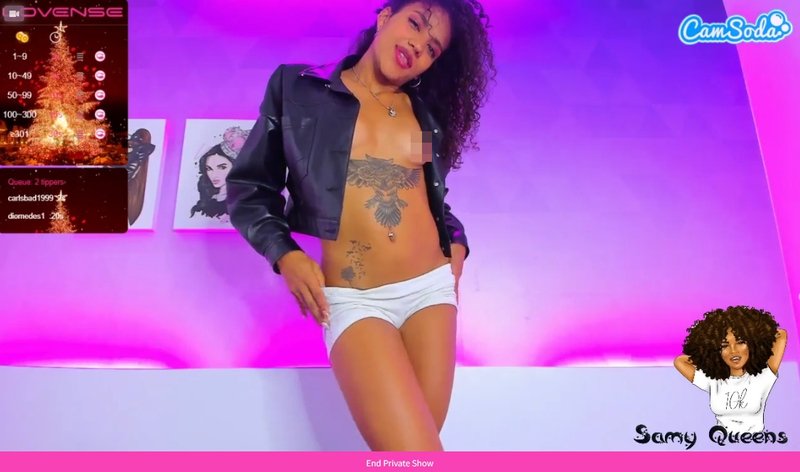 Well, I was going to be the last human on earth to deny her of the precious cooling down she was seeking, and asked her for a dance. She bounced up her camera, jumped up on the bed, and did what will forever be known in my mind as the "Christmas miracle dance", because it's the holidays and a miracle was due, and her body moving was it. She slithered and followed the curves of her body like a queen that has risen in the ranks from being a wench, and showed of those ridiculously hot tattoos. Damn it, I love a girl with body art. It's a weakness.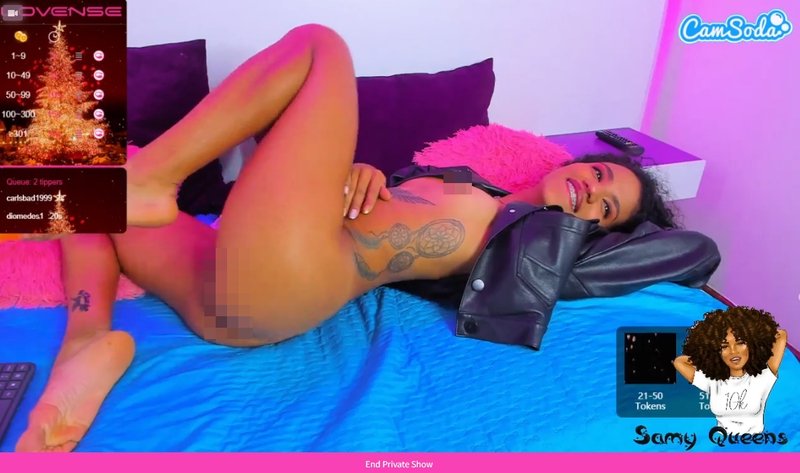 After the dance she put back on her jacket, which I loved, because what's more smokin' than a biker chick, and gracefully asked me, sitting on her heels "Do you want the tour?" I blinked, slightly confused, as during my many years of service to live cams, I have yet to be asked that question. "The tour?" "Yes, the tour of my body." I didn't even know what to reply, was there anyone alive who would refuse such a proposal? "I'd love the tour."
For the next 10 minutes, which felt like the loveliest of forevers, she proceeded, from her hair all the way down to her toes, to announce every body part, tattoo, piercing, beauty mark and curve. I have never been more transfixed. After so many private sessions rushing to the finish line, I had forgotten the reviewer I was years ago, who stopped to smell the flowers, or in this case, count the beauty marks. She told me stories of her tattoos, jokes about her "small tits", which I found disarming and sexy as hell, and of course, told me every way to touch her to make her cum.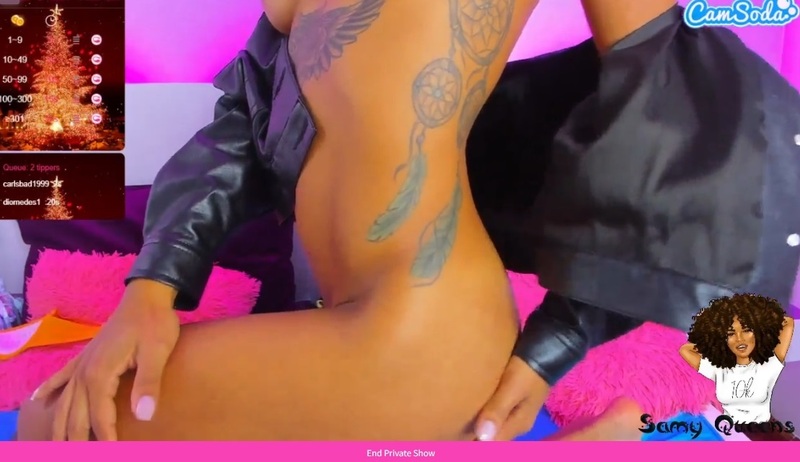 After the tour was complete, I noticed how sweaty I was, and how the orgasm inside had been building for so long, and I wasn't releasing it, that it made me dizzy. She smiled and asked if I needed some water, and I asked her if she had any, and she took out a wine glass, pouring herself some wine, and asking me to do the same. The firsts just kept on coming. I brought my own glass and she cheered, but "accidentally" allowed some drops on to her perfect, flawless breasts. "Oops", she winked.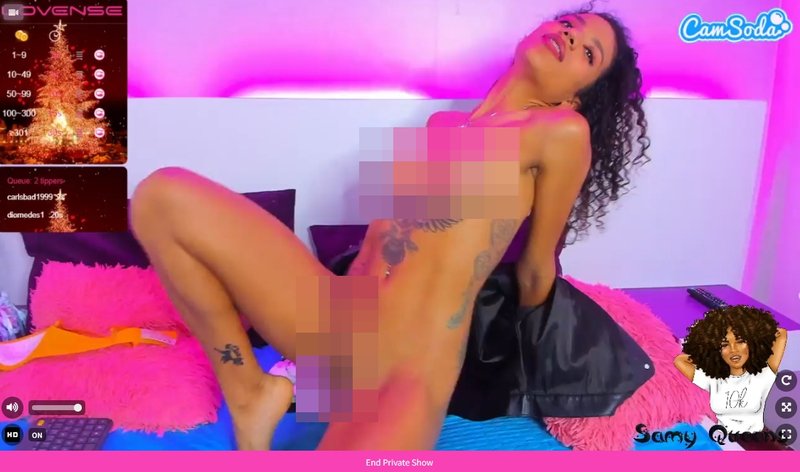 She then brought her wine dipped fingers to her pussy and started without a word, as I did the same, knowing this well may be the fastest climax in history. I was absolutely right, I came so fast and let out a cry, as she did too, and squirted on the bed sheets, taking the white liquid and dipping it in her mouth and relishing the taste. She looked into me, so it felt, and said "Come again, beautiful." I laughed and said "You can bet on it." She blew me a kiss and I logged off. Utterly and completely exhausted, and elated.
Samarha and I spent around 20 blissful minutes in her small and glorious world of dark toned skin, curls, juicy lips and leather jacket. At 6 tokens a minute cost $12.00, not including tips. In this particular chat, though I always tip, I did tip an obscene amount, just look at the pics above for a plain explanation as to why. So Though the chats are super cheap on CamSoda, always remember to treat your girl well. Especially when she has a room streaming in great HD quality. Also, most models offer free show recordings, which you can see when you select the Go Private button and you'll see there the price per minute and if she allows the free recording. Though I didn't use the excellent mobile version for this session, I can report that it's indeed fabulous, and comes with c2c, too.
Back to full list of sex cam blog posts
---